Almost a third of new cars sold in Norway last year were pure electric, a new world record as the country strives to end sales of fossil-fueled vehicles by 2025.
In a bid to cut carbon emissions and air pollution, Norway exempts battery-driven cars from most taxes and offers benefits such as free parking and charging points to hasten a shift from diesel and petrol engines.
Reuters reports the independent Norwegian Road Federation stating today that electric cars rose to 31.2 percent of all sales last year from 20.8 percent in 2017 and just 5.5 percent in 2013, while sales of petrol and diesel cars plunged.
"It was a small step closer to the 2025 goal," by when Norway's parliament wants all new cars to be emissions-free, Oeyvind Solberg Thorsen, head of the NRF, told a conference.
But he cautioned that there was a long way to go since two-thirds of the 148,000 cars sold in 2018 in Norway were powered by fossil fuel or were hybrids, which have both battery power and an internal combustion engine.
The sales figures consolidate Norway's global lead in electric car sales per capita, part of an attempt by Western Europe's biggest producer of oil and gas to green its economy.
The International Energy Agency (IEA), using a slightly different yardstick for electric vehicles that includes hybrids that can be plugged in, showed Norway's share at 39 percent in 2017, far ahead of second-placed Iceland on 12 percent and Sweden on six percent.
By contrast, such electric cars had a 2.2 percent share in China in 2017 and 1.2 percent in the United States, IEA data show.
There are good reasons to explain the shift in Norway. Not only are Norwegians increasingly environmentally conscious but they are increasingly well incentivised. They pay no tax on electric cars - purchase tax or road tax - they don't pay tolls for them, they get free parking for them, companies get a 60 per cent rebate on the price of the cars and, very importantly for Norwegians, people can take the cars on all ferries for free.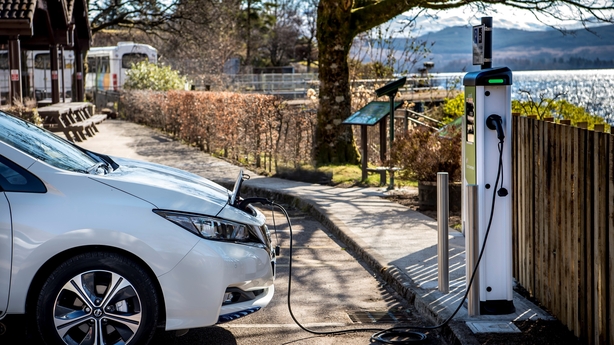 Speedy access to charging points is not the issue in Norway that it is in Ireland but it still needs more of them.
Erik Lorentzen of the Norwegian Electric Vehicle Association says there are now over 200,000 battery and plug-in hybrid cars in the country and that by 2025 all cars and light commercial vehicles "will be zero emissions" vehicles.
"The figures are encouraging. Some 58 per cent of people say they are very satisfied with their e-cars, only one per cent are not satisfied and 91 per cent say they are positivelyOnly four per cent say they would go back to petrol or diesel", he says.
Of course, it does help when you have a fast-charging point every 50 kilometres across 7,500 kilometres of roads. Yet there are problems. Lorentezen says they need more infrastructure. "We have one location 25 kilometres from Olso where there are 28 charging points yet there are queues. That is the kind of demand we have now".
"There are more and more charging points being put in to cities and apartment complexes and it has become the normal option to buy an electric car".
In fact, getting hold of an electric car in Norway has been a problem. Volkswagen's e-Golf is the most popular car on the market but there is now a 12-months waiting list for the car. "This is a bottleneck and market demand is ever-growing", says Christina Bu, Secretary General of the Norwegian EV Association.