Audi is the first premium manufacturer to launch a key model exclusively with mild-hybrid engines. The system on the new A6 allows the car to coast at different speeds using a battery.
A direct competitor for the Mercedes E-Class and the BMW 5 Series, the A6 now has an edge when it comes to its engine technology. All the engines - petrol and diesel - are now using a mild-hybrid system that is designed to reduce emissions and increase fuel economy.
The system operates with a lithium-ion battery to allow the car to coast at speeds of between 54km/h and 159km/h to save fuel. The start-stop function kicks in earlier – at speeds of 30km/h and below. The engine is restarted from standstill predictively as soon as the vehicle in front of the Audi A6 starts moving. Deceleration recovers energy and Audi says the fuel saving can be as much as 0.7 litres per 100 kilometres.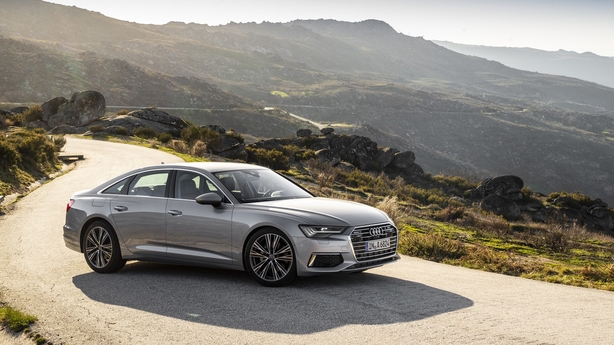 The new version is based on the bigger A8.
The A6 is directly based on the bigger A8 and employs much of the same design philosophy and engineering. It is slightly bigger than the outgoing model, slightly lighter and the roofline is higher. The entry-level model is the 2.0 litre diesel and it's now available to order at an on the road price of €51,650. The engine produces 204 horse power and there are two other 3.0 litre diesel options producing 228 and 286 horse power respectively.
The steering is progressive, which allows the steering to stiffen and become more direct and involving as speed increases. An added extra is all-wheel steering. Cleverly, at lower speeds the rear wheels steer in the opposite to the front wheels and this reduces the turning circle of the car by 1.1 metres to 11.1 metres. Anyone who has struggled with a bigger car in confined spaces will appreciate the technology.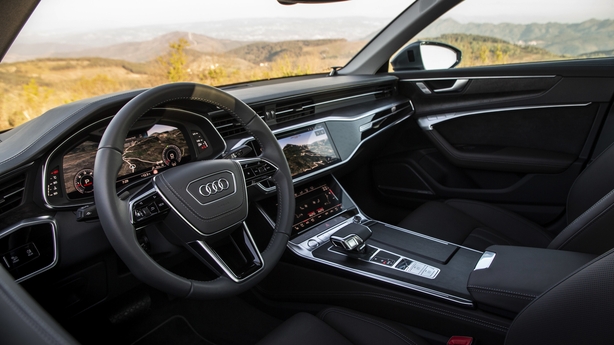 The standard screen is an 8" display.
Standard equipment includes full LED headlights, lane assist programme to keep you from wandering inadvertently, pre-collision warning and prevention, the Audi Connect system and an 8 inch screen. The MMI touch response system and advanced navigation are option extras and it will involve a fair cost to get the A6 right up to its full technology spec.