With the Euro having reached its highest value in Sterling in eight months, used car imports from Britain and Northern Ireland are reaching record levels. The first six months of this year saw an increase of 14% as buyers look to import bargains buys.
The Euro reached its strongest position against Sterling in recent years, when it hit 89.5 p against Sterling, and the indications are now that the figure of 100,000 imports will be reached for the first time by the end of the year.
In the first six months of 2018 the Society of the Irish Motor Industry registered 49,971 used car imports from the UK, a 12 % increase on the same period in 2017, and a 64 % increase on the pre-referendum level seen in the first half of 2016. The SIMI also estimates that new car sales will fall by 8.6 %.
The latest figures from Fexco Corporate Payments, which handles payments on many of these imported cars, show that its not just private buyers, but car dealers also, who are buying them across the UK and Northern Ireland. Car dealers here increased their spending on vehicles imported from the UK by a fifth, or 20 %, during the first half of 2018, compared with the same time in 2017.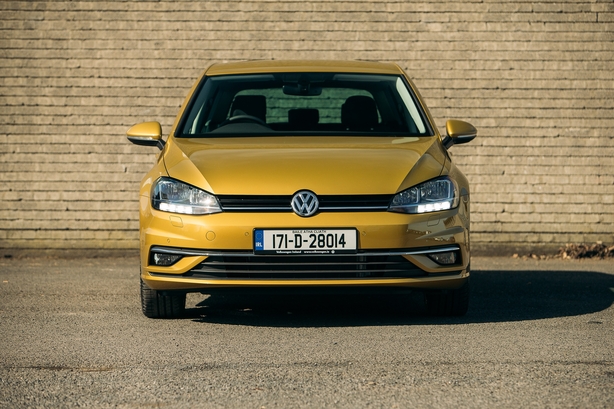 Volkswagen's Golf is among the most sought after cars for import.
Fexco analysed 3,000 payments and they show that, when compared to the levels recorded in the first half of 2016 – before the UK's vote to the leave the EU, the combined spend of individual motorists and Irish car dealers is up by two thirds or 66%
Fexco also recorded a 49 % increase in the number of cross-border car purchases - made by both dealers and motorists - between the first half of 2016 and the first half of 2018.
David Lambe, head of dealing at Fexco Corporate Payments says the exchange rate can be either a deal-maker or a deal-breaker. "The UK has a much greater supply of used cars than Ireland, so all things being equal, a British used car should cost less than a similar model on this side of the Irish Sea.
"Historically the cost – and red tape – of importing a UK-registered car into Ireland put off all but professional dealers or the most committed individual motorists. But sterling's continued weakness has shifted that calculus, and is nudging ever more Irish car buyers to look to the UK for their next car.
"In 2015 the Euro-Pound exchange rate averaged 72.6p, while in the first six months of 2018 it averaged 87.9p, before surging past 89.5p last week. But with the UK widely expected to raise interest rates in August, sterling could strengthen in coming weeks – meaning Irish buyers planning to import a car from the UK may want to lock in the current favourable exchange rate by using a forward contract."