Ford has developed a system that allows its new Focus to detect potholes on roads and avoid serious damage in the process. The question is whether it can cope with Irish craters.
Called "Pothole Detection Technology", the new Ford has system been developed on a test track replicating some of the world's worst potholes. The system uses sensors that indicate when a wheel is falling into a hole and then adjusts the suspension instantly to prevent the wheel falling further into the hole. We don't know yet whether Ford had a look at some of your finest but we even have a website in Ireland (pothole.ie) to guide company engineers to some of our most extensive craters should they wish.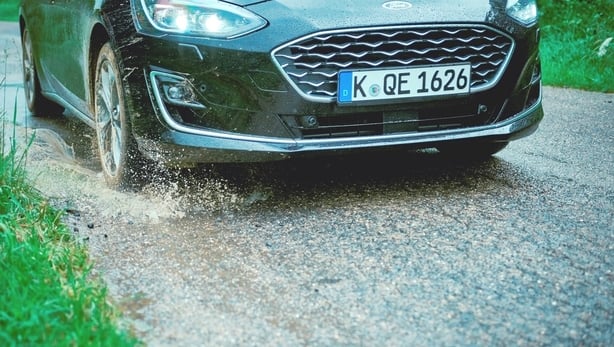 The system has been developed to react in milliseconds.
Ford says that because the tyre and wheel don't drop as far, they don't strike the opposite side of the pothole as harshly. The rear suspension can respond even faster than the front, with a signal from the front wheel providing a pre-warning to the rear wheel before it reaches the pothole. This all happens in a split second.

"Our engineers are always searching for the roughest roads to really test our suspension to the limit, but more and more we're noticing that the rough roads are finding us," said Guy Mathot, Ford Focus vehicle dynamics supervisor. "Potholes are a problem that isn't going away anytime soon, but with our advanced suspension technology for all-new Focus, we've been able to reduce their impact."
It's not yet known if this potential bonus feature for Irish rural drivers - and even urban ones - will be available as standard on the Focus that comes to Ireland later this year. The new Focus will have its international launch next month.