Women in Saudi Arabia finally hit the road, ushering in the end of the world's last state ban on female drivers, long seen as an emblem of women's repression in the deeply conservative Muslim kingdom.
In a country where petrol costs about 46 cent a litre, Saudi women won't be constrained in their choice of cars. Big engines and big names are valued in Saudi Arabia and among the most popular cars are the Mercedes S-Class, the Lexus LS and the Ford Explorer. Women drivers, now legally on the road since yesterday, are enjoying these cars as drivers for the first time.
"It's a beautiful day," businesswoman Samah al-Qusaibi told Reuters as she cruised around the eastern city of Khobar just after midnight, with police looking on. "Today we are here," she said from the driver's seat. "Yesterday we sat there," she added, pointing to the back.
The ban's end, ordered last September by King Salman, is part of sweeping reforms pushed by his powerful son, Crown Prince Mohammed bin Salman, in a bid to transform the economy of the world's top oil exporter and open up its cloistered society.
"It is our right and finally we took it. It is only a matter of time for the society to accept it, generally," said Samira al-Ghamdi, a 47-year-old psychologist from Jeddah, as she drove herself to work.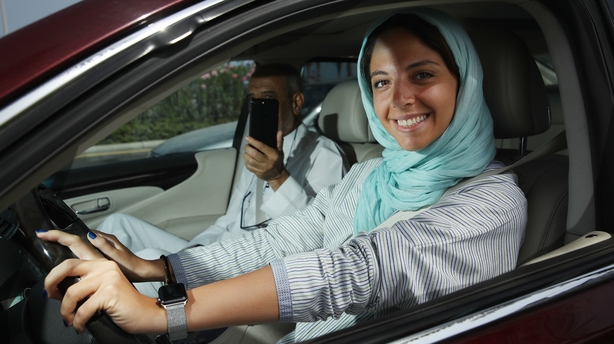 The lifting of the prohibition, which for years drew international condemnation and comparisons to the Taliban in Afghanistan, was welcomed by Western allies as proof of a new progressive trend in Saudi Arabia.
But it has been accompanied by a crackdown on dissent, including against some of the very activists who previously campaigned against the ban. They now sit in jail as their peers take to the road legally for the first time.
The number of new drivers remains low, as women with foreign permits were only able to convert them starting this month.
An interior ministry spokesman declined to specify how many licenses had been issued but said 120,000 women had applied, from an eligible pool of around 9 million.
Most will have to train at new state-run schools, with 3 million women expected to be on the roads by 2020.
Some still face resistance from conservative relatives, and many accustomed to private drivers say they are reluctant to take on the country's busy highways.
"I definitely won't like to drive," said Fayza al-Shammary, a 22-year-old saleswoman. "I like to be a princess with someone opening the car door for me and driving me anywhere."
Concerns that women drivers could face abuse in a country where strict segregation rules usually prevent women from interacting with unrelated men prompted a new anti-harassment law last month.
The Interior Ministry plans to hire women traffic police for the first time, but it is unclear when they will be deployed. A traffic police official reported that no unusual incidents had been recorded as of Sunday afternoon.
Riyadh resident Amr al-Ardi said the women in his family would wait to see how the system works before they start driving.
The decision to lift the ban in the kingdom - where once-forbidden cinemas and concerts have also returned - is expected to boost the economy. Saudi stocks rose nearly two percent on Sunday and insurance firms made solid gains, as demand from women is expected to boost the automotive sector.
The change should also save families billions of dollars on chauffeurs while encouraging more women into the workforce and raising productivity, if only modestly at first.
Auto companies produced theatrical ads to mark the ban's end, and private parking garages designated "ladies'" areas with pink signage.
"Independence Day" read the front page headline in the English-language newspaper Arab News. Social media largely erupted in celebration, though there were some voices of dissent and derision.
One Twitter user said he would not allow his wife to take the wheel: "If she wants to drive she can go to her father and God willing she will drive lorries...#She_Won't_Drive."
Much of the kingdom's overwhelmingly young population supports Prince Mohammed's reforms, but many Saudis fear their speed could provoke a backlash from religious conservatives once seen as dominant.
The clerical establishment has closed ranks with the ruling Al Saud family, with the Council of Senior Religious Scholars tweeting support on Sunday for regulations that "preserve Islamic values". Reuters.