Opel's new Grandland X is a latecomer to the burgeoning SUV market. It's also directly related to the Peugeot 3008. And that's not the only competition it has.
SUV's – compact and large – are the first choice for many buyers today. In fact, as a manufacturer if you don't have at least one SUV in your range these days, you're simply not at the races.
This time around for Opel, the bigger SUV option in its range is the Grandland X. It is surrounded by stiff competition, much of it well ahead of the Opel's arrival in this arena. The Nissan Qashqai is almost a vintage car by comparison.
The Grandland X has a lot of shared DNA with the Peugeot 3008 - both cars were developed as part of a co-operative project between Opel and Peugeot. Peugeot now owns Opel. so you can expect a great deal more of this model development and engineering work. The Grandland X and the 3008 are by no means carbon copies of each other - quite the opposite in fact - but the comparisons are rather inevitable.
While I think the 3008 got the better part of the deal in terms of looks - it has a much crisper and chiselled design - the Grandland seems to follow the lines of cars like the Range Rover Evoque for its identity. That's no bad thing either because if you are looking for something that resembles the Evoque at a much lower price premium then the Grandland X has quite a bit going for it.
In terms of price the Opel starts off with much of the competition around the same level - at €27,995. However, when it comes to the 1.6 diesel I drove (€34,095) there seems to be quite a disparity. An equivalent Qashqai starts at €29,020, a 2.0 litre diesel Volkswagen Tiguan (one of the best and more practical all 'rounders) starts at €29,810, a SEAT Ateca starts at about €27,450 and the sibling Peugeot 3008 1.6 diesel starts at €27,915.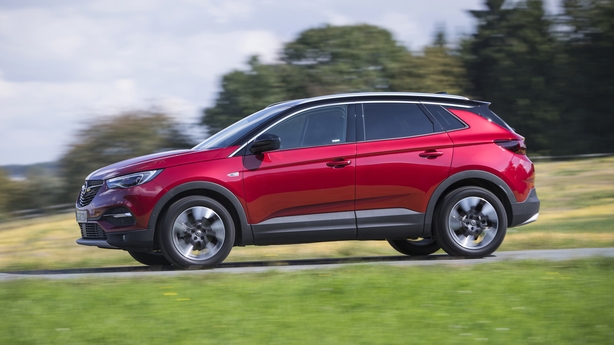 The Grandland X has shades of the Range Rover Evoque.
The engines in both the 3008 and the Grandland X are, just to note, the same.
In terms of fuel economy, the Grandland did very well and has been engineered to compete well in terms of fuel returns. An average consumption on a longer journey was a very respectable 5.2 litres per 100 kilometres and it also did well in town. This is aided by the fact that the output from the engine is only 120 horse power, which is actually more than enough for conditions in this country and legal motorway speeds.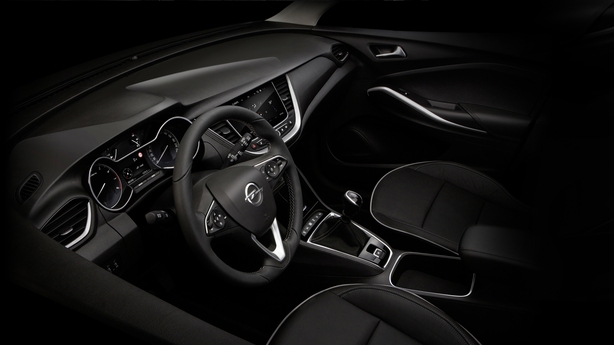 The interior is practical and well laid-out.
Apart from economy, another thing i like about Opel cars is the finish and solidity. The interior of the X had good strong seats and plenty of space. The rear seating has a 60/40 split for loading and Opel's clever flex seating system that it has been perfecting over the years.
It's a comfortable car for a long journey. In the city there is a little more work required with the manual gearbox. This is evident with the time taken to get from 0-100 KPH - a rather leisurely 11.8 seconds. There's a fairly limited line-up in terms of engines - the 1.2 petrol and the 1.6 diesel.
There is also a good dashboard layout and much-improved graphics on the infotainment system. While others might well prefer the chromed key functions of the 3008, I preferred the no-fuss German layout for everything. You also get Opel's OnStar connected services as standard and they are very useful.
There is a good list of standard equipment on the car, including 18" alloy wheels, electric wing mirrors with puddle lights, automatic rain sensing wipers, automatic high beam assist, a power tailgate, dark tinted rear windows, leather seat trim, ergonomic sports front seats, which are heated, multi-function steering wheel, dual-zone electronic climate control, cruise control with speed limiter among other items of equipment.
There are also impressive safety features (to complement Opel's OnStar concierge help services at the touch of a button when you need help) such as a front camera system with lane departure warning, speed sign detection, forward collision alert, LED daytime running lights, a traffic sign recognition camera, an emergency braking system, hill start assist, electronic stability program (ESP) incl. traction control, blind spot alert and rear parking distance sensors. I think it's a pretty generous list as standard and other companies will add them up quickly in terms of extra charges.
There's been some criticism of the Grandland X's lack of flair in terms of handling and performance but I think running costs are a far more relevant issue than sharp handling in what is effectively a family car. The engine may be vaguely sluggishly mated to a manual gearbox that takes some time to connect but it is a very economical engine and one that competitors might well look at to see how the power economy balance could be better altered.
I liked my time with this car. Exciting, it's not and powerful it certainly is'nt. But as a very good all 'rounder it did a lot more than I expected.
PRICE: €36,575.
TAX: €190 per annum.
.