In the age of crossover cars, Ford's fourth generation Focus - due in Ireland later this year - is still very much a hatchback but the crossover option is also there.
It's hard to walk away from a surefire formula, which is what Ford has had on its hands since it introduced what was a revolutionary hatchback in 1998. As it reaches its 20th anniversary, it has 16 million buyers to its credit across the world and for much of that time in Ireland it has battled with Volkswagen's Golf for the number one sales slot for family cars.
This time out, the emphasis is still on the popular family car slot but, not surprisingly, the crossover formula is still catered for. There will be an ST line version with higher ground clearance and skid plates to give it a crossover-type appeal, but the main version is very much back to basics.
The challenge to the Golf is going to be interesting. VW has been ahead of the game here in terms of the technology it offers as standard on its best-seller and what will be offered as standard on the Focus will reveal a great deal about the strategy behind the car. As is now usual with preview details of a new car, we get told a lot about what will be available but not so much about what will be offered on the entry-level car.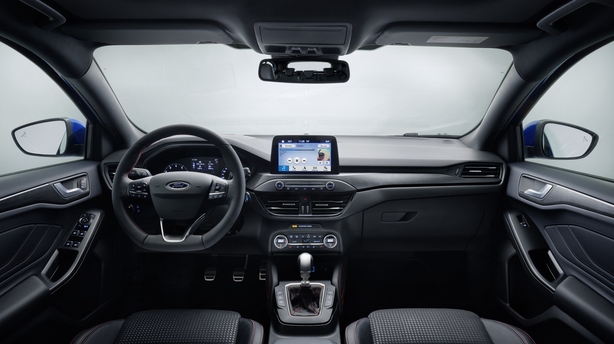 Connectivity will be a major feature of the car.
Active park assist - a sophisticated self-parking system that allows the car to park on its own - mentioned, as are adaptive cruise control, an evasive steering system that steers the car around stationary or slower vehicles, pre-adjustment of headlights for different conditions and recognise road signs, head-up dashboard display are all mentioned but we will have to wait until nearer the launch time to see what comes as standard. However, there will be a major emphasis on connectivity. Prices won't be announced for some time either.
One thing is clear though. If the currently ageing Focus is to have maximum impact the on the Golf's dominance in the coming months then it needs to present itself as a really challenging package. That means a good package of combined active and passive safety features, a keen price comparison and, most importantly a sense that the Focus has really moved on.
At this stage we know the car has been lengthened by some 53 mm and interior space has been improved as a result. Engines will start with a 1.0 litre petrol (85 and 125 horse power output) and this will be joined by a 1.5 petrol (150 and 182 horse power outputs). There will be two diesel options - a 1.5 (95 or 120 horse power) and a 2.0 litre (150 horse power).
Ford has always made cars that handle and ride well on European roads. The last version of the Focus I drive was one of the best handling cars out there and certainly put it up to the competition, including Volkswagen, in that respect.
The Focus will accommodate both Apple and Android systems and the interior looks a good deal smarter than the current model.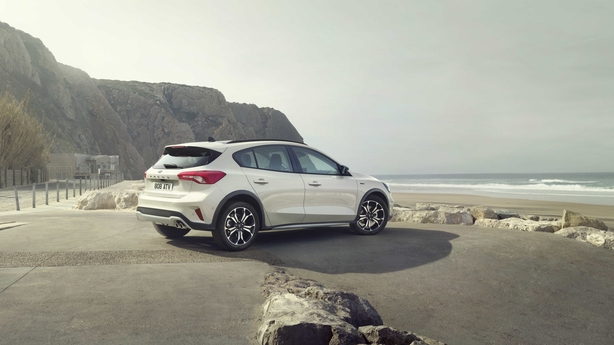 The ST version fills the crossover vacuum.
We will see other variants of the standard car, including an estate version. The Active version will seek to fill that crossover vacuum but its also possible we will see a greater drift to full crossover design not long after we see the first hatchback.