The fact that 2,500 people have registered their interest online in the new Nissan Leaf in the last three months suggests that we are very keen to embrace the future. Our Motoring Editor, Donal Byrne, has had his first drive in the the second-generation Leaf.
Nissan says it sold 400 first generation all-electric Leaf cars in its best year. This year it expects to sell that number by the end of next month and to sell 1,000 this year. The company has all sorts of claims to make for the car to entice people to abandon petrol or diesel - a bigger battery capacity, longer range, a cost of 1 cent per kilometre to run the car as compared to 7 cents a kilometre for a 1.2 petrol Nissan and incentives and grants that have now priced the Leaf right in the middle of the overall family car pricing structure. That's for the XE version that costs €26,250 and is inclusive of the SEAI grant and a Revenue discount.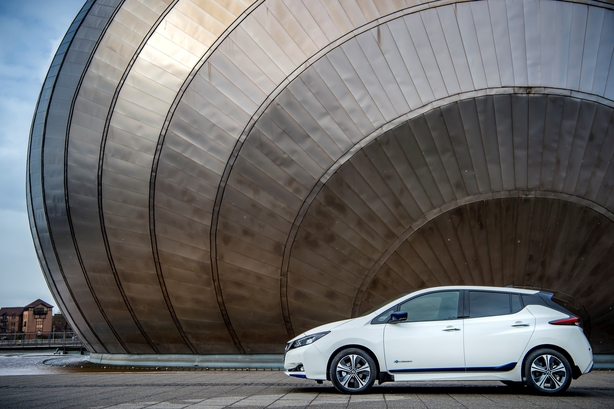 The range of the Leaf has been significantly improved.
The first thing to look at with the new Leaf is its range, because that is the one question everyone asks about electric cars. It is certainly significantly better than the old car. I started out with a full battery and a promised range of 255 kilometres. Now you can drive electric cars very sedately and eleminate draw on the battery (keeping the heating and radio off, for example) and to maximise the car's efficiency but we drive in real life conditions, so that seemed like the logical thing to do. After 158.2 kilometres - involving some brisk driving at times and combining motorway with secondary roads - I arrived back at my start point with 17 per cent of power still available and 46 kilometres of range left. That suggests a range of 204.2 killometres.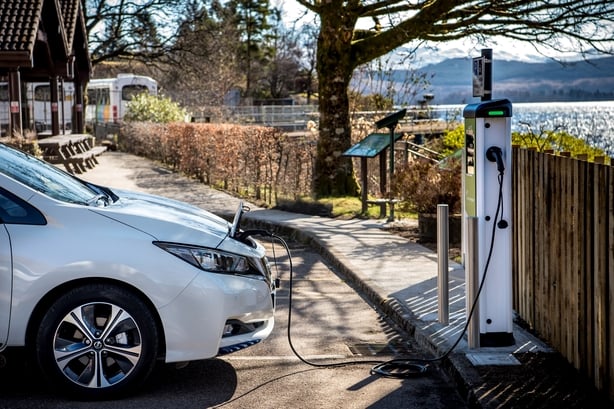 Charging intervals are reduced.
That is an impressive figure, especially when you consider that the driving pattern was so mixed and heater, radio, wipers and so on were used. If one were just driving in the city at lower speeds that range would have been improved on significantly, thus showing the appeal and merits of the car for those who are driving a commuting route every day. It also means that the requirement for charging is less and intervals between charges for commuters reduced. For longer journeys, some careful planning for charging is required but the Leaf now comfortably accommodates longer journeys.
The car itself has been revised in terms of styling to give it a more conventional look and less of the odd profile of the older car. The lines are a bit sharper and you can see more of the Nissan family design that did not feature before. The car is the better for it.
Internally, there is a degree of familiarity. The infotainment screen is still small and the buttons fiddly - a larger screen with better graphics would really give this car an identity inside that would make quite a difference. Instead there are features familiar from other Nissan cars that rather inhibit the development of the Leaf character. There is good head and legroom but it is not overly generous for the taller drive. In addition, the rear can be quite cramped in terms of legroom because the fronts seats are big and well padded, thus impinging on legroom in the back.
The 0 to 100 KPH time is just under eight seconds (electric cars tend to have quite dramatic acceleration) and the car cruises very well. It also has good handling and ride absorption.
The car also has an e-pedal that can be engaged for more economical driving. It's a system already adopted by BMW in the i3 and the principle of it can sound quite counter intuitive. You use the accelerator pedal as both accelerator and brake. Push down and you move off, take your foot off and you begin to brake. Once you get used to it, it becomes second-nature and has the benefit of regenerating energy for the battery. It's ideal in traffic and adds to a very smooth experience overall. You can, however, just use the brake pedal if you need to brake in a hurry.
There is also an option of a Pro Pilot system that provides emergency braking and lane departure warning that comes in at €1,000 on the entry-level model and a self-parking system that costs €1,700. Depending on what level of equipment you want, Leaf prices range from €26,290 to €32,600. All versions produce 0 CO2 and attract annual road tax of €120.
The target customer for the Leaf is someone who live in a house that can accommodate a charging point. Supply and charging is still quite an issue and a concern for electric car owners in this country and will remain so until we have an adequate number of charge points that can be accessed easily and without a driver discovering someone with a non-electric car has taken the space.
The Leaf has addressed range anxiety to the point where many more people can feel comfortable with a battery only. And with some careful planning for longer journeys, the anxiety level that existed heretofore is substantially reduced.