SEAT has introduced a new and separate division to concentrate on performance cars. It's a curious move at a curious time.
It's ironic that at a time when the world of motoring is changing fast and fossil fuel power is fast losing traction that SEAT would decide to launch a new brand - a brand set firmly in the performance bracket. The question is whether the future of the new separate Cupra brand really rests with petrol engines or whether it will become the high-performance arm of SEAT, using hybrid and electric technology ?
That is one indication that came from last week's launch of the brand, with the head of R&D, Mathias Rabe, suggesting that the company would be looking at alternative engines. He said in the future there would be more battery electric vehicles in the line-up but, like other companies, petrol engines would still be produced. Luca de Meo, SEAT's boss, said the new Cupra brand would be a gateway for the introduction of new technology into the rest of the company. He was also keen to stress that "Cupra cars will not be limited to petrol".
In the meantime, the strategy behind the new brand is got people who might not otherwise consider a SEAT to do so. de Meo says "there is a gap between premium brands and the mass market" and that 80 per cent of sales will be conquest sales.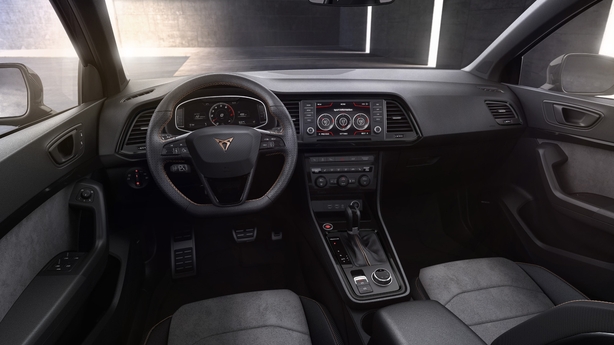 The interior of the Cupra Ateca.
We've seen other car companies branch out. Citroen did it with its DS range, Fiat has its Abarth range and Mercedes has its performance AMG brand. But is there really a gap in the market these days for a souped-up SEAT that delivers 300 horse power, with four wheel drive and a 0 to 100 KPH time of 5.4 seconds ? Perhaps in markets such as Germany, where population numbers and diversity and the absence of any speed limit on motorways make them a popular choice.
In Ireland the market is going to be a lot smaller and SEAT will have a way to go to catch up on the trail blazed by cars like the Skoda Octavia RS and the Volkswagen Golf GTi, which have a small but dedicated fan base. Only two Irish dealers are expected to be appointed to sell the new brand, which is a pretty emphatic statement on the extent of the appeal of the new brand here in the shorter term. I don't think heavy-duty performance petrol cars are going to be making a major comeback any time soon.
Cupra is producing an R version and a version of the Ateca. The Ibiza and the Arona will be next to get the performance treatment. There will be three more models by 2020. By then the cars will be available as plug-in hybrids. This then may indicate what the real future will be like for the new brand. Lexus currently has a coupe car that has great styling, a hybrid engine and oodles of performance but still has very strong green credentials and a respectable fuel consumption figure.
Several cues from the Volkswagen-Audi family are evident on the first Cupra's off the line, particularly the digital dashboard that has a very Audi look to it. Other touches include a leather steering wheel, Alcantara leather with stitching and meta pedals.
It seems reasonable to expect that in an Irish context Cupra's longer term plans may be more relevant than its short term ones.