Subaru's new XV Crossover does not have any diesel option and only comes with an automatic gearbox. It looks destined to struggle against the established competition in its class.
In the crowded market of SUV's and Crossovers, the requirement for four wheel drive does'nt actually enter the equation for most buyers because most buyers don't need four wheel drive, especially not full-time. It's one of the reasons why the latest Subaru XV Crossover is on the expensive side when it comes to competitors' offerings and it won't be causing too much bother for the likes of NIssan, Hyundai, Kie and Renault, whose crossovers tend to dominate the Irish market. Besides, both versions of the new Subaru have petrol engines and are only available with automatic gearboxes - another distinct drawback for those who make their crossovers work for their keep.
However, if four wheel drive is your thing and the entry level price of the Subaru (€33,495) is'nt an issue then the XV will be of some interest. Subaru says the car is "new from the ground up", with improvements to the cabin and a new engine and greabox - as well as a re-designed exterior.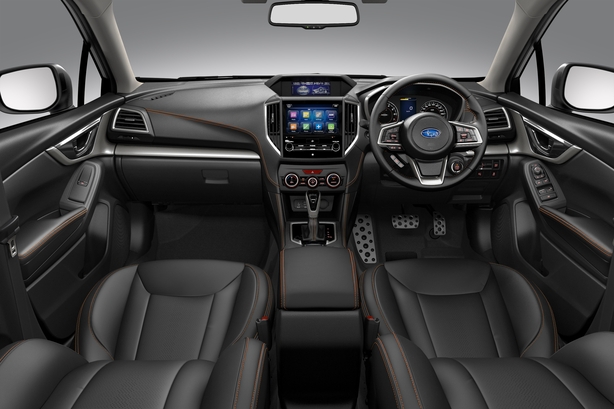 The XV's interior.
There are two versions of the XV - one with a 1.6 petrol engine and another with a 2.0 litre petrol engines. Both are available in two levels of trim - SE and SE Premium.
SE models are equipped as standard with adaptive cruise control,hi-beam assist, Subaru rear vehicle rear detection, automatic LED headlamps and headlamp washers, alloy wheels, heated front seats, keyless entry and push-button start,privacy glass. They also get an 8-inch touchscreen infotainment system, incorporating audio, smartphone connectivity and a rear view parking camera. The system also incorporates Subaru STARLINK and is Apple CarPlay and Android Auto compatible.
SE Premium models add leather seats, satellite navigation, sunroof, and electrically-adjustable driver's seat for added functionality. While the entry level 1.6 SE starts at €33,495, the SE Premium costs €36,495. The 2.0 litre costs €35,395 and the premium version costs €38,495. Coupled with consequently higher emissions and the limitations of full-time four wheel drive, a petrol-only engine and automatic-only gearboxes the XV Crossover looks like it will have a battle on its hands to take on the established competition.