Described as capable of "level three" autonomous driving, the new A7 Sportback is capable of parking itself not just in a car parking space but in a garage also. The driver simply gets out of the car and taps on the appropriate app on a smartphone. However, Audi is looking at the relevant legislation in each market it sells in to determine how much of the autonomous technology it will offer. There are another 39 driving assistance functions on the car with features such as the "efficiency assistant" that allows the car to figure out the most economical driving style to save fuel.
There will be a choice of four and six cylinder engines, with the 3.0 diesel with 231 horse power expected to be the best seller here. All engines will have what is called a "mild hybrid function", a system that allows the car to re-generate a small battery under braking and to "coast" at speeds between 55 KP and 120 KPH with the engine deactivated. Power can, of course, be reactivated instantly when required.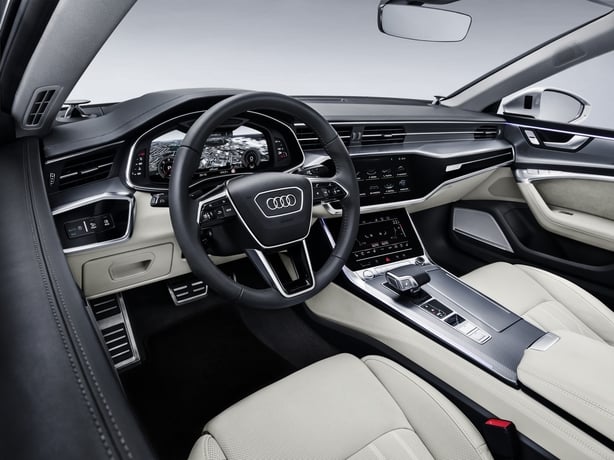 Conventional control buttons have been ditched for touch-friendly functions.
The A7 shares a lot of technology with the recently-launched A8. Normal buttons and controls have been jettisoned in favour of high-resolution touch displays. There's a 12.3 inch display screen for functions such as satellite navigation and the lower screen for things like climate control is 8.6 inches.
Pricing won't be announced for some time yet and the car goes on sale here in late February.