Another Mercedes recall - this time because of concerns over airbags deploying accidentally - is likely to involve thousands of cars sold here. It covers cars built between 2012 and 2017 and involves A, B, C and E-Class models and the CLA, GLA and the GLC classes.
This latest recall covers 495,000 vehicles in the United States, 400,000 in Britain, 76,000 in Canada and a few hundred thousand in Germany but Mercedes did not immediately have a complete worldwide total.
Cars sold in Britain are made in the same factories as cars sold in Ireland, so there should be a proportionate recall.
Owners have been advised to seek assistance if their airbag warning light comes on.
Reuters reports that an electrostatic discharge, coupled with a broken clock spring and insufficient grounding of steering components, can lead to the inadvertent deployment of the driver side front airbag in vehicles subject to the recall.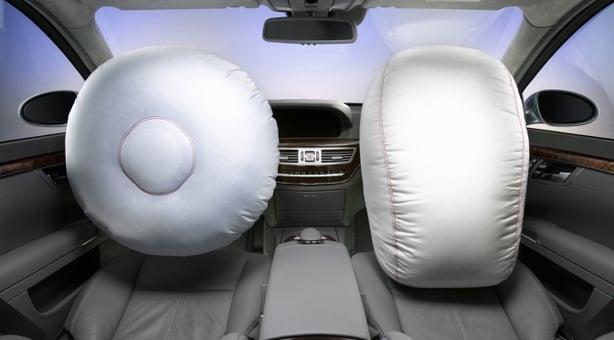 As part of the fix, it said dealers would add new grounding to the steering components.
A Mercedes-Benz spokeswoman in the United States said there had been "a handful of instances where drivers suffered minor abrasions or bruises" due to the airbag problem.
No deaths have been reported and the issue is not related to the massive recall of Takata airbag inflators worldwide.
An unexpected airbag deployment would come as shock to any driver and a major distraction.
Cars Direct, a car brokerage in the UK, explains how an airbag works:
"Once the control unit determines there is an accident, it sends a signal to the inflator system.
"The inflator sets off a chemical charge, producing an explosion of nitrogen gas, filling up the airbag. As the airbag fills up, it bursts through the paneling that contains it and enters into the space of the car in order to protect you.
"This all happens in an instant, usually within 25 or 50 milliseconds. That translates to almost 200 miles per hour. The airbag then will deflate itself on its own once it deploys."
Mercedes Ireland said in a statement:
Confirming that models sold in Ireland will be affected by a vehicle recall similar to that currently underway in the UK, the Mercedes-Benz organisation in Ireland confirms that the matter - which relates to the functioning of the driver's airbag - was notified to them, since when the process of gathering the necessary information required prior to initiating a recall here has been underway.
"Working closely with colleagues in Germany, and at their direction, this work will involve determining the precise number and details of vehicles affected in each model category, together with contact details for the owners involved.
"When this information is compiled – along with other detail concerning modification procedure and component availability, if required - contact will be made with owners to inform them of the situation and have the modification work carried out.
"Work to rectify the matter will be performed free of charge and will only take approximately one hour to complete. Meanwhile, owners are assured that affected vehicles are safe to drive under normal operating conditions. However, should the driver's airbag warning light illuminate, customers, are advised to contact their nearest dealer or call roadside assistance."