Some of the big names in the motor industry are among those criticised after the latest Euro NCAP crash tests.
The Ford Fiesta became only the second small car this year to get a five-star rating when relying only on its standard safety equipment.
Euro NCAP - the independent European crash test agency - released the test results for nine new cars today with the Ford Fiesta, Jeep Compass, Mazda CX-5, Mercedes C-Class cabriolet, Opel Grandland X and the Renault Koleos all being awarded five stars.
However, two of the cars - the Jeep and the C-Class - were criticised after side-impact testing and Kia's small Picanto and Rio were given only three stars for their standard safety equipment.
When safety options - costing more money - were added they were given four and five stars respectively.
The new Ford Fiesta joined the Seat Ibiza as the second car this year to achieve five stars with just standard safety equipment.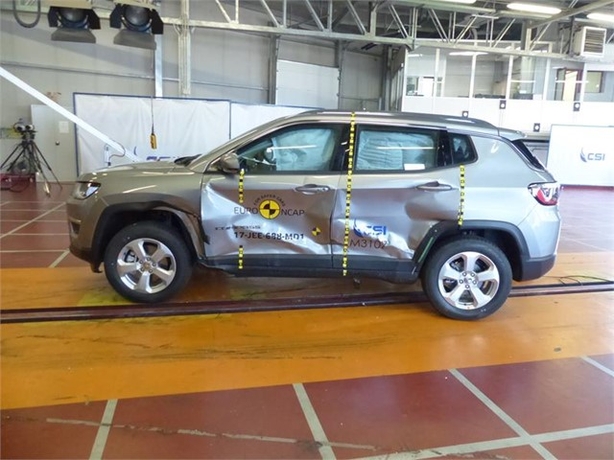 Euro NCAP said that in the case of the pole test of the Jeep Compass, "readings in the dummy's chest indicated injury risk values above the limit to qualify for points, but below those which indicate an unacceptably high risk of life-threatening injury.
"Likewise, in the side barrier test, the head of the dummy representing a 10-year-old child, seated behind the driver, struck the roof frame in the Mercedes-Benz C-Class Cabriolet as the side airbag did not fully cover the impact area.
"In the same test with the Kia Picanto, the chest of the 10-year-old child was poorly protected".
Michiel van Ratingen, Secretary General of Euro NCAP: "Euro NCAP is pushing for the fitment of advanced technologies and manufacturers have responded well, with AEB now commonplace on most new cars.
"However, they should not forget the basics of occupant protection in case of a crash. All occupants deserve to be equally well protected, whether they're an adult driver or a child seated in the rear.
"The adoption of a 10-year-old child dummy in our test last year allows us to highlight areas for improvement, even in five-star cars."
The Ampera-e (which is not going on sale in Ireland): "while achieving a creditable four-star rating, disappointed in having no seatbelt reminder for the rear seats.
"This follows a trend set by the Opel Insignia which offered rear seatbelt reminders only as an option.
van Ratingen said: "It is very disappointing to see Opel do away with this simple, relatively inexpensive but life-saving technology. If occupants are not properly restrained, any additional means of protection are largely ineffective.
"We know how effective these reminders are at promoting seatbelt use, so this is clearly a big step backwards on Opel's part."