Jeremy Clarkson and I have quite a lot of common when it comes to cars that have been largely unloved by others. Two stand out - the much-derided Fiat Multipla, which years ago taught a great deal to car designers who needed to learn how to cleverly design a family car and the Skoda Yeti, a car that has achieved something of a cult following among drivers who knew value for money, clever use of space, a sense of original design and driving fun when they saw it.
These are the people - along with myself and Jeremy - who will very much regret the passing of the Yeti. It is no more, alas, and the latest iteration of Skoda's small crossover is the rather corporate looking and homogenized Karoq. Instead of a car that had a cute identity, we now have a trimmed down version of the bigger Kodiaq. It's probably not going to make much difference to those who will buy the Karoq because Skoda's pricing and build quality are now pretty firmly entrenched with its existing and potential customer base.
And besides, most of them will probably never have heard of a car named after the mythical abominable snowman from Nepal.
It is, however, a pity that Skoda did not - perhaps it wasn't allowed by its German parent, VW, which is apparently more than a little put out at the moment by Skoda's increasing profile - give the car a more distinctive profile rather that just a slimmed down clone of the bigger Kodiaq.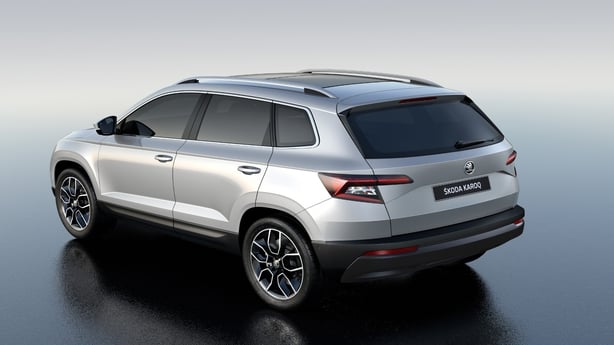 Karoq prices start at €27,715 but there is no "entry level" car.
The Karoq pricing starts at €27,715, which brings me to the maze that has become car pricing these days. There is no entry level Karoq - the lower version is the Ambition. So, in order to compare the price with the Karoq's competitors (the Kia Sportage, the Hyundai Tucson and the Nissan Qashqai - €27,995, €26,245 and €25,620 respectively) you will have to compare the equipment levels offered on cars from the entry level up. For example, the Qashqai may look the cheapest but it does not have level of smart phone integration offered by the more advanced Skoda Smartlink + system. Neither does it have LED headlights. For the record, the Ambition also has as standard:
17" Ratikon Alloy Wheels 8" Bolero Radio Climatronic - 2 Zone air conditioning Rear Parking Sensors
Cruise control with Speed limiter Light and Rain Assist Electric Heated wing mirrors
Leather Multifunction Steering Wheel Hill Hold Centre Armrest
3 USBs slots Fog Lights Passenger Seat Height adjustment Light Assist
Front Assist Voice activation Exterior Chrome Pack Front Seat Lumbar Support
Curtain Airbag Driver Knee airbag Front Side Airbags
It is, it has to be said, a good list of standard equipment. The more expensive Style version gets 18" wheels, a 9.2 inch screen (very impressive), satellite navigation, rear view camera, keyless entry, DAB radio and start/stop button.
Buyers therefore have to have their homework done if they are to compare like with like when choosing between manufacturers.
Another thing the Yeti had and the Karoq does not have as standard is the Vario-Flex seating system. These can be moved forwards and backwards and up and down and individual seats in the rear can be removed when required. For example, if you normally carry two children in the rear, you can remove one seat and place the other two seats apart, with plenty of space in between. Remove all seats, which can be done without any back-breaking effort or a complicated diagram, and you have an enormous rear capacity that would keep a double bass player happy. However, now you have to pay for the Vario-Flex system as part of a €1400 package of extras that also includes the electronic tailgate function.
The Karoq is actually a very nice car to drive. You would'nt exactly describe the handling as dynamic (Seat's Ateca would be better) but as a family car it does its job very capably. I drove the 1.6 diesel and the 1.0 litre petrol TSi, among others, and found the diesel had plenty of life in it. Some may consider the 2.0 litre diesel preferable in terms of performance but I'm inclined to be swayed by the kind of use this car will get - predominantly family and suburban. The 4X4 version may have a more useful profile away from the school run. The 1.0 litre TSi petrol is perhaps the best small petrol engine around the carries the Karoq very well. And neither the diesel or the three-cylinder petrol engines are noisy. In fact, their soundproofing and refinement are among their best attributes. Both are also very economical.
There is a choice of four engines, ranging from 116 to 150 horse power, a choice of manual and automatic gearboxes and a four wheel drive version.
The interior is light and airy and the digital instrument panel and touch/swipe infotainment screen are both impressive and modern. However, I really do think the rest of the front interior could have done with the same kind of distinctive identity lift the exterior could do with because it is bland in many respects. The rear does have good head and legroom and the boot is generous, even without the seats down or removed.
If you are considering buying in the crowded crossover market of the New Year, the Karoq deserves careful consideration. Just make sure you compare like with like. Skoda Ireland also says it has sorted out the supply problems that left many prospective Kodiaq buyers gnashing their teeth because they had to wait over six months in many cases. The Karoq is due by December.