The value of diesel cars in the UK has fallen below that of petrol cars for the first time since the government there announced proposals for diesel restrictions and a ban on diesel sales from 2040. The fall is likely to have a significant benefit for some Irish car buyers, over 50,000 of whom have imported cars from the UK so far this year. Just over 80 per cent of the those imports were diesel cars. The weakness of Sterling since the Brexit vote is the main reason for the increase. 
Dealers here are bracing themselves for a further surge in imports as UK cars drop in value and become more attractive for Irish importers. In many cases, dealers themselves are importing cars from the UK to service big demand for second-hand cars here.  There are about 900,000 second-hand car transactions a year on the Irish market.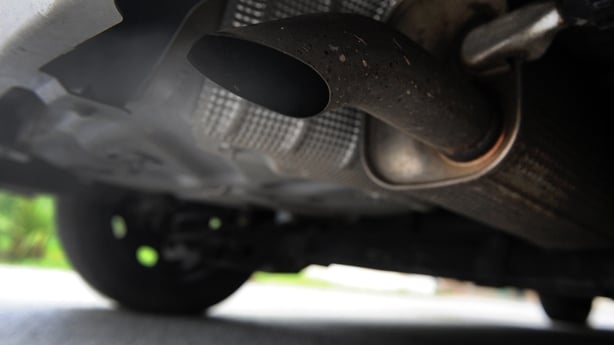 Ireland has yet to announce its position on the future of diesel cars.
So far Ireland has not indicated any firm plans to ban diesel cars or to tax them at higher rates because they have diesel engines.  Meanwhile, big German companies such as BMW and Mercedes are now offering customers in Ireland and across Europe cash incentives to exchange their older and more-polluting diesel cars for new cars that meet the Euro 6 standards.
Michael Rochford of Motorcheck.ie - a firm that provides vehicle history checks - does not foresee what is being called in the UK "a negative equity time bomb" for those involved with PCP contracts. He says some who have PCP's may find they have less equity in the car at the end of the agreed period but would have the option of buying out the car with another form of loan.
He says there is usually a margin of 20 per cent built in to the future guaranteed value of a car on a PCP and unless there was a dramatic drop in prices there would not be the same impact here as in the UK.
However, Reuters reports that a plunge in sales of diesel cars in Europe's two biggest markets is helping to drive down the value of used vehicles, posing a risk to the lucrative financing plans used by major car companies to sell millions of cars.
After Volkswagen's emissions test cheating scandal, authorities across Europe are seeking to raise taxes on diesel vehicles that are more polluting than originally thought, and ban or restrict their use in some cities.
That is starting to hit demand hard, with new diesel car registrations in April dropping 19 percent in Germany and 27 percent in Britain, according to data this week. This is turn is beginning to weigh on used car prices.
With regulators also looking to encourage a shift to cleaner vehicles, there seems little prospect of a recovery soon.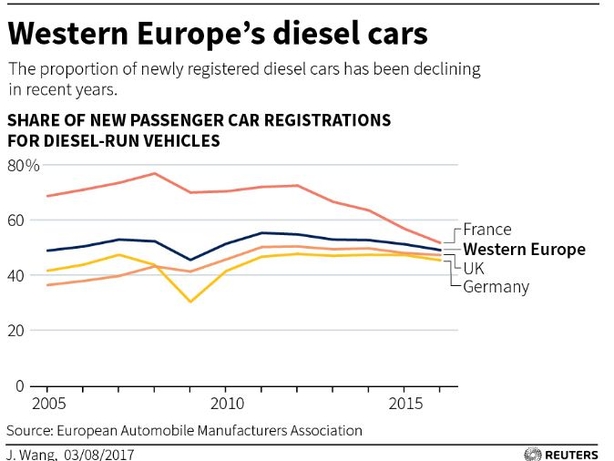 The outlook is particularly uncertain in Britain, where car sales hit a record high last year fuelled by finance packages that now account for nearly 90 percent of sales versus around a half ten years ago, according to Exane BNP Paribas analysts.
Under the "personal contract plans," customers pay a small deposit towards a new car and then make monthly payments for two to three years. After that, they can either buy the car outright or return it to be sold second hand and use the equity to take on a new car, beginning the cycle of monthly payments again.
How much they can borrow depends on what the finance company believes the vehicle will be worth after the 24 or 36-month period. If residual values fall more than expected, customers will have less money to buy a new car - potentially hitting demand for all new vehicles, petrol as well as diesel.
"It's a big potential problem if that carries on because it reduces the affordability of vehicles potentially quite significantly," said Exane BNP Paribas analyst Stuart Pearson.
"The question is how fast those residuals go down. In the U.S. we've seen them come down almost 20 percent now, so the UK may have only just begun."
The United States has seen a sharp fall in residual values in recent years as demand - which recovered much more quickly than in Europe in the wake of the financial crisis - has stalled and automakers have slashed prices to try to shore it up.
A similar fall in Europe would hit carmakers that have become increasingly reliant on their financing businesses. Operating profit at Volkswagen Financial Services leapt 10 percent to 2.1 billion euros (1.78 billion pounds) last year, compared with group underlying operating profit of 14.6 billion euros.
Residual values in Britain have fallen around 3 percent over the past two years, with diesel vehicles particularly affected, and the trend has been seen in other European countries too, according to some analysts.
Leasing and finance contracts are both generally priced using an assumption of stable residual values. A sharp fall in used car prices could trigger a spike in leasing prices, which could further dampen demand and increase defaults.
According to Evercore ISI analysts, the cost for eight major European and U.S. carmakers of a 5 percent cut in residual values in Europe could reach a combined 1.6 billion euros.
The big three German car makers would suffer the most, with Volkswagen taking a hit of more than 500 million euros to earnings, followed by BMW and Daimler.
BMW said on Wednesday it expected a small fall in return on equity in its financial services business this year, although it would remain above its target of 18 percent.
Concerns about the way finance packages are sold have also prompted Britain's Financial Conduct Authority to conduct a review, warning there may be a "lack of transparency, potential conflicts of interest and irresponsible lending."
British consumer borrowing late last year expanded at its fastest annual rate in 11 years.
But Graham Hill, car finance expert at the National Association of Commercial Finance Brokers, said firms were able to adjust to falling residual values and many would have factored in a potential big fall.
"They're not naive enough to think that there are things which are going to happen from time to time," he said.