Correspondence between the National Transport Authority and Uber in San Francisco reveals the authority is "unsupportive of the company's plans to expand in Ireland." The letter was obtained under Freedom of Information legislation by RTE News.

In a letter to the San Francisco tech company, the NTA described Uber's proposal to operate a pilot scheme for paid trips in private cars, as "undesirable" and would result in unfair competition with licensed taxis.

It said "operating parallel regulated and non regulated regimes would undermine the regulated transport system".

Uber has been operating in Ireland for three years but has been unable to roll out the ride sharing service that operate in other countries.

It means that the company can only offer taxi bookings in licensed vehicles and trips in chauffer driven cars.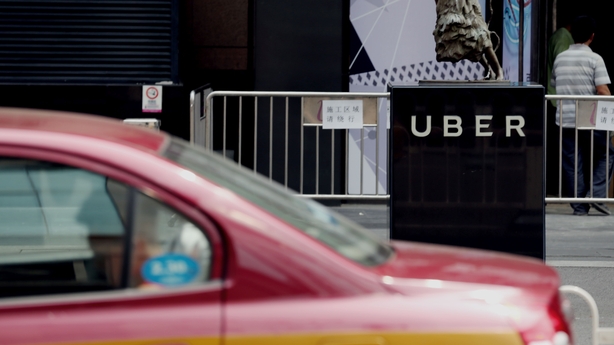 Uber, which has offices in Limerick and Dublin, made a number of proposals to the National Transport Authority.

The Uber plans had included a plan for a "ride sharing pilot" project in Limerick city, and putting itself forward as part of the solution to the congestion problem in Dublin city.

The NTA said it understood that proposals for a ride-sharing pilot project in Limerick would involve drivers being allowed to operate without a licence - outside of the current regulatory system.

It said drivers would be subject to Uber's own requirements including driver background checks and running cars of a certain standard.

The NTA told Uber that operating a pilot project could not be done within the ambit of the current legislation.

The Authority told Uber: "Notwithstanding the above legislative position, it should be stated that the NTA is unsupportive of this proposal. Operating parallel regulated and non-regulated regimes, even on a pilot basis is undesirable in our view and can only serve to undermine the regulated transport system....the issue of unfair competition arises. This is not an approach which could be supported by the NTA".

Uber has been lobbying the government, and the NTA to allow it to roll out a ride sharing service similar to those which operate in other countries.

It said ride sharing would help to improve traffic flow in Dublin, which it says is "one of the world's most congested cities".

But the NTA said it is worth noting that ride sharing in licensed vehicles driven by licensed drivers is not in any way precluded under the current legislative system.

It said the current Taxi Regulation legislation facilitates multi-passenger journeys in licensed vehicles driven by licensed drivers.

The NTA said it would be prepared to consider amendments to those regulations to clarify arrangements if necessary.
Uber said the response from the NTA was disappointing.
However the company said it was committed to its "Centre of Excellence in Limerick" and its operations in Dublin.
"We are still in conversations with the government about innovating in the sector" it added.
Justin Mc Carthy, RTE News.