Actor Michael Fassbender doesn't even own a car but the Killarney-raised actor manages to get to get his motoring thrills on the track in a $300,000 Ferrari. Jealous? You should be.
Ferrari Challenge weekends can cost others up to $20,000 - but not for him.
Fassbender has always had an interest in motor racing and was sought out by Ferrari to take part in its Ferrari Challenge racing programme last year.
"Ferrari is defined by racing, and training with the Ferrari team gave me a great foundation to hone my skills behind the wheel of the 488 Challenge race car," says Fassbender.
"From a very early age I idolized Ferrari and its champion, Michael Schumacher, in particular, so now racing in the Ferrari Challenge brings that dream full circle."
He undertook the Corso Piloto driver's course with Ferrari and has since taken competition seriously, although he does confess to losing his concentration at times.
The challenge is aimed at Ferrari owners with a passion for racing and can cost participants between $15,000 and $20,000 for a weekend's racing.
Fassbender, though, is an invited guest so he gets all the thrills without the financial spills.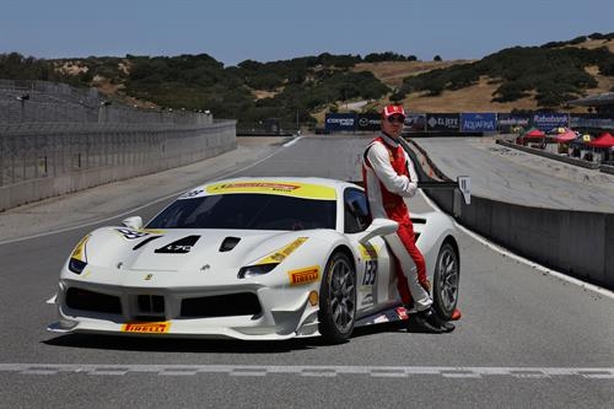 The actor managed speeds of up to 150 MPH in his latest race in Salinas, California
The star of the new movie Alien: Covenant, Twelve Years a Slave and Steve Jobs completed the first round of the 2017 North American Ferrari Challenge last weekend and came sixth in one of the key races over the 2.2 mile Mazda Raceway track.

Next weekend will see him compete in Montreal.
Watch Michael Fassbender talk about his new motor racing career on the Tonight Show with Jimmy Fallon.