When it comes to small city cars, everything revolves around price and what equipment you get as standard. These are very much the targets for Kia in taking on Hyundai in the small car stakes with its new Picanto, a car Kia says may cost slightly more than the Hyundai i10 but is better equipped and has lower emissions.
The price difference between the entry level versions of both cars is about €300 - in Hyundai's favour. The Picanto costs €13,295 and the i10 €12,995 and the latter is streets ahead in terms of sales this year. Kia intends to try to woo customers by offering extra equipment as standard, something Korean manufacturers have always been good at.
So the entry level Picanto - the TX - has Bluetooth connectivity, audio controls on the steering wheel, heated front mirrors, electric rear windows, four speakers, a leather-covered steering wheel and gear knob and body-coloured mirrors and door handles. It's not a bad list for one of the cheapest cars on the market. Kia also offers a seven year warranty compared to Hyundai's five.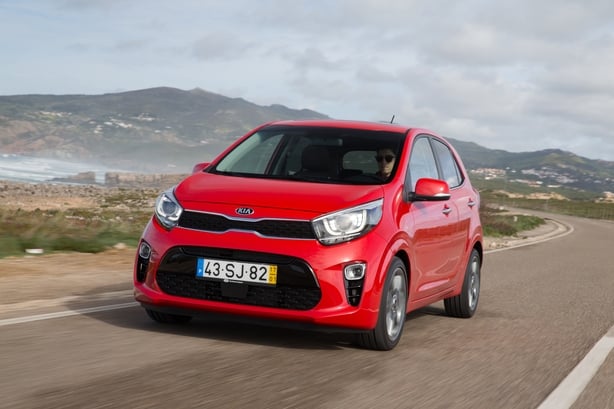 There is a choice of two petrol engines.
There are two petrol engines to choose from - a 1.0 litre and a 1.2 - both of them petrol (the mini segment has been the only one not to have been taken down the diesel route by manufacturers). The 1.0 litre has a modest 67 horse power output but is is quite adequate for what the Picanto is designed for - city driving. It is a three-cylinder engine that motors very nicely in traffic and on on soft runs but quickly shows its limitations when pushed at higher speeds, when it becomes increasingly noisy, whiney and limited in power.
The 1.2 has almost 20 per cent more power and is a quieter four cylinder. For the extra €1500 the four cylinder costs, my money would stay in my pocket because buying a car like this for non-city driving and lower mileage does not make sense anyway.
The interior of the Picanto has been improved but it is still a reflection of the price you pay. For example, other markets have the bigger display screen for audio and information but the model here has only a standard display. It's a pity because the bigger screen adds a quality feel to the car.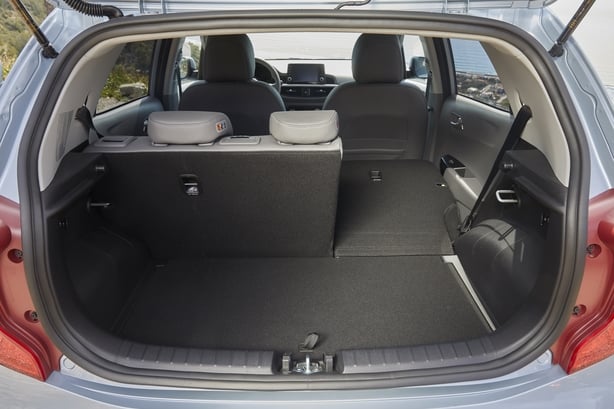 The boot is bigger than in other small cars but is still restricted unless the rear seats are folded.
However, the interior finishes feel of better quality this time around and the space around you is bright and airy. The small rear windscreen does create issues for visibility but the front is fine. The boot is bigger than in other small cars at 255 litres, but it is still restricted unless the rear seats are folded for any sizeable load.
Front seats are comfortable and allow good legroom when extended, but when they are extended they take up almost all of the rear legroom. So, two adults in the front won't have an issue. Any adult in the rear will have an issue 'though.
The overall styling is not exciting and I'm more taken with the i10's profile, especially from the side as it gives a stronger identity. When you look at the funky styling of the Renault Twingo it also puts it into perspective.
The 1.2 EX costs €14,795 comes with 15" alloy wheels that give it little road presence, however. It also gets extras such as cruise control and a speed limiter.
When it comes to emissions the Kia models are lower than those of Hyundai - 101 g/km for the 1.0 litre, for example, compared to the i10's 108. Kia claims a combined fuel consumption average of 4.4 litres per 100 km but we have'nt had a chance to test the company's claims in real-world conditions. We will let you know when we do.