The former Green Party minister, Eamon Ryan, has agreed with a former British government advisor that decisions to give diesel cars a tax advantage were wrong. 

Mr Ryan was responding to remarks by David King, who was the chief scientific adviser and a special representative for climate change to successive British governments. Mr King said he had been misled by the car industry about dangerous nitrogen oxide emissions from diesel cars.
The number of diesel cars sharply increased after the British Labour government cut fuel duty on diesel vehicles in 2001.
Mr King told BBC Radio 4's Today programme: "It turns out we were wrong."
Eamon Ryan agreed, telling RTÉ Motors that the decision to promote diesel cars with tax breaks in 2008 - by the government of which he was a member - was not the correct one.
He said he and others at European level had been given assurances by the car industry that it could solve the emissions problem and that was not the case.
"Looking back, it was not the right solution because the car industry could not solve the problem", he said.
Since 2008, up to 70% of cars sold in Ireland have been diesels as a result of tax advantages. The move was promoted by the Green Party because of concerns about CO2 emissions from petrol cars. Mr Ryan was Minister for Communications, Energy and Natural Resources.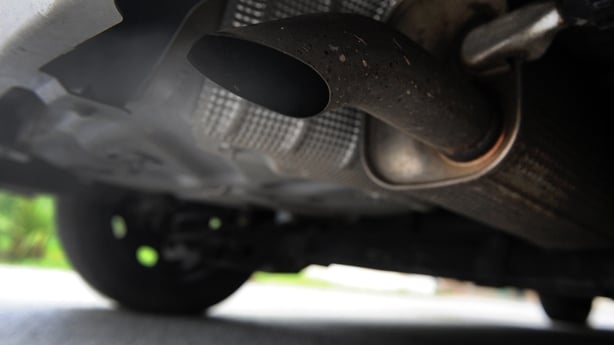 Diesel cars are to be banned in 5 major cities from 2025.
However, because of recent deteriorating air pollution in cities around the world that has been directly linked to thousands of deaths, five major cities are to ban diesel cars from 2025, including London.
Speaking on BBC Radio this morning, Mr King said: "I was in very close contact with the industry that was producing these catalyst trap systems and I was convinced that they could manage the problem.

"What we know now, from the Department for Transport emission results from very extensive tests of vehicles, is that a large number of diesel-driven vehicles on the road in London are emitting more than 12 times the Euro 6 limit".
Mr Ryan said he did not regret the decision by the then government to base car tax on emissions as they had fallen by one third. He did, however, regret relying on information from the car industry, which promised it could control emissions when it did not. 
"I think car manufacturers have reached the limited of physics in terms of how much they can reduce diesel emissions and we now have to re-visit the issue of those emissions", he said.