Skoda's entry to the world of electric motoring is called the Vision E project and a prototype will be shown at the Shanghai motor show next month. Claims for the project seem futuristic but the time frame for its actual launch is not. Skoda says it will be offering five purely electric models across its range by 2025.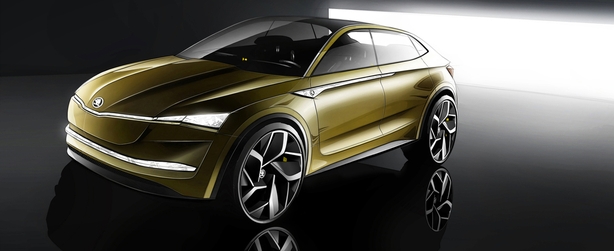 Skoda's Vision E prototype.
The first car in the electric range - the Vision E - is described as being higher than the current Octavia but more compact otherwise. Skoda has opted to give the car a more SUV profile and it seems to resemble more the new Kodiaq than the Octavia.
It will have a power reserve of 300 horse power but a modest top speed of 180 KPH. As with other electric cars 'though acceleration should be impressive. Two electric engines will power the car to all four wheels - interchanging from front wheels to rear wheels as the need arises.
Autonomous driving, which as we all know is now just around the corner, will also be a big feature. The Vision E will be designed to operate independently in traffic jams (braking and moving forward automatically), employ autonomous driving on motorways by overtaking and maintaining its correct lane position and will be able to seek out free parking spaces and then park itself.