The National Ploughing Championship is Europe's largest Outdoor Exhibition and Agricultural Trade Show. Demonstrating the best of the best in farming, from practices to machinery, Donal Byrne visited the farm machinery stands to find out farmer reaction to tractor development and technology. 
Billy Shaw of WR Shaw is a tractor dealer, and says technology plays a huge part in the future of farming.
"These all are computerised" he explained, showing the many tractors on display at the lot. "We're upgrading the software. You have to be a bit of a computer technician to fix one of these more so than a mechanic."
Tractors becoming more work and fuel-efficient
"The common rail engine has brought a lot of technology into tractors" Billy explained, citing fuel efficiency as a core appeal among farmers.
"It only puts in fuel when the tractor needs the fuel. Fiat developed the common rail engine, and they're all Fiat powered engines we have in these tractors. They're probably the best in the world."
"For the operator" Billy explained, "we have now reached the stage now with GPS where you can setup a tri-pod in your field and you can actually sit into the tractor and press a button and the tractor will drive itself. Sowing the crop or whatever you want to do. That's a big move, and it cuts down on overlapping."
"We had one particular customer who had me create an autonomous tractor for him. There's no driver, he just drives with a joystick and he walks behind it, picking up broccoli." Shaw maintained that it's the way forward, and that were are not far off the day where a farmer will "sit in the office, controlling all your tractors."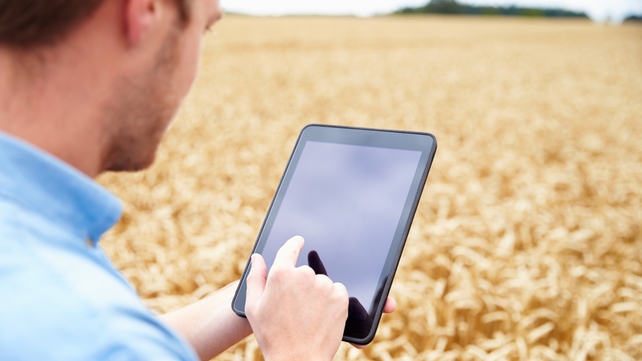 But are farmers buying tractors?
One farmer, Paddy Cullen from Donadea in County Kildare, recognised that tractors are developing new technology, but it's not necessarily applicable to all types of farming. As a dry-stock farmer, Paddy said the high prices would make him think twice over investing.
"Tillage farming is down at the moment, so it's hard to buy machinery" Paddy said. He would favour more horse power and better suspension in tractors than gadgets.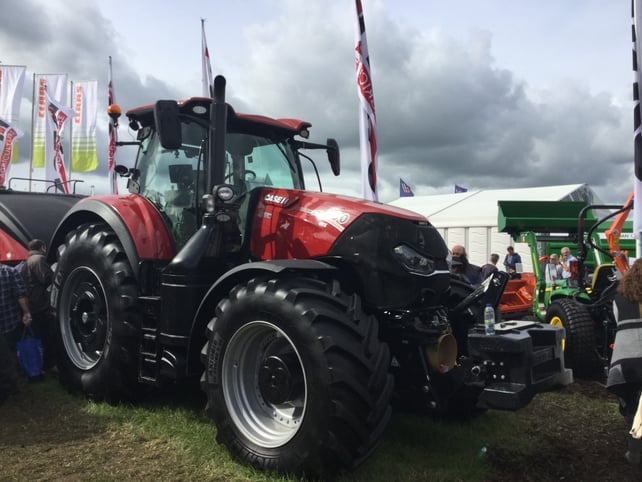 Séan Byrne, Area manager of CASE spoke to Donal Byrne about the trends in buying tractors. "We don't sell enough of them" Séan admitted. "So there's plenty of room to improve on these." 
Standing on a combine harvester worth over €300,000, Donal Byrne asked how any farmer could attempt to make their money back on this kind of investment?
"Hard work" Séan said. "There is a short window of opportunity to get the harvest in with these. If you have the ground, you need to cover it. And this machine will cover the ground really quickly."
What has the response been in sales this year?
Séan admitted it has been a difficult period of time for farmers, but is optimistic that conditions will improve. "It's pretty positive" he said, "Every year you come there's always something that you can look down at. There's a lot of positives coming back now."
"Milk prices seem to be in recovery. The harvest might not be as good as we'd like it to be, but farmers are very resilient. They're more use to the dips and peaks in the industry, rather than construction who can't weather it."
During the boom period, tractor sales rose to new highs of 4,500 tractors sold. "It dipped now" Séan said.
"After that big height of 4 and a half thousand, it dropped right down. We're in recovery now. It's coming back up. It'll probably hit about 2 thousand tractors this year....Steady growth is good because you can maintain the backup service and technicians can keep up with the product."
Watch Donal Byrne's report from the National Ploughing Championships here, including a special performance of Hit The Diff by John and Mark Hanly showing a new age of tractor enthusiast: