Thanks to technology, the way we date have drastically shifted over the past decade.
Today, dating apps are very much part of our social fabric – but what's next for the world of dating?
Experts make their predictions…
The metaverse
Very special Flirtual Valentine's event coming at you! Bring a date or a homie and join us at the VRDA Ballroom for a dance lesson with @VRDanceAcademy founder @DustBunnyVR!

1-2 AM 2023/02/13 UTC
Register: https://t.co/RwxI3ED0ND pic.twitter.com/vMYKuTi4ZC

— Flirtual (VR dating app) (@getflirtual) February 3, 2023
Paul Brunson, a relationship science expert, believes Tinder – which launched in 2012 – has played a significant role in dating over the past decade.
So, what about the next 10 years? "It's the metaverse," he says. "I'm a believer in it, it allows you to replicate scenarios" from the comfort of your own home.
Dating in the metaverse takes technological romance to a whole new level, using virtual reality (VR) to replicate real-life dates. There are already some VR dating apps on the market – such as Flirtual – and Brunson suggests it will only grow in popularity.
"Depending on what study you look at, roughly 80% of new spouses are derived from online dating," he says. "I could see within the next five to 10 years that being roughly equivalent for the metaverse. That's how quickly technology moves.
"A lot of people might say that's a crazy prediction, but from those I know who have tried it, it's very hard to then go back to anything else."
Rise of the throuple
"The concept of non-monogamy has been around for years, but most recently there has been a rise in romantic relationships between three people, known as 'the throuple'," says Hope Flynn, co-founder of self-empowerment platform Feed Me Female (@feedmefemale), and content creator for iPlaySafe.
"A throuple is a balanced, consensual and committed relationship between three people, not to be confused with an open relationship."
Flynn cites the example of Una Healy and David Haye, who are rumoured to be in a throuple with model Sian Osborne – although they haven't confirmed the relationship, they've been posting pictures together on Instagram.
Flynn predicts throuple relationships will become more socially acceptable in the years to come – particularly as there has been a rise in dating apps dedicated to non-monogamy.
"This isn't one for the jealous-minded, as all elements of the relationship are to be equally shared, including sex, living arrangements and children," she says. "Benefits of dating in a throuple include "being surrounded by more love, more sex and more support".
Dry dating
We need your consent to load this Instagram contentWe use Instagram to manage extra content that can set cookies on your device and collect data about your activity. Please review their details and accept them to load the content.Manage Preferences
Interest in a dry lifestyle is on the rise, with Alcohol Change research finding almost 9 million people planned to do Dry January this year – up from an estimated 8 million last year.
Flynn predicts this sober-curious approach "will trickle down into the dating world".
She says: "Gen Z is choosing to drink less than any other generation, so gone are the days of 'meeting for a drink'. It also seems that dry dating can help you get to know the 'real' person quicker, and help to form genuine connections. Goodbye bars, and hello parks, walks and coffee shops."
Niche interests
"With more people knowing exactly what they want these days, there's no surprise that the dating world is becoming more individualised, with people honing in on their personal preferences," says Flynn.
"Apps such as Veggly for veggies and vegans, and Dig for dog lovers have received an increase in downloads over the past year, which shows singles are becoming increasingly more specific when on their hunt for a match."
While Flynn accepts "this doesn't guarantee you'll find the one", it does give you "a better shot at finding someone more on your wavelength".
Massive global events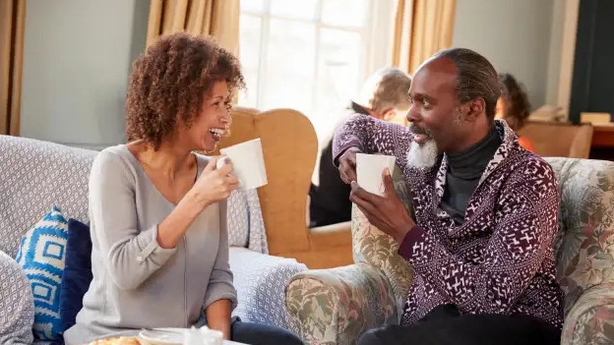 For Brunson, the pandemic had a huge impact on how we date. "It shifted many things, but mostly I think it shifted the relationship we have with ourselves, which has a direct bearing on how we relate to others," he says.
So, what if there is another Covid-like event in the next 10 years?
"A global event, such as Covid or a war, will hands-down shift how we love and how we relate," suggests Brunson.
"And the irony is, when you see pandemics or when you see war, it actually brings people together, and it expedites relationships. So, the bad relationships become really bad, and people get out of them faster – the good relationships become really good, and people connect on another level."