Elle Gordon chats to Louise Duffy about her new RTÉ radio show, her musical roots and this exciting career moment.
Louise Duffy is fresh off the air, following the first episode of her new radio show. Her joy is palpable: "I am buzzing. The first show of many, I hope. You know when you are talking about something for a while and it doesn't feel real until you start to do it? All the planning in the world couldn't prepare you for those hours beforehand, where it's like, 'OK, now it is happening.'
"It is just such a pleasure to have started and for this to now be my job, to be doing something that I truly enjoy so much. I have tried other things, I have worked in other areas, and I feel truly lucky to have landed back on the thing that I want to do most, which is to play music, discover new music and explore the genres and the eras all put together in one hour. I feel so lucky that that is my job now."
Louise, who is originally from County Mayo, and lives in Dublin with her husband, the fashion designer and author Paul Galvin and their two girls, Esmé and Elin, has built her broadcasting career in a radio and TV.
While she is enjoying this new focus on radio, she also has an upcoming series of The Ballycotton Sessions set to air next month. She is also the host of The Brown Thomas Podcast. Topping all of this off, however, is this new opportunity, presenting the lunchtime slot which is the number one music programme in the country.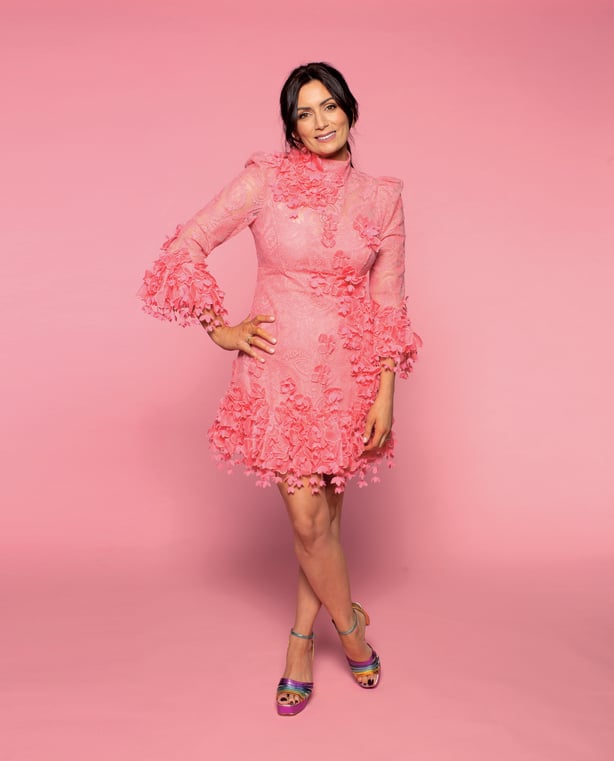 Growing up in Mayo, was she always interested in music and broadcasting?
"Musically, we were always really encouraged in our house. Music is a big part of my home and my family and the history of my family. Then when it came to broadcasting, it wasn't that it wasn't encouraged, but it was encouraged to perhaps find something a bit more secure. And you know, there have been times in my career when I have thought 'Maybe that might have been a good idea' because the media isn't always the steadiest of environments.
"I studied law for a while, and I was quite sure that maybe that would be a better route. Now, I am very glad that it isn't the route that I went down. I firmly believe in what was encouraged in us at home, which was to find something that you enjoy. So, for me, I made the decision of, 'OK, I will go for this, but I will work my ass off to ensure it is as stable as it can be."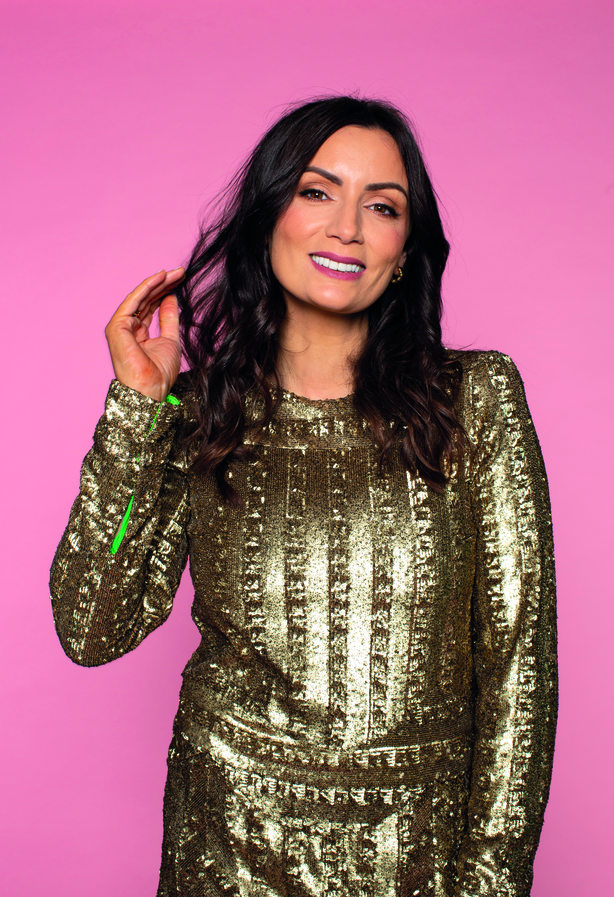 So, it's about grit, determination and hard work?
"I suppose, I was kind of faced with a crossroads and when you are taking the more precarious route you have got to work hard and take the highs and the lows of it. Particularly as a freelancer, you have got to be prepared for the busy months and the lighter months. So, we were for sure encouraged to pursue what made us happy, but to work hard to make it happen."
Louise has certainly done that. But beyond her busy work-life, she has a busy home too, filled by two little girls with very lovely names.
"Esmé is 4½ and Elin is 1½. I met an Esmé years ago and I always loved the name. So, when our little girl came along that was just the one for me. Then Elin came along, and it was funny because we were actually going to call her Enez, but then we realised it might sound ridiculous with the 'Es' and 'Enez' so we changed to Elin and we loved the name.
"Obviously, fashion is something that is talked about in our house, and of course, Elin Kling is the founder of [designer clothing brand] Totême. And yeah, they just go nicely together– most of the time they are nice and kind to each other."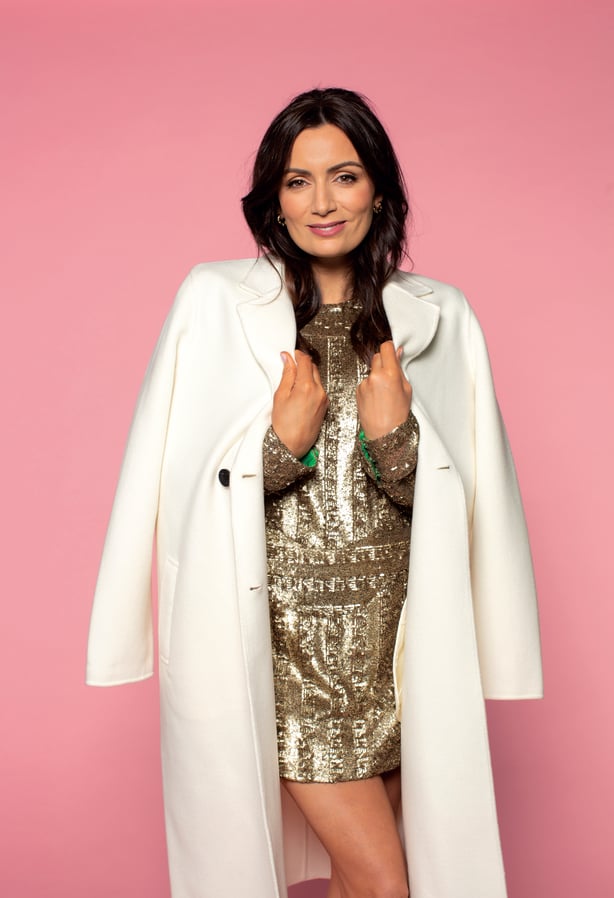 In such a creative household, has she spotted artistic traits in their girls?
"I can see music absolutely bubbling out of Elin. It soothes her, it excites her. It is amazing to see. And we were like that in my family too. My Dad grew up in a musical home and was always in bands. We were always encouraged to play music too and grew up tripping over Marshall amps. I can see that same passion for music coming out through Elin now, which is brilliant.
"Esmé has her Top Model children's books where she can put together little outfits and that is something that I really see her enjoying. She is a fan of a karaoke machine which Santy brought her, too. But it is funny; I think with kids you just have to let them at it and see where it all settles."
Speaking of letting things settle, by the time this magazine is on the shelves, Louise will be one week into her new show. I wonder if she is excited to see how it evolves into something she has put her own stamp on.
"I was eager to get that first show completed because you would be worrying about that one but now, I feel really and truly excited about the possibility of the many more that are to come. Overall, I am in a great place. The girls are great and there is a touch of civilisation coming into our family – a bit more sleep and we have settled into a routine. So, it is nice to feel like there is stability and routine.
"We aren't the type of couple to sit down and write out our resolutions. We kind of fly by the seat of our pants a little in this house, but I suppose with kids, it is different. I think as your kids get older, you have to become more scheduled. That's about as good a phrase as 'resolutions', isn't it?"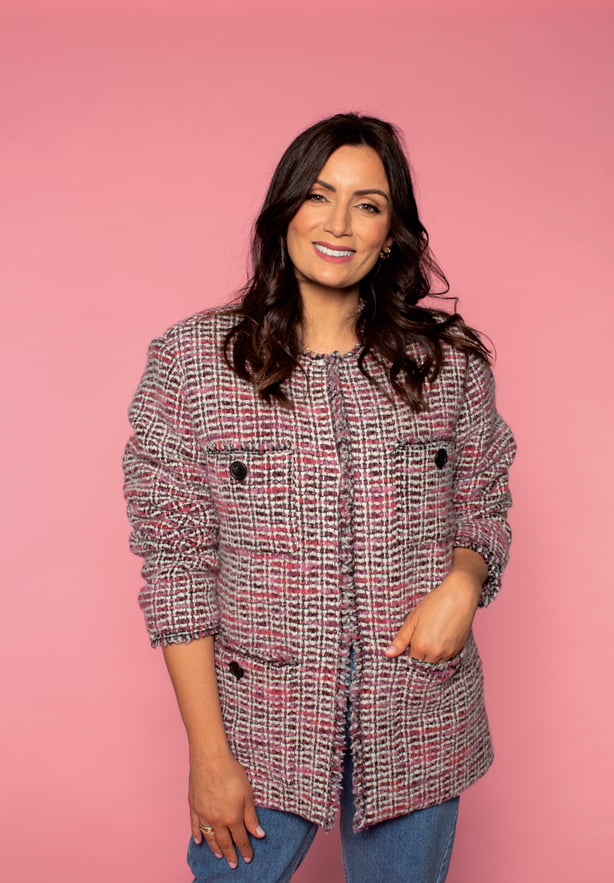 Her first show opened with a Talking Heads' classic and closed with an anniversary tribute to Elvis (A Little Less Conversation), so what has been her own musical journey?
"I remember my Dad had this record player and it had these massive speakers side by side. It was an effort for him to go and set it up for me, but I would sit there and listen to Queen's greatest hits on it, Rod Stewart and Dolly Parton and that was all I wanted to do. I must have been maybe four or five-years-old. I was young to be listening to that music, but I just loved it.
"Then I suppose, from there, we were carted around the place for our music lessons, and it was a very traditional tone of music that we played. One brother played the fiddle, another brother played the accordion, another played the mandolin. Now, that collective band of us did not sound good, but my brother closest to me, Kevin, went on to play in bands. He goes nowhere without his fiddle.
"I have always loved the performative aspect of music. Now I love with this show, finding songs that will make someone feel a certain way or bring them back to one of those memories of years gone by or bring them to a new sound… music is so powerful."