Journalist Victoria G. L. Brunton gets to know the founders of Irish fashion rental service Greens Are Good For You.
Joanna Dooley and Kara O'Sullivan, founders of Greens Are Good For You, have achieved immense success since they launched just two years ago.
Elated by the prospect of young Irish people yearning for more sustainable, circular retail options – as the success of a clothing rental business would indicate – I was eager to chat with the ambitious duo about their story as an Irish start-up, their more recent expansion into retail as well as their hopes and concerns for the future of rental clothing.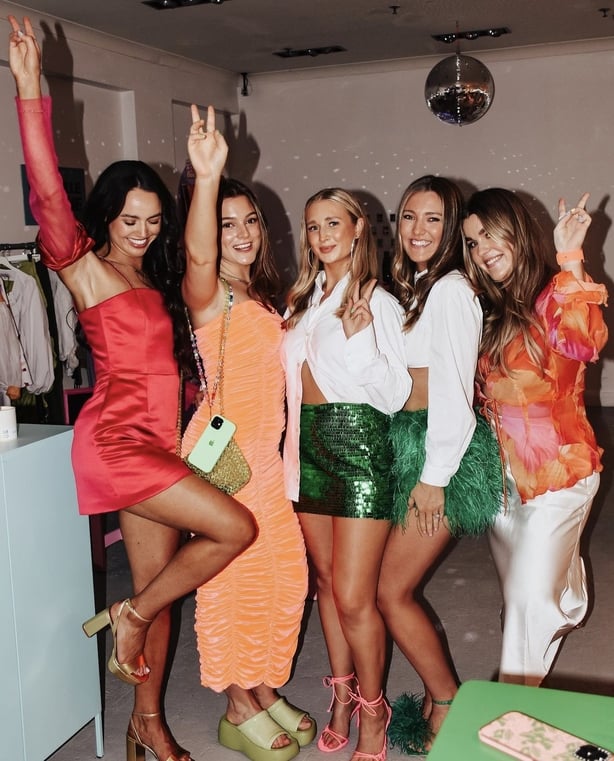 Living in Ireland often feels as though we're in an ongoing game of 'catch up' with other countries.
Why can't we pay with our cards on public transport? Why are the arts so often underfunded? Why is our nightlife culture left unsupported? And, most importantly, why doesn't Connolly connect to Heuston?
For a bustling capital city a hop, skip and a jump from Paris and a stone's throw from London, we often seem to be lagging behind.
Circular fashion, for example, is one of the areas in which we seem to be miles out from the rest. However, Joanna Dooley and Kara O'Sullivan, founders of Greens Are Good for You, are changing that.
Uniting first as business partners, and later becoming friends, the duo shared a vision of consuming fashion in a conscious, sustainable way with increased accessibility.
In 2021, the founders launched a clothing rental service, allowing customers to wear designer items for a more affordable price and avoiding 'wear-once' culture, thereby making these luxury pieces more accessible and less environmentally destructive.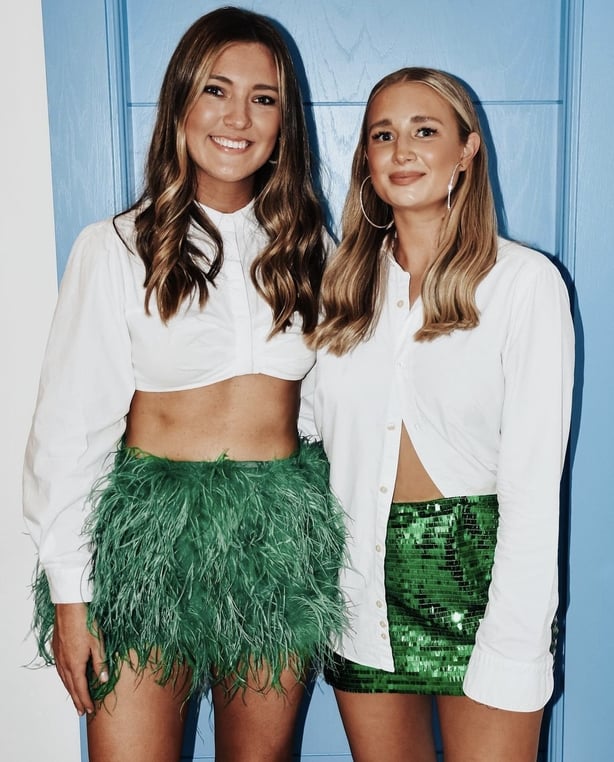 By no means the first of its kind, even in Ireland, the pair's business separated itself from the crowd through the colorful, trendy curation of its offering as well as through its fun, eye-catching branding.
Previously, rental clothing businesses were largely limited to occasion wear and were, as I recall it, considered to be naff (for lack of a better word). Greens Are Good for You emerged onto the scene as an attractive, fun, Gen-Z-leaning business run by two young aspirational women – a business model that just so happened to be exactly what the climate-conscious, Instagram-obsessed youth culture of Ireland was waiting for.
Since then, the pair's success has been momentous. Used and advocated for by many a fashion-centric Irish celebrity, and revered by various media outlets, the brand has more-or-less dominated and normalized (if not created) a true clothing rental industry in Ireland.
Curious to know more about the ambitious duo's most recent venture into retail with their pop up shop, Curated by Greens Are Good for You, I began our conversation there.
We need your consent to load this Instagram contentWe use Instagram to manage extra content that can set cookies on your device and collect data about your activity. Please review their details and accept them to load the content.Manage Preferences
What made you take the leap into setting up a permanent shopfront?

"Upon launching our business in September 2021, our most frequently asked question was 'can I try it on?'," the pair explained. "We knew last December would be a busy time for rentals, so it was imperative for us to have a location in the heart of the city for our customers to try on then. So, we brought together a hub of similar, small Irish brands and opened 'Gifted by Greens Are Good for You' on Exchequer St."
The pop-up was a great success and solidified the duo's need for a more permanent setup.
"Having a store not only allows customers to try pieces on," O'Sullivan explained, "but it also allows them to browse in person, to see the quality and the detail up close."
Elaborating on the benefits this experience has on the business side of things, Dooley added: "This also reduces our returns rate and ensures a great customer experience, plus it's a bonus for us to be able to meet our customers too – some of them have become great friends of ours."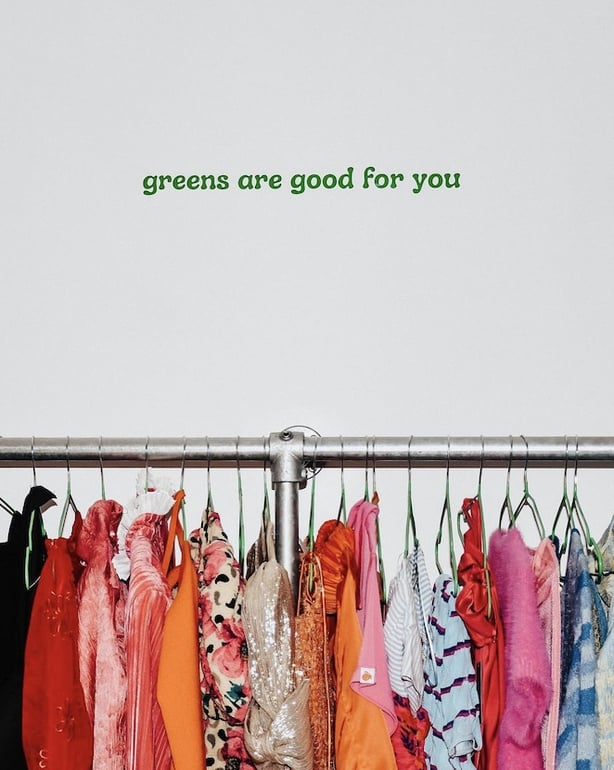 How did you choose the selection of Irish makers and brands stocked in Curated By Greens?

"Our vision was to build a hub of creativity, colour, and fun," Dooley shared, "so it was important for us to have like-minded brands in store that aligned with our visions and values."
O'Sullivan added: "We've built such a community of people in the store, and it's amazing to have so many Irish creatives under one roof."
"A lot of these brands started out around the same time as us," she continued, "and they're at a similar stage with their business, so it's amazing to share tips and tricks, as well as to support each other along the 'start-up' journey."
We need your consent to load this Instagram contentWe use Instagram to manage extra content that can set cookies on your device and collect data about your activity. Please review their details and accept them to load the content.Manage Preferences
With UK-based giants like HURR and ROTARO growing bigger and gaining momentum just across the sea, how will you stay relevant in the ever-growing rental industry?

"We are inspired by these rental companies that have paved the way and validated rental for other brands like us. It's amazing to see this expansion and the growth of rental worldwide," said O'Sullivan.
"In terms of differentiation and competition, we have seen a huge move towards supporting Irish. We have real relationships with a lot of our customers as faces of our brand and have built an amazing community already."
Dooley added: "Like we said earlier, it has always been important to us to build this long-lasting sustainable community and educate them along the way. With our peer-to-peer programme we have created a circular business, with our 'lenders' renting out their own wardrobe to our 'renters' - our stock pretty much supplies itself."
As it turns out, the founders' fostering of a like-minded, Irish community is the unique strength of their business model and one we can safely say these conglomerates will never be able to replicate.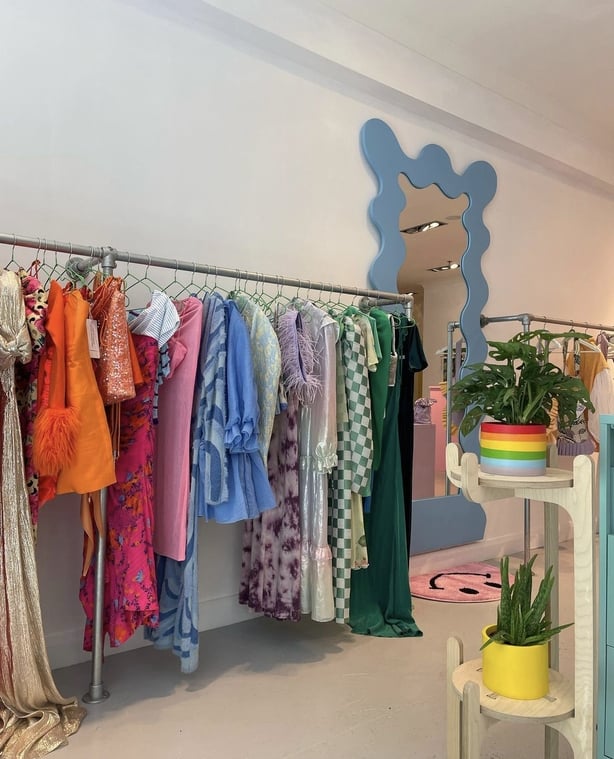 What advice would you give to customers having difficulty deciding whether to make an investment purchase or rent an item of clothing?

"If you'll only wear the piece a couple of times, it doesn't sound like it will be worth the investment – that's where we would suggest you rent instead," Dooley explained. "However, if you are still going to make an investment purchase, you can wear it that once and rent it out through us after. You get to wear it first, keep it, and make money from it."
"With us, you can monetise your pieces or rent them for a fraction of their retail price, all while lessening their impact on the planet."


What would you say to customers yet to try rental?
"An occasion is a great time to experiment with rental", O'Sullivan said, "especially for someone who may be in wedding season, for example, you may need a number of 'special outfits' in one year, so why not rent one of them?"
Further advocating for the rental lifestyle, the co-founder concludes: "So many people are converted to rental after their first time, it makes so much sense for your personal style, the planet, and your purse."
In terms of what's to come next for this small business-turned-empire, the founders' eyes are firmly set on the mania that is the Christmas period. However, forever keeping us on the edge of our seats, they revealed that greens are good for you has "some super exciting things we have been working on behind the scenes."
Naturally, you'll find us glued to Instagram for the foreseeable.