This year's very special celebrity episode of Ireland's Fittest Family will see four celebs and their families go head to head in our Fittest Family HQ in County Wicklow. Up for the challenge are presenter Glenda Gilson, comedian Emma Doran, TikTok star Tadgh Fleming, and RTÉ presenter Bláthnaid Treacy.
The contestants are all competing to win €10,000 for their chosen charity, however, the runners-up will all receive €1,000 for their charity of choice.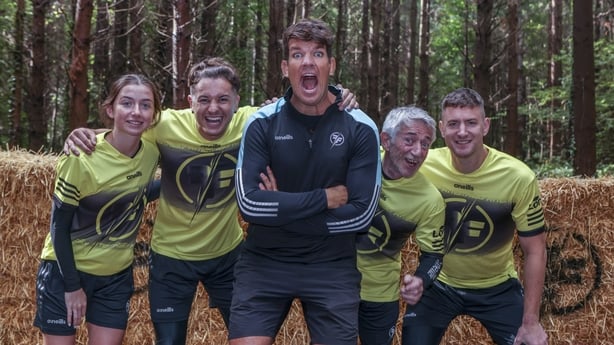 Social Media sensation Tadgh Fleming was accompanied by his dad, Derry, sister Maryanne and their cousin Terry O'Brien. They were coached by Donncha O'Callaghan in the hopes of winning money for their chosen charity, Let's Get Talking.
RTÉ broadcaster Blathnaid Treacy was teamed up with her husband, Charlie Moon, her brother, Naoise, and Charlie's brother, Jake Mooney. They were coached by Anna Geary and their chosen organisation was St Patrick's Mental Health Services.
Television presenter Glenda Gilson took part with her husband, Rob McNaughton, and her cousins Sam Harley and Shane Lawlor. They were coached by Nina Carberry and their chosen charity was Childline.
Finally, comedian Emma Doran was joined by her daughter, Ella Doran, her aunt Susan Mulrane, and her cousin Owen Mulrane. They were coached by Davy Fitz and their chosen charity was CanTeen.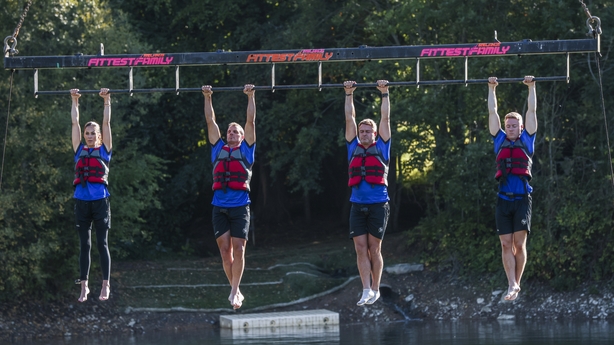 To win the coveted cash prize, the celeb contestants and their families will have to take on a number of obstacles. First up is All Tyred Out, a head-to-head relay race that requires speed, agility, and endurance - not to mention the ability to climb over a two-metre high wall.
Following this leg-burning event, when all family members have completed the mad dash sprint across the finish line, will power will be tested in Hanging Tough. Hanging 20 feet above chilly waters, the contestant must hang on for as long as possible while the clock runs out.
To finish off the competition, the Grand Final will see the families face an extremely tough Grand Final at Hell and Back. It starts with each family jumping off straw bales, and then they must sprint through the forest, where they pick up a log and run a further 200 metres together, before dropping the log, and tackling a torturous array of walls and obstacles that will push them right to the limit.
If that isn't enough, the ice-cold plunge bath awaits. Once they are through that, they face our tunnels, which are ascending so extra tough.
Finally, the dreaded Fittest Family ramp awaits.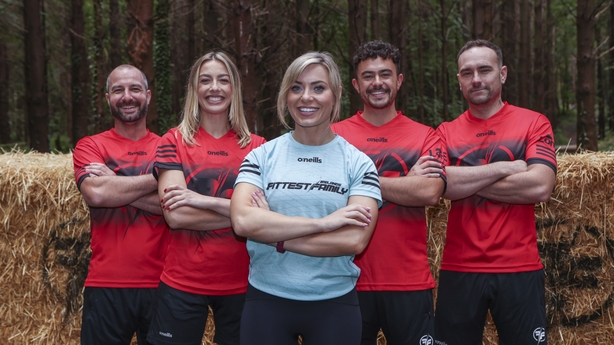 Speaking about the decision to put herself and her family through such an endurance test, Bláthnaid Treacy told RTÉ Lifestyle that, although it was incredibly tough, the experience was "great craic".
"I did have to do a bit of persuasion to get my brother and brother-in-law involved," she laughs. "They've never been on camera before, they've never done anything TV related so getting the brothers involved was a little bit more tricky, but it's all for charity so we did convince them."
"We had great craic with the others," she adds. "Anyone who knows Glenda [Gilson] knows she's great craic. Tadgh [Fleming], of course, is hilarious - his whole family is brilliant - and Emma [Doran] is so funny as well. We had a great day, and we were definitely sussing each other out!"
Speaking on her nominated organisation, Treacy says that Patrick's Mental Health Services was an obvious choice as they worked together previously on a mental health campaign called Mind Your Selfie.
"The work that they do is absolutely amazing. I've spoken to people who have used their services before, and they do help everybody but they really do focus a lot on younger people. We can all see the negative effects that the last few years have had, particularly on young people. I just think that they're absolutely amazing. They're in the city centre and they're there for people who are really struggling."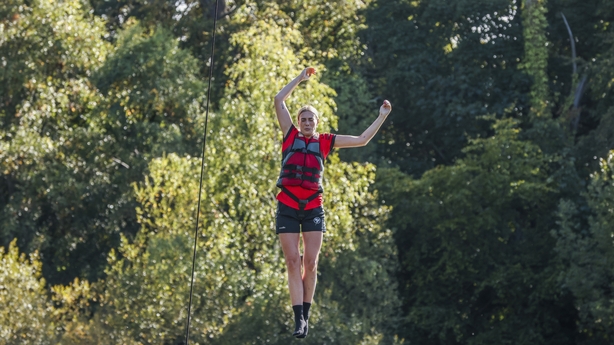 We'll have to wait and see which celeb family won the title of 'Celeb Fittest Family' in late December, but we do know that Treacy was in fighting-fit condition for the obstacle course, having competed in Hell Week earlier in the year.
"Hell Week was totally different to anything I've ever done before so I really got in gear and did a lot of training for that. I was still quite fit from training for that so when the opportunity came up for Fittest Family I figured it couldn't be worse than Hell Week. Plus, you don't have any DS (Directing Staff) shouting in your face and it's shot over one day, so it's much nicer," she laughs.
"Being able to speak and look people in the eye was a different experience," she adds. "Anna Geary was our coach and she's definitely not like the DS so it was a much more pleasant experience."
Despite her time completing numerous and rigorous physical tests on Hell Week, though, Treacy insists that the Fittest Family course was tough to complete.
"It was tough though, it was actually really, really hard," she insists. "You can get tripped up on certain challenges. When you watch it on TV you think you can definitely do that but in reality, it's such a challenge."
To find out which celeb took home the crown, tune into Ireland's Fittest Family Celebrity Special on Wednesday 28th December at 6.30pm on RTÉ One.