The countdown is well and truly on. On Friday, 25 November, Ryan Tubridy will dig out his dodgiest Christmas jumper in order to kick off Christmas and host The Late Late Toy Show for his 14th year.
From where to watch and what to expect, we've listed everything you need to know ahead of the most magical night of Irish telly.
Where and when?
The Late Late Toy Show is set to air on Friday, 25 November at 9:35 pm on RTÉ One and RTÉ Player.
Living abroad?
Not to worry, this year's show will be available to watch worldwide live on the RTÉ Player on both the desktop and the app. So, no matter who you are, or which country you are from, stream for free on RTÉ Player at 9.35pm - everyone is invited.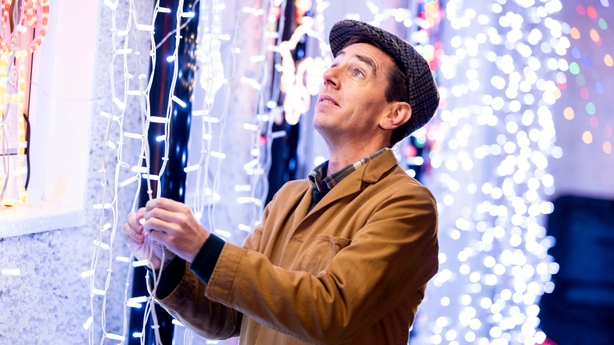 ISL and AD
This year, Amanda Coogan, Jason Maguire, and Ciara Grant will be presenting The Late Late Toy Show live with Irish Sign Language (ISL) on the RTÉ News channel and RTÉ Player. The Late Late Toy Show ISL will also be available to stream shortly after the live broadcast.
Audio Description (AD) will also be available for the repeat on Sunday at 3.15pm and on Monday night, and afterwards on RTÉ Player. A fully accessible version (with subtitles, ISL and AD) will be broadcast on Wednesday 30th November, which will also be available to stream.
We will also provide Audio Description (AD) for Blind and Vision Impaired audiences on the Sunday repeat. AD version will be available on RTÉ Player after the programme airs on television. The programme will be audio described by Clara Murray and Kevin Sherwin.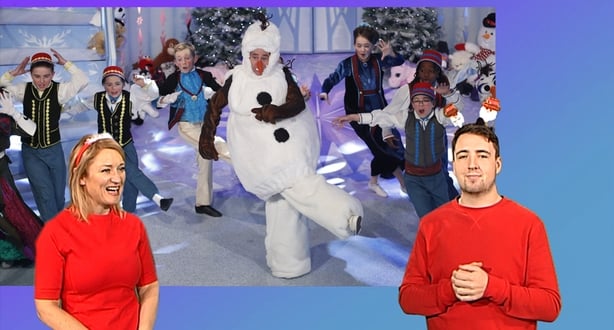 What's the theme?
As always, The Late Late Toy Show's theme is RTÉ's best-kept secret, with not so much as a hint given to the public until the set is revealed to the public on the morning of the show.
We are now very pleased to announce that this year's Wizard of Oz theme will take viewers down the yellow brick road for the most magical night on Irish television.
Speaking on this year's theme, Ryan said: "I can't remember the last time I was this excited for the Toy Show given the previews I have had of it this week. It is the thing that is close to the hearts of everyone who will be watching. Every age group, every generation, people will know from every walk of life where exactly we are going when we see the set up on Friday night.
"I promised we will be going home. I promised we will be talking more about Christmas, I promised we will get back to basics and when people see that opening, people will know exactly what I am talking about. Now it is time to simply get the treats in, to get the crisps in and the spirit back in the house and prepare yourself for what I hope will be the greatest night of the year for boys and girls all over the country because each and every one of them whether they are in hospital, at home or whether they are at their friend's house. Wherever they are, this is for them, they deserve it. I look forward to everyone's company immensely."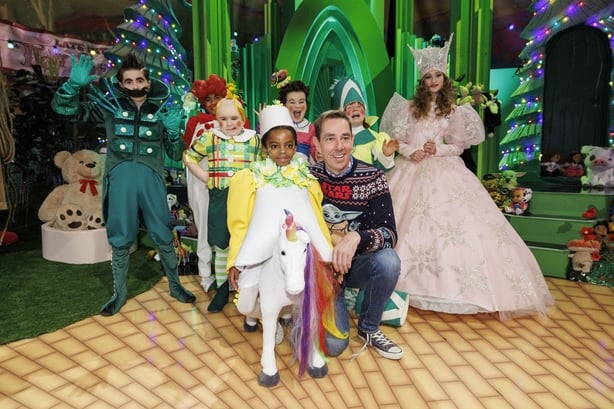 What other themes has Ryan done?
In the past, the show's creators have taken inspiration from popular children's stories, jumping from Disney hits such as The Jungle Book and The Lion King to the imaginary tales pulled from the wonderful world of Roald Dahl.
So far, as well as wearing some very colourful jumpers, our presenter has dressed up as (deep breath): Willy Wonka from Willy Wonka & the Chocolate Factory; Woody from Toy Story; Santa's helper; Bert from Mary Poppins; Caractacus Potts from Chitty Chitty Bang Bang; Lumière from Beauty and the Beast; Baloo from The Jungle Book; a toy solider from The Nutcracker; Sebastian from The Little Mermaid; the ringmaster from The Greatest Showman; Olaf from Frozen; Roald Dahl's Fantastic Mr. Fox; and Timon from The Lion King.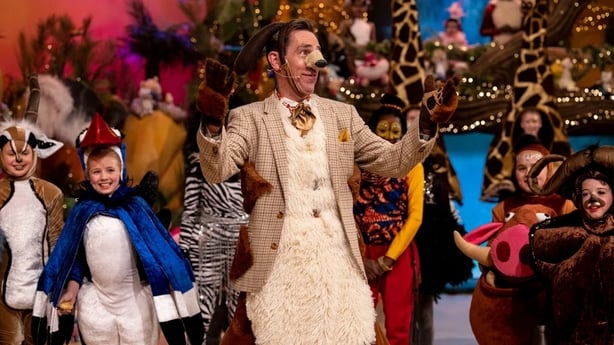 Which toys will be featured?
Toys have kindly been sent in from toy retailers all around the country, and the toys demoed by children on The Late Late Toy Show will be donated to charities across the country in time for Christmas. A list of the toys featured will be available on the show website www.rte.ie/lifestyle following the broadcast.
The Toy Show Appeal
The RTÉ Toy Show Appeal is back for its third year, which last year ultimately raised a staggering €6.8m and provided support to over 160 children's charities. With at least one project in every county in Ireland receiving funds, it is estimated that the monies raised helped over 1.1 million children and family members in 2022.
Donations can be made via www.rte.ie/toyshowappeal and by the Revolut app.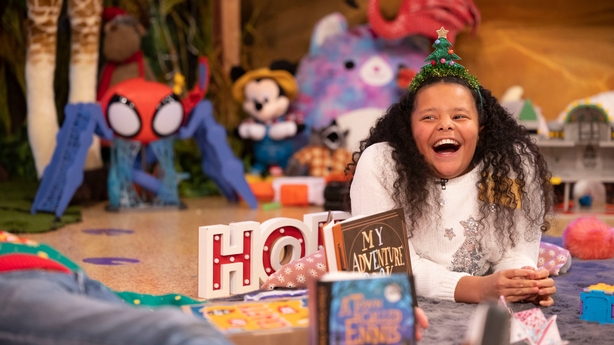 Who will be there?
Ryan and his army of toy testers will return to RTÉ One to bring the magic of the Toy Show to all corners of the country and reveal the most trendy new toys of the year.
Famous faces are a staple of this annual show. Whether it be Dermot Bannon or Davy Fitz, it's always amazing to see a child's face light up at the sight of their favourite personality.
Ed Sheeran was a decent surprise too.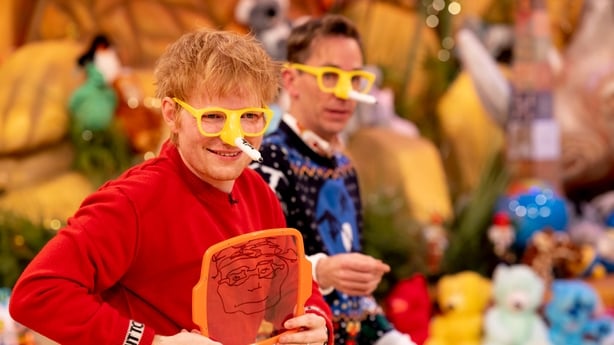 Getting in-person celebrity surprises during the pandemic was no mean feat but the team at the Toy Show are a very clever bunch.
Despite the restrictions, they managed to bring Dermot Kennedy on stage with super-fan Michael Moloney for a spectacular performance of Giants.
Not only that, but they managed to the power of technology to good use and organise a very special video message for Rock Is The Best Medicine singer Noah from U2's The Edge.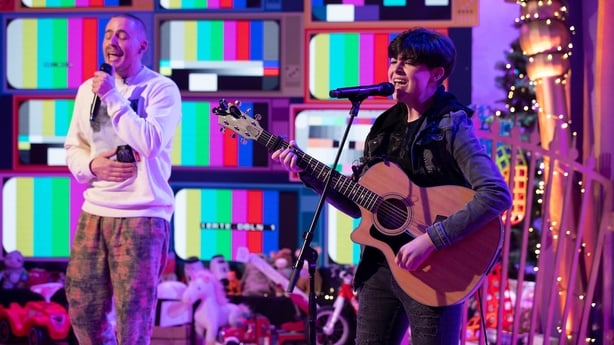 Really, though, no celeb stands a chance of stealing the spotlight from the real stars of the night: the kids.
Children from across the country auditioned to be performers, entertainers, and toy testers - and they always stake their claim as fan favourites. Who could forget horology enthusiast John-Joe Brennan? Or Sophia Maher, who spoke about her experience with bullying?
Kids are an essential ingredient to making the magic of this show.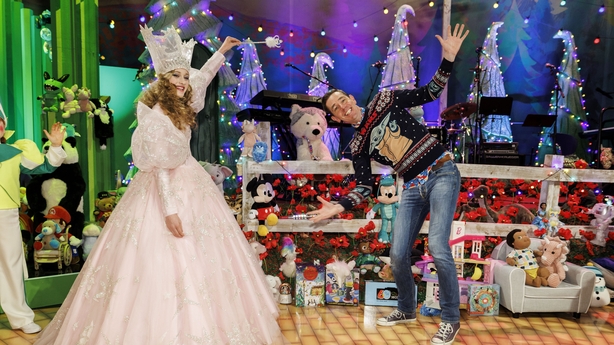 RTÉ Social Media
The excitement kicks off live on TikTok at 10:50am on Friday morning where Ryan will bring you on an exclusive behind-the-scenes tour of this year's set! Catch all the best moments from the night across the Late Late social channels using the hashtag #LateLateToyShow.
To join in the fun follow @LateLateRTE on Instagram, @RTELateLateShow on Twitter, @TheLateLateShow on Facebook and @latelaterte on TikTok.
Yeah that about sums it up pic.twitter.com/biDOj8lwGx

— Richard Chambers (@newschambers) November 25, 2022
When did it all begin?
The Late Late Toy Show began in 1975 as a half-hour slot at the end of The Late Late Show as a way to give parents across Ireland some Christmas gift ideas while their children were sleeping.
Quickly, it grew into a one-night show in its own right, complete with child toy-testers and performers.
First presented by Gay Byrne, the mantle was handed to Pat Kenny in 1999, and remained in that position for 10 years. The current presenter is Ryan Tubridy who took over in 2009.
We need your consent to load this YouTube contentWe use YouTube to manage extra content that can set cookies on your device and collect data about your activity. Please review their details and accept them to load the content.Manage Preferences
Sadly, Gay Bryne passed away following a long illness at the age of 85 in 2019. Reflecting on Gay's legacy as both a broadcaster and national treasure, Tubridy says we owe a lot to the original Toy Show host:
"It all started with Gay and on the night of The Toy Show, Gay transformed into Uncle Gaybo for the nation," he says. "I remember sitting down myself and watching him at home and the excitement at seeing this Toy Show man in action."
"Gay was doing the show in the 70s – and since then, it has taken on this almost mythical status as the one show of the entire year that you simply cannot miss."
This is Pan Collins. Pan came up with the idea of the #LateLateToyShow when she pitched the item to Gay Byrne as a researcher in 1975. Now an annual event on @rte that Irish people around the world tune into. Let's raise a glass to Pan tonight 🥂 pic.twitter.com/qizYBSxgiG

— Alan Swan (@alanswan) November 25, 2022
Who's tuning in?
Last year's show was a huge success, with an average audience of 1.8 million tuning in across the weekend, making it one of the highest-rating TV programmes on a single channel on record in Ireland.
The annual Christmas extravaganza is a must-watch for all the family. According to a survey published by Jurys Inn, 40% of Irish millennials have listed watching the Toy Show as their fondest throwback to their youth.
Basically, the Toy Show is for just about everyone - even Russell Crowe loves to tune in!
Doesn't matter where you're from, if you have a kind soul and an open heart you'll appreciate how wonderful this tradition from Ireland is.
The #latelatetoyshow looking for toy testers !! https://t.co/np81ibqhxb

— Russell Crowe (@russellcrowe) August 10, 2020
In Ireland it's that wonderful Late Late Toy Show time of the year again. Donation lines are still open. https://t.co/gduqp2zIs8

— Russell Crowe (@russellcrowe) November 25, 2022
Full of incredible characters, knockout performances, amazing surprise guests (and an array of Ryan's Christmas jumpers) everyone is invited to be part of the most phenomenal night, where Christmas truly begins.
So, let's all watch it together.
The Late Late Toy Show airs on Friday, 25 November on RTÉ One at 9:35pm.