Harrison Gardner "never meant to stay" in Ireland, after moving here from his native Australia seven years ago, but the builder found that he "just kept wanting to come back".
Drawn to the people and the surroundings, he eventually set up home in the old stone ruins of a cottage in West Clare, where he's since experimented with making his own paints and plasters alongside his family.
Seven years on, Gardner is now the host of RTÉ new show Build Your Own Home, which follows the trials and tribulations of homeowners from across Ireland, as they take on the mammoth challenge of building their own home, all under Gardner's watchful guidance.
It's nearly time to get stuck in! 🛠👊#BuildYourOwnHome starts TONIGHT at 9.35pm | @RTEPlayer pic.twitter.com/yQY8HMCIMT

— RTÉ One (@RTEOne) October 26, 2022
It's a hook that's incredibly personal to Gardner, having been at the cross roads many of us face between wanting a home to call his own and not having access to the resources. With the cost-of-living crisis squeezing what little wiggle room was left for would-be buyers trying to navigate the housing crisis, there has never been more interest in alternative routes to home owning.
For Gardner, finding ways to build your home – or some of it – is one way into the housing market. "The people that are naturally drawn to the idea of self building are the people who really need it, who are struggling to find any other options", he says.
Thinking about the current anxiety felt by many young people in Ireland looking to have a home, he can easily relate. "That's the same feeling I had as an 18 year old in Australia when I realised that I was never going to be able to afford to buy a finished house. And the only way that I was going to get the house that I wanted was to build it myself.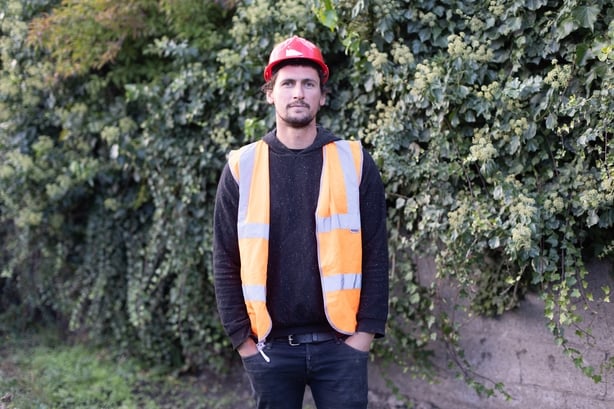 "I was 27 [when he moved here], and I was ready to build my own house. I was building other people's homes for 10 years. I really wanted to have a place of my own that I could experiment, I could try things out, I could get things wrong, I could try out some of these crazy ideas I've had over the years."
Those ideas range from building with straw bales or roundwood timbers from the forest, to using sheep's wool or natural cork insulation. He also stresses that these materials are not inaccessible to would-be builders: "The last piece of the puzzle is just relaxing our mindset a little bit to be open to some new ideas."
Gardner is what some would call an eco-builder and constructor, though he wouldn't be so quick to use the term himself, calling it "outdated". "I think everyone needs to be building with ecological materials and I would hope that we don't need to highlight that as the differentiating factor.
"I really focus my attention on teaching other people how to build and I try not to push my agenda onto anyone else. So while I might really prefer to use ecological and sustainable materials, the most important thing for the people I work with is that they end up in a house at the end of it.
"I think it's a real luxury to be able to choose the hyper-sustainable and often more expensive option over the more accessible option."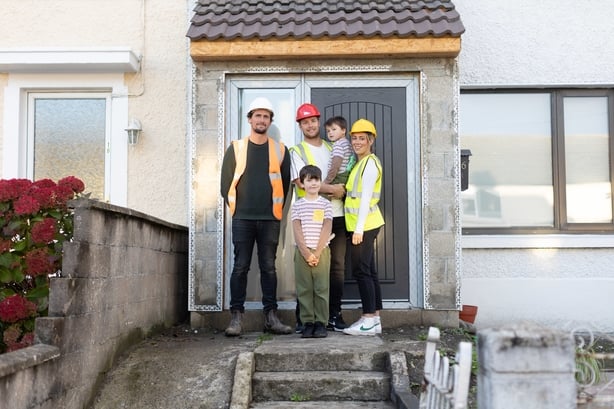 Gardner notes that in Ireland, as with any country, there's a very specific idea about what a "home" is. "We're always running towards something or away from something", he says. In his native Australia timber frame houses where the norm, especially as timber was a widely available and sustainable resource to be used.
"The culture that we're trying to recreate and this feeling of what a home is [in Ireland], is the old stone cottage", he adds. "Even though in many ways we're trying to run away from all the problems like rising damp or cold walls or breeze coming through the stones or whatever it is, the feeling of a heavy connected to the earth stone cottage is one that is very closely resembling a concrete block house that we're building today.
"It feels like a very safe place to invest our money and our time." This is why, he says, there's a "bigger learning curve" for owner builders in Ireland when it comes to building a home.
Of course, building a home from scratch will not be possible for many people either, but Gardner suggests learning the skills that will at some point make building or renovating a property more affordable.
"Not every aspect of building a house is a highly skilled task to learn", he says. "If you learn how to install insulation correctly into a wall once, you can repeat that the 10,000 times that you need to throughout the house with very little training."
He also acknowledges that balancing such a job with actual jobs can be difficult, but the show offers examples of those who have managed it. "Some of our owner builders manage to hold down their five-day-week jobs and build their own in the evenings and on weekends. They double jobs like that because they had to. They couldn't afford to do it any other way."
We need your consent to load this Instagram contentWe use Instagram to manage extra content that can set cookies on your device and collect data about your activity. Please review their details and accept them to load the content.Manage Preferences
We are, he notes, "creatures of luxury" and that "if we didn't have to build our own homes, we would all probably ask someone else to build it for us".
As the co-founder of a social enterprise, Common Knowledge, devoted to upskilling would-be-builders, Gardner is a firm believer in the power of community. If you're someone who lacks these skills and the opportunity to develop them, he suggests reaching out to those who are renovating or building in your community.
"The idea of meitheal is still very much alive in Ireland, and we always used to help each other create our spaces.
"We're trying to make sure that there is a culture of encouraging each other to do this work and to take more control of their lives rather than trying to dissuade them from taking any risks."
Watch Build Your Own Home on Wednesdays at 9:35pm on RTÉ One.