Whether you're a Christmas eve shopper racing up Grafton Street to get a last minute deal or a smug planner who has their gifts under the tree before Ryan opens the Toy Show, buying for loved ones can be exceptionally tricky.
Every year on RTÉ LifeStyle, we lend a helping hand by sharing an all-Irish gift guide to shine a light on just some of the incredible artists, jewellers, designers, authors, and entrepreneurs that this country has to offer.
With the countdown to Christmas well and truly on, we want to ensure that you reduce your carbon footprint and support local entrepreneurs while you search for that special something.
CLOTHING & ACCESSORIES
Drumgreenagh Craft & Design Shop is an ethical gift store based in Galway. Run by craft aficionado Karen, the shop is a home to unique, handmade, consciously-made items made by local businesses. They have everything from clothes and beauty bits to stationary and jewellery. This 'Grand' hat by Irish Alex & Joanna of Socksciety is €24.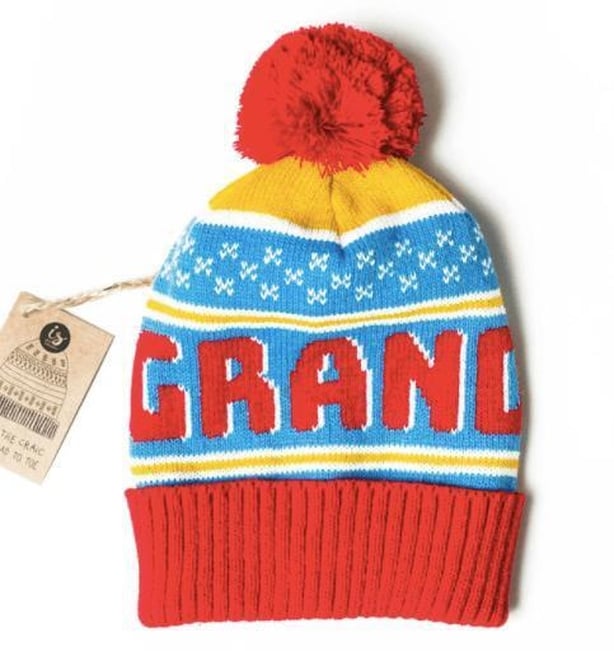 Irish family-run business The Sweater Shop has outlets around Ireland and uses 100% Irish wool in their designs. The most popular sellers are their traditional Aran jumpers which come in a range of different designs, colours and sizes. The Irish Aran Sweater Natural is now €65.90 (was €109.90).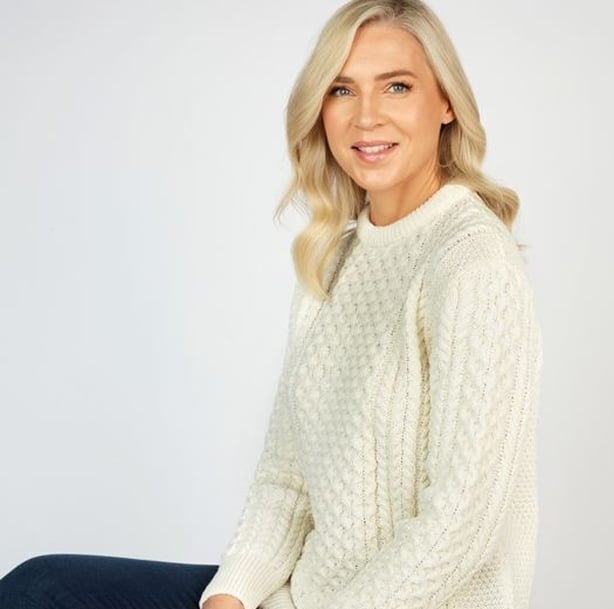 Lana and Ciara are two Donegal girls having the craic with fashion as Gaeilge. Playing with language and pop culture, the duo have created a line of empowering apparel. With sizes running from XXS to XXL, you can pick up a t-shirt, jumper, or bag for any or all of the wild Irish women in your life. This Yas Banríon (Yas Queen) tote bag costs €15.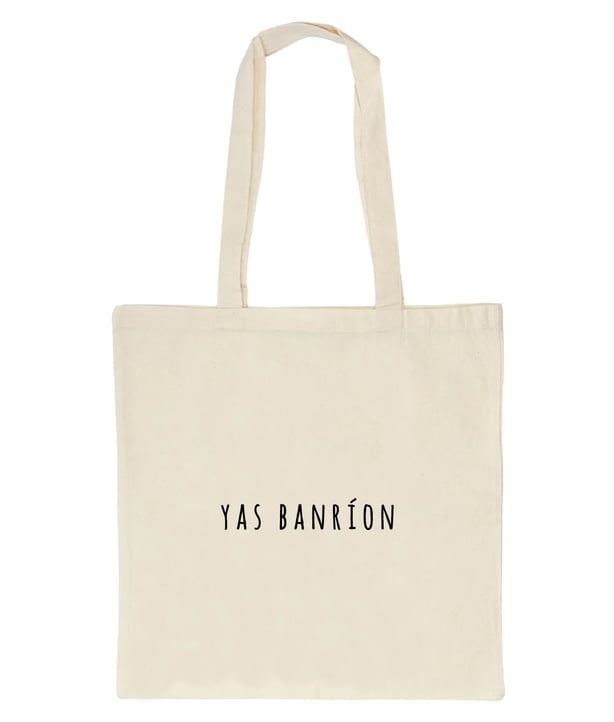 Born in Ghana and now living on the Wild Atlantic Way, Virtue Shine offers a wide range of clothing and accessories in African Wax print through her shop, Emerald & Wax. Her beautiful range of kimonos, dresses, skirts, necklaces, earrings and African fabric fans are handmade in Galway. This Christmas she will be launching a new line of jackets that are woven from threads in the northern region of Ghana. This Madame M Kimono Jacket is €164.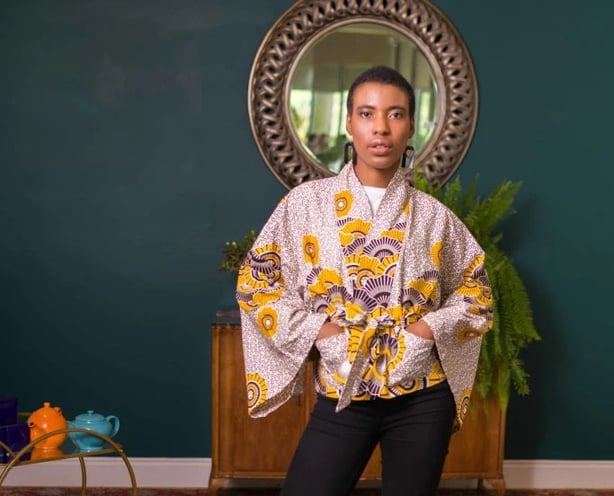 Fiadh is a textile designer and handweaver with a passion for traditional methods and contemporary design. Based in Dingle, the NCAD graduate draws inspiration from her scenic surroundings to create clothing inspired by nature. With sustainability in mind, the designer's ethos is all about creating something beautiful that is made to last. Her scarves range from €33 - €145.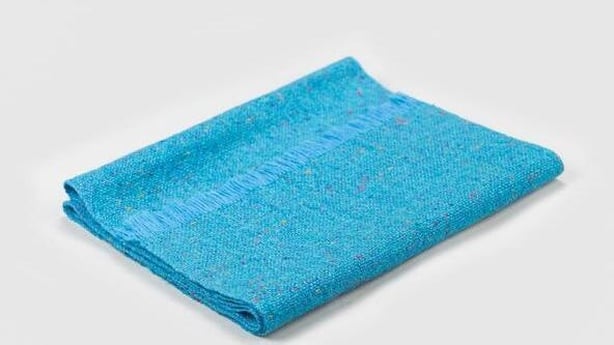 Established as a clothing brand for wheelchair users, this Irish-owned brand of lifestyle apparel is inspired by nature, with all the artwork designed in the beautiful surroundings of Co. Cork. Working with sustainability in mind, this ethical brand make clothes for people who "love living their best lives, with or without wheelchairs". The men's sunrise swimmer t-shirt is 100% organic cotton and costs €27.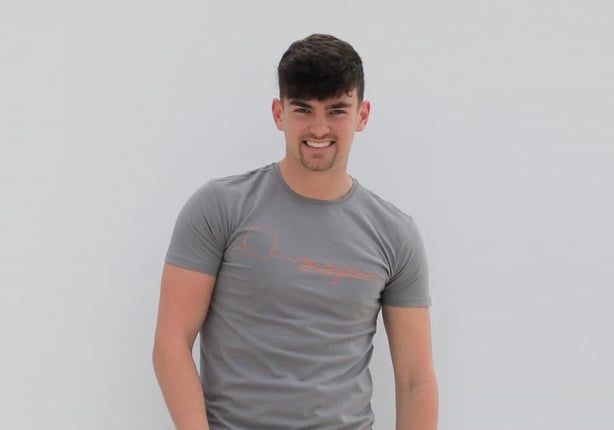 Crann is a sustainable fashion brand that creates sunglasses and watches using recycled and sustainable materials. Based in Clonalvy, Co. Meath, the company takes stainless steel, PE plastic and wood that would have ended up in a landfill, and breaks them down into workable materials and turns this waste into beautiful, handcrafted, fashionable sunglasses and watches. These blue-light-blocking glasses are €69.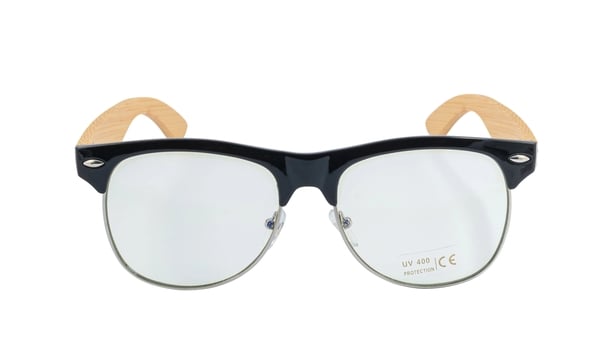 BabyBoo.ie was set-up by two Irish mums from Co. Cork. Now in their eighth year of business, their products are stocked in Ireland's leading luxury department stores. Their first product, a dribble-proof organic cotton bandana bib, has been sold worldwide. The Scribble bandana bib is €6.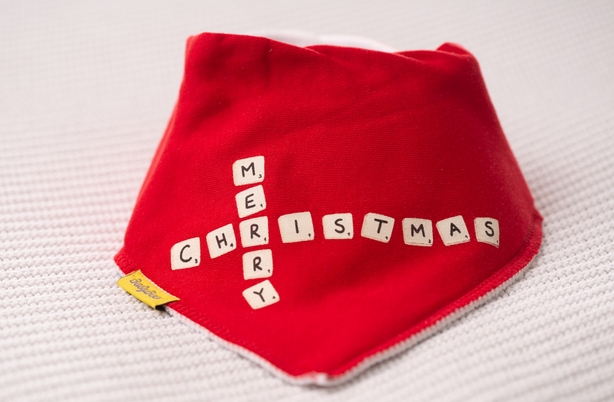 YAWUW (You Are What U Wear) was founded in 2021 by a group of designers based in Cork who are passionate about conserving the environment. The team is led by founder Angela O'Donnell, an award winning luxury designer and businesswoman with in-depth industry knowledge in textiles and development. The unisex organic cotton and recycled polyester sweatshirt is €115.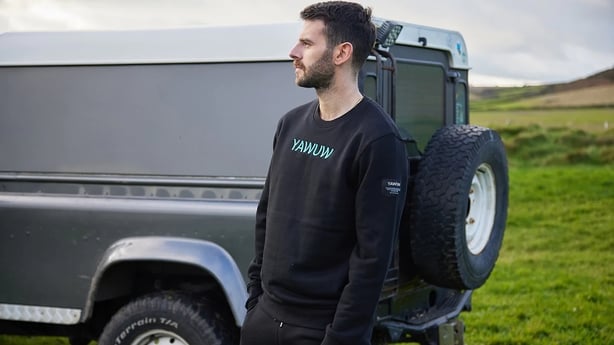 Handcrafted in Ireland by 25-year-old Kildare man Tom Berney, Buan offers up functional and durable leather goods for everyday use, with consideration and respect for nature. This eco-tanned leather passport holder is €40.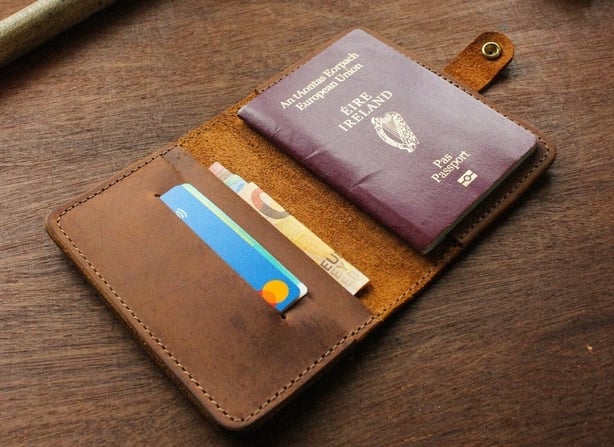 Magee 1866 is a fifth-generation family business with over 150 years of designing, weaving and tailoring luxurious fabrics and clothing in Donegal. Working with natural fibres like wool, cashmere, flax and alpaca, the brand offers a range of womenswear and menswear as well as home interiors. This Donegal tweed flat cap in navy salt and pepper costs €55.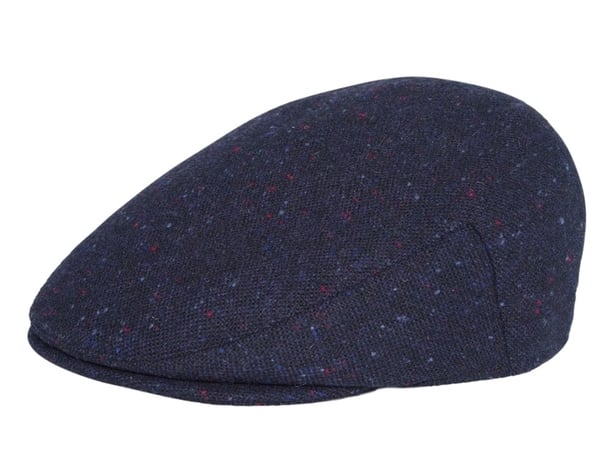 Founders Nina and Gillian are best friends who met at the school gates on their children's first day of Junior Infants. As mothers of two amazing autistic children, the Wexford women decided to set up a business together and create a sensory-friendly design house. These Lightning Fast Yoga Leggings are €16.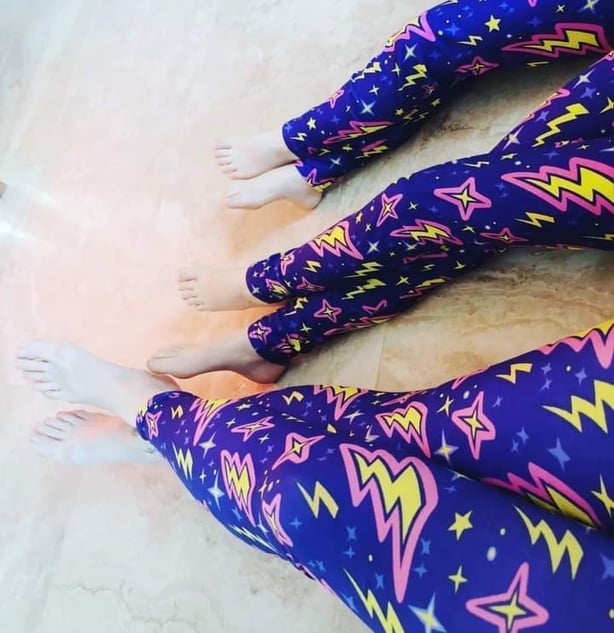 Arklow artist Stephen Considine is a founding member of clothing brand BiPolar Bear Wear. Collaborating with artists from across the country, he delivers "fresh clothing" while raising money for mental health services and fighting the stigma surrounding mental health by creating designs that serve as talking points. The wibbly wobbly wonder t-shirt is unisex and costs €20.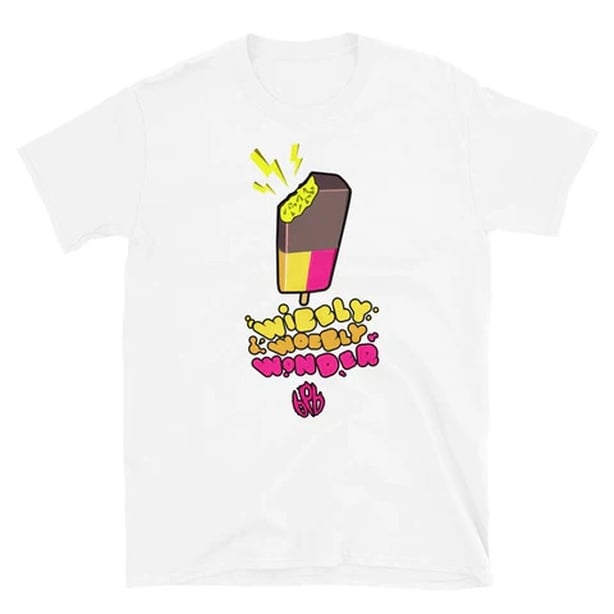 JEWELLERY
Born around the idea of creating timeless pieces of jewellery that will become wardrobe staples, Mettle and Bloom creates "tomorrow's classics for today's women". The brand was launched by Galway woman Sallyann Concannon, an entrepreneur who supports the independence of women by celebrating their mettle. The Aura earrings cost €47.95.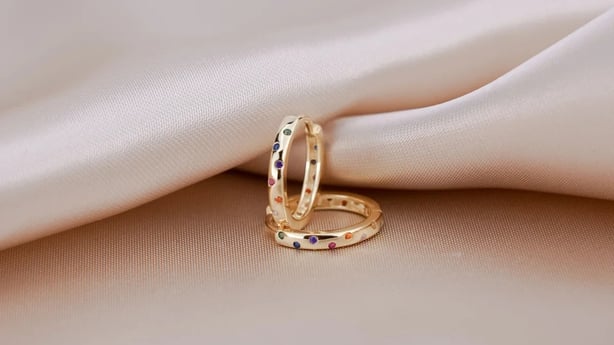 Dublin born artist Ciarna Pham, who works under the name KIKI NA ART, is the creator of these incredibly bright and bold statement pieces. If you have an idol or an image that you would like made into a piece of wearable art, contact her at kikinaart1@gmail.com. So far, her work has featured icons such as Dolly Parton, RuPaul, Ruth Bader Ginsburg and Stevie Nicks. Custom necklaces start at €90.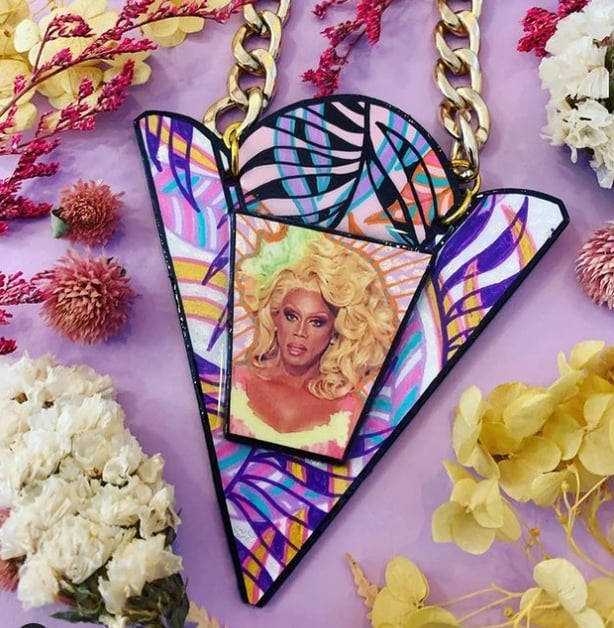 These affordable and unique pieces of "charmingly rude jewellery" are made with attitude. Each piece is hand stamped in Ireland and made with sass by Jade, a self-confessed grumpy Irish 30-something who enjoys "a good whiskey and swearing like a sailor". The 'Sure Look Be Grand' necklace is €23.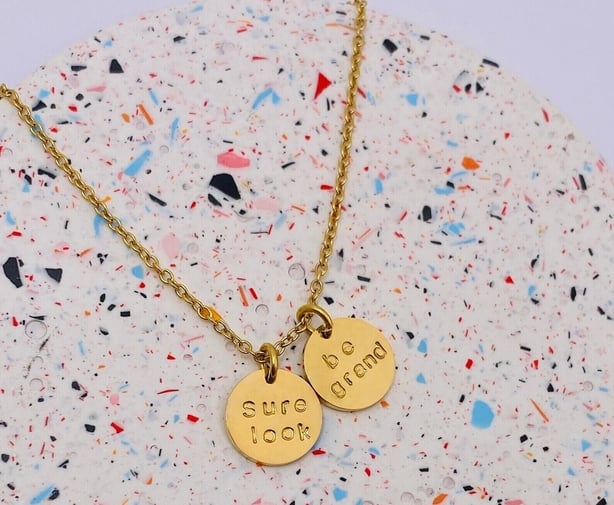 Since earning her degree in sculpture almost 20 years ago, Sarah Carroll Kelly has worked as an artist, designer and musician, all while living in Dublin 8 with her husband, two sons and two cats. Under her brand Shock of Grey, the artist is creating handcrafted statement jewellery on an individual basis from unpredictable materials, such as wood, brass, plastic, silicone and clay. This Daisy Cuff is €25.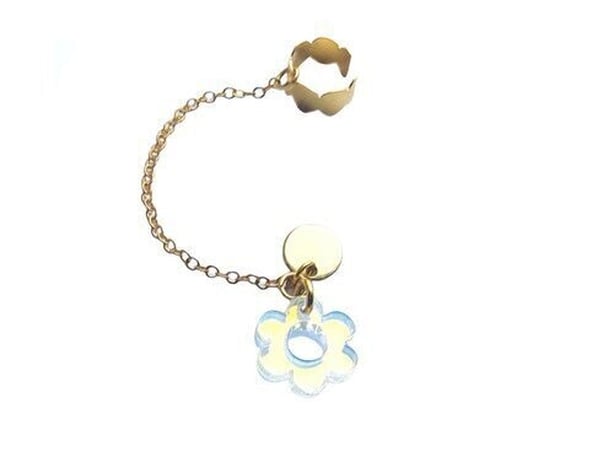 Irish jewelry brand House of Lor made its debut at the end of 2015. Representing folklore with fashion, their collections are designed and crafted in Ireland and are grounded in Irish heritage. They have a vast collection of rings, earrings, bracelets, necklaces, tie slides, brooches and more. These Arda Men's Cufflinks with 10 carat rare Irish gold bosses are €170.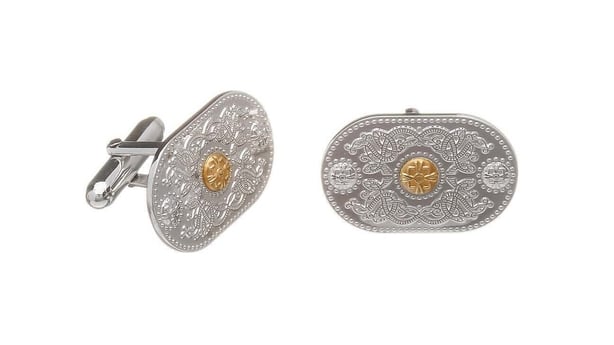 NJO Designs was created by Natasha Obernik, a woman who comes from a long line of jewellery makers. The family's story began in 1941, when her grandfather first started creating jewellery. As a little girl, Natasha would visit his factory and find magic in his craft. In 2011, Obernik continued the legacy when NJO Designs was forged in Dublin. This layered double chain necklet is €210.
Janice Byrne is an award-winning goldsmith and jewellery designer with over 20 years of experience. Based in Dublin, she works with a variety of precious metals and gemstones to create eye-catching contemporary pieces. The eye for an eye pendant in silver with birthstone cost €91.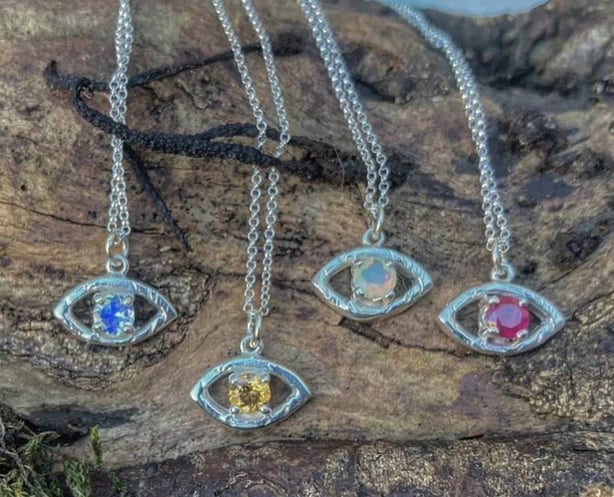 Inspired by mindfulness, Northern Irish designer Sinéad Hegarty has created a range of subtle and stylish spinner rings that will help you find your centre and stay grounded in your daily life. The Patience ring is £35 (was £40).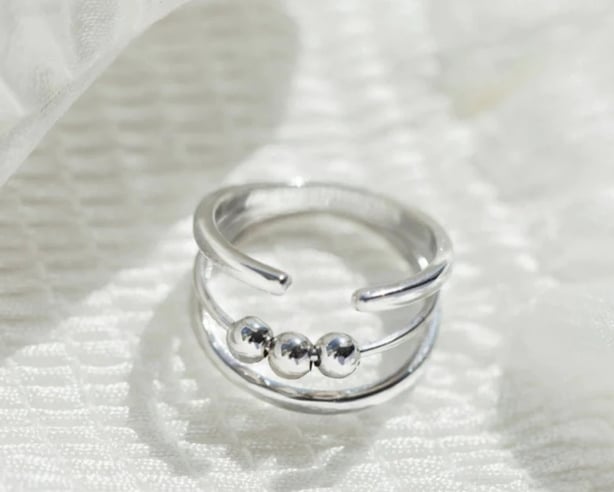 Each piece of No. 22 jewellery is designed in Dublin, and crafted using 925 sterling silver and thick gold-plating. With prices ranging from €32 - €75, you're bound to find something special while shopping for loved ones this Christmas. The Wave Ring (€45-€48) is the ultimate ring for stacking and layering and comes in a range of bright enamelled colours and crystals.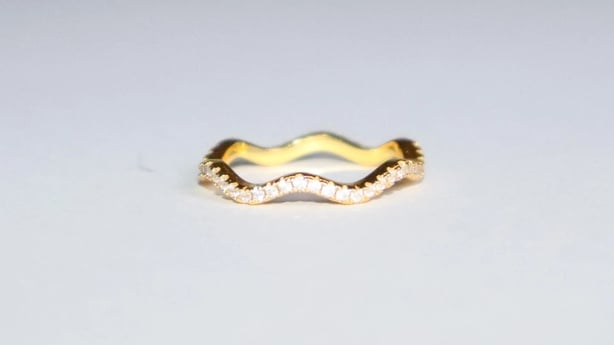 FITNESS & WELLNESS
Founded by Aoibhín Garrihy and Sharon Connellan, BEO hosts a series of wellness events that aim to inspire, motivate and encourage self-care. Working with Ireland's leading health and wellness advocates, and partnering with brands that share their ethos, Garrihy and Connellan work to answer the needs of the modern woman. The Codladh Sámh silk eye mask is €36.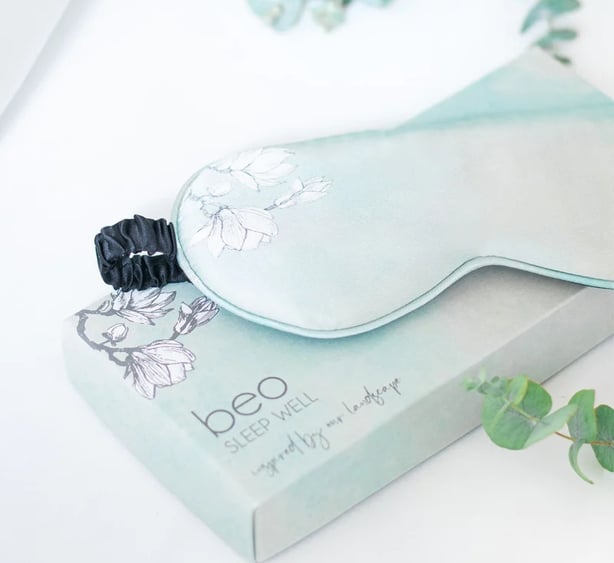 Founded in 2006 by Chris and Mary Mitchell, Green Angel is an award-winning luxurious range of Irish skincare, hair care and bath care preparations. The Green Angel Luxury Herbal Eye Cushion is handmade and contains natural ingredients. Its silky satin material is filled with flaxseed and lavender, sweetening the air with a relaxing aroma. It costs €25.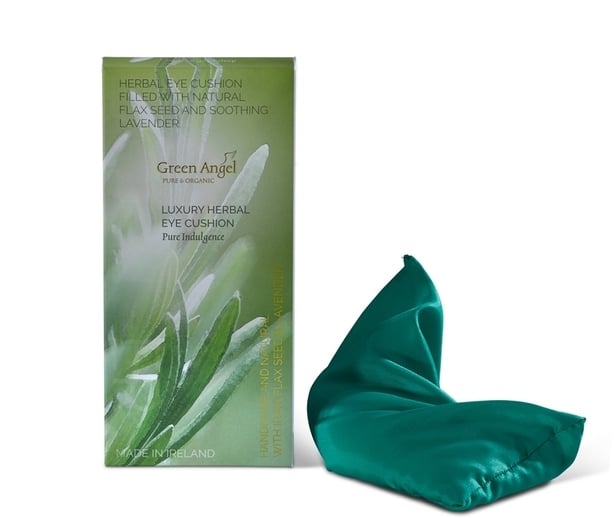 Since 2008, Huku has been run by a rag tag group of designers, carpenters, and cabinet makers. All of their products are made using natural and sustainable materials. Built by hand in Donegal, their balance boards are made of 100% Baltic Birch Plywood deck and cost €154.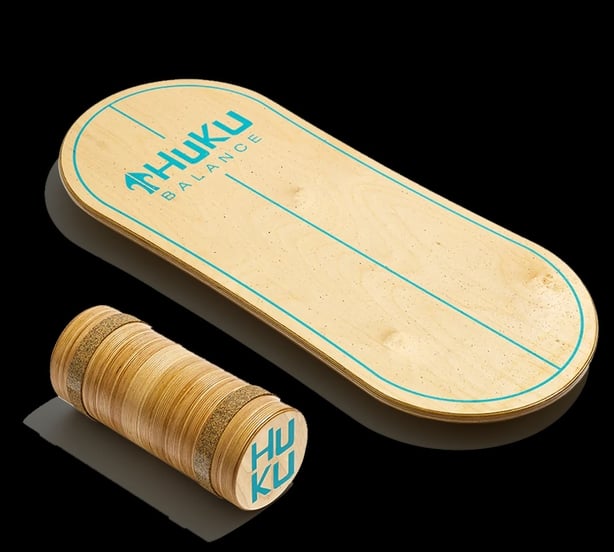 Based in rural Tipperary, Vixi Gifting is an independent online store founded by sisters Melodie and Fenella Fox along with their mother Nicky Fox. Whether you're looking for pre-curated gifts for your family or a custom made set for your best friend, this agency is sure to have the answer. The Nightstand set is €69.99.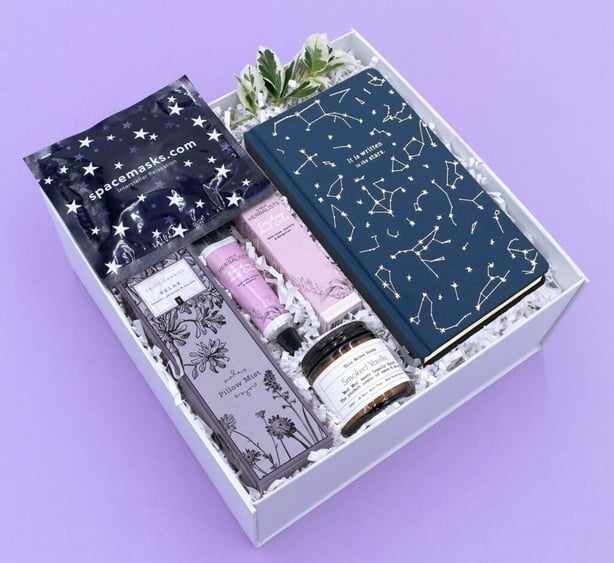 Founded by Karl Murray, Kotanical is the first company in Ireland to distill oil from natural native sources. While other brands import oils, the Dublin man saw potential in the flora found closer to home. Not only that, but the company will take back old essential oil bottles to be recycled or reused. The rollerball blends are cruelty-free, handmade in Dublin, and cost €22.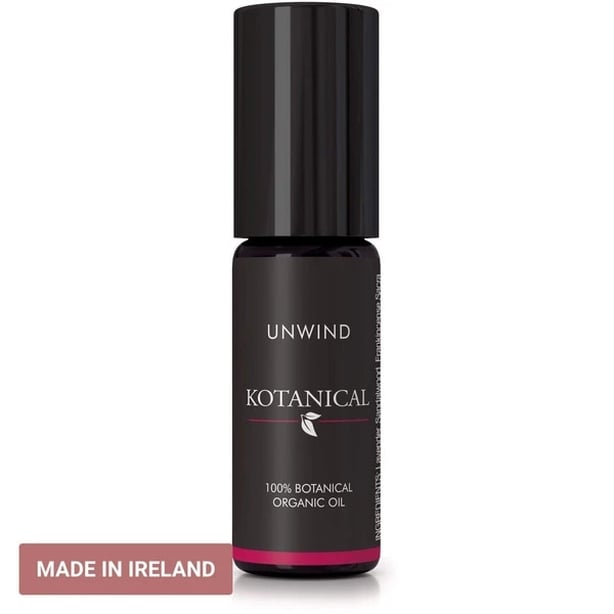 In August 2017, Sharon Keegan was inspired to create a clothing brand based around body positivity. From her retail space in Ballymount, she is selling "confidence, support and self-esteem" in the form PeachyLean shapewear. The leggings are squat-proof, have handy pockets, come in a range of sizes and cost €65.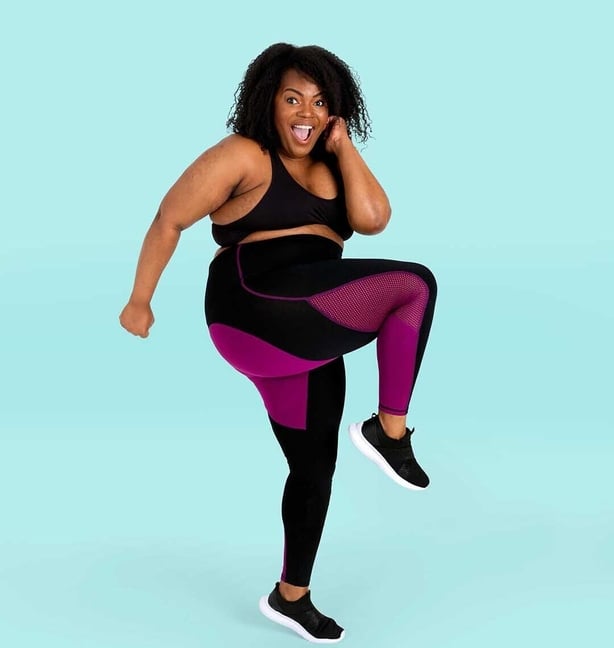 Founded in 2018 by Emma Coffey - a then fifth year secondary school student - Final Bend is an athletics brand with roots in track and field. Today, the Cork-based brand specialises in creating fun fitness apparel, sports bras, accessories and lounge wear. Their lilac hat is €9.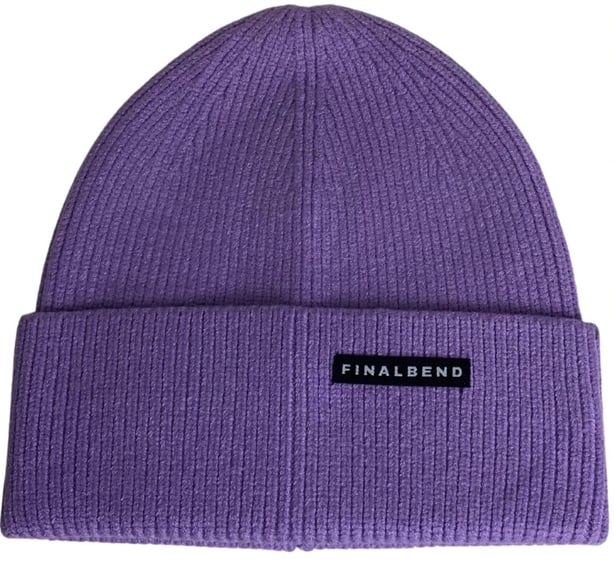 Avid reader and self-confessed chocoholic Aisling Finn came up with the idea of a sweet subscription service from her home in Co. Waterford. Whether you're looking for a one off gift (starting from €23) or a monthly subscription (€33 per month), the Book Resort will deliver a brilliant new book, a large bar of chocolate and a small artisan product from a small Irish business.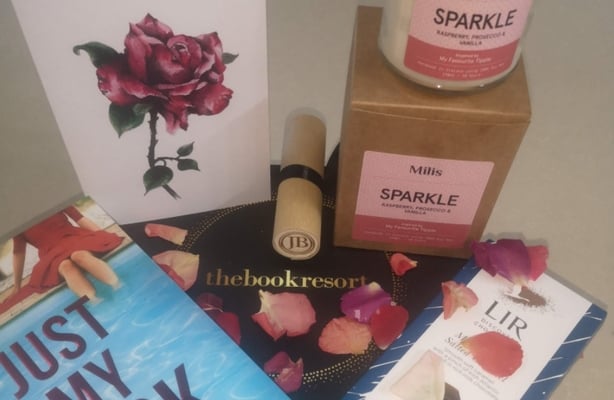 Designed and created by Síne Dunne, Siest is a weighted sleep pillow that aims to help you sleep better. This weighted sensory sleep pillow works using deep pressure therapy and proprioception. You hug it or place it between your knees, behind your back or neck and you will sleep better The weighted short sleeper is €170.00 (was €190).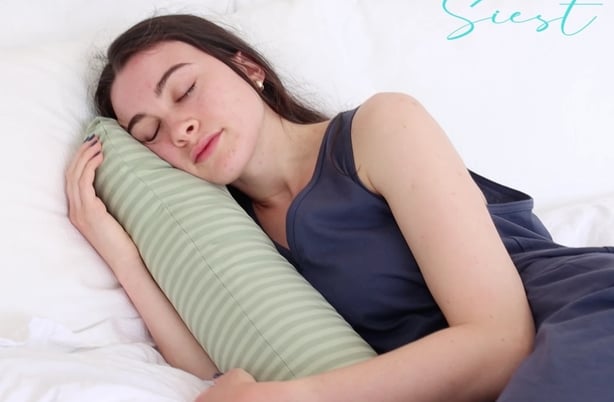 Based in Drumcondra, bridal and fashion designer Ro Molloy has created a range of luxury gowns, masks, and pillow cases under the name Slique. The Luxury Dusk Silk Pillow Case is 100% silk, hypoallergenic and costs €65.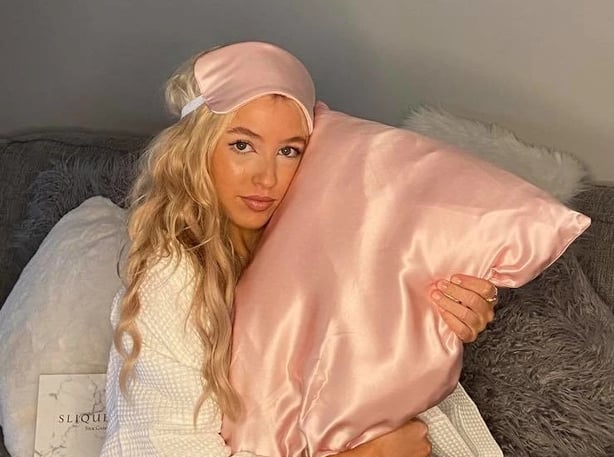 Whether you're zero waste or looking to make your first plastic-free swap, Fiona Smiddy's website is sure to cater to all your eco-friendly needs. The website is home to products that are handmade in Ireland, including this Bubble Bath Dough - Mermaid Tears - from Sophie's Soaps for €8.50.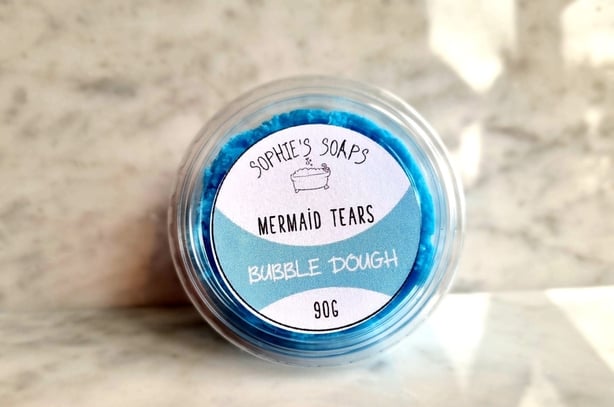 The Kind is Ireland's newest zero waste lifestyle store, selling eco-friendly products that are both kind to you and kind to the planet. Curated by founder Sheelin Conlon, each piece on offer supports small independent businesses and makers around the country and abroad. The Flowstate yoga mat is €130.50 (was €145).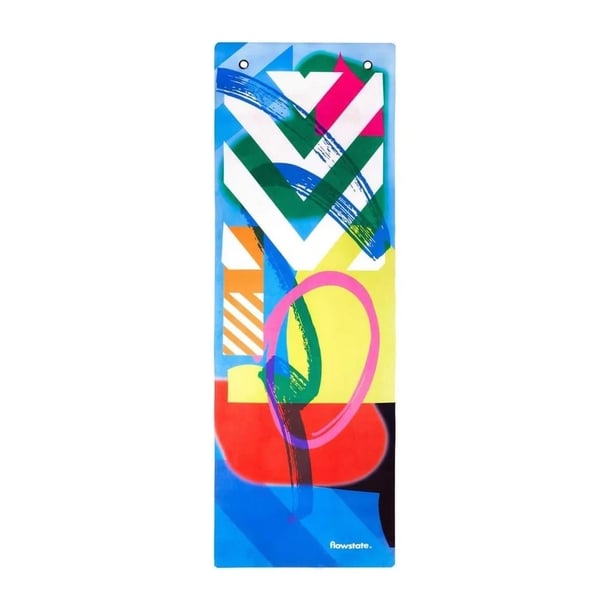 SKINCARE & COSMETICS
Seabody, a Kerry based biotech company, is unlocking the next generation of marine molecules from ocean plants, and developing a high-tech range of skincare & supplements, sustainably, from sea to self. Their ultra-nourishing cleansing gel is €40.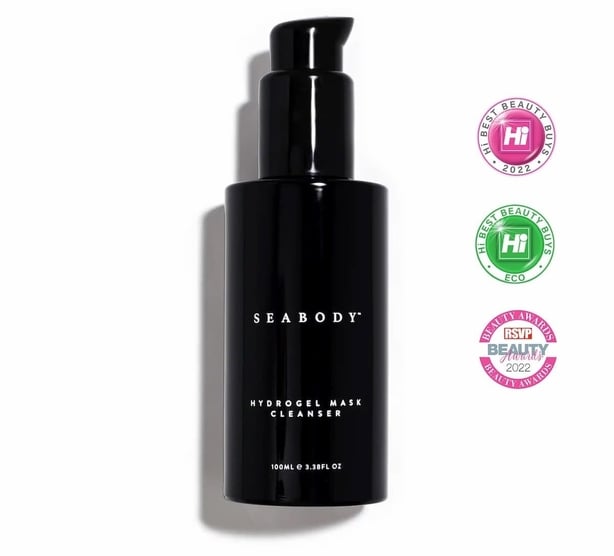 Founded by Lynn Shead, a mother of three based in Knockanore, Co. Waterford, Natures Alchemy stems from my Lynn's personal battles with sensitive skin. While she has suffered with psoriasis, two of her children have battled with eczema. This led her to create a sensitive skincare line using natural ingredients such as jojoba oil, calendula, lavender, hibiscus and rosehip. The mini facial box costs €35.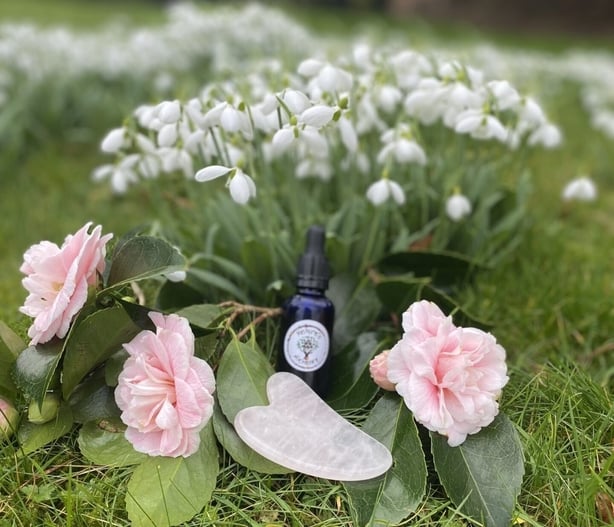 Created by Dublin woman Vogue Williams, Bare by Vogue aims to give the ultimate experience in sunless tanning. The new Illuminator is a hydrating liquid that delivers a glistening sun-kissed glow. Enriched with amino acids that helps to nourish and improve the texture of the skin and Vitamin A & C. The liquid body illuminator is €25.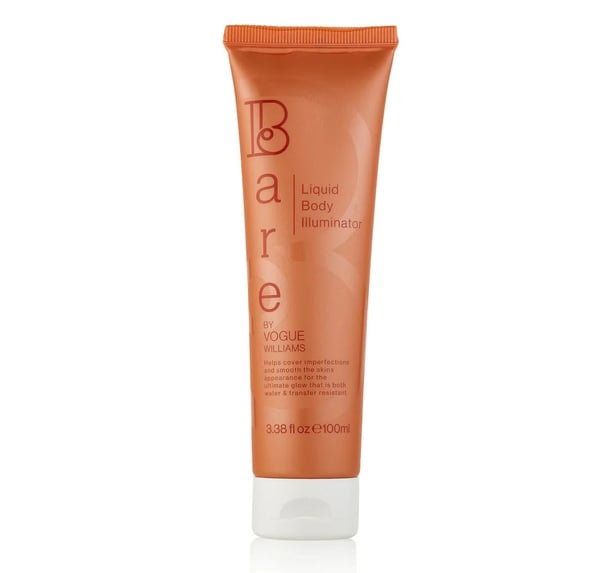 Founded in Dublin by Niamh O'Sullivan, a qualified beauty therapist, Bare Blue is a plastic-free, personal-care online store. Catering to women and men, they stock a super range of skin, body and hair products, such as shampoo bars, moisturizers and serums, bamboo toothbrushes, reusable razors, cleansers and solid perfumes. The Wee Beard Box is €29.95.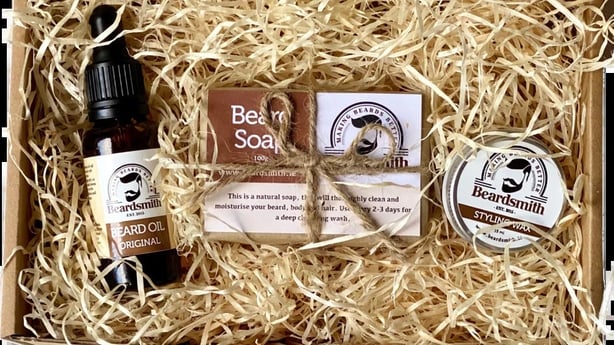 Based in Co. Meath, Whipped2Glow cosmetics started out as a mission to find a solution to irritable, dry skin and unpredictable flare ups. Founded by sisters Masindi and Denga Phiriga, this holistic, handmade butter is whipped up from natural ingredients. The Original Lemon Essential costs between €15 – €55.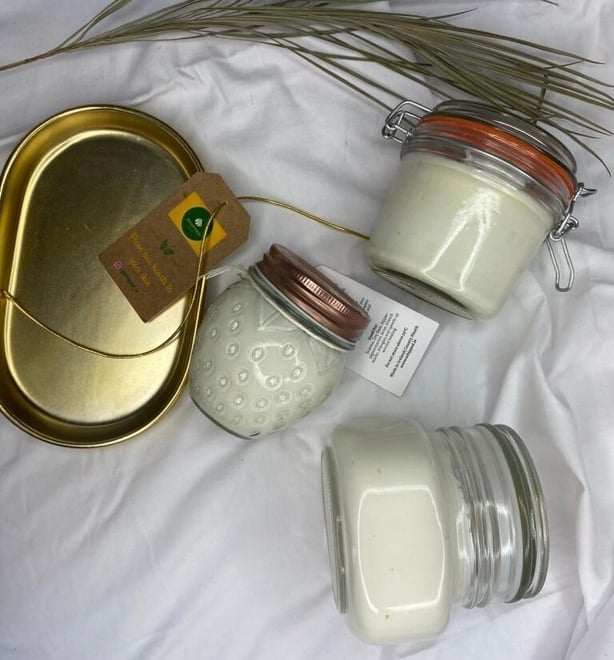 As well as being a TV presenter, stylist, fashion journalist and Dancing with the Stars contestant, Darren Kennedy has a beautiful skincare range that includes moisturising gels, beard oils and peat scrubs. We recommend the daily moisturiser with SPF 20 for €9.95.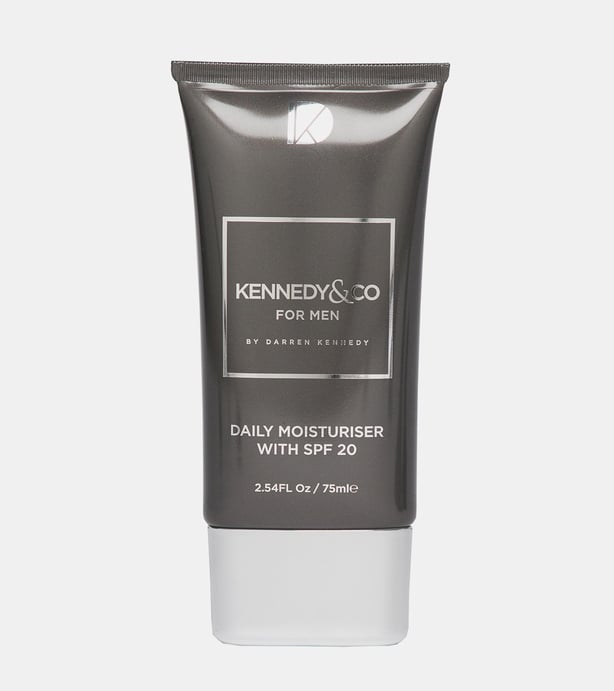 Founded by Peigín Crowley, Ground Wellbeing was born at the kitchen table in a quest to make wellness and self-care accessible to all. Having spent over 20 years in the world of spa, Peigin is a wellness curator, creating award-winning spa experiences. The BARRÓG collection was carefully formulated for those going through cancer. The Calm Scalp Relief Oil is €24.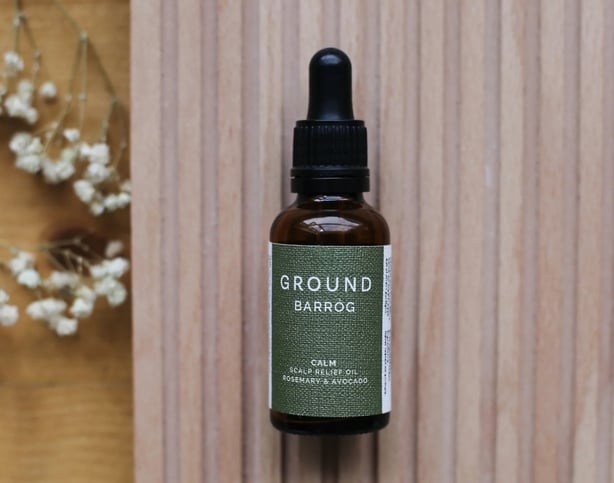 The story of TanOrganic first started back in 2010 when founder Noelle O' Connor appeared on Dragon's Den. The organic self-tan brand is fighting for for healthy, nourished skin as well as a happy planet. The Christmas set includes three full size products: tanning oil, moisturising facial serum, exfoliate tan duo tanning glove. It costs €29.99 and eco-refills of the tanning oil are available here.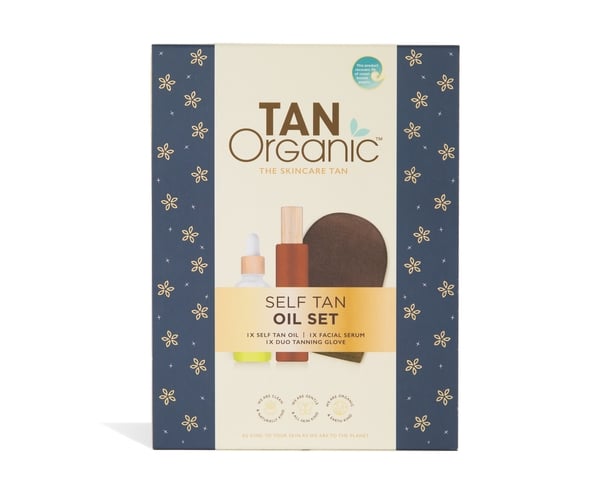 Fill your home with wild and warming winter spices this Christmas with an Irish candle made in Co. Meath. These products are vegan-friendly, cruelty-free, and scented with essential oils only. The body care set in lavender, rosemary, thyme and mint cost €27.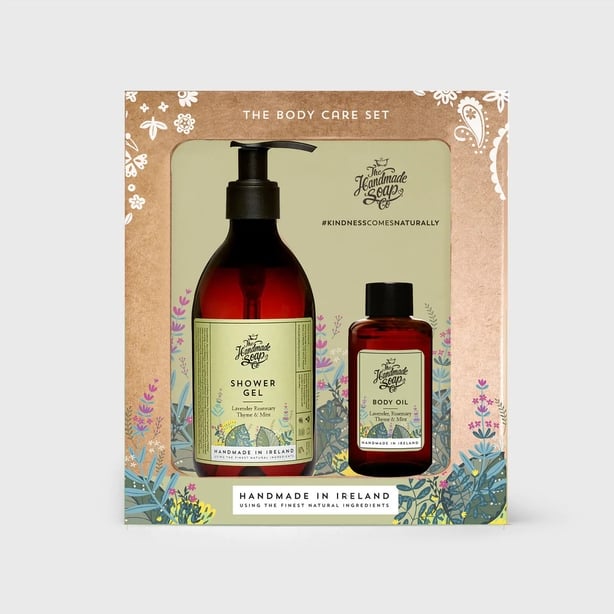 HOMEWARE
Brazen Botany is a statement art collection of elegant and everlasting houseplants by Irish designer Caroline Byrne. Having studied Ceramic Design at NCAD, Byrne moved to London to pursue a career in set design. When COVID-19 put things on hold, she created Brazen Botany from her flat. These colourful plants are handmade and impossible to kill making them well suited to busy households. This lilac elephant ear plant is £65.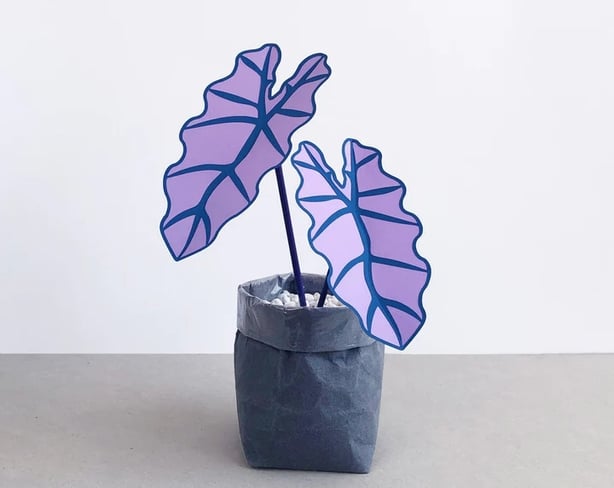 Combining beautiful simplicity with purpose, the latest mug collection from social enterprise, Loaf Pottery, is the perfect gift that delivers on both style and substance. Handcrafted in the historic village of Crawfordsburn, Co. Down, each piece takes form on a potter's wheel, before being hand-glazed and kiln fired with care. The Loaf Mugs Collection is £72.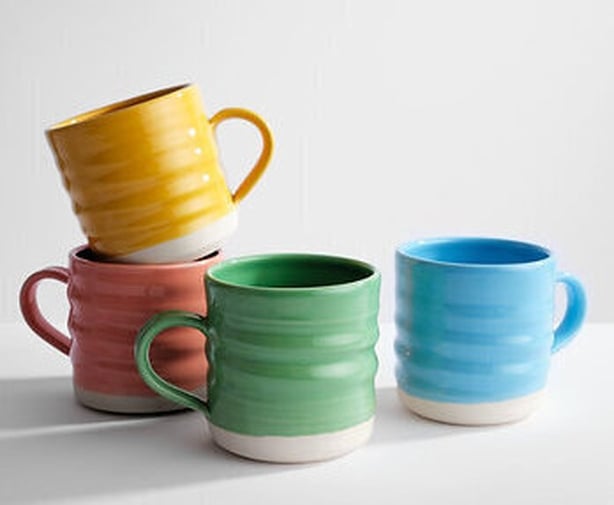 Isabelle Margarita Home is a small, sustainable, homewares company based in Tipperary and Galway. Started in 2020, the brand was founded by two mothers who love sustainable, high quality, durable items that will not only look great in homes. Their Turkish Towels come in a range of colours and cost €25.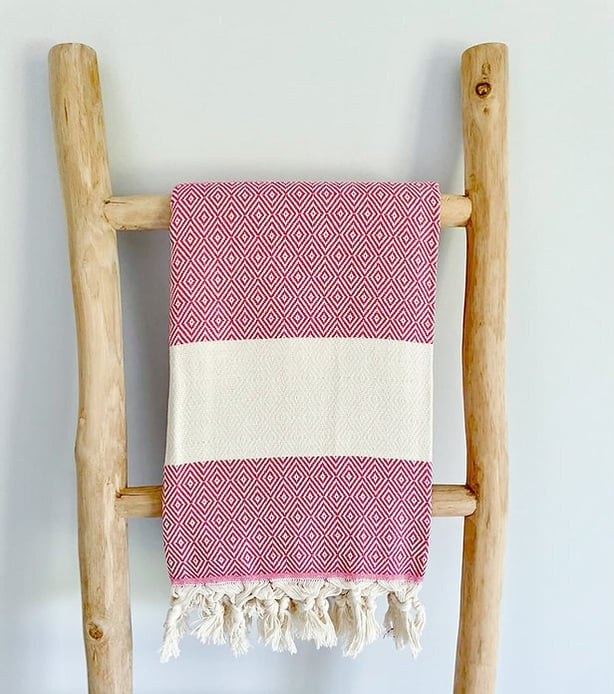 Pearl Reddington is a multi award-winning contemporary knitwear designer based in Ireland. Born and bred in Dublin, Pearl comes from a family of artists, makers, and entrepreneurs and has been crafting beautiful objects since a young age. The Mother of Pearl quilts are handmade in Ireland and made of 100% certified Irish linen. The Candy Stripe design costs €350.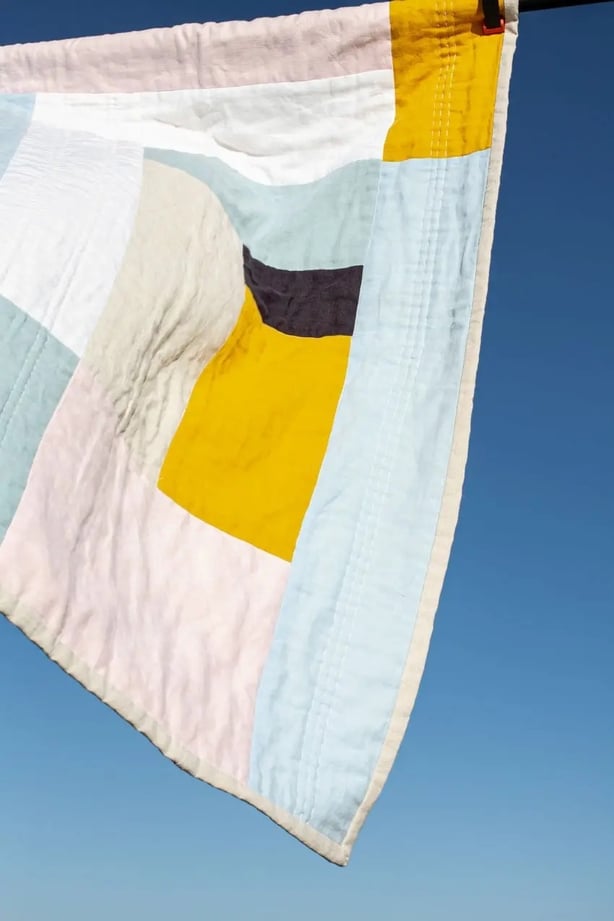 Established in 2008 by jewelers Clare Grennan and Laura Caffrey, this homegrown store offers traditional and modern handicrafts. This Christmas tea towel has an original design, screen-printed by hand using non-toxic water-based ink in Belfast by printmaker and linen lover Janet McNamee. It is machine washable and costs €18.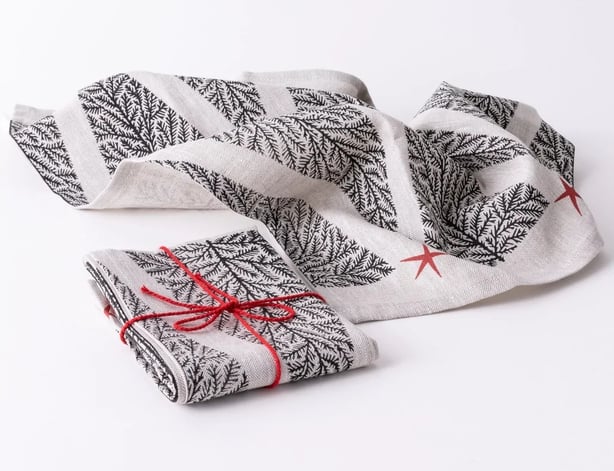 Founded by designer Fergus O'Neill in 2008, Grand Grand celebrates all things Irish through retro prints, aprons and mugs. Remember the 'white ladies' of Dublin? Seen in windows all over the inner city, you can now have your very own replica in the form of this Christmas tree decoration for €15.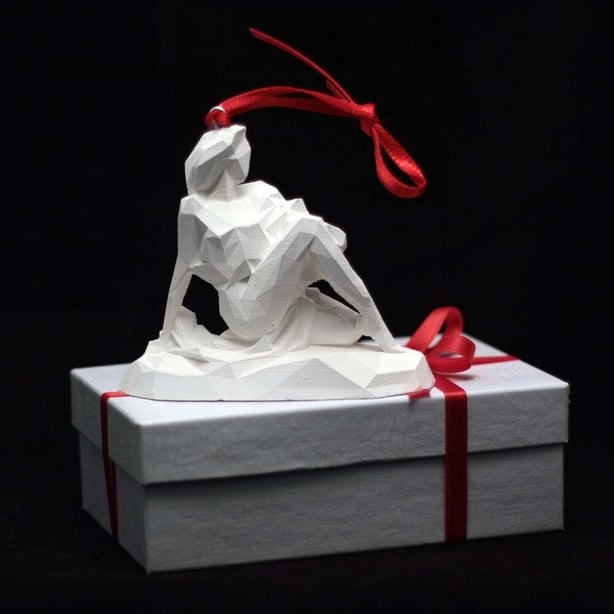 A small shop with an unusual name, My Shop...granny likes it is based on Upper Abbeygate Street in Galway. Home to the best of contemporary art, craft and design, the space is dedicated to celebrating and supporting homegrown talent. They have a gorgeous set of Christmas decorations from Irish artist and designer Maple Tree Pottery from Co. Wicklow. This Ash Cheese Knife is €12.50.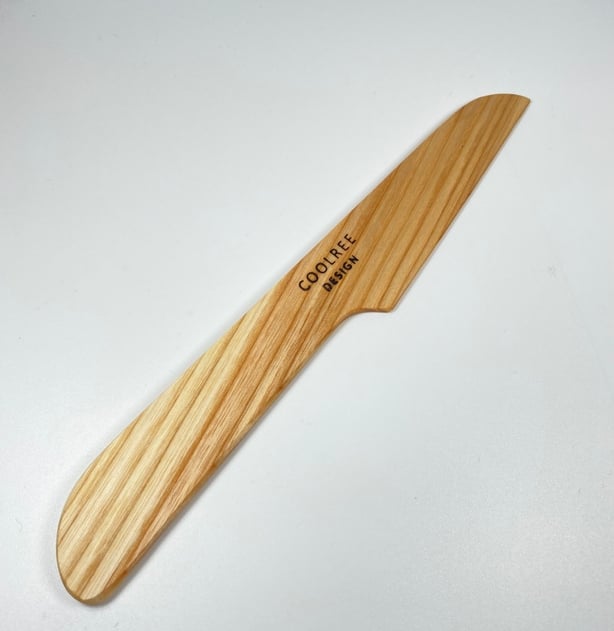 With a goal to be as helpful, well-priced, and minimal as possible, this Dublin-based sustainable lifestyle shop sells everything from recycled cotton yarn hanging baskets to pure wool slippers. Run by Brazilian woman Pat Kane, the website is filled with fun gift ideas. The 'Grow Your Own Cocktail Kit' is €22.99.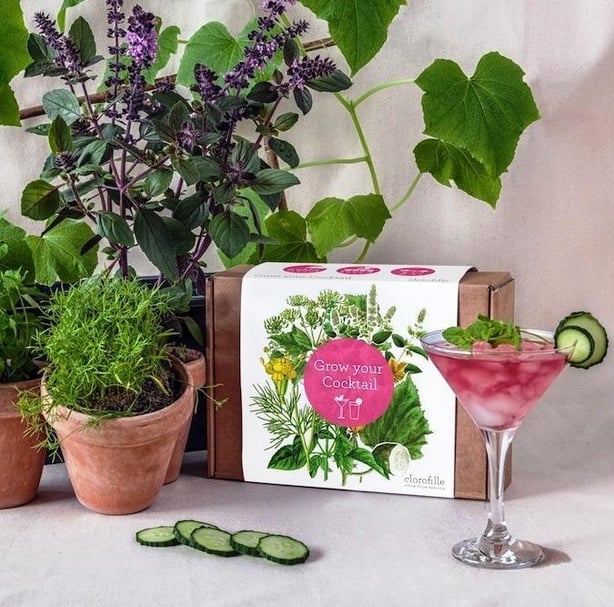 From unusual gifts to unique household products and crafts, The Old Mill Stores will surely have the perfect gift for your friends and family. This independent shop has been run by owners Tom Keane and Claire Graham in Cork since 2012. This shy stoneware vase is €22.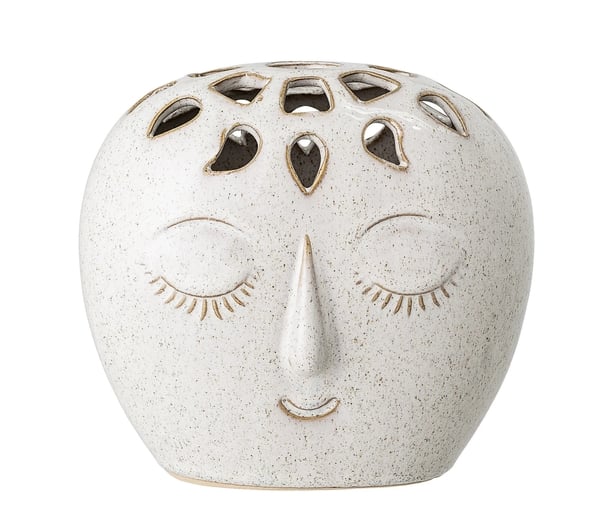 Ireland's biggest and best eco-specialist toy distributor, Jiminy, was started by Dublin mum Sharon Keilthy. These reusable crackers come in a range of colours and cost between €2.99 - €23.99. Unlike traditional Christmas crackers, 'Keep This Cracker' come flat-packed, ready to be popped into shape, and can be filled with your own small gifts and jokes. They're made in Europe and wrapped and shipped entirely plastic-free.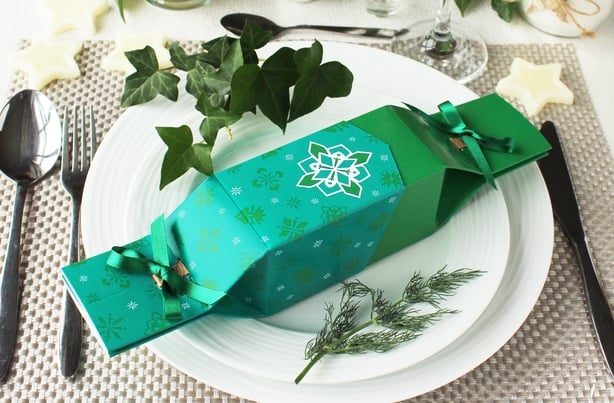 SOAP & CANDLES
Made and packed in Dublin, these red and white striped candles are inspired by the capital's iconic Poolbeg chimneys. Presented in a simple screen-printed recycled cardboard box, these candles cost €12.50 and can be found online or in a number of Irish stockists.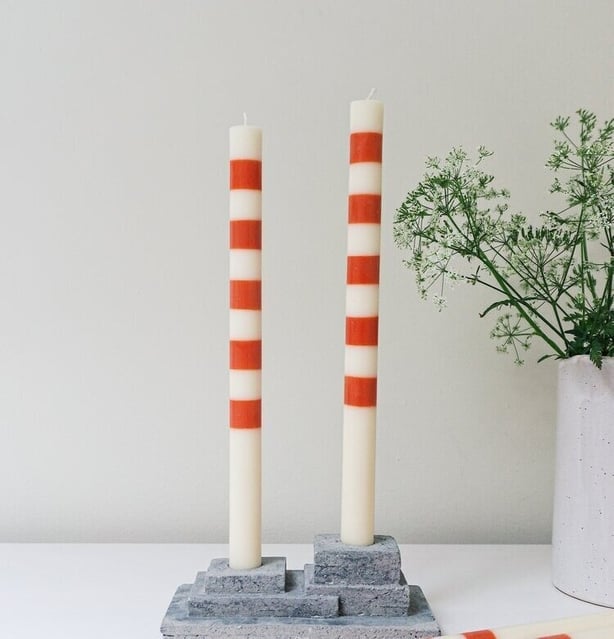 In operation since 1996 in Killaloe, Co. Clare, this sustainably-minded, family-run business are on a mission to create products with zero waste. As well as packaging their soaps, shampoos and deodorants in brown paper bags, they conserve water by using fresh rainwater that they hand filter before using in their products. The gift pack of three mixed soaps costs €12.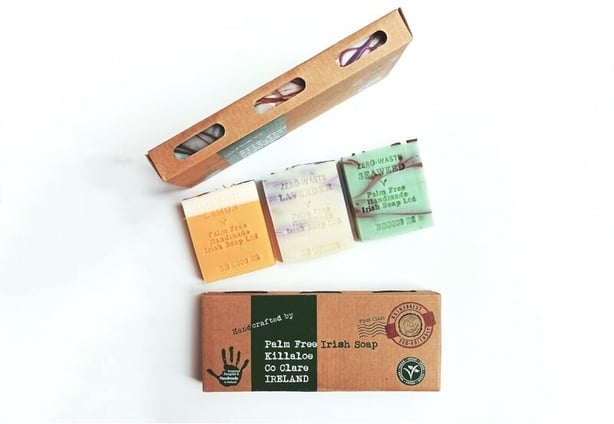 Originally from Syria, Reham Ghafarji moved to Ireland in 2017 and founded Soap & More just three years later. Committed to delivering beautiful, handcrafted products using only natural ingredients, all of his products are palm oil free and animal cruelty free. The Kissed by Moon & Sun exfoliating loofah soap is €5.99.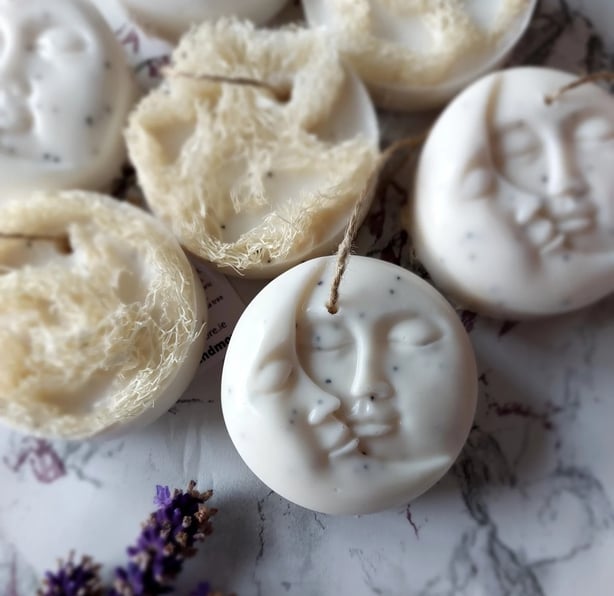 Set up by Barbara Nolan and Jennie Flynn in 2010, Designist is a gifts and homeware shop that can be found in the heart of Dublin's city centre. Working with makers and suppliers from both Ireland and abroad, the small but passionate team are focused on bringing their customers the most remarkable products. This vegan soy candle from Crop was hand-poured in Cork, smells of Summer rain, and costs €16.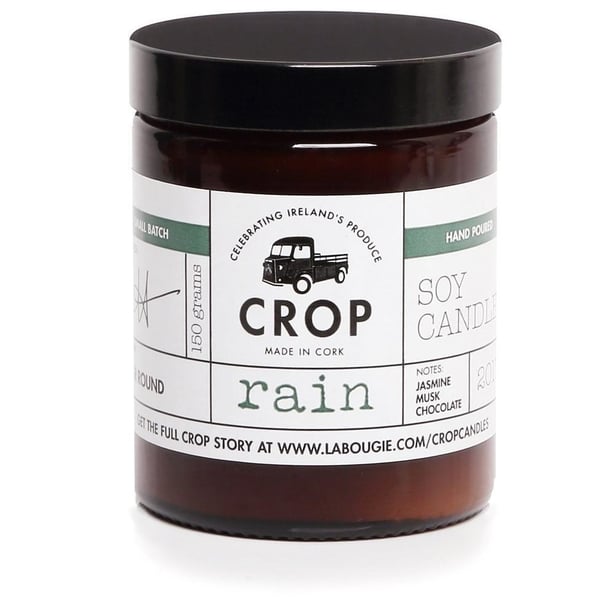 Made of Irish was launched in Autumn of 2018 by Louis Copeland. They create hand-picked collections of Irish-made gifts, with a focus on homewares, cosy throws, handmade pottery, stationary, skincare and candles. This candle from Sómas (an Irish word directly translating to 'Ease' or 'Comfort') aspires to capture the magic of the Irish landscape through an array of luxury scents. Poured with love in Co. Cork, this candle costs €29.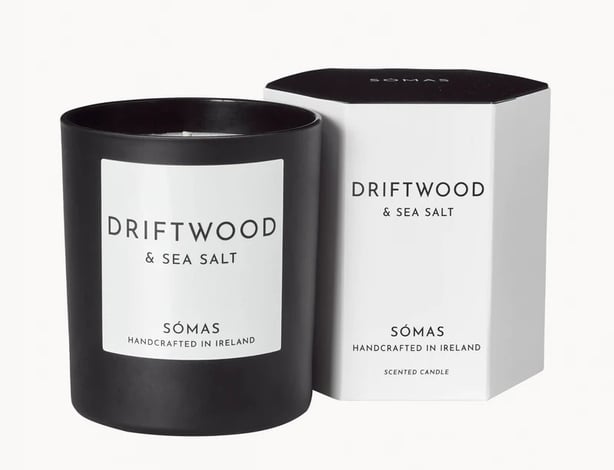 This brand believes in using all-natural oils that are sustainable, vegan, free from paraffin, palm oils, dyes. They produce all their goods on their farm in Tipperary and use no unnecessary packaging. Their candles and soaps are made on a very small scale in a farmhouse using traditional methods. The Household Castille Soap Block Lavender is €10.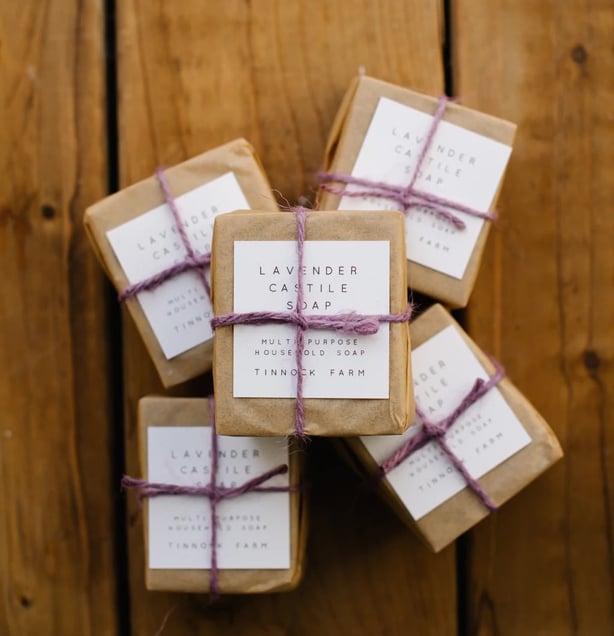 Based in (you guessed it) Dublin 8, this company was founded by Lydia, a woman with a love of industrial design, high-quality handcrafted items, and lovely smelling things. These hand-poured candles are made using the highest grade soy wax with scents that are inspired by time spent growing up in Ireland. The jars are refillable, reusable and can be repurposed. The Solstice candle has approximately 50 hours o fburn time and costs €38.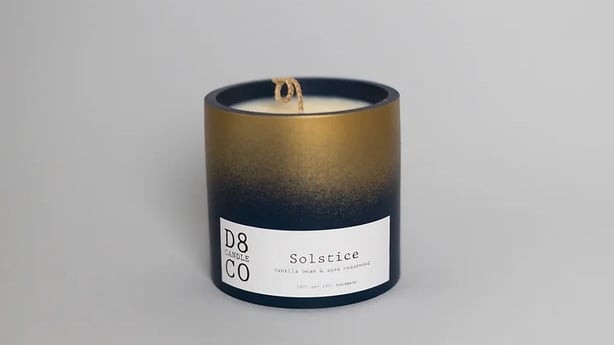 PRINTS & CARDS
Designer Bill Abbott has been surfing, hiking, camping, sailing, swimming and cycling his whole life. His experiences in the outdoors, both in Ireland and abroad, led him to found Malin & Mizen where he sells a range of sea and surfing inspired maps, beach towels, and wall prints. The sea swim map is €39.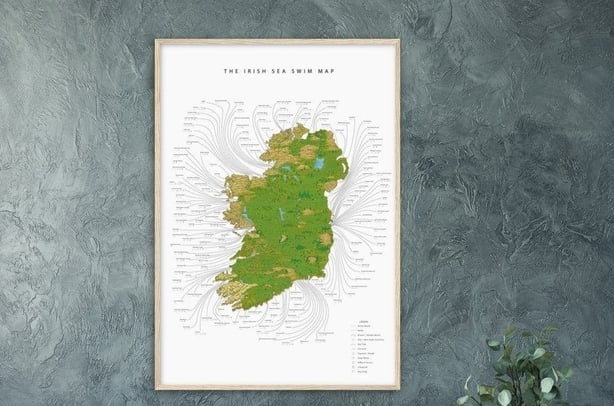 Cara Luna Designs is a small, Irish design studio that values of eco-friendliness, inclusivity and non-binary representation at its heart. Pick up a ready mande design or order a custom handwritten message for an extra charge of €3. The Cat on Santa's Lap Christmas Card is €4.50.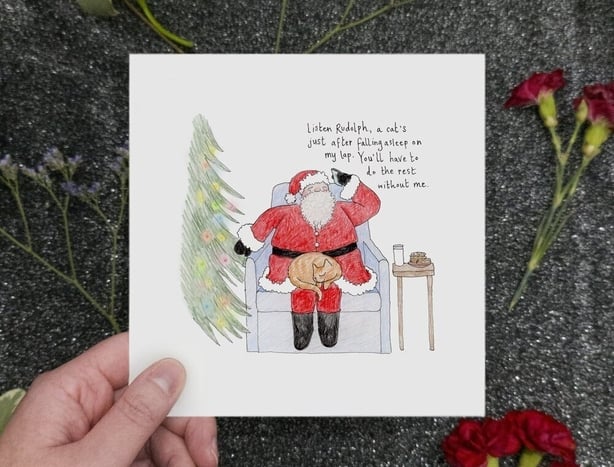 Sara and Don are Cork siblings who have spent most of their adult lives living abroad (Sara in London and Don in Sydney) before returning home to raise their respective families. In November of 2020, they started Skyfolk, selling contemporary aerial photography of Ireland. Since then, they have curated a collection of jaw-dropping photos that celebrate the Irish landscapes and coastlines. This Sea Horses - Stradbally Beach is €80.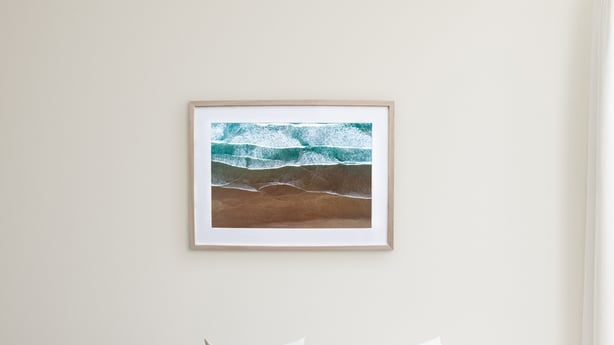 Founded in 2019, Fierce Nice is a curated online gallery dedicated to showcasing and selling the work of leading Irish contemporary artists. This 'Waiting on the S-Bhan 9' print from artist Derval Freeman (a graduate of Limerick School of Art and Design) is €45.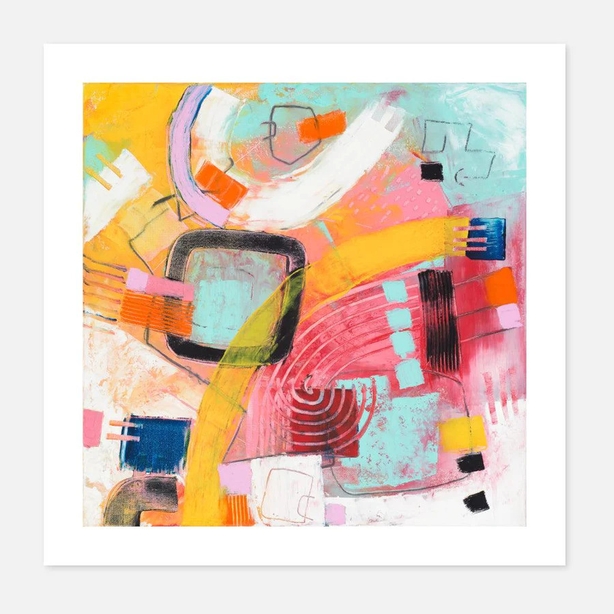 Founded in 2011 by brothers Mark and John, Jam Art Factory started out on Patrick Street in the heart of Dublin's historic Liberties. A few years later, a second location in Temple Bar was opened along with the launch of JamArtPrints.com. The website was set up to give hand-picked, Irish-based designers and artists an online platform to display and sell their work. The Hear No Evil print from Dublin illustrator Tara O'Brien is €18.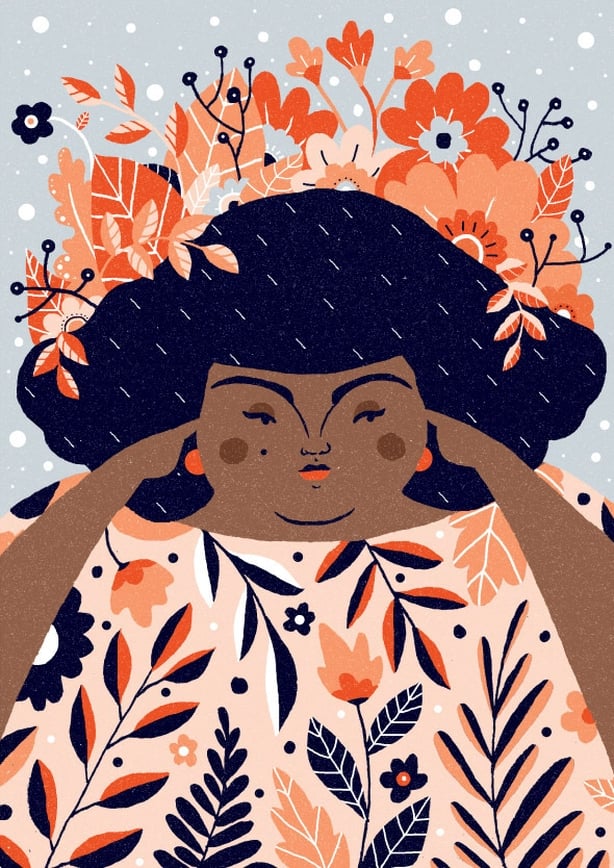 Founded in Galway in 2018 by Venezuelan man Juan Sotoparra and Irish woman Kerry Quinlan, Sketchico casts a fresh eye on iconic Irish landmarks and traditions. Each print starts out as a photograph and goes through a digital manipulation process, where they modify the colour palette, simplify the image and create a stylised version of the original. It then evolves into a digital painting. The Galway Team Talk is €30.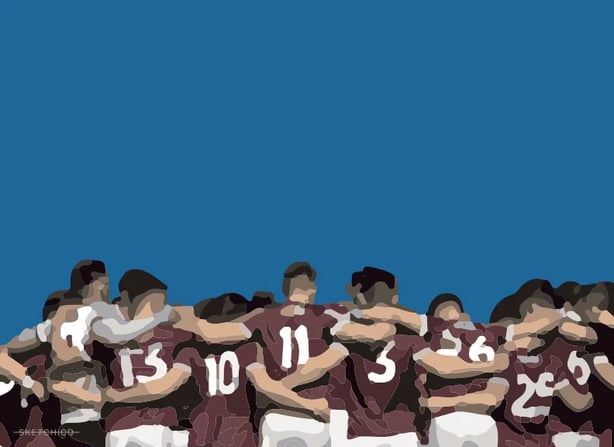 Wishing Tree Studio is a small design studio owned and run by Fiona McEvoy in her hometown of Kells, Co. Meath. Creating personalised prints and button frames since early 2015, McEvoy has a collection of greeting cards for every occasion. This 'Home is Where the Heart is...' card is €4.80.
Selkies is a self-taught artist from Dublin who is currently living in Brussels. Inspired by everything from big characters on reality TV to the everyday people around her, she has a range of incredible designs at a variety of prices. You can also commission her for a portrait or a custom family Christmas card. The 'Agus mé sa bhaile' print starts from €22.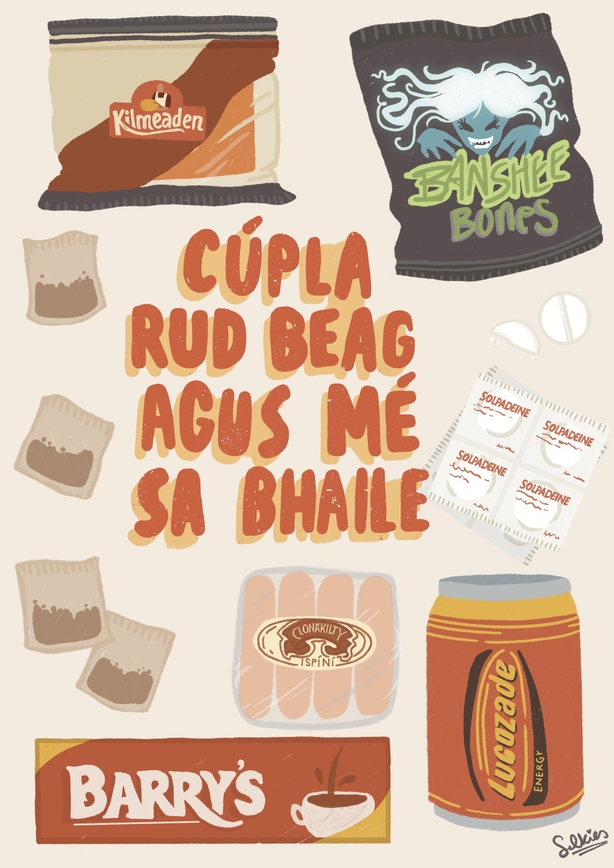 llustrator Jill Deering and printmaker Gillian Henderson are the creative duo behind an incredible range of print and jumpers starring standout women such as Iris Apfel, Anna Wintour, Grace Kelly, and Countess Markievicz. The 'What Would Dolly Do?' print is €200.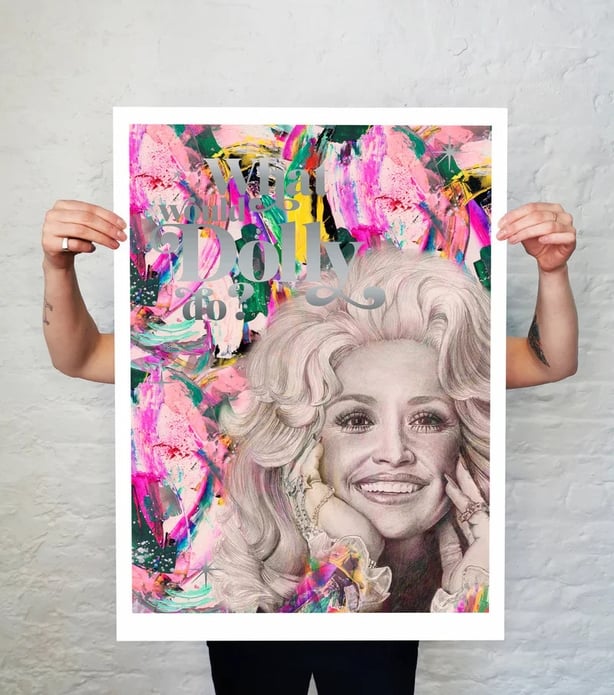 While travelling in Japan, Irish illustrator Catherine realised just how much she missed the Irish language. Once she returned home, she created a series of prints with Irish words that interested her. You can order her prints and learn some interesting 'cupla focail' along the way or put in a request for your favourite Irish phrase. This Father Ted inspired 'Nollaig Shona' card costs €3.75.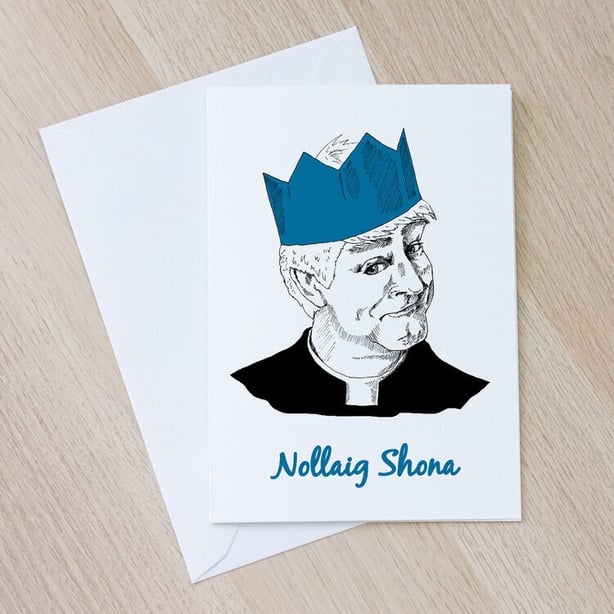 Mimi and Martha are a mother-daughter duo with a background filled with music, art, design, and culture. The eco-conscious women bring a unique collection of crafts and designs to their website, supporting artists from both home and abroad. The 'Little Women' print by Irish artist Rachel Corcoran is €25.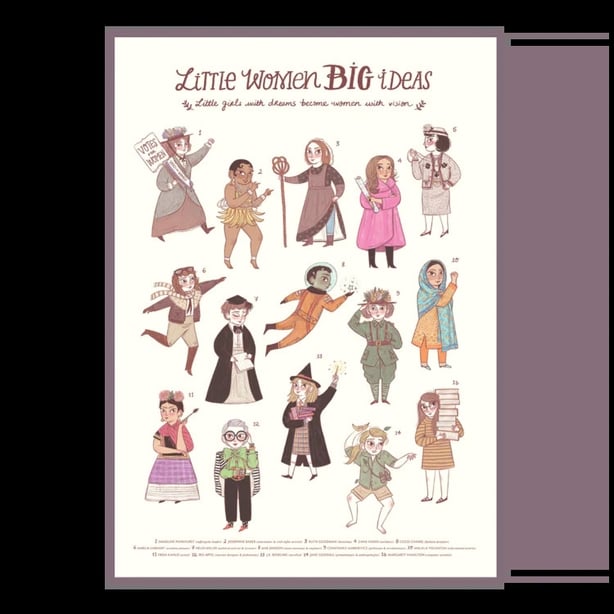 Every year, Irish Man Abroad podcaster Jarlath Regan designs a batch of Christmas cards that will give the whole family a giggle. A batch of 10 cards costs €20. If you have your eye on a particular design, just pick your favourite from either 2020 or 2021 and order a pack of ten made up of the ones you're into!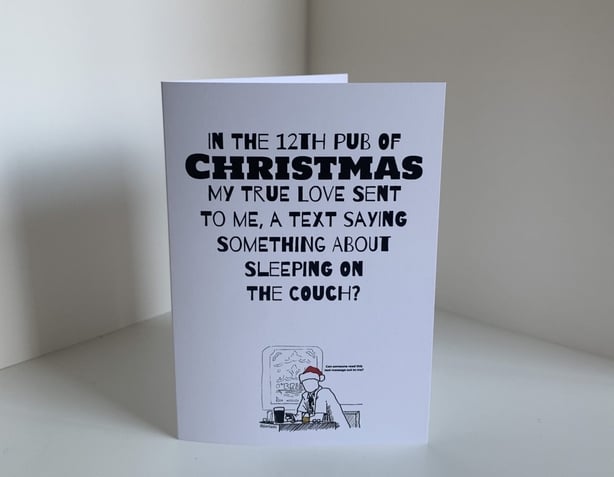 BOOKS & TOYS
This Irish designed and locally manufactured board game was created by primary school teachers with the aim of offering young GAA followers a board game which contains all the classical elements of gameplay but with a Gaelic Games theme. Suitable for 2-4 players aged 7+, this board game costs €35.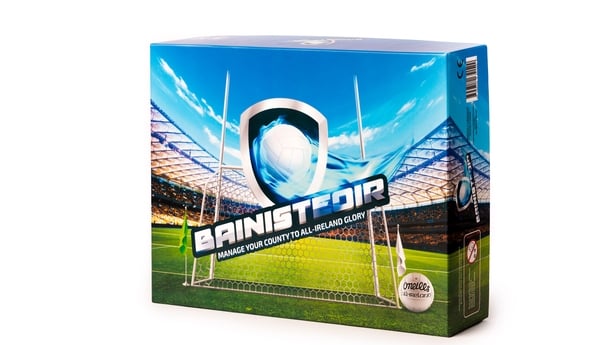 Sally the sheep just can't sleep. Her best friend Ted – who she always takes to bed – cannot be found. Sally thinks of all the places Ted could be, retracing her steps during the day and also thinking of other places Ted could have got to – including the Zoo and the Eiffel Tower! Written by Brendan McDonald, this book costs €9.95.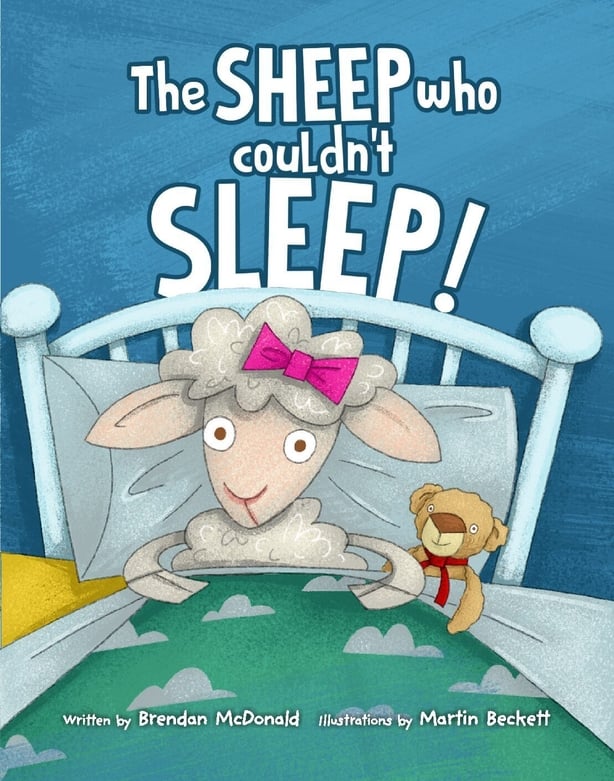 Pinocchio's on Paul Street in Cork has been family-run since 1983, and specialises in traditional, mostly wooden, toys of a slightly more alternative type. The wooden counties of Ireland jigsaw puzzle is €14.95.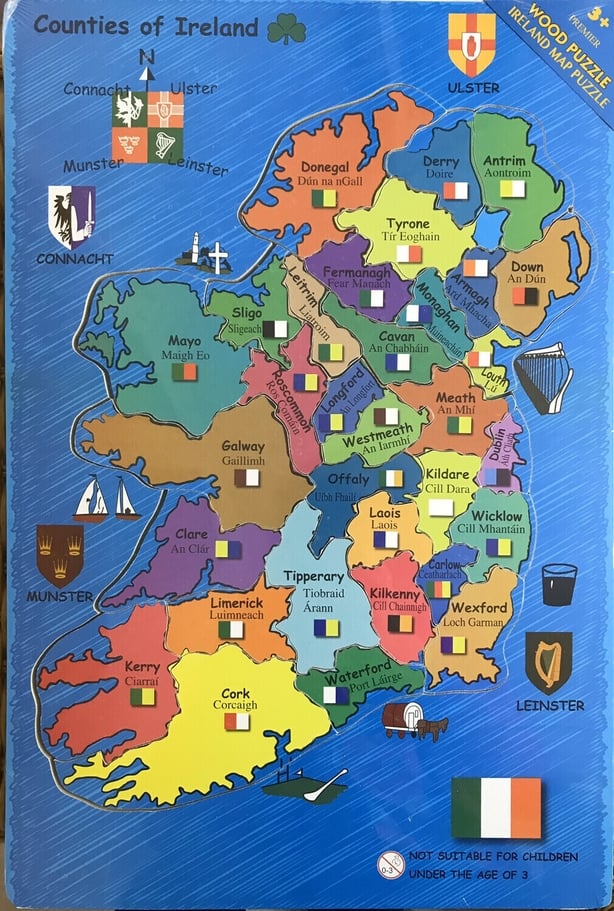 Izzy's Magical Christmas Adventure
Author Emma Larkin has recently written a series of books following the adventures of Izzy, an eight-year-old girl who lives in Ireland and loves all sport, especially camogie and Gaelic football. The character of Izzy was inspired by Larkin's grandmother, Maureen, who played on the Cork camogie team. Her latest book, Izzy's Magical Christmas Adventure, costs €13.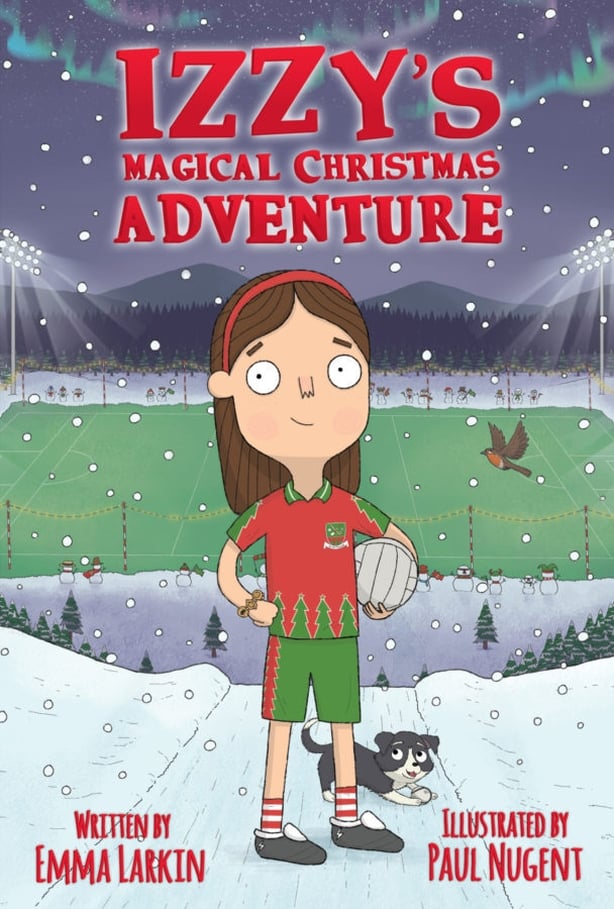 Kids' Own is Ireland's only dedicated publisher of books by children. Through a range of local, national and international projects, we connect children with professional artists and publish the work that they create. Bouncing Away – The Ups and Downs of Life and How to Deal with Them is the first mental health book in Ireland created by children for children. €10.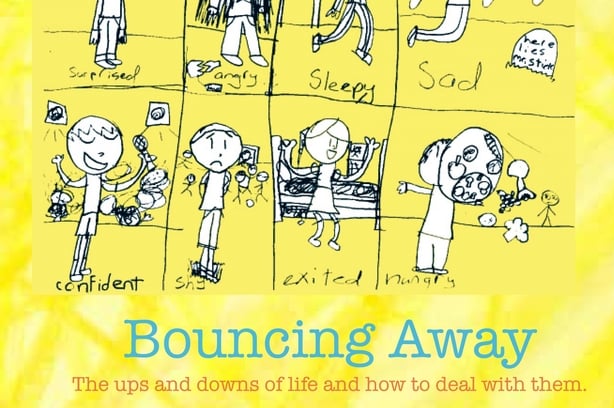 Fifi Flurry and the Sleepy Snowflake
Wonderfully Weathery Books is an Irish owned business set up up to publish a series of children's picture books about a land called Weatherville - where the weather lives. In Fifi Flurry and the Sleepy Snowflake, readers will meet Fifi Flurry, a snow-flurry who brings the 'freeze" to the winter skies. Suitable for ages 3-6, this children's paperback picture book costs €10.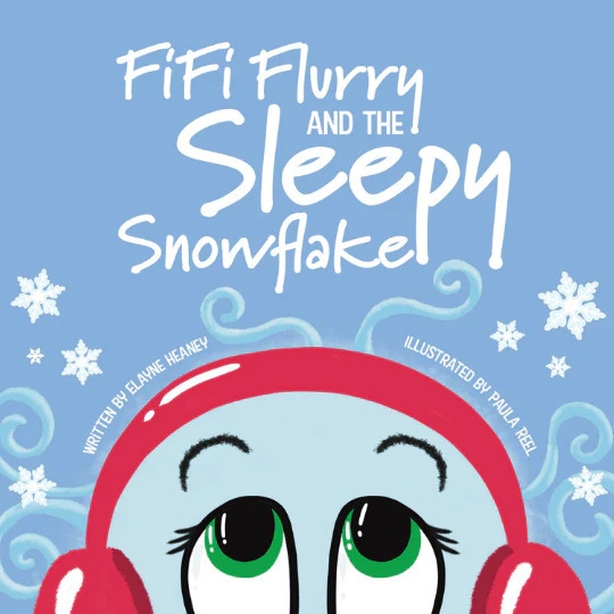 Irish illustrator and author Nicola Colton's picture book, A Dublin Christmas, follows the story of a girl called Orla who goes an enchanting adventure to the National Library, Grafton Street, Stephen's Green and the GPO. A heart-warming festive story that brings Dublin at Christmas to life. €14.99.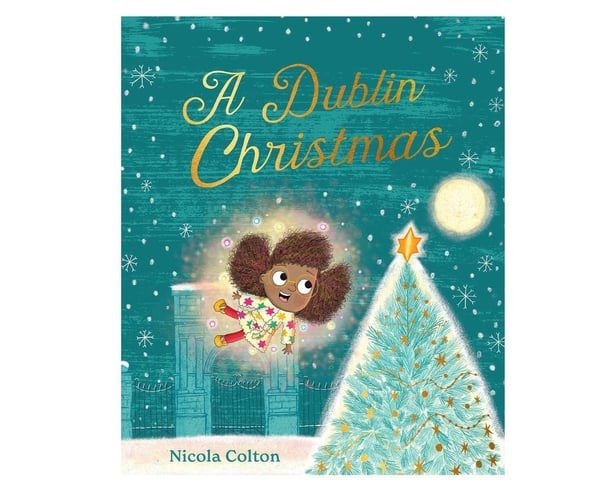 Fios Feasa is a fun game for all the family based on trivia from all over Ireland. The objective of the game is to answer enough questions correctly that they can collect a full set of four segments representing counties, plus one disk representing the provinces of Ireland. There are over 1,000 questions, covering many aspects of life including personalities, sport, history and music in Ireland. €25.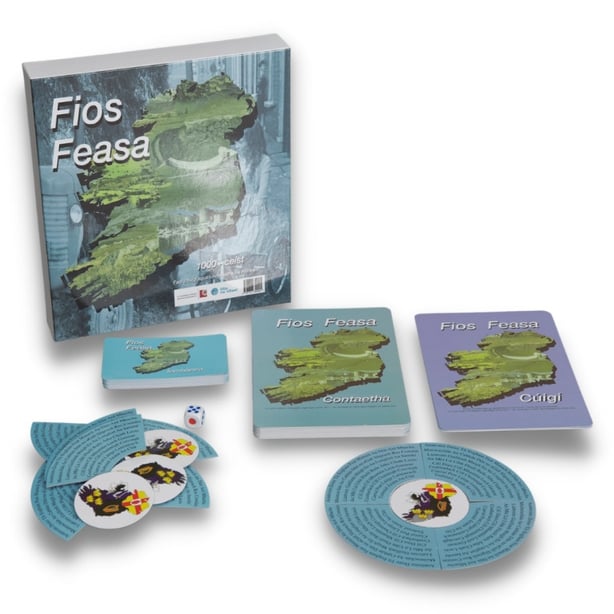 Founder Suzanne is a mom of two with over 20 years of experience as a speech and language therapist. The Babbling Bookclub hosts classes for babies and toddlers in Galway, and all activities are based around early language and brain development using research and my experience in fun and interactive story time classes. Tiny Tales: Are You There Little Puppy is €40.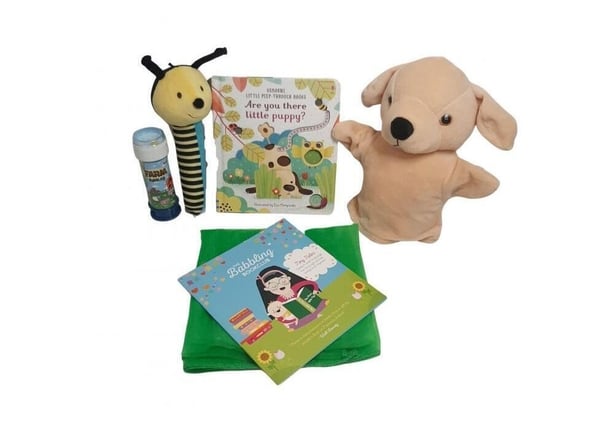 Curated by Lousie Goodwin in Bundoran, Co. Donegal, The Wishing Chair shop is home to Irish made gifts that are "representative of the history, culture and unique personality of Ireland's Northwest region". Open since 2017, the shop offers everything from pashminas and baby blankets to chocolates and seaweed products. This Donegal-themed colouring book was designed by Donegal girl Sarah King and costs €9.99.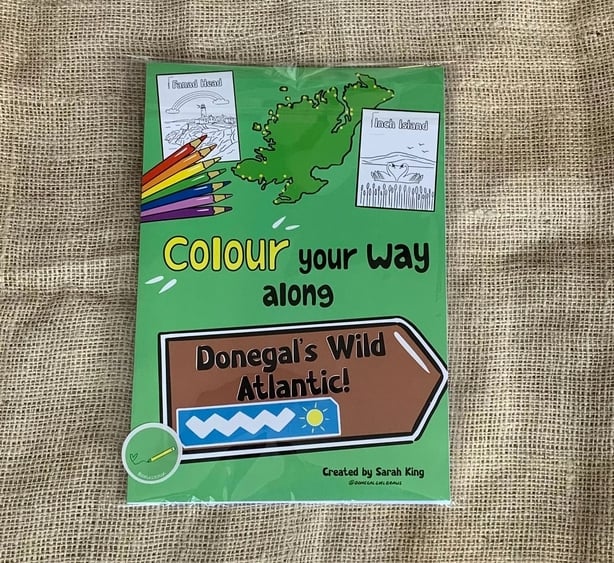 Sisters Jane (mother of Emily) and Sandra (mother of Eve) paired up during the pandemic to create a line of positive affirmation cards for children. Struggling to cope with with the stresses of every day life themselves, the two mums wanted to find away to focus on the positive and pass on healthy coping techniques to their little ones, but in a fun and magical way. Their colourful children's journal costs €16.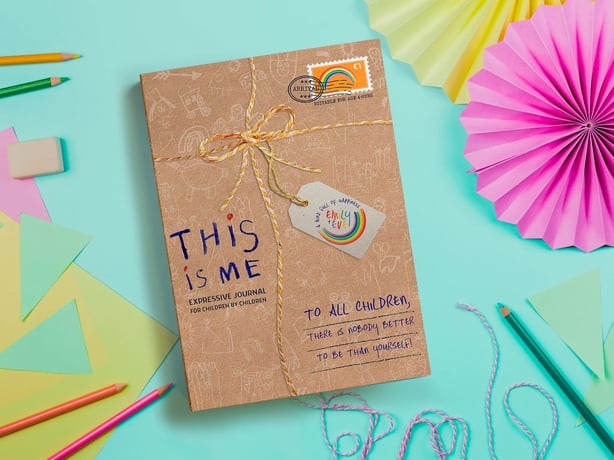 Based in Westmeath, Little Green Shop aims to provide products made from sustainable materials that are made ethically and will decompose naturally when they have reached the end of their life cycle. Working to become Ireland's one stop eco-shop, the site offers a range of products for health, beauty, kitchen and home. This modelling clay is made with waxes, paraffin, purified natural chalk and eco dyes. €5.90.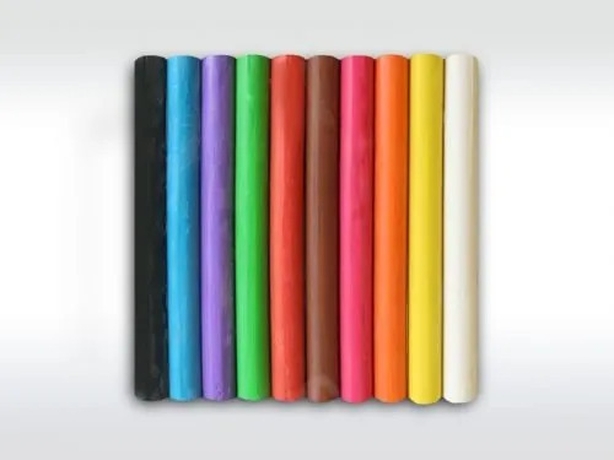 THINK OUTSIDE THE BOX
As well as buying physical items, it's always nice to think outside the box when it comes to gift giving.
Plan ahead by investing in a voucher for your favourite local restaurant or book a weekend away at an Irish hotel. You could also treat yourself in the present-buying process by booking you and your loved one in for a night of laughs in a comedy club, a bold outdoor adventure, or a matinee at an independent cinema.
If you're on a tight budget, there are plenty of hidden gems to be found in charity, thrift and antique shops such as Saint Vincent de Paul, Oxfam, Enable Ireland, Nine Crows and Needful Things. Alternatively, you could suggest that your family play Kris Kindle this year, or you could host a games night for friends where guests bring a festive dish in lieu of presents.
Whatever you do, be sure to have a very merry Christmas.