Next year, Graham Norton turns 60, but there's no fear of him slowing down. He talks to Donal O'Donoghue about missing his dad at his recent wedding, still enjoying his talk show and being true to yourself.
"It was so lovely to have my mum, Rhoda, there," says Graham Norton of his recent wedding to film-maker Jono McLeod in Bantry House, West Cork. "My only regret is that my dad didn't live to see it. Dad did see me get some of my professional success but he never saw me personally happy or in a stable relationship. So that was kind of sad.
"But it was so great that my mum was there and yes, of course, my dad got a big mention on the day. When you're organising a wedding, you're doing it for yourselves but it is also for your family and friends who want to come and celebrate your happiness. And because it's not easy for my mother to travel any more, West Cork was the obvious choice."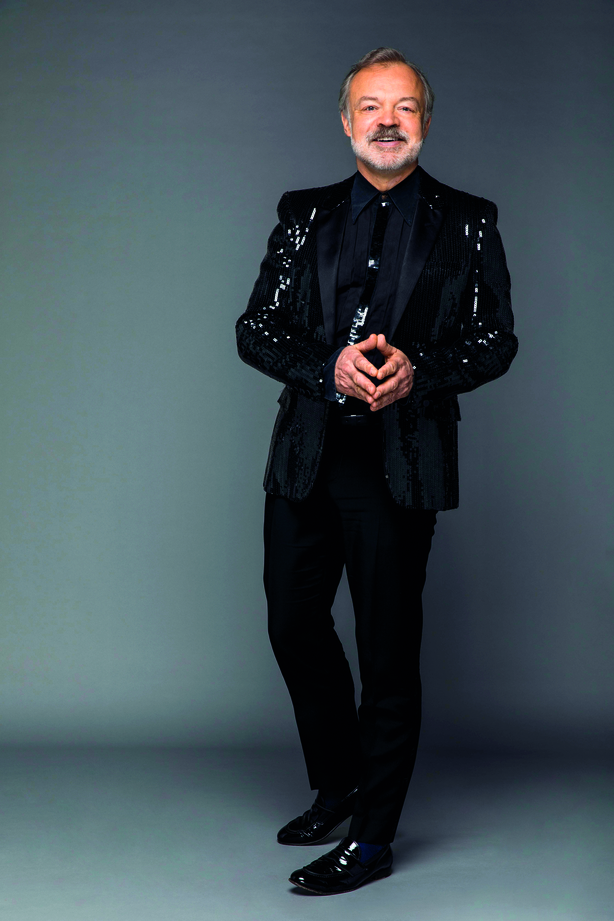 It's Saturday lunchtime at the Aviva Stadium. Far below, all is quiet save for a large machine which appears to be giving the pitch a sun tan. "It sure beats a boring hotel," says Norton of the venue where later, he will sign copies of his latest novel, Forever Home and do a public Q&A. It's his first time at the arena and he's bubbling with curiosity. Wasn't his old alma mater, Bandon Grammar, a sporty school? He nods but sport was never his thing: books, TV and entertainment twined into his DNA from the beginning.
The night before, he was all over the telly, popping up on The Late Late Show ("I never thought I'd get married") as well as The Graham Norton Show. "I can't apologise enough," he says impishly of his ubiquity.
Unsurprisingly, GN – as his wine and gin labels have it – is fun to meet. He is chatty, witty and with a naughty laugh, even as he expertly deflects anything overly personal or controversial. Or as he likes to say, quoting Frasier actor David Hyde Pierce, "My life is an open book, but don't expect me to read it to you." If you are interested in such matters, all is wittily chronicled in two autobiographies (no ghost writers here), So Me (2004) and The Life and Loves of a He Devil (2016).
Therein you can read all about how Graham hightailed it out of Ireland in his late teens, survived a violent mugging in London that left him near death and irresistibly rose via award-wining stand-up and comic acting to host the "most fun talk show" (copyright Matt Damon) on the planet. His first novel, Holding (2016) involved some horse-trading with the publishers: 'I'll give you a memoir if you publish my novel' being the gist of it.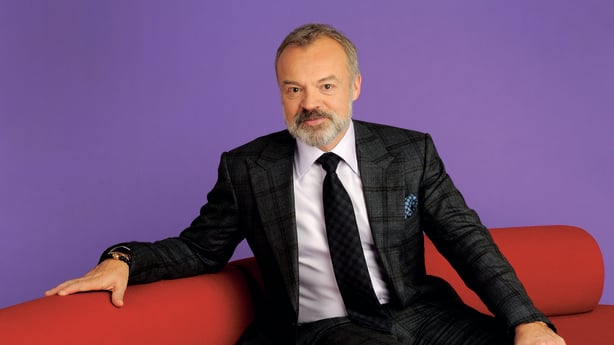 His fourth novel, Forever Home, is variously a romance, thriller and absurdist comedy that teases out weighty matters such as dementia, regret and family plots. Similar to his previous novels, the backdrop is a fictional version of West Cork, where he has had a holiday home for many years (Ahakista House on the Sheep's Head peninsula). His previous novel, the story of a gay man finding his way in the world, also had 'home' in the title (Home Stretch). So what does that word mean to a man with residences in London, New York and West Cork?
"Home is where you open a drawer and find god-knows-what's in it! There are a couple of places like that for me but Ireland is the place where I switch off the most." Perhaps his nomadic early years offer clues to his wanderlust. The family (Graham has one older sister, Paula) lived in 13 different houses in 17 years because of his father, Billy's, job as a Guinness rep. But then, being gay and Protestant in largely Catholic '70s and '80s Ireland couldn't have been a barrel of laughs.
"I wasn't ecstatic as a child," he says. "I don't look back and think 'school days were the happiest of my life' because that's such a depressing idea. My memory of [childhood] is that I was sort of bored, just waiting to get out of Dodge [Ireland]. I went to Protestant schools and so when I went home, the kids on either side didn't go to my school so I didn't know them. I didn't feel lonely, I don't ever remember that, but I did feel quite solitary as a kid."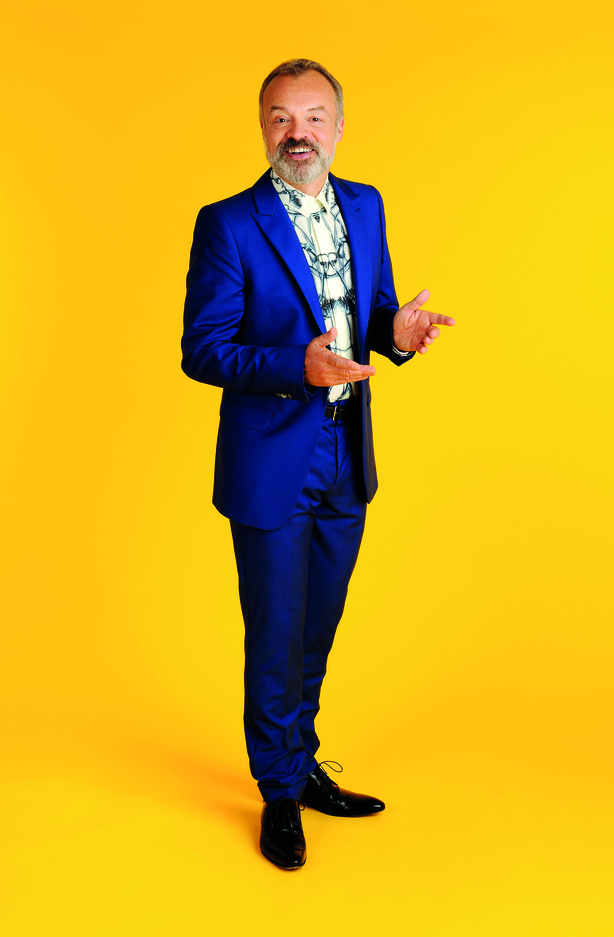 Taking responsibility for who you are and what you do is another notion teased out in Forever Home. "Sometimes people want to know 'Why am I like this?' or 'What caused me to be like this?' and actually sometimes you've just got to go 'It doesn't matter, this is the way you are'. So if you want to change that, change it. Finding out why you are a certain way doesn't add anything to that. You can blame your parents, you can blame your school, you can blame whatever, but that doesn't let you off the hook.
"So it's up to you to change and a lot of the time it doesn't matter how you ended up in this place. I think that there is a slight tendency now where people can explain why they are a d**k, as in: 'Sorry I'm like this but it's because of whatever.' And you think: 'No! You're just a d**k!'"
Recently, Norton stirred up social media when he interviewed JK Rowling on his Virgin Radio show. The Twitterati, up in arms, tweeted that he should not have broadcast someone with controversial views on gender identity. In a subsequent interview with the Sunday Times, Norton gave short shrift to his role as 'moral arbiter', saying, "We should talk with people we disagree with, even JK Rowling."
Does he believe that cancel culture has gone too far? "The word 'cancel' is bandied around a lot and it is not real. Most cancelled people are not cancelled. Harvey Weinstein is in jail so yes, he is cancelled. But most people have a quiet six months, their diary gets a little thin, and then they come back." But are people much quicker now to pull the trigger, as Colin Farrell put it recently, on those they don't agree with it?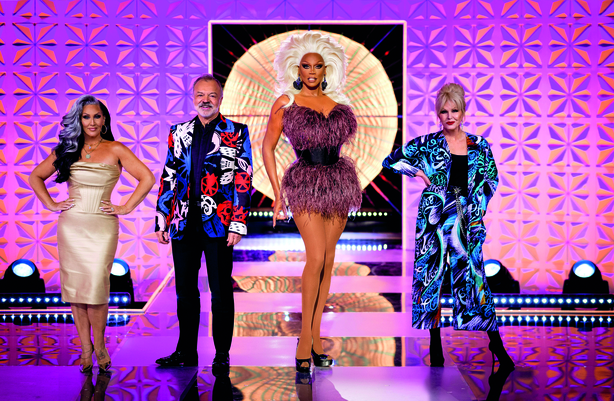 "I think we always were, weren't we? Before social media, you would read something about someone and go 'Oh my god, I can't believe that!' but then you wouldn't have a device in your hand where you could go 'This is TERRIBLE!' and have someone agree or disagree with you and so on. Twitter is like shouting at the television, but the television can now hear you. I hope that there is a time in the future when we can look back at Twitter like it was the cave paintings of social discourse. Certainly, I don't get involved with Twitter at all because it just seems to be people who are permanently angry."
More usually, Graham Norton prefers to look on the bright and quirky side of life as epitomised by his multiple award-winning BBC chat show, where anything goes – and usually does. Now in its 30th season, has the host any notion of moving on?
"Honestly, no. It's not a hard job in that I really enjoy it but you can never take your eye off the ball. There's a lot going on to steer that couch from beginning to the end. But what keeps me interested is that no matter the pre-production it doesn't always pan out the way you imagine. It's like 'Jamie Lee Curtis will then tell you the story about her pet rabbit' but on the night, you say to Jamie Lee Curtis 'Your first pet was a rabbit?' and she goes 'No it wasn't!' and you're thinking 'Oh, OK!'.
"But I like not knowing how things are going to go. So I haven't got bored yet."
Next April, the man with so many plates spinning – radio show, RuPaul's Drag Race UK judge, Eurovision Song Contest commentator, entrepreneur, writer – turns 60, a milestone that he cannot quite fathom.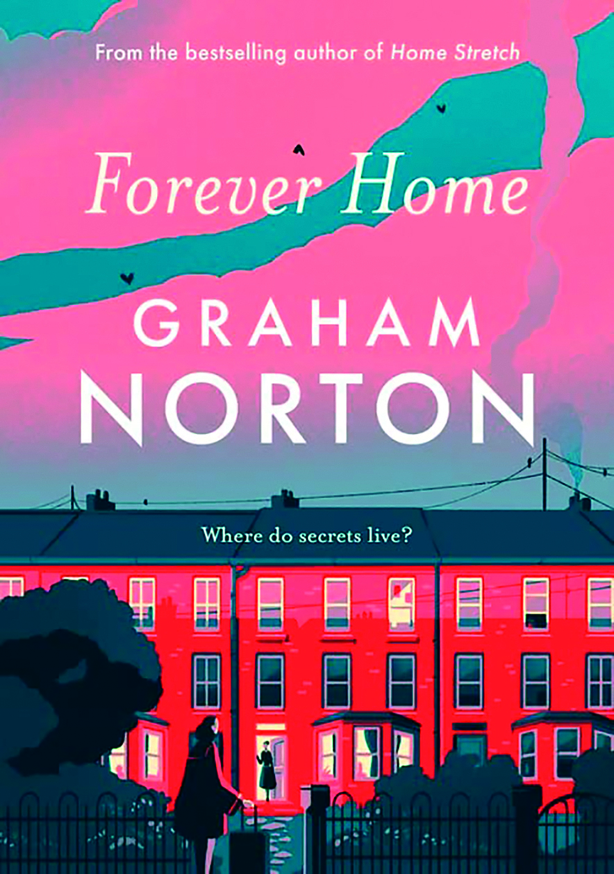 "Turning 60 is so odd," he says. "When you were a kid, 60 was just old, there was no other way to frame it. And now here we are desperately trying to reframe it and saying 'No, 70 is quite old!' I found 40 a bit of a shock. I did the party and all that but afterwards wasn't quite sure how to be 40. I was wearing certain clothes and thinking 'Is this 40? I'm pretty sure it's not!'
"It took me a while to settle into being 40, so I'll talk to you next year about how 60 goes."
Forever Home by Graham Norton is published by Coronet.