Dr Aifric O'Sullivan, an Assistant Professor at UCD School of Agriculture and Food Science, Principal Investigator at UCD Institute of Food and Health and Deputy Vice Principal (International) at UCD College of Health and Agricultural Sciences, shares her tips for creating a more sustainable diet.
As part of the "What Planet Are You On" series, we are asking you to be more "climate conscious" when choosing foods to eat. However, we know that how we choose to eat is driven by lots of different things including our nutrition needs, our personal preferences, our family's preferences, what foods are available, and our finances.
Sustainable diets are commonly considered as diets that focus on reducing climate change; however, they are much more than this, and ultimately will not be 'sustainable' if they do not take into account all of the things that impact what we eat, as well as the environment of course!
There are lots of different ways to measure the impact of food production on the environment. For example, we can look at the amount of water we use to produce food, or we can look at the amount of land we use to produce food. However, one commonly used measurement is to relate food production to the amount of gas released into the atmosphere during production.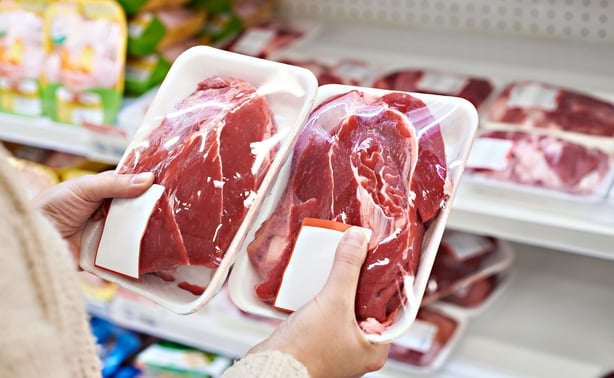 The accumulation of these gases (also produced for energy, transport and in other industries) in the atmosphere is causing global warming which is resulting in climate change. The general term that we often use to describe these gases are "GreenHouse Gas Emissions (GHGEs). In a broad sense, animal-based foods (e.g. meat) tend to have a bigger impact on the environment compared to plant-based foods.
This is why the "What Planet Are You On" (WPAYO) pledges focus on reducing some animal-based foods in your diet. This booklet will give you some more information on animal and plant-based foods, why they are both important in a healthy diet, and how you can make small changes that will benefit your health and the environment.
Principals of a Sustainable Healthy Diet
The following tips for eating sustainably are based on the Healthy Eating Guidelines for Ireland (1) and the FAO/WHO guiding principles for a sustainable healthy diet (2):
1. Include an abundance and variety of fruit and vegetables
2. Include wholegrains and high fibre carbohydrates
3. Include moderate amounts of dairy
4. Include legumes and nuts; moderate amounts of eggs, poultry and fish; and small amounts of red meat
5. Include safe tap-water as the fluid of choice
6. Try not to consume more than you need
Meat
Animal-based foods like meat tend to produce more GHGEs compared to plant-based foods. In particular, red meat (e.g. beef and lamb) and processed meats contribute the largest proportion of diet-related GHGEs in the average diet. One reason for this is that cows and sheep are ruminant animals, meaning they produce methane gas when digesting their food.
On average in Ireland, we eat more meat than necessary for the maintenance of good health. While meat is an important source of protein and several essential vitamins and minerals such as iron, zinc and vitamin B12 it also contains nutrients that we need to be careful with.
In particular, processed meats (e.g. sandwich ham, sausages etc) can be high in saturated fat as well as sodium. These are two nutrients that we often over-consume and are associated with poor health, which is another good reason to monitor and potentially reduce intake.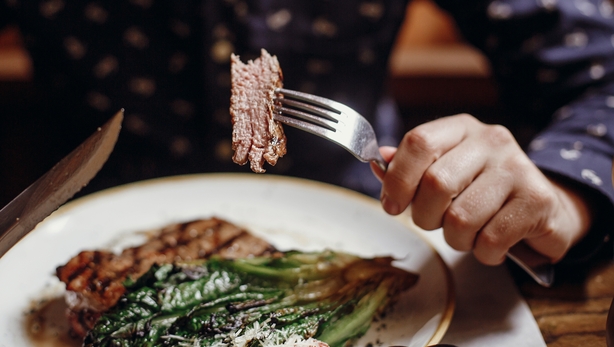 We are aware that meat makes up a big part of diets in Ireland. You will know by now that making changes to your meat intake is a big part of the WPAYO pledges. That is why we are giving you information about some of the changes you could make to your diet to replace any potential reduction in meat. The first place to start is to look at how many times a day you are eating meat and, what your portion size is.
According to the Healthy Eating Guidelines in Ireland (1), you should be eating 2 portions of meat, poultry, fish, eggs, or beans and nuts. We'll talk more about beans and nuts in the next section on plant protein. For now, we want you to look at the recommended serving sizes below. Is this the amount you eat when you are having meat, poultry, fish or eggs? If not, could you aim to reduce your portion size to meet the recommended serving size?
1 serving size is:
Lean beef, lamb, pork, or poultry - 50–75g cooked (half size of the palm of hand)
Fish - 100g cooked
Eggs - 2 eggs
Plant protein
So you know now that animal-based foods produce more GHGEs than plant-based foods and to be more sustainable we need to start reducing our animal food intake, particularly red and processed meat. However, we still need to get enough protein in our diet and so we need to make a switch to plant-based proteins.
As well as being a good source of protein, plant protein foods are good sources of other beneficial nutrients, like fibre. So if you are taking on one of the WPAYO pledges to reduce your meat intake, you will need to look at increasing, or maybe even introducing for the first time, some plant-based foods, like legumes, nuts and seeds.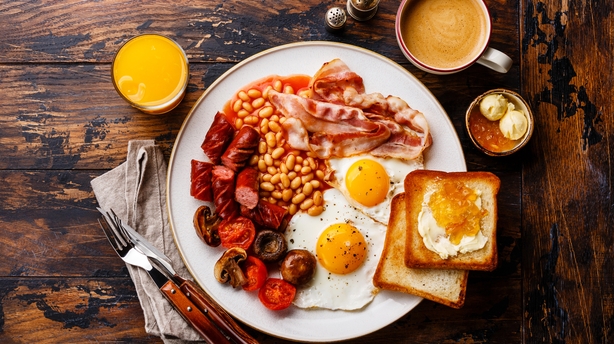 Make room for legumes!
Legumes, like beans, peas and lentils, are a nutritious, cheap and convenient plant protein source. They are naturally low in fat and a good source of protein and fibre as well as other essential nutrients such as iron and folate. They can be used to replace meat in many dishes and make a good addition to soups, salads, casseroles, pasta and rice dishes.
Tips for adding legumes to your diet
Add lentils and chickpeas to soups, curries, casseroles and salads
Swap minced beef for lentils in dishes like spaghetti Bolognese or cottage pie
Add kidney beans to chilli and fajitas
Have bean or lentil burgers instead of beef burgers Have baked beans for breakfast/lunch
Blend chickpeas to make hummus as dip or in a sandwich/salad
Roast chickpeas with vegetables and have with rice
Nuts and Seeds
Nuts and seeds are a good source of protein, heart-healthy fat, fibre, vitamins and minerals. We recommend having unsalted, plain mixed nuts and/or seeds instead of roasted or salted.
Watch What Planet Are You On? on RTÉ One from 11-13 October.