Most people assume social media is for news, gossip and sharing posts of their dinner plates or misshaped toes on sandy beaches. Some people actually think it's a popular place to connect with brands, celebrities and thought leaders.
But really, social media is a place for us to show off our doggies and for them to show off.
Hashtag Dogs is a new documentary that explores the bustling world of 'dogfluencers', the puppies with more followers than most of us. Aside from being something cute to ooh and ahh over together, dogs are also proven to lift the spirits, thanks to their endless reserves of charm and licks.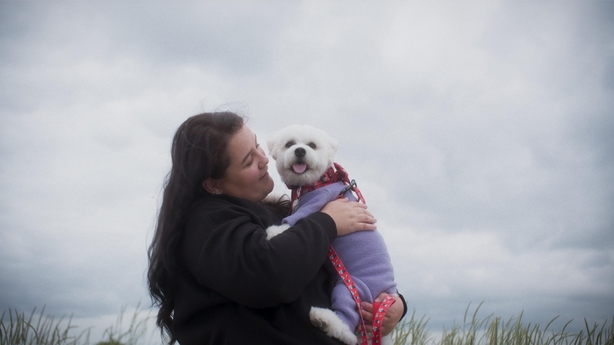 We caught up with dog owner and Irish National Opera chorus singer Hailey-Rose and her beloved Luna to hear what it's like being momager to a Insta-famous pooch.
What's it like having a pet that's famous online?
It is so much fun! When we go to events children and other dog owners come over to say hello and give Luna lots of cuddles and belly rubs! Thankfully Miss Luna is a little social butterfly and loves the attention. It's also so nice when other owners can relate to me as an owner and we get to laugh together at their little personalities when they are sassy or naughty.
How do you plan what content to post about them?
I always plan a full week ahead! I check what products are arriving that week and think about what reels or posts I want to make. My biggest goal on Luna's page is to showcase and support all the amazing small Irish businesses we love to work with, so I always look at what products or outfits that haven't been posted in a while and will do another post about them.
I also love sharing the true side of owning a dog so I like to post about canine enrichment which is very important to Luna, grooming and overall pet health!
We need your consent to load this Instagram contentWe use Instagram to manage extra content that can set cookies on your device and collect data about your activity. Please review their details and accept them to load the content.Manage Preferences
What's it like sharing your beloved pet with a community, what are followers like?
I never planned on having an Instagram for Luna! I am an opera singer and kept posting puppy photos on my professional page which my team suggested I didn't do... so to save all of Luna's photos and milestones I would post weekly 'pupdates' on her own page. One day I looked at it and it had 100 followers which then turned to a thousand followers and now more!
I love Luna's followers. It's a great place to share what it's like having a sassy yet classy little fluff ball. I love when other owners message me laughing at Luna not wanting to do a trick or being a picky eater. It's a safe place with no judgment just pure puppy love!
Why do you think we never get tired of puppy photos and videos?
The dog community is just amazing! Always so light and positive, such a contrast to human social media where we compare ourselves to each other and feel down when we think everyone else's life is so great, when in real life it probably isn't that great. I switch onto Lunas page and I am always guaranteed a smiling dog photo or funny video of them doing something funny or showcasing their tricks!
Is there any kind of "dogfluencer" content that you're wary of that you see other creators post?
As a rule of thumb I always make sure to try any new products like food or supplements for a long time before I share to her followers. Our page is pretty influential, we get lots of messages especially during the Christmas time with followers saying they got the toy they saw Luna loved or the new harness, jumper or treat for their own dog, so to be safe and to keep Lunas page honest and trustworthy I always try a new product for a while before suggesting it.
We need your consent to load this Instagram contentWe use Instagram to manage extra content that can set cookies on your device and collect data about your activity. Please review their details and accept them to load the content.Manage Preferences
What kind of support did your dog give you during the pandemic?
I was pretty much okay during the first few months of lockdown, it was after the Christmas of 2020 that I started going downhill. I went from my degree straight into my masters and doing a masters in music and performing during a time when all theatres are closed is very depressing. I could no longer sing without breaking into tears and having anxiety attacks. Since the day I got Luna in May of 2021 I have not had an anxiety attack since and now sing with a full heart with Irish National Opera chorus.
If it was not for Luna strutting into my life I would not be singing right now. There is not enough words for me to express how thankful I am for Luna, that is why I spoil her so much because I could never do enough for her with how much she does for me.
Does your doggy know they're famous?
Miss Luna knows 1,000% she is a well-known dog! I was very nervous when RTÉ asked to film her, I didn't know if she would behave or not. She is so sassy and will chat back when she doesn't want to do something, so my jaw dropped to the floor when the camera started rolling and she was such a diva! Hit every mark and did what ever the director wanted for as long as they wanted. Such a little wagon!
Hashtag Dogs airs Monday at 9:35pm on RTÉ One and RTÉ Player.