Ireland's Fittest Family is set to return on Sunday, October 2 with host Mairead Ronan and coaches Davy Fitzgerald, Anna Geary, Donncha O'Callaghan and new coach Nina Carberry sure to set our screens (and nerves) on fire.
Each year, the competition begins with a group of 15-20 families, all of whom will be put through extreme endurance challenges in new locations around the country, from steep sand dunes to airports to Irish bogs and a180-metre ski slope.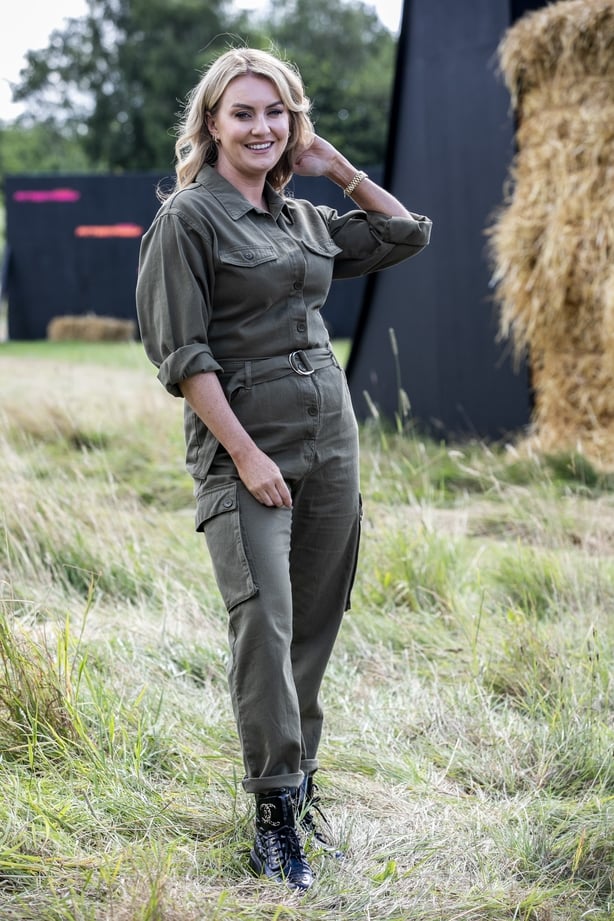 This series of Ireland's Fittest Family was filmed once again at Hell & Back in Kilruddery, Co Wicklow, while the Heats were filmed in a brand new location, the beautiful Rathbeggan Lakes in Co. Meath. Nestled along foothills of the Wicklow mountains, with muddy swamps, lakes and forests, this is the perfect location to put our families through their paces.
The Dorans from Wexford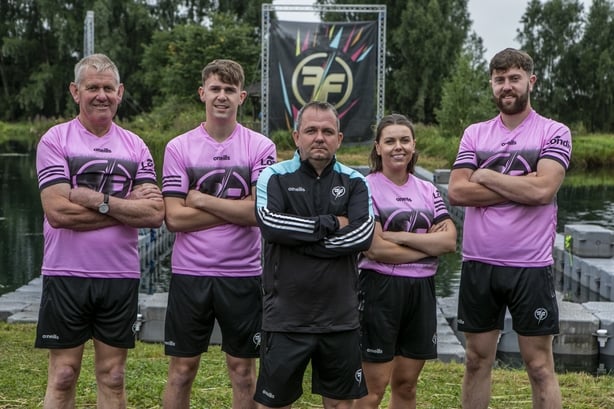 The Dorans are confident they will bring something different to Ireland's Fittest Family. They are jokers by nature.
Caitriona (32) is a teacher so she has put together a fitness schedule for the family and is the queen of strategy.
Oliver (25) is their natural leader on pitch and within the fittest family team. He has captained their home club to U21 and played for county.
The Dorans are a close knit family that will not be phased by the challenges of IFF, they will relish the opportunity. Eamonn (23) also comes from a GAA background.
Ger (53) coaches ladies football in his home club, he has 120 members and 3 adult teams to contend with. Catriona did the fitness test for IFF the day before getting married – she is certainly dedicated!
The Nugents from Louth
Donal (46) fits cabinets for a living, and used to play rugby, now into gym and cycling.
Mags (43) has a background in nursing, and teaches it now. She's into running and athletics, also a pilates instructor.
Both Danny (17) and Finn (15) are in school.
The Nugents are a big rugby family. Danny is into rugby and athletics. Finn into rugby, basketball and athletics.
The family applied for the show last year and were very keen. They got past some initial stages but this year is their chance to put Louth on the map.
The Sheehans from Limerick
The Sheehans describe themselves as "sporty and competitive at almost everything, unfortunately". They are fans of the show and have been waiting for Danny (14), the youngest, to turn 14 to apply.
The boys, Danny and Joshua (16) play hurling at county level underage and rugby. They are all keen swimmers and there is one lifeguard in the family! They enjoy the gym and golf..
Margie (49) the mum describes herself as "the competitive mother for her sins". She loves to run and enjoys being a taxi to her wonderful family after her day job at the University of Limerick.
Ben (18) is doing his Leaving Cert this year and it would be such an amazing opportunity for the Sheehans to spend this bonding time together before he moves away for college in September. This is their first and last chance to be Ireland's Fittest Family.
The Greens from Wicklow
This family of four has always been into training and fitness and are very close. Their dad passed away of a heart attack at the age of 44 and always had the boys training, and because of that they want to win the competition in his honour.
Kurt (27) is a personal trainer and is building his business.
Josh (25) is an MMA fighter and has trained all his life.
Zach (21) loves the gym but unfortunately was diagnosed with fibromyalgia in 2018 since then he has overcome so many obstacles. Training is hard for him but he is still fit and runs, this would be another obstacle to show him he can do anything.
Mum (44) loves to train, says she's no elite athlete but loves to run and has ran Dublin City marathon twice. She adds that she trains for her mental health and it's helped through so many challenges.
The Fitzsimons from Wicklow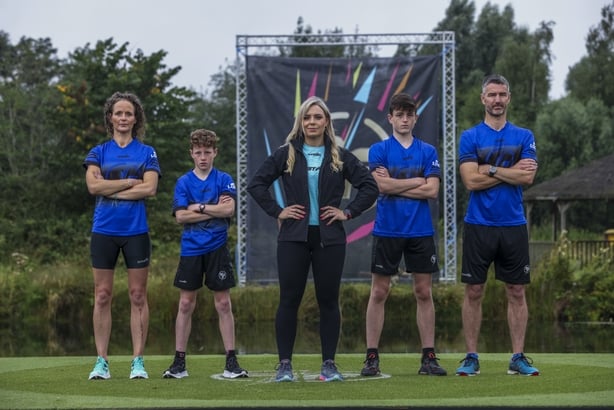 As a family of six fun-loving, sporty individuals, the Fitzsimons house is hectic. They know every football and Gaelic pitch in Leinster, as well as most cross country courses, mountain peaks and forests!
Every summer for the past 16 years, they have gone on holidays to Donegal for surfing, swimming, horse riding, hiking and biking. Son Kai (16) loves soccer.
As a keen athlete, Aaron (14) has roped the family into the Streets of Wicklow 5km road race to compete for the title of Wicklow's Fastest Family, which they came a close second place twice. Aaron whizzed through in a time of 17min 30secs!
Dad Brian (45) likes to balance out his day-to-day number crunching work in the world of finance, with surfing.
Mum Janice (46) loves rollerblading. She has been skating since she was seven and still loves it. Aaron has been waiting to turn 14 to apply for the show.
The McNallys from Monaghan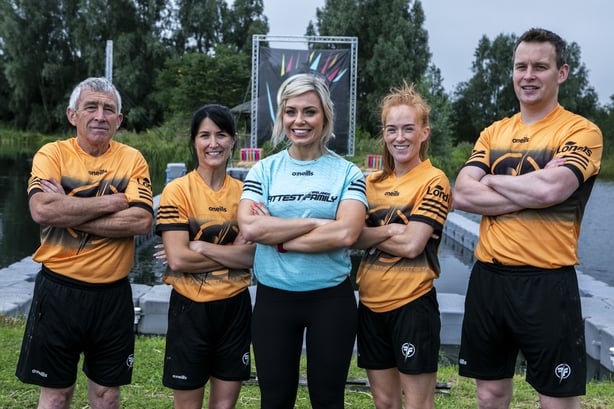 The Mcnally's from Monaghan are a family of eight: five girls and one boy. They are a big GAA family with all siblings playing inter-county at some stage.
This is not their first time on IFF as they competed in season 1. Ten years later Owen (64) now has 7 grandchildren that weren't born last time around.
They also do athletics for Glaslough Harriers. Dad Owen is a small farmer and still runs with the Harriers. He has hearing loss in both ears and is very open about it.
Grainne (34) and Therese (36) play club football with Emyvale and Ronan (34) has retired. They are excited to be back in the show's tenth year.
The Peters from Waterford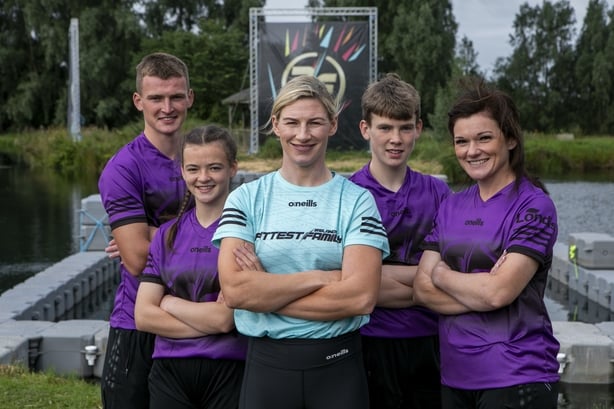 Recce Peters (15) is the force behind the team as it's been his dream since he was a young lad to compete in Ireland's Fittest Family. He is also on the county football team for County Waterford.
His mam Louise loves to run and has competed in many running competitions. Son Cody (19) love the gym and football.
Summer (39) is only 14 but is courageous, she is also on the County football ladies team for Waterford. She loves Anna and wants to be like her in future and be as successful as Anna is, she is inspired by female athletes.
They love playing hurling and football with their clubs and running in the nighttime with mam who will always go with them.
The Cooneys from Cork
The Cooneys are very fun and very competitive. They love GAA.
Grace is 17 and very sporty, and plays football with Mourneabbey. She also played football with Cork.
Cian is 14 and plays Gaelic and soccer with Clyda Rovers.
David is 19 years old, 6'3 and plays football and soccer with Clyda Rovers also.
Mark (46) is the weakest link but used to play soccer also and likes to stay fit in the gym when he is not working in his office job.
The Gallaghers from Laois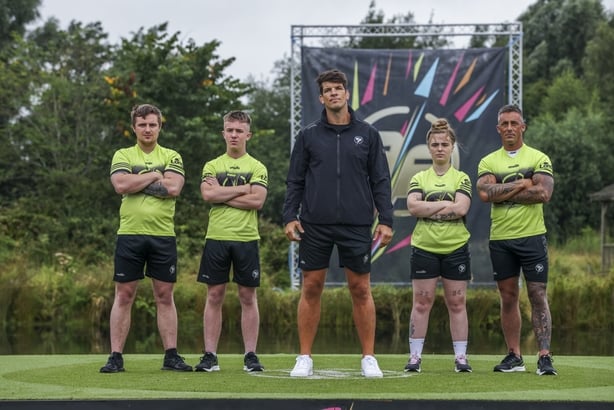 Ed (39) owned and ran his own Gym for nine years, and while unfortunately it is closed now he still does personal training. He is a member of Laois Fire Service which keeps him busy and fit but the difficulty of his job has also made him want to apply for IFF to do something fun and easy going.
Lauryn (17) is big into the gym and general fitness, as is Gavin (15).
His first born Jamie (22) is in the army and loves to keep fit. They all love fitness love the gym but will that be enough to win the show?
The Finnegans from Cork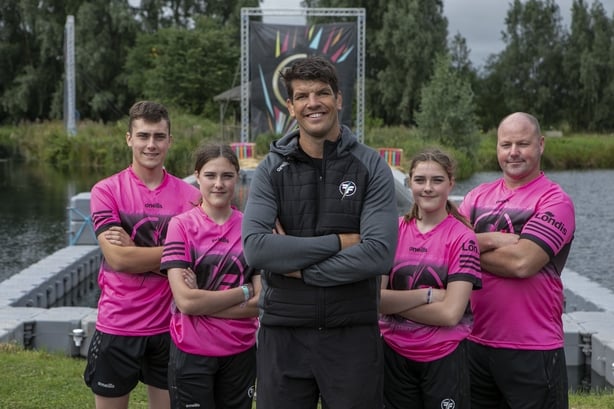 The Finnegans are a brilliant Cork family. Aaron (19) loves playing football for his local club Ballyclough, he is also in the army. Dad John (44) loves cycling and running and adventure racing. Twins Sarah and Lauren are so excited to take part, they have excellent strength, flexibility and are like grasshoppers.
Aaron loves playing football for his local club Ballyclough, and is also in the army.
Dad loves cycling and running in Iron Man tournaments.
Twins Sarah and Lauren (15) are so excited to take part as they were too young last time.
The Burns from Waterford
Martina (60) is your typical GAA mammy, she has spent her life on the road with her kids and even now she is still the same with her 16 year old.
Growing up, with four kids playing three different sports at the one time Louise (27) said things never stopped in the Burn household! There's never anything but sport on the TV at home.
Both parents are involved with managing teams GAA teams, Martina is still involved with teams including Waterford GAA team. Sons Simon (16) and Kevin (31) both love GAA.
Louise 'dragged' Mum on board but Martina was willing to go training and enter IFF for her kids, she is an amazing Irish mum.
The Caddows from Dublin
The Caddow parents, Martin (49) and Roisin (48), both work as nurses so really enjoy being outdoors in their spare time to relax. They have had a difficult two years as nurses in the pandemic but they are very optimistic and excited to take part in Irelands fittest family.
They admire the format of the show because it makes families closer and they have never done anything like this with their children before.
Sons Evan (14) and Luke (16) both love soccer.
Roisin has run seven marathons, her best time was 4hrs 3mins.
Martin loves cycling and has cycled in the RAS Éireann. The two boys love soccer and rugby and have started practising for hanging tough already.
The Finnegans from Meath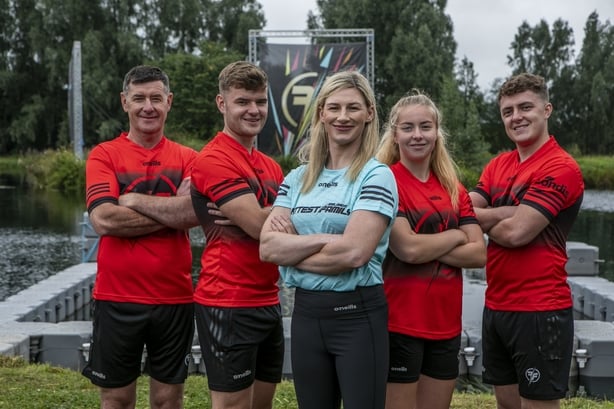 The Finnegans are massive fans of the show, they have contemplated this challenge for years but now there is no turning back. The Finnegan's love to win so they will fight until the bitter end and will leave it all out there on the battlefield but they won't leave a man, woman or child behind.
Paul (52) runs Finnegans Farms and has 10,000 subscribers on his YouTube channel. They would like to "reinvent the potato".
Eoin (24), Cathal (23) and Órla (19) all play football for Seneschalstown. Football and farming are a passion for the Finnegan's.
Eoin and Órla are following a career in teaching while Cathal has chosen to follow in the farming footsteps of the five generations of Finnegan's that went before him.
The Gallaghers from Donegal
The Gallaghers are an active family and all take part in sports. They describe themselves as very competitive towards one another so together we will make a good team, or not, it depends if they can pull it together and not turn on one another.
They all attend the gym and other sports outside of that: soccer, Gaelic, cycling and running.
Think of Lisa (50) as the mum who competes in the most activities, she is the driving force behind the kids.
Molly (23) is gym obsessed and former competitive gymnast. Conor (17) is also mad for the gym.
James (19) is soccer obsessed and is going to the USA after IFF on a soccer scholarship.
The Regans from Sligo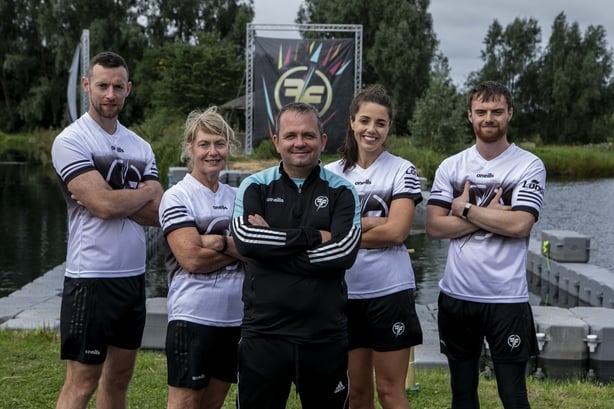 Their family are keen sportspeople. Growing up, they would always have been involved in football at home with local clubs.
Mum Cathy's (60) main sport would have been swimming when she was young, but now is an active runner (with plenty of marathons) and cyclist. She's regularly seen on the roads around Sligo/Mayo running or on her bike. She also loves sea swimming and mountain climbing.
Paul (31) is regularly seen running the roads of Dublin or in the nearby gym. He has completed four Dublin marathons. He also spends a lot of time cycling and participates in Duathlons (he's not a big fan of the swimming). He like a bit of a challenge and has competed in events that involve a mountain run (Sea2 Summit and Warriors run Sligo).
Ciara's (29) main sport is running but one of her goals is to do an Ironman event over the coming years.
David (26) is a Muay Thai fighter, training in Dublin.
The Rices from Wicklow
The Rice family have competed in IFF twice but want to come back better and stronger than ever.
An accomplished family, Stephen (28) is the javelin u23 Irish record holder.
Brother David plays cricket and third brother Jono (31) is a rugby player. Simon (26) is big into running.
Mum Caroline (61) is obsessed with Crossfit and wants to give IFF another go before she gets any older. There are six children in the family and this is the first time this particular line up will have been in IFF.
Watch Ireland's Fittest Family on Sunday on RTÉ One at 6:30pm.