As actor and author Amy Huberman publishes a new children's book that aims to help youngsters navigate from grief to hope, she talks to Elle Gordon about loss, laughter and love that lasts a lifetime.
Amy Huberman is dropping me home. It's not often you'd interview someone and they'd offer you a lift afterwards. In fact, this is a first for me. But then, even a short time with Amy Huberman and you'll see it: she's awful sound.
We know her as an actor, writer, Instagram hoot, witty Tweeter, other half of rugby legend Brian O'Driscoll, mother of three, host of Mamia & Me, a podcast on the adventure of parenting, and all-round gas ticket. The snippets she shares on social media from her daily life always manage to spark joy. That's just who she is.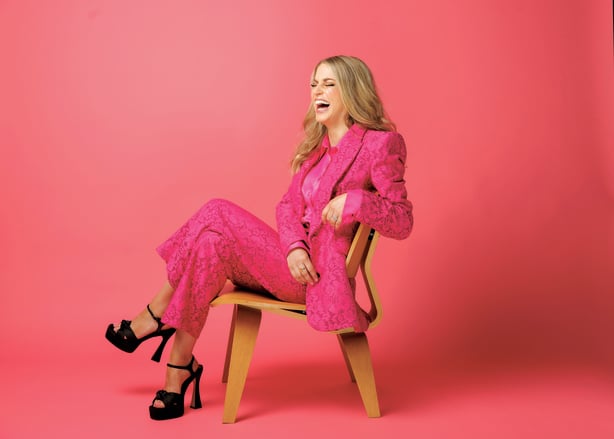 When we meet, just three months after she lost her beloved father, Harold, it's in very different circumstances to the last time we spoke. "It's a huge and personal thing to happen so close to a time when work dictates doing publicity."
The publicity is for The Day I Got Trapped in my Brain, her debut children's book, that coincidentally explores the topic of grief and loss.
Amy begins our chat by self-consciously hoping she doesn't talk about her dad too much. I lost my own dad to cancer in April 2020 and I love when people feel comfortable enough to share their stories with me.
When Amy thinks of her dad, she thinks of laughter and of his style.
"My Dad was somebody who dressed for joy. He just did. It was innately part of his daily make-up. So no matter how he felt, no matter what was going on, it was just colour, colour, colour. If anything, he became more stylish, the older he got."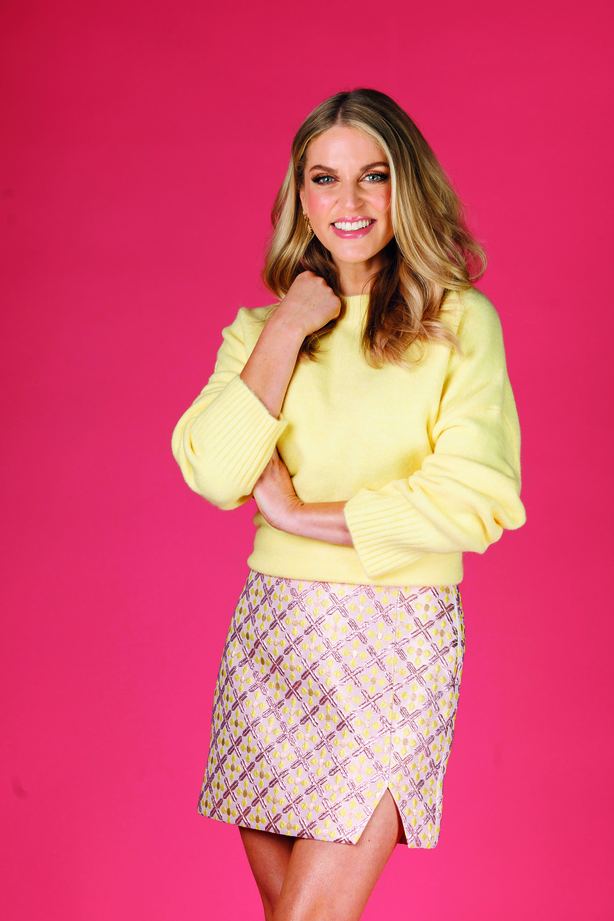 Then there was the laughter. "My Dad had such an infectious laugh. I wouldn't have ever spent time in my Dad's company without joking. He was very self-deprecating in a very funny way so that's what I think of when I think of him."
I wonder how she feels, given it is still such a recent loss. "It still feels so surreal. I am in this weird position, that I was talking to my Mum about: I am very conscious of talking so much about it. I still don't really know where I am with grief but then I am doing press right in the middle of this and I can't avoid it. I don't know how I feel about that. I am trying not to overthink it.
"At the same time, I am very happy to talk about my Dad. The thing about it is, I had a great relationship with my Dad. I love him and I miss him, and I guess there's nothing about that, that I feel I can't talk about. I suppose it's just my emotion related to it that makes it hard. It is what it is and I am muddling my way through grief.
"My brother said a lovely thing a while ago, when I said to him, 'How am I going to do this?' and he said, 'Well, it's a lovely way to keep Dad's memory alive and to share his stories.' And the thing about it is, I know my Dad would have loved that. It would be weird if I didn't talk about him."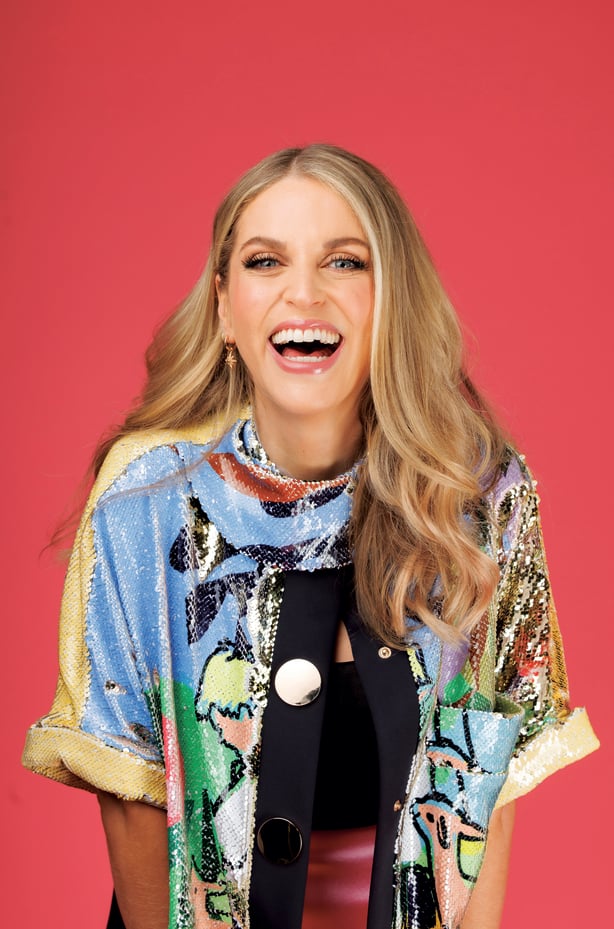 As many who have experienced loss will know, there is no manual when it comes to grief. What has she been doing to navigate it?
"We have had a busy summer and so I have been keeping myself busy. I keep thinking if my Dad were here, would he want me to be devastated? Well, maybe a tiny bit…'You guys better cry!' I remember in the early days I really enjoyed laughing because I could hear him laughing in those moments He loved a joke. So that definitely makes me feel closer to him."
Is grief normal and strange at the same time? "Yes, I was only thinking about this last night; the highs and low of everything with grief. I remember being in a shop only shortly after Dad had died. I was just …this bruise, this moving human bruise walking around. And this lovely girl came up to me in the shop and said, 'Oh hi, I just want to see if you are OK?' And I went 'Oh my god, that's so nice. It's just been such a hard few weeks and I am glad he is not struggling any more.' And she's like… 'Oh…right, I just want to know are you OK for sizes? So then I felt like, 'The absolute notions on me!' But I just knew that my Dad would have creased himself laughing if he knew about that. You kind of need a release as well, those times of laughter. Obviously, I still think about that now and go scarlet for myself!!"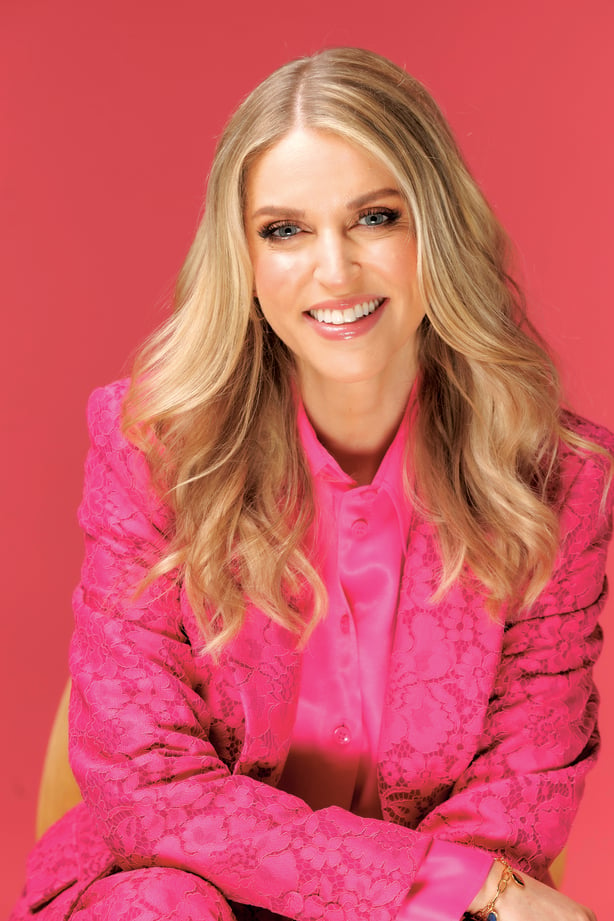 Her new book speaks to children about the reality of loss.
"I have often said I was slowly losing my Dad for a long time. And yeah, I think this book was just waiting on the outside to be written. Obviously, the stories are very different, but I guess as for any writer, you explore emotions whether they be love, friendship, loss, grief, happiness or regret and this was the way the cards landed. I was still doing rewrites, right up until the week that Dad passed so it felt like they were very interlaced in a way. I spoke with a psychiatrist when I was researching for the book and I really hope it will be a useful tool for some people."
How was it to read afterwards? "That was emotional. Grief is a weird thing, the sadness and the love so intrinsically latticed together. In one way, you kind of have to look at it and say, 'I am so lucky to have people I love this much. But I suppose the other side of it is that grief is the cost of love."
When I say how much I appreciate her sharing her experience she explains simply, "All I can do right now is discuss my life at the moment. This is my life at the moment. It's upside down. I am in the middle of something… or maybe I should say at the very beginning of something, and it's come at a time where my book is coming out so that's just the complexity of life. This is where I'm at."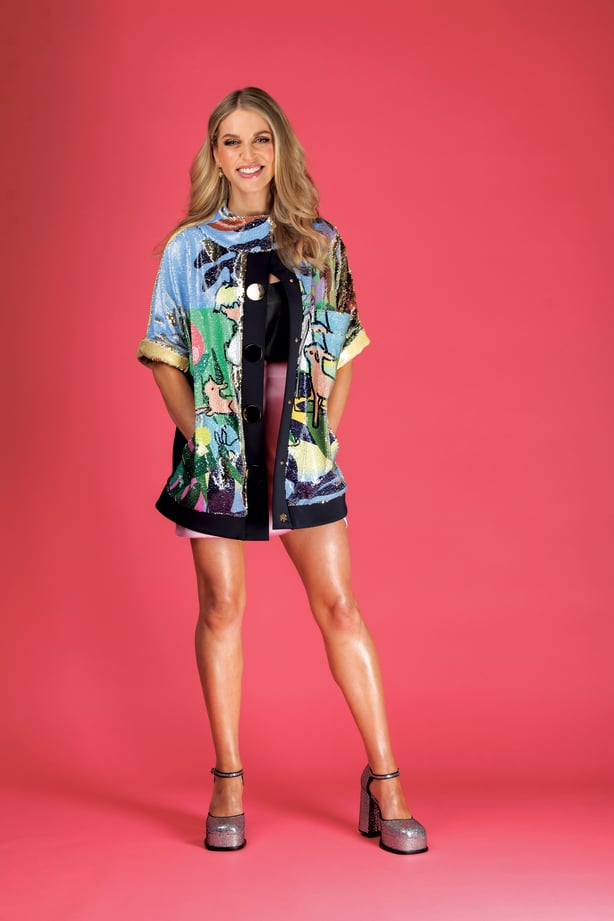 She has been struck by the sympathy expressed in chance encounters.
"The kindness of strangers? Absolutely! I know it so easy to be dismissive about social media but actually, there are so many lovely things about it. That shared sense of community that you would not have had otherwise. Or that lovely woman in the shop who asked me if I was OK and then I realised she was asking about sizes…there were actually loads of people who did come up to me and ask me how I am doing. It's just this kindness and understanding of what a big life change it is. Their advice has been invaluable."
What's her routine like right now? "Life has been busy: the kids, the dog, everything. Of course, Brian has been an amazing support and so are my family and friends. You just pull together and I feel very grateful that I have a squad who are minding me."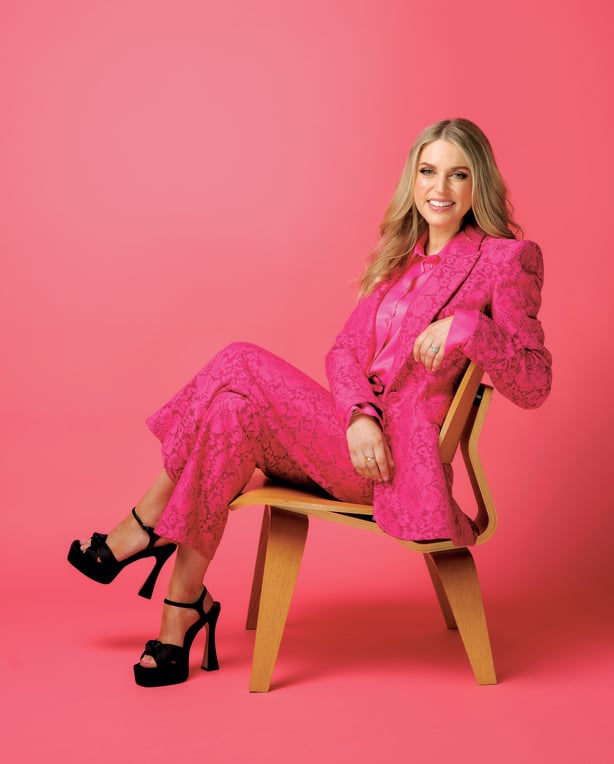 There's plenty of laughter at the heart of Amy's life, especially with a young family. "Because Dad did mess so much and laugh and joke so much, I feels like a nice space to be where we can go and slag each other, and slag him, knowing what he would say. My Dad was the kind of person who'd always give you a dig in a kind and funny way. So when we spend time together, there is always that celebration of him. That gives me a lot of comfort. I feel his presence around fun things which is really nice. I think we need the laughter."
Now that her first children's book is in the world, what's next for Amy Huberman? "I made a pact with myself to enjoy the now and genuinely, I am going to try to and live that and just be with my family and enjoy work around that."
The Day I Got Trapped in my Brain by Amy Huberman is published by Scholastic.