Before Brendan O'Connor spoke to chef Jamie Oliver about his new cookbook and his new TV show, there was one very important subject that needed to be addressed: frying pan pasta.
Probably, Brendan stressed, one of the most important things the formerly-naked chef has done in his career.
"I'll probably end up with a horse's head in my bed from the Mafia, but yes, what I've tried to do is take the – I mean, look, I've travelled Italy for 25 years and love it dearly, but, I think, look, my job is to listen to the public and what they like and what they're nervous about and what they hate."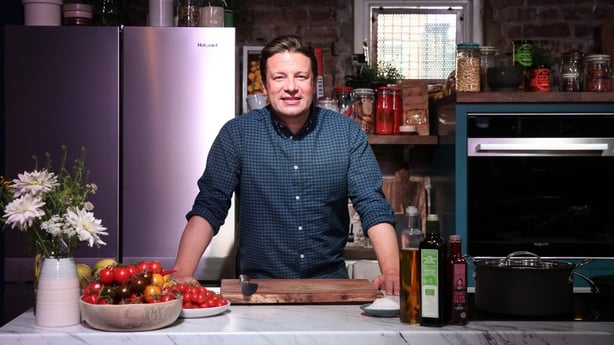 "They definitely hate washing up, which is pretty generic and really, this cookbook should have been called the low-washing up cookbook and the one pan pasta does have a logic, it's not just about saving time or washing up."
The celebrity chef has always been concerned with getting regular people to cook real food as simply and as quickly as possible. And his latest idea – assuming the mob doesn't get him in the meantime – is to cook pasta in a frying pan, cutting cooking time dramatically:
"The key is, if you go to the supermarket, you can get these fresh sheets of lasagne and with that, you can cut it into any shape – you can be creative – but it cooks in three minutes and that's the genius. And of course, when you add the liquid, the pasta's absorbing all the flavour."
"So for me, I think it's a bit of a thing. You know, the Italians will definitely raise their eyebrows, but you get amazing texture, you get delicious flavour and I'm ready for it, so I hope people enjoy it."
We can't take our eyes off that crackling… 🤤🤤🤤#JamiesOnePanWonders https://t.co/k2P6RKO27T pic.twitter.com/Dt3xwjQKk4

— Jamie Oliver (@jamieoliver) September 5, 2022
Isn't this idea – brilliant and all as it is – isn't it, Brendan asks, kind of like cheating, in a sense? Jamie has no problem owning the cheat:
"It's a mega, mega cheat. But, it's not just a compromise for the sake of compromising, like there's a logic to it. The key to it of course is using the fresh pasta or lasagne sheets, and that's available in every supermarket."
Jamie stresses that he's got a lot of time for existing recipes and traditional ways of making meals, but the whole point of a recipe is to get people cooking and if his "cheat" can get more people cooking their food, then that's a win:
"It's always good to respect the original recipe, but look, life, and actually this book, I hope you feel is an homage to busy people trying to juggle a thousand and one things and still trying to attempt to get some homecooked food on the table without too much washing up. I've written many different types of cookbook and this one I've really written to be the most user-friendly modern day useful cookbook I've ever written."
A lot of chefs, Brendan says, will have an extensive list of must-have ingredients in their cookbooks, but Jamie's new book keeps the necessary cupboard items brief and easy:
"Olive oil, salt, pepper and vinegar, that's it really. When I've written a specific recipe, it's awkward for me – which is my job, by the way, 'cause I'm trying to make it easy for you – there's never more than eight ingredients, so the shopping basket ingredients are low, the washing up is low, more than often, and especially now with cost of living and stuff like that, a large majority of the recipes happen in a pan, which is, you know, one quarter of the energy required for an oven."
#JamiesOnePanWonders is back TONIGHT 8:30pm on @Channel4 with a game-changer of a ONE-PAN fish supper that REALLY takes minimal washing up to the next level as you don't even need to wash the pan…! https://t.co/wm4FPGf85A pic.twitter.com/5db8jTdE5b

— Jamie Oliver (@jamieoliver) September 5, 2022
The book is called One: Simple One-Pan Wonders and, Jamie tells Brendan, he wanted it to feature meals he'd included in cookbooks before, but this time made in a simpler, quicker way, something he didn't find it too easy to do:
"This book really had to be and it's easy to say it, but this book had to be kind of like the greatest hits in a modern and contemporary way. It's easy to say it, it's not so easy to do it."
Although governments around the world fail to focus on food, food culture and education, Jamie has a, let's face it, pretty modest, wish, that kids would be taught how to cook for themselves:
"If I had a dream it would be for every child on the planet to leave school at 16 knowing how to cook 10 recipes to save their lives, knowing the basics on how to budget, you know, how to cook on any budget, no matter what life throws at them and know basically where their food comes from and how it affects their body. I mean, that would be a beautiful wish if it would ever come true."
It certainly would and schools teaching vital life skills would be quite a thing to see as well.
Jamie talks about food poverty, school dinners and his wife Jools' long Covid in the full interview, which you can listen to above.
One: Simple One-Pan Wonders by Jamie Oliver is published by Michael Joseph.