For half his 46 years, Dáithi Ó Sé has worked in TV and he has no plans to take his foot off the pedal any time soon. He talks fatherhood, family, loss and the return of the Roses with Donal O'Donoghue.
Three years on and Dáithí Ó Sé is raring to go. "100 per cent" says the host of the Rose of Tralee, who has been gearing up for the off for some time. He hasn't had a pint since the beginning of July, passed on the Galway Races and has been sweating bullets working on the renovation of his cottage in Gort.
"Yeah, I've been minding myself," says the man who is fond of his grub (and pints). So come next Monday night, amid the thunder of the Festival Dome, the proud Kerryman will be at his fighting fittest. "There'll be no Spanx (he sometimes wears one) so it will be all me," he says.
And all of Dáithí Ó Sé is as good as it gets for the man who says he owes his career to a combination of luck, timing and people taking a punt on him. But the bottom line is that the broadcaster has never been afraid to back himself.
Ó Sé is home alone in South Galway (his wife, Rita, and eight-year-old, Mícheál Óg, are with family in New Jersey for the month of August). An early riser, he has been up since cock-crow and once this interview wraps, he will get stuck into putting some manners on the garden.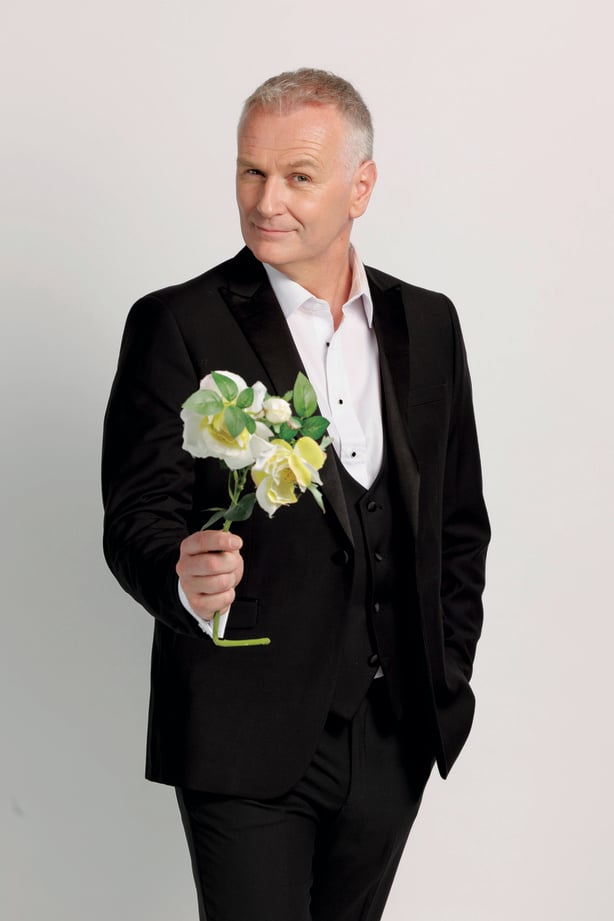 Pedal to the metal is how it's always been for the jobbing broadcaster: like last month, on the way to RTÉ for this cover shoot, when his car died somewhere outside of Aughrim. So he "rammed" all his stuff into the boot of his motor, kept the bare essentials and started hitching. "Little did I know I'd have Dáithí Ó Sé in my car this morning," said the Samaritan who dropped him to Ballinasloe train station where the station master nabbed a selfie for his missus. "And at the end of it all, I was only 40 minutes late," says Dáithí.
Behind the craic and the blather, you'll find Ó Sé the professional: the Kerryman who always gets the job done, a veteran of the relentless machine that is afternoon TV, a co-producer of his own interview show on TG4 (Seal Le Dáithí) and a family man driven to keep bread on the table, a work ethic instilled by his forefathers.
"I still doubt myself" he said some time back. "Maybe doubt is the wrong word," he says now. But he never takes anything for granted, and the hunger is still there. It will be his eleventh time to host the ever popular Rose of Tralee, on hiatus since 2019, but he never doubted its (or his) return. "You can't look at life like that. You have to stay positive, do the job to the best of your ability and believe that you'll be back again. You can't start doubting yourself, not at this stage anyway."
Dáithí Ó Sé seems to have done most things: ferryman, fisherman, bouncer (at 18 in Chicago), circus ringmaster (as Gaeilge) and teacher before getting a part-time gig at the age of 23 as a weather man and continuity announcer with TnaG ,as it was known then. "I'm now 46 years old so for half my life I've been doing TV," he says. It was an unlikely career.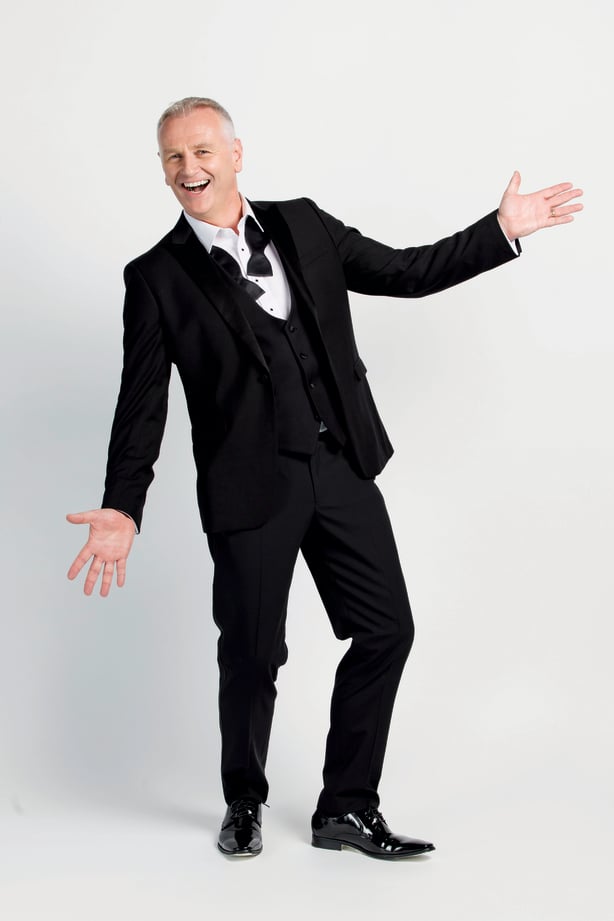 Ó Se, the second youngest of five, was raised in Feothanach, west of Dingle, next stop America, where his parents first met and married and honeymooned. Two of his siblings, Kevin and Deirdre, were born in the US; his brother, Danny, was conceived there while he too served his time Stateside. And of course, it's also where his wife, Rita Talty, New Jersey Rose 2008, is from (coincidentally her parents honeymooned in West Kerry).
His father Maidhc Dainín Ó Sé, died suddenly in 2013, but his mother, Kathleen, is still going strong. "The glass is always half full with Mam," he says. Just like her son. "With all that's happening in the world right now, you have to keep a positive outlook and keep smiling." What makes him smile the most is his son Mícheál Óg, who reminds him of himself.
"All the old gatches I had when I was young, he has them too," he says. "If it's in the cat, it's the kittens." The young Dáithí was , by all accounts, some piscin. On the day he was suspended from school, he accidentally set fire to his mother's clothesline such was his trepidation at the imminent arrival of the postman. Later, cajoled by his mother, Dáithí completed his Leaving Cert, graduated with a degree in history and taught for a while at Athy CBS: poacher turned gamekeeper.
But that was a lifetime ago, back in his wild years. He met Rita in 2008 when he was a judge on the Rose of Tralee (Rita didn't win as some never tire of reminding him), they married in Dingle in 2012 and Mícheál Óg was born on St Patrick's Day, 2014. "My father worked night and day so I try not to be gone all the time," he says. "So now I ask myself 'Do I really have to go away and work this weekend?' and many times the answer is 'No'. I need the time and energy for Micheál Óg." His sports mad son (hurling, football, swimming etc.) shouts for Galway. "On All-Ireland final day, Kerry v Galway, he said if it was alright if he was up for Galway. And I said 'Not if you want to stay living in the house!' Ah no. Sure he's a Galway man: born, bred and buttered here."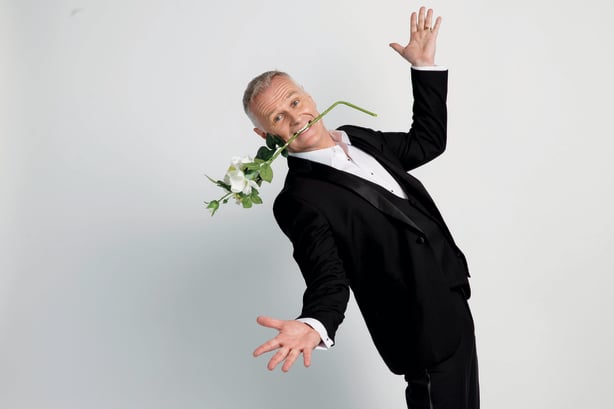 Dáithí Ó Sé's palpable lust for life has also been shaped by tragedy. His sister, Deirdre, was 34 when she suddenly died of heart failure on December 9, 2002.
"I remember that day so well," he says now. "And you're wondering for so long afterwards 'how did that happen?'. Now even 20 years later, it's hard to wrap your head around what happened and I wonder how it did happen. But like a lot of things in life, there are no answers so you just have to accept it and move on. Her ashes are now with Mam back home in Kerry. Time is the only healer and you have to move on with your own life as well, as cruel as that sounds. But that's life. It stands still for no one so all you can do is remember Deirdre on her birthday, mark her passing and live life as best you can."
He has always got on. Some eight years back, the family moved out of the city (Galway) to the countryside: the man from Feothanach, West Dingle, at home amid the big skies and far horizons. "Where we live, people don't care what I do, whether I'm on TV or fixing TVs," he says. But once again from this autumn, you won't be able to miss him on the telly. Today, the catch-all magazine show, returns later in September to RTÉ One's afternoons.
"Maura, Sinéad and myself with another 170 shows," he says. "But I do have a month off after the Rose of Tralee and I'm going to do absolutely nothing." He has also wrapped a new season of Seal Le Dáithí, which will include an interview with GAA referee, David Gough, recalling his struggles with coming out, a thoughtful show that also reveals another side to Dáithí Ó Sé.
"I still doubt myself" he said some time back. Seriously? "Not doubt myself but I'd always be keeping myself in check. I remember reading AP McCoy's biography where he said he didn't give the horse the best ride and all he wanted to do the next day was to go out and ride a winner. So I'd be like that with TV." Yet he says he has no Grand Plan. "You can have all the plans in the world and they might not happen. And while I'd like to think I'd be on TV for the rest of my days, that might not happen."
His late father was, among many other things, a poet, musician, singer and storyteller, publishing some 19 books, including his celebrated autobiography, A Thig na Tit Orm. Is there a book in his son? "Not at all," says Dáithí Ó Sé and then pauses. "Well, maybe a colouring book."