As the camera's return to Dr Eva Orsmond's dream project in Portugal, the weight-loss expert talks to Janice Butler about the challenges that came with opening her wellness hotel, the breakdown of her marriage and why she's looking forward to the next chapter of her life.
There was a stage in the mid 2000's when Dr Eva Orsmond was a regular face in this magazine and on the cover, thanks to her sometimes controversial appearance as an expert on Operation Transformation.
Originally from Finland, she was one of the originals on the weight-loss show, along with of course, host, Gerry Ryan. In fact, I still have vivid memories of a photoshoot with the two of them in our studio at a picnic table surrounded by bundles of healthy fruit and vegetables.
We need your consent to load this Instagram contentWe use Instagram to manage extra content that can set cookies on your device and collect data about your activity. Please review their details and accept them to load the content.Manage Preferences
They had a great rapport; it was almost difficult to get a shot with the slagging and laughing back and forth between the two very big personalities; I'm sure they're memories that Eva still cherishes also.
After her departure from the show in 2015, Dr Eva, who has weight loss clinics around the country, went on to do more television with her documentary, Sugar Crush, in 2016 and as one of the contestants on the first season of Dancing with the Stars in 2017.
From there, things when a little quiet, until she announced that she and husband Wyatt, who were having marriage difficulties, had packed up and sold their luxurious Wicklow home in exchange for an abandoned, run-down Portuguese hotel that they intended to transform into Eva's dream hotel and weight loss destination in the sun, and in the process, rebuild their marriage.
Dr Eva's Great Escape, which was all about her attempts to create a luxury weight loss compound in the Iberian Peninsula, aired as a three-part series in January 2020 and now, two years and one pandemic later, we're getting to catch-up on how the project is going and more importantly, how she and Wyatt are doing with the follow up second series.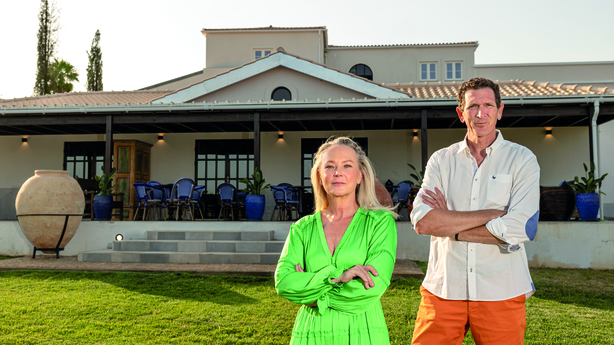 When I talk to Eva, she's in Portugal; she splits her time between the hotel and being in Ireland for her clinic work. It's as if no time has passed at all, she's the exact same; busy and talking at a rate that reflects her life.
"Can you please ring back in ten minutes", she asks, very politely, "I've been talking non-stop this morning and just need to grab a glass of water." Of course, I happily oblige. "I absolutely love doing the interviews," she says of the press for the new show. "It's really nice to get back into it, I'm embracing the busyness."
When we last saw Eva and Wyatt in the last series, the couple had just thrown a party to celebrate the completion of all major construction at their Portuguese hotel – a party that Eva did not turn up to. Despite this, the couple were determined they would be welcoming guests in the summer of 2020.
After nearly three years of surmounting endless building and budget crises, a global pandemic and lockdowns delayed everything. In this series we're back following the couple to see if they have finally managed to open the doors of Solar Alvura.
"It's up and running," says Eva, "we're in the middle of a soft opening period, so not everything is perfect and not all rooms are open, but we have the spa, outside swimming pool, we can do yoga and meditation and there's beautiful walks that we bring guests on. We offer a slow and fast weight-loss plan here," she explains.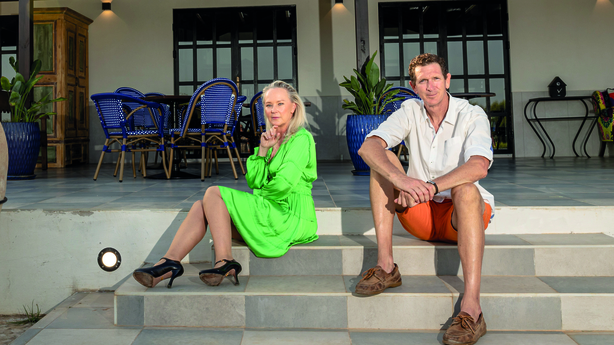 Since it's her own establishment, she has had to throw herself into every facet of the hotel. "I'm doing a lot myself at the moment, I'm waitering, doing washing-up, doing some of the exercise classes, the only thing I haven't done yet is make the beds, but I'm sure I'll get around to doing that too," she laughs.
Unfortunately, while the hotel is beautifully restored and a credit to Eva and Wyatt, their marriage of 27 years didn't survive the project and the difficulties they had before embarking to Portugal. The couple, who have two sons, are now in the difficult process of divorcing, which they talk about in the show.
"We were married for 27 years, but people change and they want different things. Obviously I have my two beautiful boys with him, and I wouldn't be who I am without him or have this wonderful hotel without him but now it's time to move on. It's been very difficult, but if we aren't brave and make these moves when we feel that it's the right move, we don't give ourselves the possibility for happiness in the future," she says of this period in her life.
How has she managed to hold it all together with the divorce going on in the background?
"I suppose I found the strength in myself, and we have this saying in Finnish; 'who starts the game, needs to finish the game'. I believe in finding your inner strength and resilience in big challenges. So, I suppose I have that, and I've been brought up in a tough way, but I've dreamed about this hotel my whole life so I have to realise that I am lucky, I'm able to experience what I always wanted to and now, I can only work hard to make this a success."
"It's still very raw," she adds. "But we've gotten to a good stage where we can work together; Wyatt is still finishing off things with the hotel and then it will just be me. But my son said to me the other day 'Mum, I'm really proud of you and Dad, how you are both doing this' and that meant a lot to me."
We need your consent to load this Instagram contentWe use Instagram to manage extra content that can set cookies on your device and collect data about your activity. Please review their details and accept them to load the content.Manage Preferences
There's a very emotional moment in the first episode of the new series where we see Dr Eva living on her own in Portugal, as the marriage had broken down, and opening up about how lonely she is. It seems she learnt a lot about herself during this tough time?
"Throughout this whole process I've read a lot of self-help books and learnt a lot about stoicism. What I've learnt is we can only do our best and then the rest we can't control. Have I become a better person? I don't know but I'm definitely giving myself the best chance to have a better future; have the third part of my life, to be the best part of my life."
Her two sons, Christopher and Evan, are finished school and finding their own paths at the moment; Evan is going travelling to South Africa for a few months with his girlfriend and then Eva is hoping he'll help her at the hotel for a while and Christopher is in Finland, working, after finishing his Finnish military service.
"While I could never see myself returning to Finland, I'm really glad to see him experiencing life there," she says.
We need your consent to load this Instagram contentWe use Instagram to manage extra content that can set cookies on your device and collect data about your activity. Please review their details and accept them to load the content.Manage Preferences
For the moment Eva is splitting her time equally between Ireland and Portugal, but anticipates, as the hotel gets busier, that she'll spend more time there. She still has two clinics in Ireland, treating overweight and obesity, one in Loughlinstown, Dublin and one in Galway and she's due to open a third in Blanchardstown in the coming months. "I need to keep going with everything in Ireland as the clinics support the hotel and vice versa," she says.
She'd love to make a return to television, so don't be surprised to see her back with a new show some time in the future, but for now, she's focusing on what she describes as the third part of her life.
"I'm very much looking forward. If I think about things too much, I get scared, so I can't do that, I'd never get anything done. At the end of the day, you need to listen to your gut feelings and follow your heart. I'm aiming for fantastic, now I know, that I am a super woman."
Watch Dr. Eva's Great Escape, Mondays on RTÉ One.