Irish Influencer Rob Kenny reviews his experience of Brighton Pride 2022, which included a performance from festival headliner Christina Aguilera.
If, like me, you grew up gay in Ireland, and love to celebrate the queer community, attending Brighton Pride is likely high on your wish list, if only because of its sheer size and fun reputation.
The biggest annual gay pride weekend in the UK, many Irish LGBTQ+ individuals (and allies) make the trip to attend every year, but the deciding factor to make the purchase this year was the announcement of this year's headliner: global superstar Christina Aguilera.
When I mentioned the news to friends at the time, they were shocked to hear that such a huge star was headlining a gay pride festival, unaware to the fact that the likes of Britney Spears and Kylie Minogue have both performed at this event in previous years.
Brighton Pride is quite unique in this regard, only comparable to LA Pride in terms of the weighty names they can book.
Getting there
I made my way to the festivities with my boyfriend, Shane, and best friend Paddy Smyth, a prominent disabled rights activist and winner of Channel 4's The Circle in 2019.
While Paddy simply jumped on a train across the road from his apartment in London to make his way to Brighton in less than an hour, Shane and I made our way to a flight to London Gatwick, followed by a super easy 30 minute train into central Brighton. Easy-peasy... except that we idiotically left booking our flights to the last minute, resulting in us having to hand over €400 each on a return flight.
Never something that's easy to swallow for a flight so short. A good reminder to always plan ahead.
Never the less, we were ready to get our Pride on.
Love is in the air
We stayed in an Airbnb in central Brighton, right in the heart of the buzz. And, my God, was there some buzz about the place. Picture thousands of people in bright summer clothes and extravagant pride attire, all noticeably happy and (genuinely) full of love.
How polite everyone is to each other, how everyone smiles at one another - it hits you as soon as you get there. This really is a weekend full of love, pride and respect.
Brighton, if you have never been, is just such a cool town. Really trendy, noticeably clean, gorgeous cafés, restaurants and shops down every street you turn.
Also renowned for having the best weather in the UK, we kept saying to each other how much we wanted to return. It was clear blue skies and in the mid-twenties all weekend, perfect festival weather.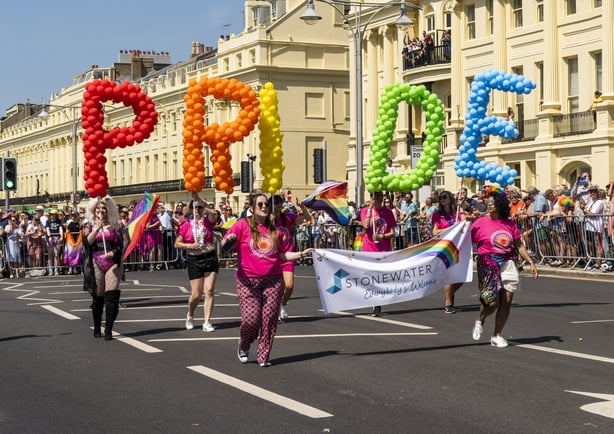 We Are Fabulouso
The main event of the whole pride weekend, We Are Fabulouso is a music festival held a handy 20-minute walk from central Brighton town. Dressed in summer outfits and branded with Pride colours, and fed from a gorgeous brunch in North Laine Café, we began the walk to Preston Park.
The energy from the crowd all walking together was electric, with many singing iconic Xtina songs together, such as Fighter, Dirrty and Lady Marmalade, all buzzing to see the gay icon live. I was amazed at how many attendees had made the effort to dress in iconic Christina Aguilera looks, such as chaps or a red corset.
Usual social norms of not talking to strangers and avoiding eye contact simply melt away at Pride, it is so distinct in that way. There is an awesome community vibe and everyone is so friendly and willing to make new friends.
The only noticeable flaw from the organisers was the lack of some resources. With up to 300,000 expected to attend, queuing for food and drinks became a real pain (you could easily spend an hour queuing for a drink at one of the bars).
From Saturday's line-up, we decided Todrick Hall, Ella Henderson and finally Christina Aguilera were the ones we wanted to catch on stage.
Todrick Hall, one of the world's most renowned drag performers, and successful drag popstar with a number of big chart hits under his belt, was so much fun. The nature of his performance and the lyrics of his songs meant we all let our most camp inner selves shine through.
The crowd erupted with an enormous roar when he asked festival-goers 'Who is ready to get Dirrty? Miss Christina Aguilera is back stage'.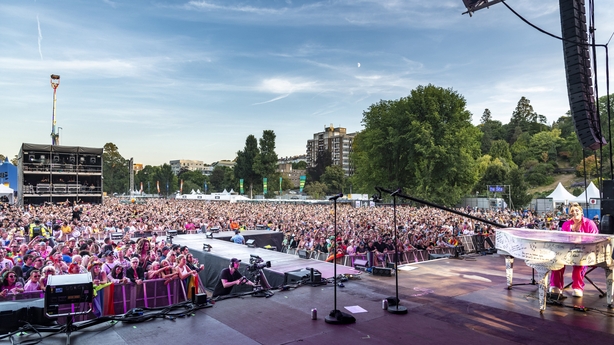 Ella Henderson then took to the stage and performed her impressive number of dance hits (most of which are collaborations with such acts as David Guetta).
I liked how personal she was with the crowd, but her lack of any dancers or performance enhancing theatrics was quite evident. It was really Ella, a stage and a microphone. A level of minimalism very few artists can pull off and her voice just isn't quite strong enough for it.
Christina Aguilera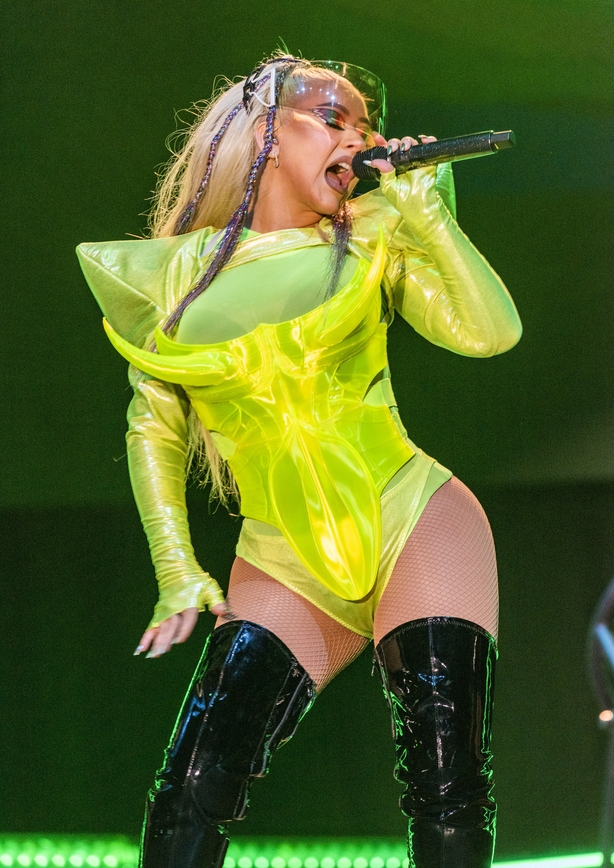 There was about an hour gap between Ella and when the Queen herself, Xtina, graced the stage.
As her production crew began transforming the stage area, the anticipation was palpable. It was incredible how much the crowd atmosphere changed in anticipation of the pop icon starting.
What had been quite a comfortable level of crowd-closeness suddenly became increasingly tight, as the thousands of attendees pushed forward to get a better view of the superstar. It never became dangerously compact, but we were certainly snug.
With the crowd chanting 'Christina! Christina! Christina!', her screens began. Videos of men kissing and women kissing started playing alongside an adrenaline inducing 'PRIDE, ARE YOU READY?'
Her muscly male dancers and stunning female dancers then walked out in sequence, all holding 'SAY GAY' signs proudly high above their heads. An immediate response by Christina to the Florida 'Don't say gay' law, which went into effect in July. Aguilera then appeared on the stage in her iconic chaps, reinvented to add an extra layer of gay pride extravagance.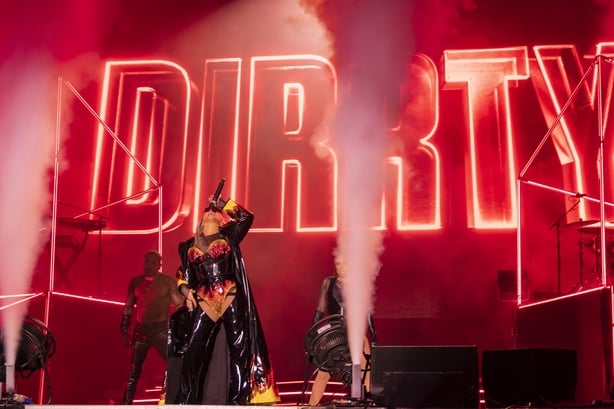 The popstar went on to belt out all of her biggest hits, including Beautiful, Can't Hold Us Down, Ain't No Other Man, Moves like Jagger, Say Something and Lady Marmalade. The dancers were world class, the lighting and stage production was big budget, but as with anything regarding Christina Aguilera, it was all about her voice.
The six-time Grammy winner is known as 'the voice of her generation' and if anything it is only getting better with age (she is now 41). The tone of her voice is so rich, her vocal acrobatics are unrivalled and to quote musician Sia: "Christina can reach notes you can only dream of!".
We need your consent to load this comcast-player contentWe use comcast-player to manage extra content that can set cookies on your device and collect data about your activity. Please review their details and accept them to load the content.Manage Preferences
However it is the volume, the power of her voice that really does it for me. How can such a huge voice come out of someone so small?
Christina spoke to the audience about how much she had always tried to support the LGBTQ+ community throughout her career, for example fighting for a gay and even a trans storyline throughout her Beautiful music video, something completely unheard of by a mainstream popstar back in 2002.
After Christina wrapped we were all equally elated and losing our voices from the screaming, so we decided to call it a night, ready to tackle gay pride day two the following morning.
Pride Village Party
For day two of the festival, we decided we wanted to experience the other renowned aspect of Brighton Pride (aside from the parade), which led us to the Pride Village Party. This sees businesses across Brighton's famous Kemptown come together to celebrate Pride and raise extra funds for the Brighton Rainbow Fund and Pride Social Impact Fund.
In short: cafés, shops and bars throughout these streets set up food and drink stands and become a huge street party. Multiple DJ's and drag queens take to various stages and in the bright sunshine, it was an amazing day of dancing, pop music and camp fun.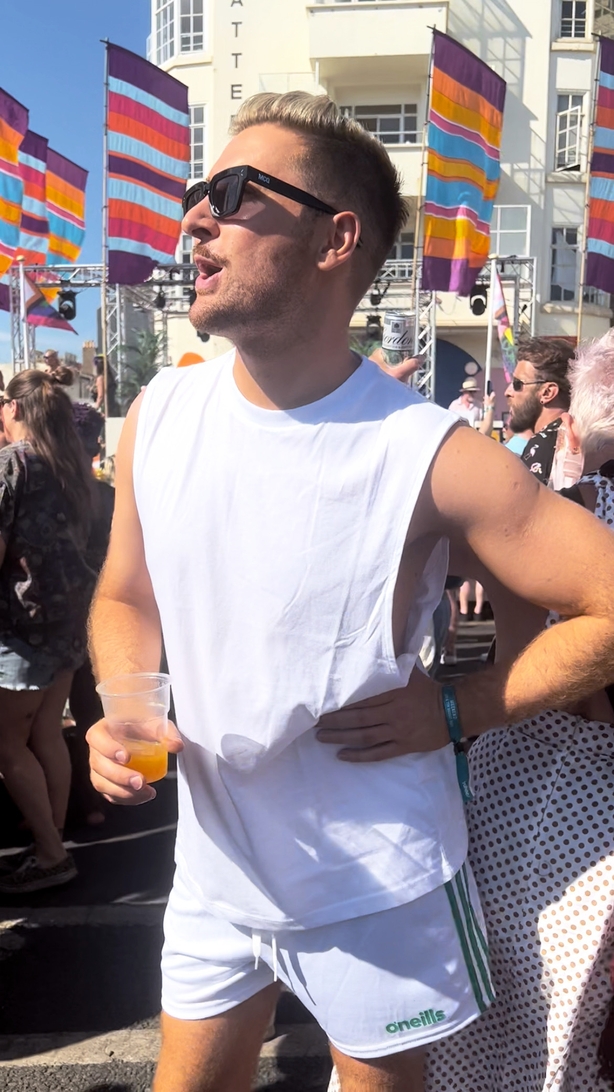 Multiple elements align to make Brighton Pride a Pride like no other, in this part of the world: world-class acts, a very slick city, a strong likelihood for amazing weather, a thriving LGBTQ+ community and lots of funding. Title sponsors such as Yahoo allow for this weekend to 'go big or go home'.
It may now take me three weeks to recover, but it was one of the best weekends I've had in years.