At her home in Wicklow, best-selling author Cathy Kelly talks to Donal O'Donoghue about putting back the pieces in the wake of her marriage break-up, why she doesn't believe in regrets and how she has unexpectedly found love again.
"When a marriage ends there's a part of you asking, 'How did that happen?'" Nearly two years after her marriage break-up, novelist Cathy Kelly is finding the pieces that help make sense of it all.
"What I keep saying to my friends is that I can never look at any of this as a failure. John and I have two beautiful sons together (twins Dylan and Murray) so therefore that can't be a failure. And you build a life with family, so yes, you can look at it two ways. You can say 'That marriage is now over and it's a failure.' But it isn't, because this wonderful family grew out of it. And we still keep in contact because of the boys and I do want John to be happy. I want everyone to be happy."
Happiness is stitched into Cathy Kelly, her personality and her writing, not that she hasn't also known the darkness. "I write about topical issues because they fascinate me," says the former journalist whose novels have covered depression, sexual abuse and other gritty realities.
We chat in her study, where the walls are lined with her best-selling volumes. There are other authors too (Ann Patchett, Virginia Nicholson, Atul Gawande) and a framed quotation from Jack Kerouac's On The Road: 'The only people for me are the mad ones, the ones who are mad to live, mad to talk, mad to be saved…'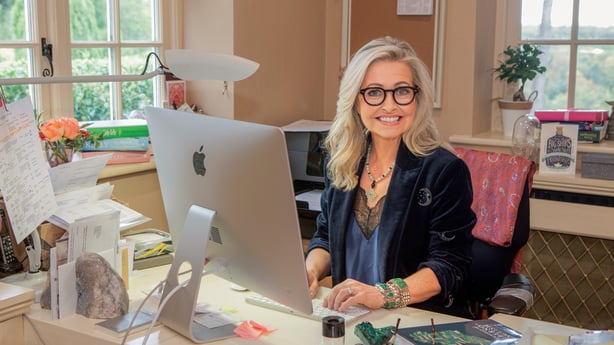 "I got it from a friend," says Cathy, upbeat as ever but also somewhat nervous: it's her first time talking publicly since she revealed that her marriage had ended on Dancing With The Stars in January.
Now here she is with her new novel, The Wedding Party, a tale about, among other things, second chances, secrets and survival. It was written in the wake of the break-up.
"It was a weird time," she says now. "We had the pandemic, John and I were no longer together and there was a lot of readjusting. Yet I had to keep doing what I do, which is write. Patricia Scanlan says that you light the candle and hope that wherever the inspiration comes from keeps coming. If I say 'conduit', does that make me sound like a looper? But you do feel like a conduit and The Wedding Party came to me."
"It's never simple or easy when a relationship ends but writing helped because it was a constant. And you look to the constants in your life – the kids, family, friends, the dogs – and you just keep going on. You have to."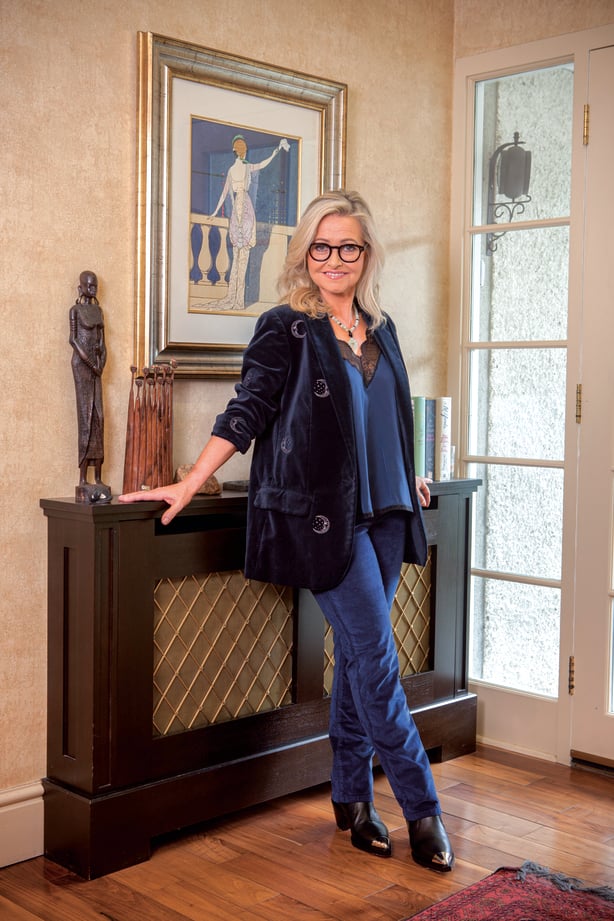 "It was no one's fault," she says of the break-up. "People change and life changes us and we move on. It can be very brave to go 'You know it's better to end this and be happy than (pause)…you know…" She pauses again. "That's not a full sentence, is it? John and I had been together for a huge part of my life. I met John when I was about 29 or 30 and now I'm 55. I'm a totally different person from how I was back then and so is he. That is the nature of human beings and relationships. And I don't believe in carrying regret. We were meant to meet, have those beautiful children and now we are on another chapter of our lives. God that sounds very bookish but you know what I mean. I try not to live my life in the past."
Like that Kerouac quote, life is to be lived, especially for all those who didn't get the chance.
"The book I'm currently writing made me recall my good friend Emma (Hannigan)," she says of the writer who was just 45 when she died from cancer in 2018. "As I get older, I think I'm still here and my beautiful friend isn't. Getting older is a privilege that isn't granted to everybody. So it's appalling if you don't go forth and be as positive as you can be about life, to do as much as you can and enjoy things because not everyone gets that chance. I also try not to catastrophise, which I tend to do on a daily basis. But not regretting and moving on, saying this is going to be a good day ,is something that comes naturally."
The centre of Cathy Kelly's universe are her twin boys, Murray and Dylan. "I have dedicated my life to the two boys," she says. "They are the most wonderful gift I've ever had, two beautiful people. So John and I obviously tried to minimise the impact on them. I have no time for people who use their children against the other partner as ammunition. For both of us, the children have and always will come first."
We need your consent to load this Instagram contentWe use Instagram to manage extra content that can set cookies on your device and collect data about your activity. Please review their details and accept them to load the content.Manage Preferences
Was there any guilt in that respect?
"You think 'Should we stay together?' and then you realise you're just making each other unhappy. There's no point in doing that because that's just bad for everyone. And while I have always been a great one for thinking that I'm failing – failing in not doing enough on a book and the rest – with relationships, I think I'm old and wise enough to know that sometimes things just happen."
One of her characters in The Wedding Party has also long jettisoned the belief that someone will always pop up to save her from the 'scary bits of life.' "Ever since I started writing, that thing of rescuing yourself has been there," says Kelly. "You have to rescue yourself in this life. I love that message. People sometimes say to me, 'You write romantic novels, those books where the girl gets the guy?' But in my very first novel, where I didn't have a clue what I was doing, one girl ends up with a guy, another woman has twins and her husband runs off on her – life has not imitated art in any way!. If people read my books, they would know that I so do not write romantic books. They are all about finding inner strength. Only you can fix yourself."
Cathy Kelly knows this. More than 35 years ago, she was sexually assaulted, an attack that left lasting psychological scars. For six months afterwards, she took tranquillisers to help her cope. Thereafter, her trust in men was fractured and she was overwhelmed by shame and guilt. Therapy slowly helped her find herself again.
"I was always a feminist," she says. "I never wanted to rely on a guy to look after me. I wanted to earn my own money, have my own house, be respected and the rest. So when the incident happened it had, and still does have, a huge impact. I greatly respect people who get out there and call it as it is. For years, it destroyed me but I was determined that I would not fall apart. But even now, I get a pain in my chest talking about it because the body remembers."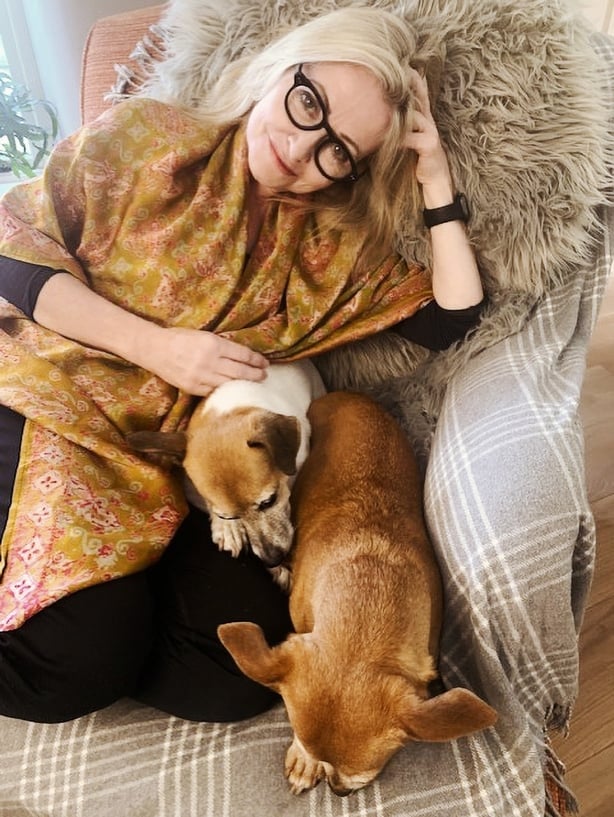 She worked hard at putting the pieces back together while also forging a career as a novelist. "We all need a bit of self-love, telling ourselves that we are doing OK. Loving yourself is one of the hardest things to do. Now, I'm not as hard on myself as I used to be. I have a lot more inner peace than before, but it's been hard won."
"Growing up, I was an anxious person and I lived in my head, thinking so much was my fault. That takes years to come out of you. Then what happened to me in my 20s derailed me for years, even though I did a very good impersonation of 'being fine'. I also helped other people (Kelly worked as an agony aunt columnist). I'm a helper, a fixer. But I've got better at talking about myself with a close few friends."
Like Stu and Meg in The Wedding Party, does she believe in second chances? "Oh God yes! I think that life is one big second chance because we are always messing up and just get on with it again." And for Cathy Kelly too, who following the break-up, believed that finding love again was unlikely.
"I've met a lovely new man," she whispers, eyes sparkling. "I never imagined it would happen. I didn't come out of a marriage wondering where will I go now? It's someone who also loves books and I'd only met him a few times through a mutual friend and then we went for a coffee and sin é. It's wonderful and he's great and all the rest. Can he dance? He can't but I will do all the dancing, the way I've done my whole life."
Cathy Kelly continues to dance through life, the ups and downs and in-betweens. There's another book coming to the boil, a first foreign holiday with her new man ("I'm going to bring some books and my crochet").
She also did an episode of the current series of Tracks and Trails, where she hiked the hills of Kerry. She shows me some sea-worn stones from a Sligo beach near her mother's home place: totems of origins and connections and how ultimately, we are all just a speck in the grand scheme of things. Life goes on.
"It's due in December!" she yelps as if just clocking her next novel's deadline. "Let's focus on the deep breath thing here." And Cathy Kelly breathes deeply and laughs, buoyed, as ever, by the belief that today will be a good day.
The Wedding Party by Cathy Kelly is published by Orion.