"It started off one day at work", James Doyle begins, in the easy, carefree Mullingar accent that has officially made him TikTok famous.
"I was there and we went for the lunch and now, at the time I started me cutting phase so I was trying to lose weight, trying to trim off all the fat.
"I went into the shop and I bought myself a protein shake and I sat in the van and I said sure look it, I've nothing better to do, I may as well do a review on the shake."
We need your consent to load this Instagram contentWe use Instagram to manage extra content that can set cookies on your device and collect data about your activity. Please review their details and accept them to load the content.Manage Preferences
He's telling me how he accidentally paved the way to internet stardom for himself, starting arguably with his decision to overhaul his fitness during the pandemic, punctuated with various high-energy and expletive-filled reviews of protein bars, a few chaotic baking tutorials and finally: "protein bor". A movement. A community.
And if Doyle has anything to do with it, his route to success. He's already parlayed his fame into brand dealerships and a challenge to brands to create the perfect protein bar. "I want to hit the f****** moon", he tells me.
What is "protein bor", you ask? On a surface level, it's a reference to the way Doyle pronounces "protein bar" in his Mullingar accent. On a deeper level, it's an example of the currency online creators trade in: innocent catch phrases that rapidly morph into memes.
Thanks to this Doyle has had the kind of meteoric rises to success that proliferates online these days, but one undoubtedly made possible thanks to his cheeky chappy charm and eye for an opportunity. After some months of reviewing bars, his online following swelled from less than 20,000 to 250,000.
After a review for a Mars bar protein bar, his views skyrocketed, with followers commenting "protein bor" under his and other major TikTok fitness influencers' videos. Doyle was mystified. "I done a video on it myself saying like, what are ye's at lads?"
For him, however, it was a win-win. "I felt a bit like Robin Hood", he says. "The amount of engagement that everyone on TikTok was getting for that week I was blowing up was mental."
Ultimately, Doyle is as baffled as anyone by this. "Not in a donkey's arse did I think I'd be anywhere near here", he says.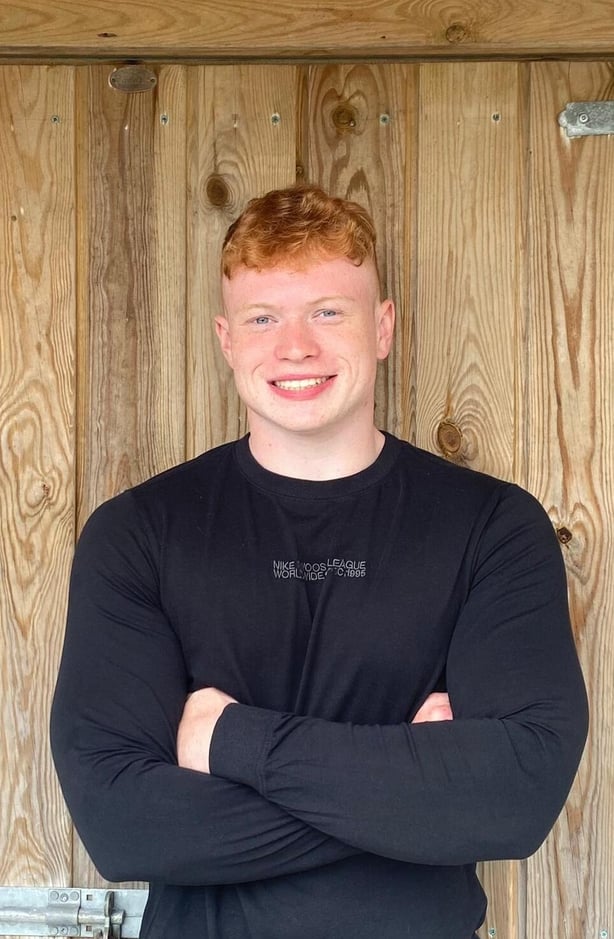 To anyone who has watched his videos, it's clear that Doyle's authenticity is the winning factor at play, something the Mullingar man acknowledges himself. "The way I see it is if I were to be fake on it, there's no way in hell, not me anyway, I'd be able to keep up an act for longer than a day or two, you know what I mean?
"I don't know how people do it and I do see them the whole time, fake influencers and stuff, but I don't know how they can manage it. You get caught out eventually."
With honesty and authenticity – the two pillars of a purportedly successful online presence – comes responsibility and a general sense of ickiness at having to upload your honest opinions in the face of strategic brand generosity, he says. Viewers love his unabashedly critical reviews, but Doyle says, "I'm getting it for free and I feel like a bad b*****d".
"I feel awful bad about it when I give it a s***e review or something because they're kind enough to send it out for me. I don't want to promote something that's utter scutter."
For Doyle, he's simply giving back what he's received on his own fitness journey. "I learned everything off YouTube and TikTok", he says. "Mostly YouTube now because I like to have a lot of information or something. And YouTube can go a lot more in depth than TikTok.
"I do find that in terms of when I was doing my journey, it's important that you learn from lots of different people. Not everybody knows everything. You take different bits from different people and see what works and that worked out seriously well for me."
We need your consent to load this Instagram contentWe use Instagram to manage extra content that can set cookies on your device and collect data about your activity. Please review their details and accept them to load the content.Manage Preferences
Doyle started his fitness journey amid the Covid-19 pandemic, like many others. Committing to the gym helped him overcome body image issues that he says he still speaks to followers about.
"Growing up I always had a lot of sort of eating disorders and body positivity issues and to put it simply I hated my body growing up. I always felt self conscious", he says.
Having made the Midlands rugby team, he says progress was stunted by body image issues that reared up around that time. "I stopped eating completely", he says. "So I had no energy and I was expected to go train and focus four nights a week and play match the weekend. I just fell out of love with it after that. It was very hard."
Part of the secondary school cohort that ended up not doing a Leaving Cert, he had gotten into the gym the previous February before Covid brought that to a halt.
"I was the same as basically everyone else. Just sat on me hole all day, drinking tea and eating what I wanted.
"I said to myself, I am sick and tired of looking and feeling shite about meself every day. It's time to get up off me hole and that's exactly what I done. As soon as the gyms open back in Ireland, that's the day I started."
Now, he makes the most effort to reply to DMs about similar issues, he says. "At the end of the day I am just some gobs***e who grew up in Ireland and I know what happens, like. I can talk from me own personal experience.
"If I can help someone in a certain way by showing them I came to terms with it and now I'm better off because of it, I think that's fantastic and I wouldn't want anybody else to have to go through the same."