Evelyn O'Rourke reports on the on-going 'Clean Coast campaign' as beachgoers leave coastline covered in rubbish.
We all saw the shocking images from the Burrow Beach in Dublin after the huge turn out of visitors during this hot weather.
On RTÉ Radio 1 this morning, I reported on the on-going 'Clean Coast campaign' organised by the Coastal Communities team for the Environmental Education Unit at an Taisce.
It's been running for 20 years now, and it's a growing nationwide network of coastal community groups who are keen to protect the coastline.
From beach clean ups, to supporting work to prevent coastal erosion, the 1,000 plus groups all work to respond to the needs and gaps in their section of the coast line.
Everybody on the Burrow Beach,Sutton,Dublin yesterday should know this is what it looked like this morning.Council workers say they've never seen the likes of it.Every type of glass/plastic bottles,soiled nappies,barbecues etc etc… pic.twitter.com/zT3fmCqsv5

— Padraig O'Reilly Photographer (@padraig_reilly) July 19, 2022
I spent a morning with the 'North Wicklow Beach Clean Up Group' at the South Beach in Greystones, where Green Party Councillor Lourda Scott and her volunteers meet up monthly with bags and pickers to collect the rubbish dumped there.
During our clean up, we came across many cigarette butts, dreaded plastic bottles and even a pair of underpants!
The volunteers ranged from four-year-old Aine to Biddy who has lived and enjoyed the beach for years, they say that they are doing this work to protect and mind the beach so that everyone can enjoy it.
Unfortunately it took 3 hours to clean the Burrow Beach before people could really start enjoying it this morning..Some people should not be allowed out.. pic.twitter.com/NI7OBXMusN

— Padraig O'Reilly Photographer (@padraig_reilly) July 18, 2022
For 12-year-old Dylan, he is disappointed by people's reaction in general to beach waste as he thinks that they take pictures of plastic bottles with a sad emoji on social media, but don't to anything actually practical to help.
I was really struck by his frustration and the way he sees social media as a fairly limited platform for making real change without the work to back it up.
I also spoke with the Coastal Communities manager, Sinead McCoy about the images and videos posted on social media showing rubbish and general waste left on beaches during this hot spell of weather.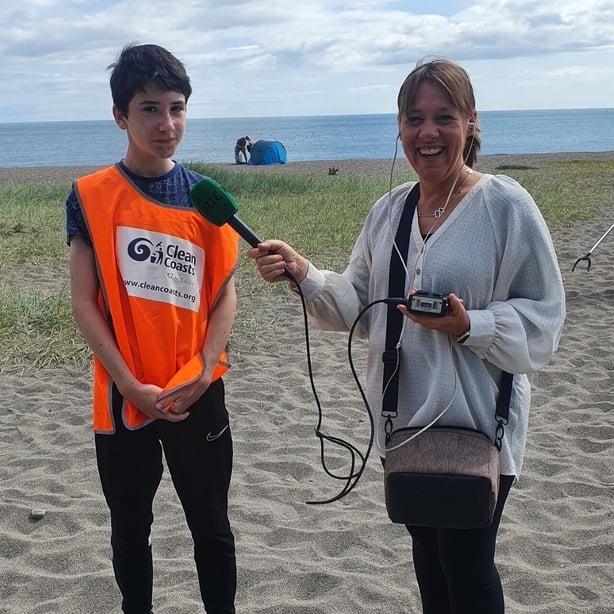 Sinead pointed out that this is not a new problem but something that recurs year after year and that it is frustrating for her team and their over 1,000 Clean coasts volunteer groups around the country's coastline.
For my report on Today with Claire Byrne (with Philip Boucher Hayes filling in for Claire) Sinead was asked if she anticipates waste problems when she sees the forecast.
Sinead answered: "Yes.. and it's not just us, all the volunteers around the coast. There is nearly an anxiousness when the hot weather comes because it's just an instant reaction that people get out to the beach, and unfortunately we tend to see waste left behind."
I then asked for her advice and she responded: "It's very simple. We all brought these items to the beach, so we are really just asking people to take home what you've brought. Plan ahead. If the bins are overflowing, take your rubbish back home with you, if you can bring a bin bag with you, that would be great!"
I asked, "So if you can remember to pack the cold juices, you can remember to pack the bag to bring your stuff home with you?
Sinead replied 'Exactly!'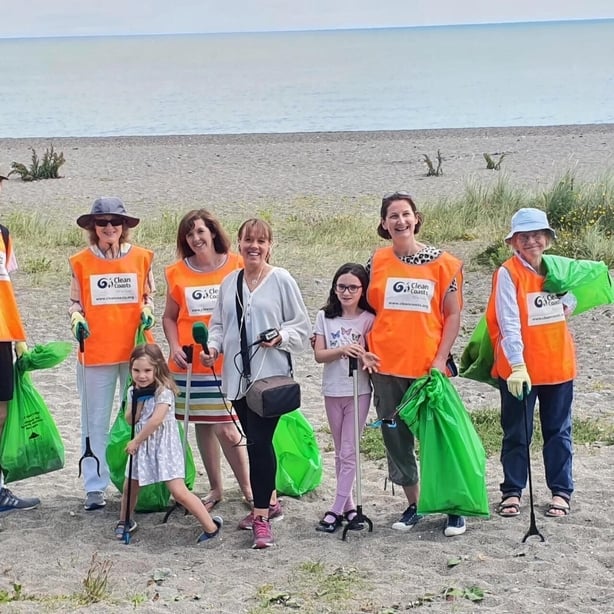 Would you fancy going on a mermaid purse walk? Then head to the beautiful Maharees area on the Dingle peninsula in Kerry where jellyfish walks, heritage trails, and history talks are regular features of the time table of actitivies there!
I spoke with Martha Farrell whose family has connections with this 5km area for four generations now, so she is passionate about her advocacy and conservation work and she thinks its really important that we entertain visitors as well as educating them to help them respect the area.
The message from the Clean Coasts Team is to be prepared, bring a bag for your rubbish, and if the bins are over flowing and you see other rubbish, pick it up and bring it home yourself.
And the message from The Maharees? Pack a bag, and get yourself down there to appreciate the beauty of this special area of conservation for yourself!
We need your consent to load this rte-player contentWe use rte-player to manage extra content that can set cookies on your device and collect data about your activity. Please review their details and accept them to load the content.Manage Preferences

As heard on Today with Claire Byrne on RTÉ Radio 1. Listen back above.