Who would have thought that a sheer hot pink dress worn by an award-winning actress on the red carpet of a fashion show could have the power to send the internet into such a tizzy?
But it was never really about the dress, was it? It was about what's under the dress and, more specifically, what exists just under the surface of society. The sheer fabric of a Valentino dress not only revealed Florence Pugh's breasts, but shone a spotlight on the thinly veiled misogyny that remains rampant 2022.
This past Friday, Midsommar star Florence Pugh walked the red carpet at Valentino's haute couture show in Rome wearing a fuschia tulle gown designed by the brand's artistic director, Pierpaolo Piccioli. A nod to the emerging Barbie-core trend, the ensemble was all pink and featured a gauzy halter bodice that exposed the actress' breasts and oh-so controversial nipples.
"Technically they're covered?" Pugh wrote on Instagram, a platform known for its censorship of the female form. Posting these beautiful images to her following of 7.6million, it wasn't long until the trolls crawled out of the woodwork.
We need your consent to load this Instagram contentWe use Instagram to manage extra content that can set cookies on your device and collect data about your activity. Please review their details and accept them to load the content.Manage Preferences
From comments on her breasts' size and shape, to critiques that the actress was "leaving nothing to the imagination", — an overused, inherently sexist expression — people felt compelled to leave their tuppence worth under Pugh's post, wagging their finger at what was ostensibly an overt act of female empowerment.
Entitled The Beginning, Piccioli muses that his Fall 2022 collection is both deeply personal, and a commentary of the world around us. "I believe that it's my responsibility as a fashion designer to bear witness to the times we're living in," he said. "I think that beauty has the power to break through, touch people and their conscience ... I believe fashion can be political."
"Fashion differs from art, in that art just serves itself, while fashion has to deal with the body; that's why fashion can have a strong say on social issues like acceptance of diversity, or standing for human rights," he said.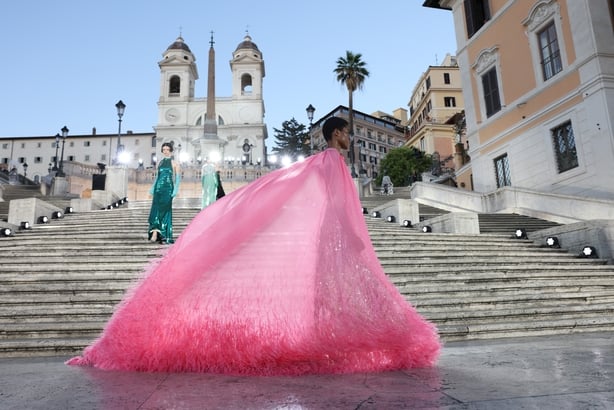 Regardless of the fact that a number of models walked the Valentino runway in sheer designs that displayed their breasts proudly, the conversation revolves around Florence Pugh and, as she puts it, "two cute little nipples".
Responding to the backlash she received from her initial post, Pugh returned to Instagram to express her frustration and refusal to conform to the beauty standards set by a patriarchal society.
"Listen, I knew when I wore that incredible Valentino dress that there was no way there wouldn't be a commentary on it," she wrote. "Whether it be negative or positive, we all knew what we were doing."
Assuring us that there was no semblance of nerves before, during, or after wearing the dress, Pugh notes, "What's been interesting to watch and witness is just how easy it is for men to totally destroy a woman's body, publicly, proudly, for everyone to see."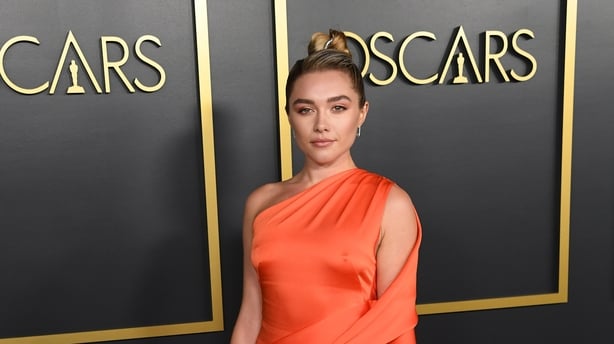 As a woman living her life in the public eye, a side effect of fame that makes anonymity feel like a blessing, Pugh is well familiar with the perils of being perceived: "It isn't the first time and certainly won't be the last time a woman will hear what's wrong with her body by a crowd of strangers."
"Thankfully, I've come to terms with the intricacies of my body that make me, me. I'm happy with all of the 'flaws' that I couldn't bear to look at when I was 14. So many of you wanted to aggressively let me know how disappointed you were by my 'tiny tits', or how I should be embarrassed by being so 'flat chested'. I've lived in my body for a long time. I'm fully aware of my breast size and am not scared of it."
Having grown up in a household of strong women that taught her to "find power in the creases of [her] body", Pugh is railing against a world that punishes women for "being loud about being comfortable".
"It has always been my mission in this industry to say 'fuck it and fuck that' whenever anyone expects my body to morph into an opinion of what's hot or sexually attractive … Grow up. Respect people. Respect bodies. Respect all women. Respect humans. Life will get a whole lot easier, I promise."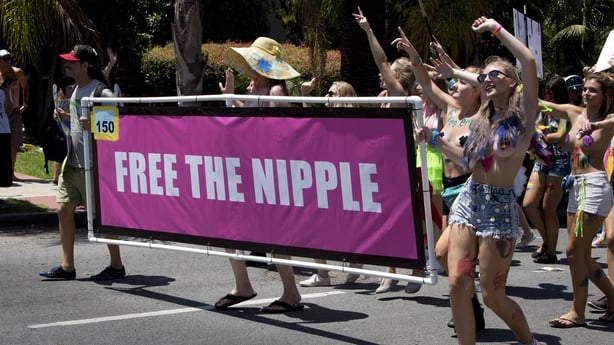 #FreetheNipple has become such a ubiquitous phrase, that it's taken on the same air of the long-fought battles from days gone by. The difference is, this one is still yet to be won. Over a decade since the campaign began in an attempt to stop Instagram from policing women's bodies, the platform's community guidelines still prohibit "photos of female nipples".
There are certain exceptions, which include images within the context of breastfeeding, giving birth and after-birth moments, health-related situations, or acts of protest. The social media platform also assures us that "nudity in photos of paintings and sculptures is OK too."
What exactly constitutes an act of protest? Surely, over 10 years since the app first started banning boobs, any post that features a bare breast could be categorised as an act of protest.
Conversation around women's breasts often revolves around either sacred motherhood, or salacious sexuality. They exist to either nourish a baby, or entertain a man. Entirely permissible when confined within the walls of a museum or movie theatre, when a pair of nipples are seen through a shirt on the street or when we scroll through our newsfeeds, they're instantly X-rated.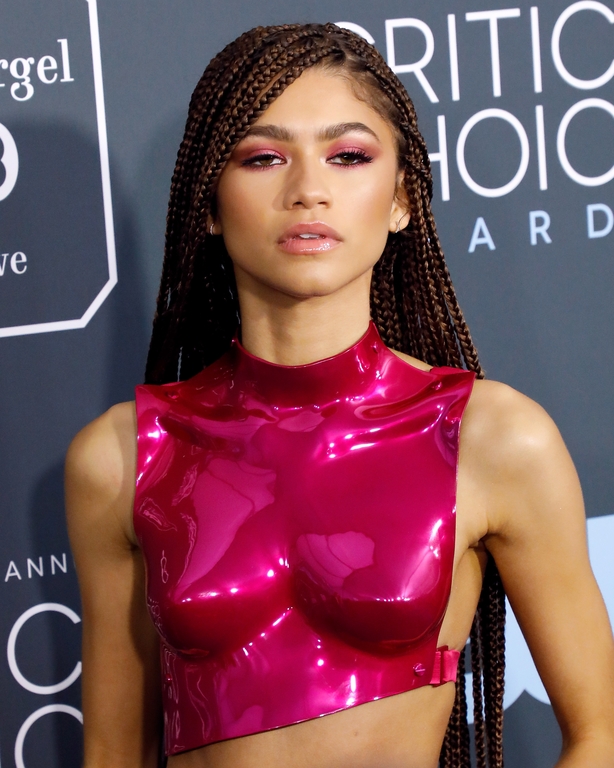 Breasts and fashion go hand in hand, and have done for centuries. From the 18th century's Pauline Bonaparte, sister of Napoleon, allegedly commissioning a gold cup in the shape of her breast, to Zendaya's custom Tom Ford breastplate moulded to her precise measurements just last year, nipples are part and parcel of the female form. They don't just fall off when they offend someone's sensibilities.
From Cher's iconic Bob Mackie dress worn to the Met Gala in the '70s to Kate Moss' innumerable sheer dresses worn on red carpets throughout the '90s, the link between fashion and the female form cannot be broken quite so easily.
What was it that Rihanna said back in 2014, when she took to the carpet at the Council of Fashion Designers of America awards? "Do my tits bother you? They're covered in Swarovski crystals!"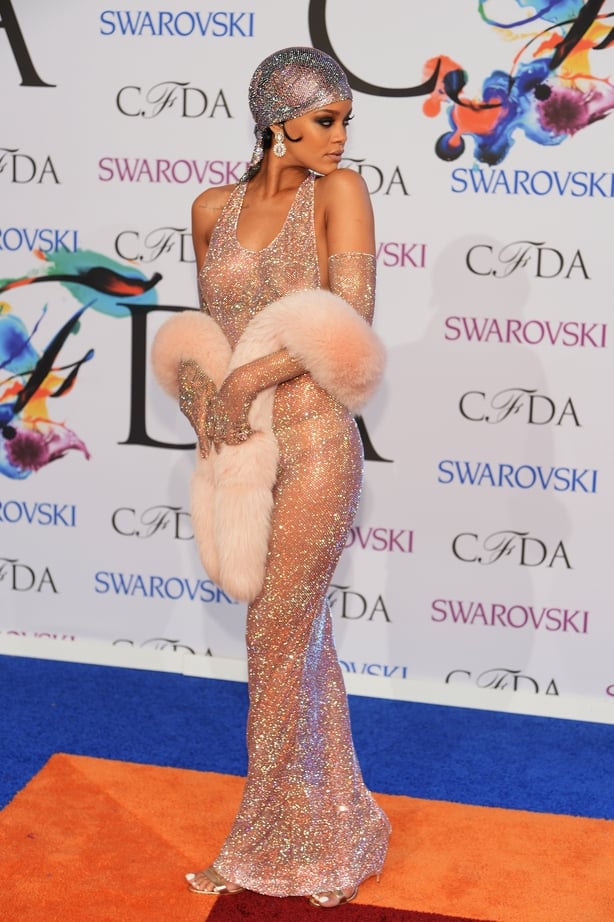 Regardless of whether they're displayed proudly at a Hollywood event, or hidden by layers of clothing on the daily, the world will always find a way to sexualise a pair of female breasts.
Think of the teenage Billie Eilish who was papped in a vest top, instead of the usually baggy hoodies she was once known for, and the internet went mad.
Big or small, front and centre or under wraps, a woman's breasts do not exist to be sized up by prying eyes.
The views expressed here are those of the author and do not represent or reflect the views of RTÉ.