In the wake of her mother's death, Joanna Donnelly finds comfort in her family and her own can-do attitude to life. Donal O'Donoghue meets the meteorologist at home.
"If I ever published a memoir, the title would be Thunderstorm," says meteorologist, mother and broadcaster, Joanna Donnelly. Why, I ask. So she tells me about the tattoo of a lightning bolt, the meteorological symbol for a thunderstorm, that graces her stomach – and the story behind it.
"My daughter, Nicci, was going through that difficult period in a woman's life when your body is changing, and I wanted her to know that your body is wonderful. I have a stretch mark on my body from giving birth, a jagged streak that looks like a lightning bolt. To me, that mark says I was privileged to be able to carry a child, one of the most powerful things you can do as a woman. The tattoo artist thought I wanted to cover up my stretch mark, but I wanted to show it off."
From birth to death, life is to be celebrated: Joanna Donnelly has learned the bittersweet truth of that. She was just three when her father, Frank, died, while her eldest brother, William, passed away on the eve of his 34th birthday. Last September, her mother, Marie, died following minor surgery.
For the four days and nights her mother was in a coma in hospital, Joanna kept her company. She showed her old photographs, played her favourite music and composed what would be Marie's eulogy ("I ran it by her" she says with a smile). In the final moment, Joanna was there. "The greatest gift my mother gave me was bringing me into this world. She was the first person to feel my heartbeat and I was privileged to be the last person to feel hers."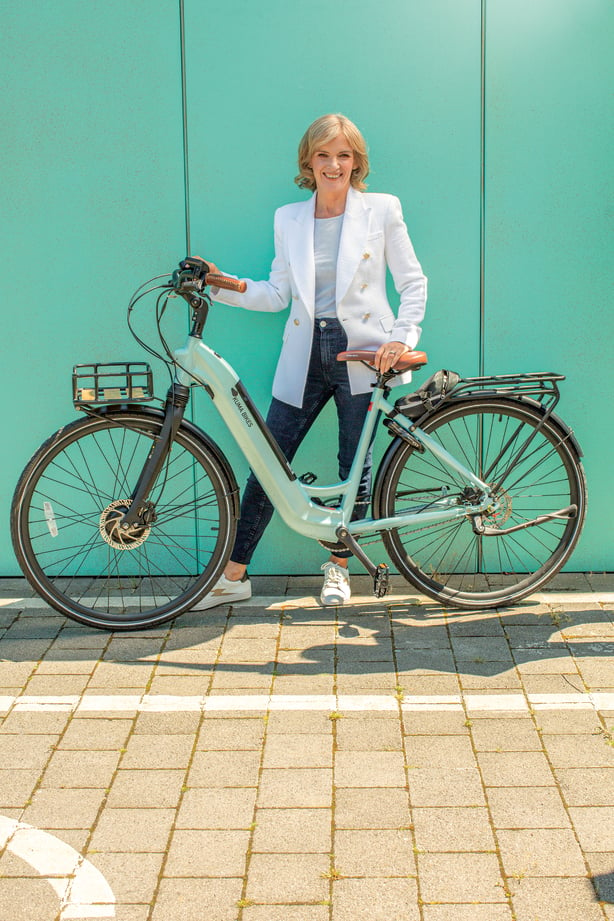 We are sitting in Donnelly's bright and pristine home in Portmarnock, County Dublin, close by the sea where she regularly swims in the more clement months. Joanna lives here with her husband, Harm, a fellow meteorologist, and their three children, Nicci (18), Tobias (14) and Casper (12). The family pet, a friendly rescue pooch called Leia (after the Star Wars character), yaps happily in the open-plan space, which has large windows looking onto a garden blooming with colour.
On the walls there is artwork by Nicci (now training to be a tattoo artist) as well as framed illustrations from Donnelly's debut publication, The Great Irish Weather Book. In one corner, near her work station, is a large framed image of the Periodic Table. "We always talk about science with the kids", she says of a home vivid with curiosity and memories.
"I wasn't ready for mum to go," she says. "She was fit and healthy and a huge part of my life." Mother and daughter (Joanna has two other brothers, Alan and Emmett) did everything together: played cards, went to musicals, were each other's dates.
"It's like a piece of me is missing," she says now. "I'm still waiting for mum to walk in the door. And when I need to get new clothes for TV I'm thinking 'What's the point?'. What's the point in getting new clothes or getting my hair cut because mum's not going to see it. I have to force myself to buy stuff and when I look at myself in the mirror I wonder if she would like it. Mum was a part of me and it's impossibly sad at times. But she's in my head all the time. Every time a flower blooms in my garden I say: 'Look at that mum!'"
We need your consent to load this Instagram contentWe use Instagram to manage extra content that can set cookies on your device and collect data about your activity. Please review their details and accept them to load the content.Manage Preferences
Yet amid the grief, Donnelly remains the upbeat pragmatist she has always been. "I could spend my time being unhappy about something but the thing is that I'll be unhappy and it's still be there. In some ways life is a bit like weather forecasting. You can't tell what will happen next unless you know where you are at right now. Everything comes from where you are at right now. As a child growing up, you can't imagine a world where there are husbands and wives because that was not my world. So you project forward from that. I'm a very pragmatic, scientific person. It's like 'Well, this is going to happen' and I can choose to be miserable or I can make the decision to be happy because what's the point in being miserable?"
Her family brings her joy. "I didn't just want a child, I wanted a family," she says. Nicci was born naturally in 2003 but it was a hard struggle to conceive again. Joanna had seven miscarriages before Tobias was born in 2007 after fertility treatments.
"I was furious because my body wasn't doing what I wanted it to do. I was doing everything right, scientifically following the rules. I don't drink. I don't smoke. I exercise regularly. We had this unexplained infertility and that can be misunderstood by others who believe that if you just relax, it will happen. Medical science hadn't got to that point yet for us but every time they make a new discovery, they unearth some new information about what is causing those miscarriages."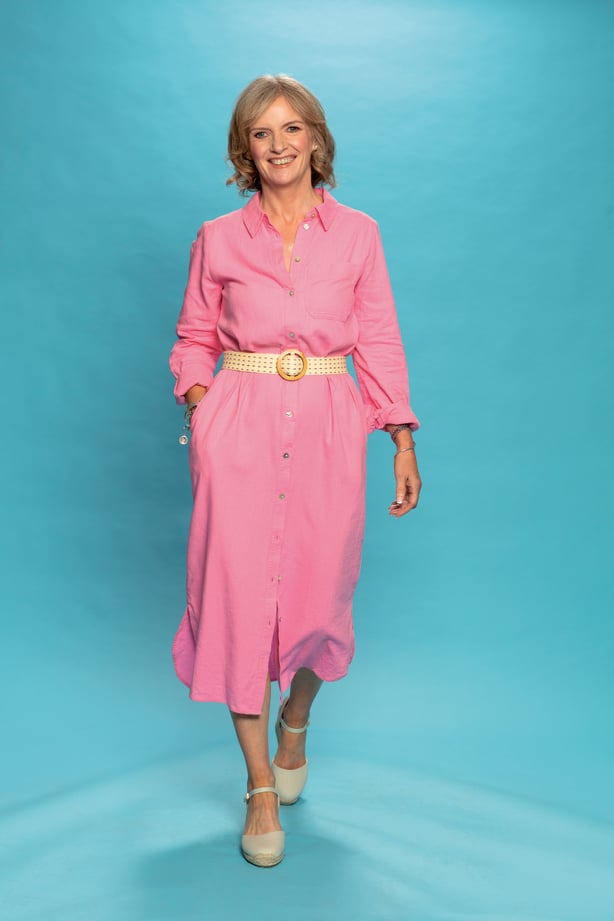 In 2010, the year Casper arrived naturally, Donnelly set up the charity, Pomegranate, with her friend, Fiona McPhillips. Now disbanded, it aimed to help families pay for fertility treatment. "We were only supposed to do it for a year or so, but we gave it 12 years, for the legislation to happen."
The charity created a community for women to share their experiences. "There is a lot of misunderstanding about fertility. We were talking about women's infertility at a recent book club and someone asked 'What other kind of infertility is there?' and I said that 50% of infertility is from the male. People do not think less of me because I had seven miscarriages. There is no shame or embarrassment with what happened; it was just a medical thing."
Occasionally, she talks of her three brothers in the present tense. But the scientist in her cannot accommodate any notion that she will ever meet William or her parents again. At least, not in any spiritual sense.
"Maybe I'll meet them in a tree or a plant," she says. "You just keep them with you. On Mother's Day this year, during my lunch break in RTÉ, I cycled out to the cemetery in Deansgrange. On the way I stopped to get some food and bought a cream cake because mum liked them. Then, near the supermarket check-out, I saw a deck of cards on a shelf. So I went to the grave, played a game of cards and ate the cream cake. Throughout, the sun shone and I was at peace and that was the most perfect Mother's Day."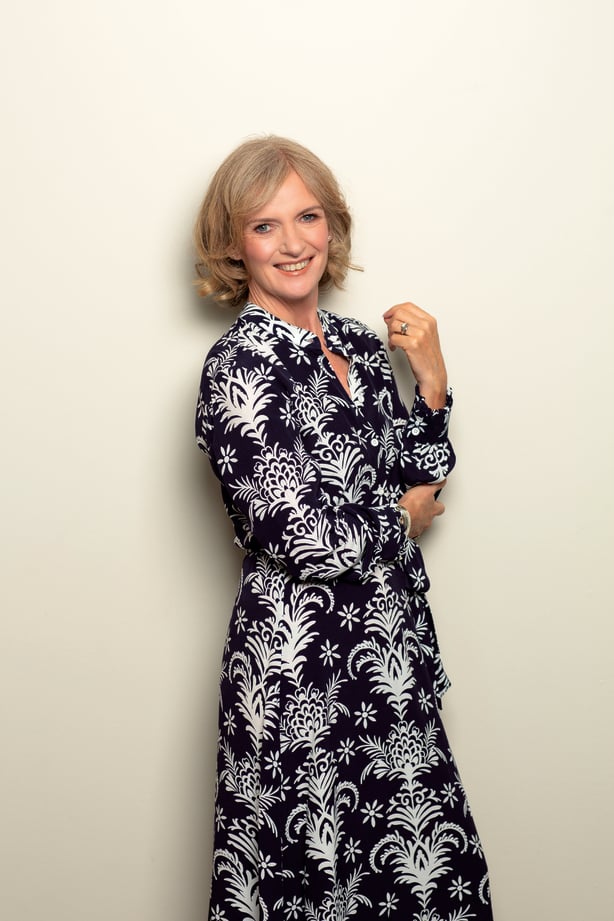 Is she religious? "When I was a child, I needed something in my life to tell me that my dad was somewhere," she says. "So I just took the comfort of religion because that's what was on offer. Now, at night time, when the house is quiet and echoing and you feel all the dead people in your world, that feeling of fear, I always say a prayer. I'm not praying to any god – there's no man in a white beard sitting on a cloud – but I know those words of the Hail Mary or the Our Father off by heart and they comfort me. It is, to me, a sort of meditation. The philosophy of Christianity boils down to 'just love one another' and I can be on board with that. But I don't see it as a mystical or supernatural thing."
She is stirred by a curiosity about most things, the 'how, why and where' of life and living, a scientist with an artist's desire. During the lockdown, she knuckled down to reading/listening to ("audio books are not cheating") the Guardian's 100 Greatest Novels of All Time.
Just two to go now, Mrs Palfrey at the Claremont by Elizabeth Taylor and A Bend in the River by VS Naipaul. Her hands-down favourite was Alexandre Dumas' The Count of Monte Cristo. Most of her books were borrowed from the public libraries, of which she has been a fan ever since her childhood in Finglas. "I read everything in my local library and was like Matilda, standing there and waiting to be let into the other section of the library."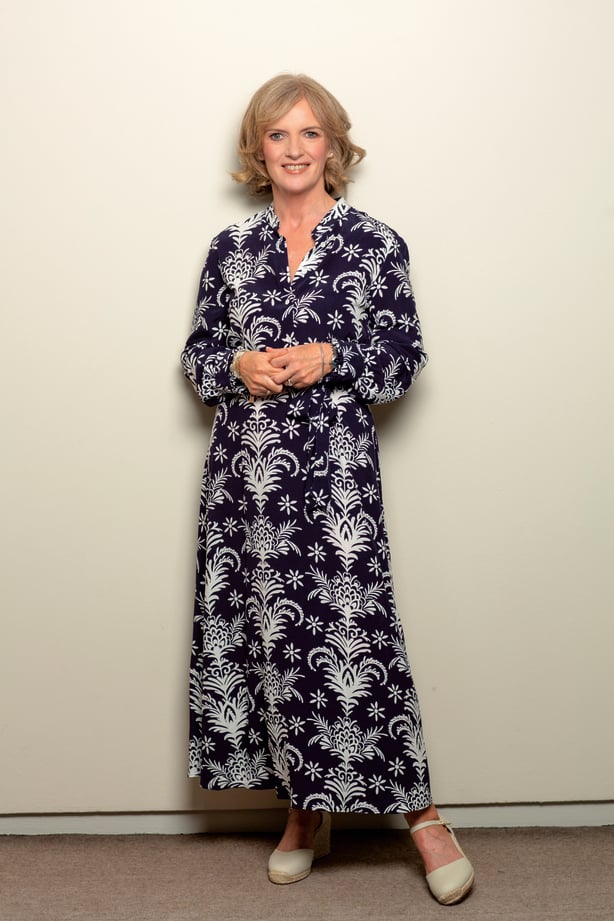 In recent years, she has penned 120,000 words or so of her own book, a sort of diary/memoir. "Nobody would read it because it is really boring but it has been very therapeutic," she says.
"You know the novel Shuggie Bain? If I were to produce a memoir, it would have to be a wonderful read like that and I don't have the skills to write well, as I've discovered. So nobody has seen this diary-of-sorts, not even my husband. Every day I'd write 1,000 words and then stop. I'm now stuck at that time I struggled with fertility issues. I haven't written since mum died, but I know that I will start again because it is good for me. So while the public will never see it, I think it might be nice for my children to have some day."
And "life goes on" just as it did in those dark days in the wake of William's tragic death when her nieces and nephews kept her mother going. "You live on in the next generation," says Joanna, a scientist still wonderstruck by the thumbprint of genetics. "As Casper started to grow, he looked so like William when he laughed and when he was messing. So every time I look at him I see William and I know that William is still around."
Her own can-do DNA cannot be resisted. "I'm still doing too many things," she says with a laugh that suggests such habits are unlikely to change. "I'm still trying to play piano and I have taken on an Irish language course. I did get Covid and that slowed me down, but then a friend asked me to knit her a cardigan so I did. It's just that there's so little time and so much to do."