In Queer History Lessons, comedian Shane Daniel Byrne is teaching us all about LGBTQ+ history, from flags to voguing and everything in between. In today's episode, we're learning about the history of the rainbow flag.
In the month of June you'll see rainbow flags on buildings, on cars, pinned to shirts and in social media profile pictures all in support of the message that love is love. But how did the rainbow become the symbol of the LGBTQ+ community? Spoiler alert- it's not just cos queers love colours!
Before the rainbow flag, the pink triangle was commonly used in gay rights movement. This symbol is still around today but has a dark past; Nazi's used it to identify homosexuals in concentration camps by sewing the symbol on to their shirts.
Then in 1978 Vietnam War veteran, drag-performer, and artist, Gilbert Baker was asked by revolutionary politician Harvey Milk, another gay icon, to create a flag for San Francico's annual pride parade. He was keen to move away from the pink triangle saying "We needed something beautiful, something from us".
He chose the rainbow because of how it perfectly represented the diversity within the community and because it was something from nature.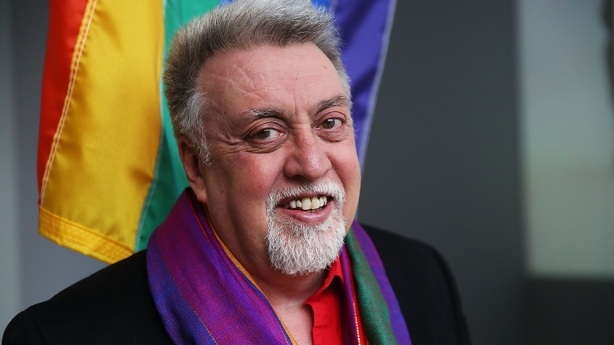 As a drag performer who regularly made his own garments, Baker knew his way around a sewing machine and got cracking with with a team of 30 volunteers. The group took over the top floor of the Gay Community Center in San Francisco with trashcans filled with dye and thousands of yards of cotton. And they used a public laundromat to rinse the dye.
The original flag was made up of 8 colours each with their own meaning - hot pink stood for sexuality, red for life, orange for healing, yellow for the sun, green for nature, turquoise blue for art, indigo for harmony and violet for spirit.
Baker approached the Paramount Flag company to mass-produce the flags. But since a fuchsia flag fabric was not readily available a 7 colour version was made. Then, after the tragic assassination of Mayor George Moscone and Supervisor Harvey Milk it was decided that the flag should be flown on lampposts either side of Market street. So the indigo stripe was removed to allow the flag to be split in two – three colours on each side of the street.
This six colour version was soon proudly flown around the world and this is the flag that is seen most commonly today. In 2018 Portland-based designer Daniel Quasar created an updated version of the flag to also include the colours of the trans flag and black and brown stripes to represent black, Indigenous and people of color within the community. This flag went viral and is being used more widely in the years since.