It's the last hurrah as Derry Girls heads for the final curtain. So how does it end and will there be a film? Donal O'Donoghue talks to the show's creator and writer, Lisa McGee.
"This is the show that I'll take to my grave," says Lisa McGee of her most famous creation, Derry Girls. Channel 4's biggest ever comedy series, set in McGee's hometown, chronicles the teenage kicks of four schoolgirls (and one boy) negotiating the twin perils of the Catholic Church and the Troubles.
Now, with the show in its third and final season, McGee has time to reflect on it all. "(Derry Girls) has opened a lot of doors for me, presented so many opportunities and also done much for Derry City which got behind the show from the beginning. So I will be associated with Derry Girls for the rest of my life. But there will be no show as special for me because it's about my home town, my friends and my family."
Lads we are really feeling the love tonight. We really really appreciate you all. We are just a wee show doing our best and you make all the hard work worth while. Thank you #DerryGirls

— Lisa McGee (@LisaMMcGee) April 19, 2022
It's the day after the world premiere of Derry Girls in its birthplace. McGee is on the road to Belfast, where she lives with her husband, the writer Tobias Beers, and their two sons. "My whole family were there, lining up, asking for photographs with me and I was wondering 'Why are youse doing this?'"
She was nervous ahead of that first screening. "Comedy isn't finished until it has an audience and you hear the laughs."
Of course they laughed and of course she was asked umpteen times about a film spin-off. "I'd love people to see how we end this series first, because it feels very final," she says. "I feel that I've taken these characters where I wanted to take them. And also I'm just knackered and need a good lie down."
Since it started streaming on Netflix, Derry Girls has gone global: the cast, many of them catapulted to celebrity by the show, starred in a special edition of The Great Festive Bake Off, while the iconic animation series, The Simpsons, tipped its hat with a 'Dairy Girls Ice Cream' reference.
"I was in New York recently and it was mad to hear all these fans of the show," says McGee. "As for The Simpsons, I thought 'Did that just happen?'. I was a superfan of the show from the 1990s and now my six-year-old son has started watching it."
March 20, 2022
McGee will miss writing the characters (her 2020 book, Erin's Diary, was all about top Derry Girl, Erin Quinn, self-declared 'voice of a generation') because in many ways, their DNA is entwined with her own teenage self.
Writing the show also helped McGee to interrogate her own experiences of The Troubles, both the good and the bad. Is that baggage all unpacked now? "Probably not," she says.
"Derry Girls helped me understand some things about myself and my background; it helped me to come to a certain understanding. But there's other stuff I'd like to write about, those ghosts who hang around this place that we haven't really dealt with. There is still a lot of trauma here. So I definitely want to write something about Northern Ireland and how we have boxed away the memories and the trauma. I have an idea, a story and characters, but it will take a while to brew, for those voices will come through."
McGee was creative director of the recent BBC Four series Skint, a clutch of monologues by working-class writers that channelled the voices of the disenfranchised. "That was a very important project for me because I worry about voices on TV all coming from the same place, a more privileged place," she says. (Her own piece featured Saoirse Monica-Jackson as a beleaguered waitress).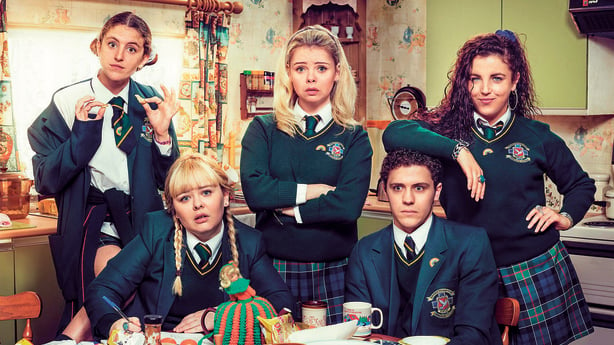 Now that she's established, McGee wants to helps others, mentoring first-time female writers and working with Fighting Words for disadvantaged children and adults. As for her next project, she's co-writing a TV show with her husband, "a crime thriller that's a far cry from Derry Girls."
For now though, it all comes back to Derry Girls, the show that is likely to be the legacy of someone who still feels – and sometimes acts – like a 15-year-old. Happily, that's unlikely to change.
"All of my friends are still eejits and so it's very easy for me to tap into that 15-year-old voice," she says. "I think it is very important to stay in touch with that inner child, especially if you're a writer. You're always looking for adventure as a young person and a writer too should be always looking for adventure. You know, my parents used to worry about how immature I was, but now they think, 'Well she's made a career out of being immature'. And I always knew what I wanted to do at the end of Derry Girls, even from series one. It is a big bold finale that ends on a joyful note."