Irish star-gazers are in for a potential treat, as the northern lights will possibly become visible from some Irish counties in the aftermath of a solar storm.
The aurora borealis – as well as the aurora australis (also known as the southern lights) – occur at the northern and southern poles, and are caused by "explosions on the sun". It's being reported that the Earth has just been hit with one such explosion, according to the US National Oceanic and Atmospheric Administration (NOAA).
We need your consent to load this Instagram contentWe use Instagram to manage extra content that can set cookies on your device and collect data about your activity. Please review their details and accept them to load the content.Manage Preferences
According to NASA, a solar flare is "an intense burst of radiation coming from the release of magnetic energy associated with sunspots. Flares are our solar system's largest explosive events. They are seen as bright areas on the sun and they can last from minutes to hours".
According to the Independent, the NOAA has classified the storm as G3, signifying a strong storm, with G5 being the rank for the strongest storms. This rank is known to sometimes cause problems with power systems, satellites and humans in space, and using satellite navigation systems and radio.
In comparison, a G5 storm could cause the collapse of entire satellite navigation systems, electricity grids and more.
This solar storm was triggered when a coronal mass ejection, or CME, came out of the sun.
While this storm seems to be moderate enough, one expert spoke to the Irish Mirror about the potential to see the northern lights. Frances McCarthy, Head of Education & Outreach at MTU's Blackrock Castle Observatory said that "if the clouds cooperate, there's a good chance of northern lights".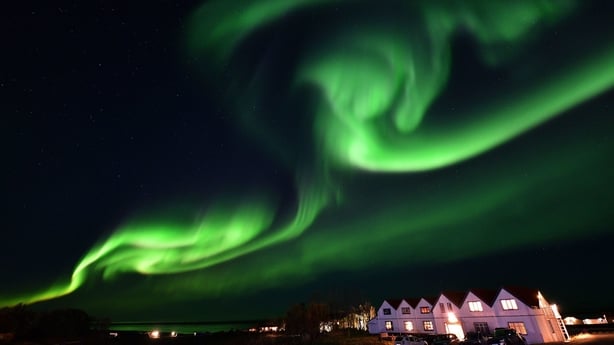 Earlier this year, David Moore, Chairperson of Astronomy Ireland, spoke to Claire Byrne about the increased chance of seeing the northern lights in Ireland in recent years.
"They are one of the wonders of nature," David said. "Something you've got to see once in your lifetime. The problem with Ireland is we're quite far from the Arctic Circle and that's where most of the auroras are seen - at least overhead."
Occasionally though, he says, an exceptionally big explosion on the sun will allow the lights to be seen from Ireland: "It's been seen in the past overhead in Cork."
He said that researchers still don't know why we're seeing more northern lights in Ireland, but added: "What we do know is that the sun goes through an eleven year cycle of the number of spots on its surface. In the last couple of years it's been spotless for days and weeks on ends. And then, all of a sudden this year, it erupted with loads of spots - some of them bigger than the earth."