Remember holidays? That last comforting blast of heat hitting you as soon as you step off the plane feels like a lifetime ago for many of us. Since travel is beginning to get (relatively) back to normal, a quick jaunt abroad now feels more possible than it has in a long time.
If you've got a trip planned, your packing and preparation skills may not be as sharp as they used to be, understandably. Those travel-sized refillable shampoo bottles may have drifted further into the back of the bathroom cabinet, but it's worth fishing them out if you want to save on space in your near-impossible 20kg suitcase limit.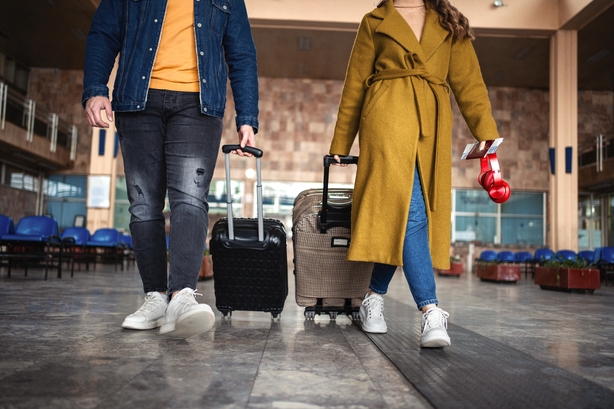 Essential items to pack
An adapter plug is one of the most forgotten items when traveling, and they can be unreasonably expensive in the airport. If you're traveling somewhere with different plug sockets, get your adapter sorted first. Sunglasses are also a common omission, but given that we usually don't have much of an excuse to wear them at home, it's fully understandable that they mightn't be front of mind. If you've got clip-ons for your prescription glasses, get those packed, too.
Other essentials often forgotten include pyjamas, swimwear, toiletries (think toothpaste, toothbrush, mouthwash, moisturiser, deodorant, contact lenses, razor etc), medicine (hayfever tablets often escape the list), chargers, a wash bag for dirty laundry, passport and most importantly a driving licence if you'll be doing some motoring overseas.
For everything else, it's useful to think about all of the items you use in a day, starting from when you first get up. Mentally walk yourself through your day and you'll find it easy to fill in the gaps. Once you've got the essentials, then you can start thinking about holiday-specific items and lastly, a few fun things like a deck of cards or novelty hat that you only ever wear abroad (holiday companions permitting).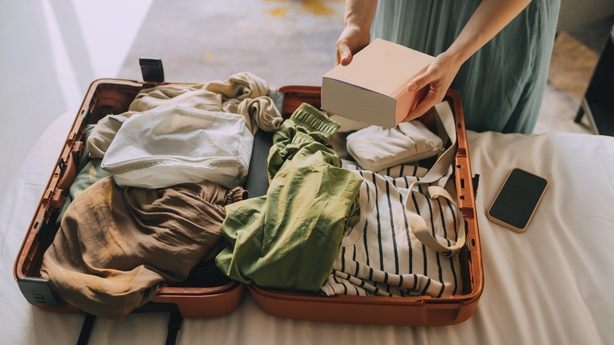 Suitcase-packing tips
Before you begin packing, gather everything you need to fit in and lay it on the bed. Once you see what you've got in relation to the suitcase size, you may need to slip into ruthless mode and exclude a few items.
When it comes to packing, much like a deli worker, the roll is your best friend. Roll your clothes up tight and stuff perishables inside to keep them safe. Stuff shoes with things like socks, jewellery and underwear, leaving no space unoccupied and be sure to put the most-needed items piled on top for ease of access.
If there's something that just won't fit, re-examine your travel day outfit and consider swapping it for a bulkier item you can swap out of the suitcase to free up some space. Use a dry cleaning bag or black sack to cover the top of your suitcase contents before you zip it closed, that way it'll help keep everything in place and prevent any potential rain from seeping through if your luggage spends a while on the runway before getting loaded onto the plane.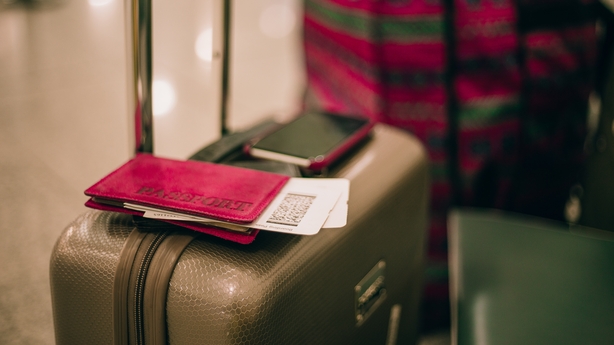 Pro-traveler considerations
Now that you've got the essentials packed, or at least added to the list, it's important to think about the extras you might need. Travel insurance is often a good idea as it allows you to prepare for the unexpected. Things like emergencies, missed transport connections and even damaged mobile phones can be covered depending on the level of insurance you choose. As with any insurance, you may never see the benefit, but it's comforting to know you're covered if you end up needing it.
Another pro addition to your packing list is a currency card, which allows you to use multiple different currencies in a prepaid capacity all on the one card. The An Post Money Currency Card is a great option, as it lets you load money in up to 16 major currencies, locking in your exchange rate when you top up.
The card can be used at millions of shops, restaurants and ATMs worldwide and comes with contactless and chip and pin payment options. It's cheaper than a credit card as it has 0% commission for foreign currency transactions and it comes with a dedicated An Post Money Currency Card app for online top-up and there is 24-hour customer support service, should you need it.
For more information pop into your local Post Office or visit https://www.anpost.com/Money/Foreign-Currency/Currency-Card
Terms and conditions apply. An Post Money Currency Card is issued by PPS EU SA pursuant to license by Mastercard® International. PPS EU SA is authorised by the National Bank of Belgium and is regulated by the Central Bank of Ireland for conduct of business rules. Mastercard is a registered trademark, and the circles design is a trademark of Mastercard International Incorporated.