Ahead of 65 Roses Day, Claire Merrigan writes about her experience of parenting a child with cystic fibrosis and autism during a global pandemic.
We are the Merrigans: a family of four (well five, when you include our beautiful doggy Rambo). I'm Claire, or as Mason likes to call me, Mommy. Stephen is Daddy, big sister is Holly, who is 13, and Mason is the baby of the house who is now in double digits, 10-years-old - or as he would say, two numbers!
Mason was born with cystic fibrosis (CF). He was diagnosed at three weeks old on December 21, 2011, through the newborn screening programme at Tallaght National Children's Hospital. He was very sick as a baby due to other complications, leading to him needing a feeding tube at four months' old. To this day, he still calls it "Peggy". This made a huge difference and helped Mason get strength by gaining weight.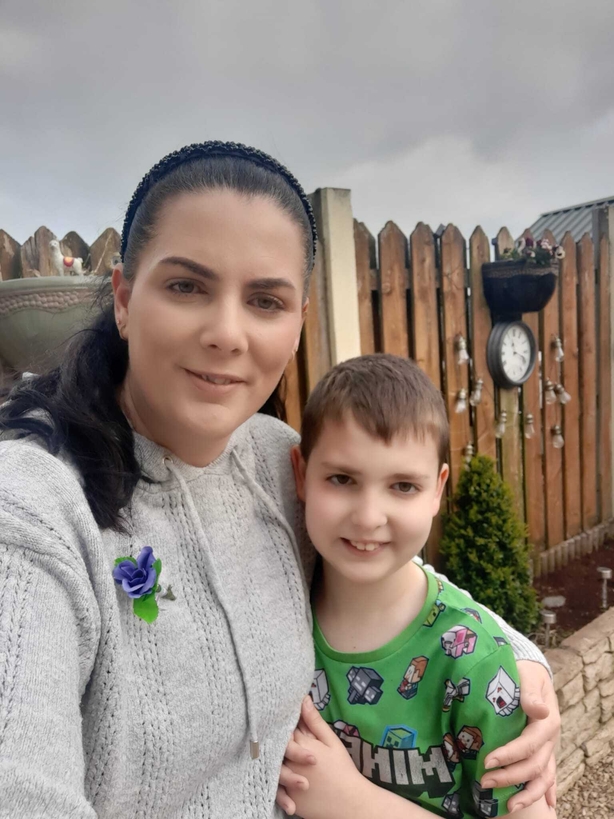 At four years old, Mason was diagnosed with autism. This was followed, at six years old, with a diagnosis of cystic fibrosis-related diabetes, which would require him to take insulin. This was on my 40th birthday which also happens to be Halloween, which also happens to be his favourite holiday. So, we still celebrated.
Receiving another diagnosis for Mason was so tough. I cried my heart out. With that being said, both Stephen and I fully supported each other and always placed importance on talking through everything. We always say we get our strength from Mason. He had such a fear of needles, or sharpies as he calls them, but took having insulin injections daily in his stride and always with that big beautiful smile and big eyes looking up at us. How could you not get strength and hope?
So, after Halloween and a 40th getaway that had been planned, we got on with putting a new plan in place for Mason's needs.
Mason is on a lot of daily medications to keep him well. Some are via his tube but he takes 30 plus capsules a day, four nebulisers, and has chest physio. He is now down to four overnight tube feeds – from seven nights – to try to control his diabetes.
All that being said, Mason is the most lovable, happy little boy. Well, not that "little" anymore as he is catching up with his big sister, Holly.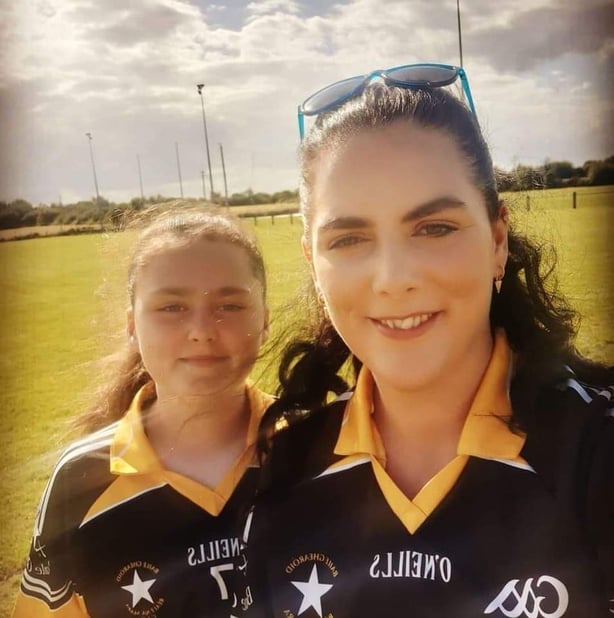 Very early on in our lives of CF and autism, we decided it was very important that we dedicate as much time to Holly too. We needed, like every other family, to balance our time between both children. Holly really suffered with separation anxiety when she was very young as I had to leave to spend a lot of time with Mason in hospital.
We decided sports could really help her. At the age of four, she joined the local camogie club, where I am camogie chairperson and co-manage the under 14 team. Her team won the U14 county final in 2020 and I was so proud of her. She has also played GAA football and soccer from a young age.
It's with the help of these clubs and community, as well as lifelong friends, that have brought Holly on so much and given me an outlet too. She also gained a GAA sports scholarship ahead of entering her secondary school and she has recently added basketball to her list of sporting interests.
During Covid times, our family's routine was split in half as we tried our best to protect Mason but also to let Holly continue with her sports. I would do all the sports with Holly while Stephen stayed at home with Mason. He works nights which allowed us to to manage this split schedule. Any time Holly has a match, no matter the sport, when we go out the door, Mason always shouts "Score goals, Holly!" even though in most sports she is a midfield player!
With a pandemic, it can be so tough on a family who has a vulnerable child or person in their home as all your focus goes on protecting them at all costs. Mason was too young to get a vaccine until this year, so that meant he missed a lot of school. Luckily, his teachers were so good with Zoom calls and work packs and we feel genuinely lucky to have such a supportive school in Educate Together.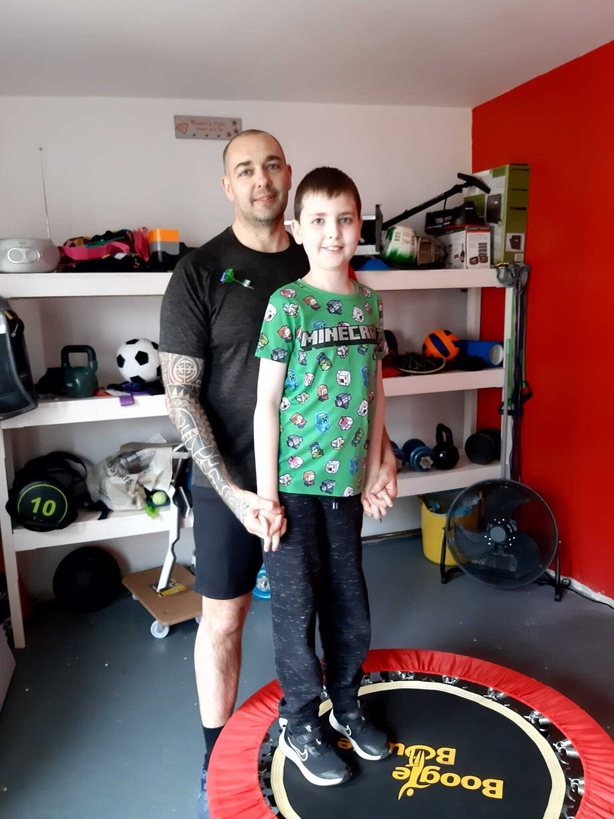 One thing that really helped while we had to cocoon was a home gym which we built in our back garden with the support of Cystic Fibrosis Ireland and the local community. We have used it so much for Mason's physio. Well, when I say "we", I mean Stephen, Mason and Holly. Stephen writes up exercise programmes for Mason in a little book with stickers on each page as Mason is a very visual learner.
It has been so necessary to keep Mason healthy in these very scary times. That's why it's important to support Cystic Fibrosis Ireland which genuinely helps families like us daily. Without the help of its exercise or PPE grants, we just wouldn't have been able to afford a Home Gym. We really feel so lucky to have such an amazing community of friends and family who are always there to help too.
I really struggled to write this article because it has been a tough time for our family but there is finally some hope on the horizon with Mason now being fully vaccinated. He is back in school full-time, which he loves, as he has the most amazing, supportive friends in his class, as well as his fantastic special needs assistant and teachers.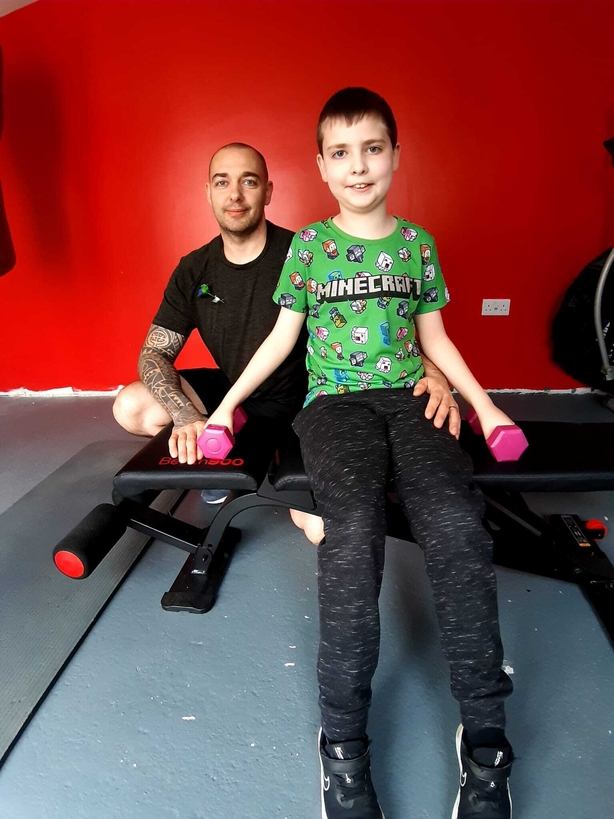 I recently started back working part-time in Elverys Sports in Gorey Shopping Centre which I never thought would be possible. Unfortunately, there is still no cure for cystic fibrosis, however, with the new medication, Kaftrio, coming very soon for Mason, it gives us so much hope for the future.
I will be in Gorey Shopping Centre this Friday April 8 as part of Cystic Fibrosis Ireland's 65 Roses Day appeal. If you're in the neighbourhood, make sure to say hello. I really do want to thank you for taking the time to read about our family. We couldn't do what we do without the support of our wider family, our friends and you.
Please support Cystic Fibrosis Ireland this 65 Roses Day, Friday 8th April, by taking part in a 65 Roses Challenge, donating online at 65Roses.ie or purchasing a purple rose in participating Dunnes Stores, shopping centres and other outlets nationwide.