Presented by Conor Pope, The Irish Times consumer affairs correspondent, and Santis O'Garro, Instagram budgeting mentor, The Price of Everything is a brand new six-part series on RTÉ One that will delve into the rising costs of living in Ireland in 2022.
Ahead of tonight's episode, we caught up with budgeting guru Santis to discuss the show, her top tips for cutting back on spending and the joy of a money-free day.
"I feel like I manifested this," Santis laughs, speaking about her role on the timely show. "I love Conor Pope, love him and his articles, and always listen out for him on the radio, and now I'm sitting beside him and talking about things that I really want to talk about."
Have you noticed price increases on your food items?

Conor Pope & Santis O'Garro delve into the rising costs of living in Ireland in 2022.#ThePriceofEverything kicks off tonight at 7pm on RTÉ One. pic.twitter.com/ZmXb0PiPJ8

— RTÉ One (@RTEOne) March 31, 2022
With multiple TV and radio appearances behind her - including a stunning interview on Tommy Tiernan Show - O'Garro has garnered an impressive 23.9k following on Instagram (you'll find her under the name The Carribean Dub).
Breaking her silence on the taboo subject of money, the single mother publicly shared her story of clearing her debts and has since made a career from helping others do the same.
Sharing everything from budgeting advice to food waste tips, the money mentor says that she has seen the rising panic surrounding rising costs in Ireland first hand in recent months. And while some may be feeling the pinch of their pay cheque for the first time, others are coming to the end of their tether.
"Some people are living in the middle of the country and they're completely disconnected if they don't have a car, but now they're now struggling to maintain the cost of their car. There are some tough choices that people can't make, that's the feedback I'm getting."
"If you're living in a place where you can afford your rent but you can't afford your car, and you can't afford the rent anywhere else, what are you supposed to do?"
We need your consent to load this YouTube contentWe use YouTube to manage extra content that can set cookies on your device and collect data about your activity. Please review their details and accept them to load the content.Manage Preferences
These are the questions that The Irish Times consumer affairs correspondent Conor Pope will be posing to those in power. From food to transport, from housing to education, from energy to the price of insuring our health and how the costs of these basic necessities are rising beyond all our expectations, Pope will explore what is to blame and how we can stem the tide.
Meanwhile, Santis will be checking in with some of the individuals struggling to cope with the cost of living in Ireland in 2022.
"People are making decisions that they shouldn't have to even though they're doing everything right," she explains. "That's what kills me. We're not talking about fuel going up by a few cents, it's a big change. Those extra euros are a lot for those who are budgeting tightly, and that's who I speak on behalf of."
On tonight's episode, Santis meets single mother Sally who is having to cut back on various aspects of her life to ensure she can feed her three children. Not an easy task considering the price of even the most basic items such as bread and pasta have risen.
"She already budgets so tightly," says Santis, "I think that's what people are going to be shocked by. No one can live like that long term, you're going to burn out."
"Will people in Ireland have enough money to feed themselves and their families?"@conor_pope & Santis O'Garro delve into the rising costs of living in Ireland in 2022.#ThePriceofEverything kicks off tomorrow night, 7pm on RTÉ One. pic.twitter.com/mkvTjtruEh

— RTÉ One (@RTEOne) March 30, 2022
For those who want to budget smarter or start planning ahead for big expenses such as summer holidays or school uniforms, Santis suggests a money calendar.
"I call it a budget NCT," she laughs. "You're going to go through your pay slip more than you've ever gone through it. Go back six months and start looking at what is actually going out."
From unsubscribing from apps you forgot you ever downloaded to learning how to say no to a night out, O'Garra says that seeing your money in black and white can help you prioritise the things you actually want to be spending your hard-earned money on.
"What is a want? What is a need? Then look a head and see what's coming. When you're writing what's coming into your account and what's going out, you put it on the calendar so you visually know when your rent is due. That awareness goes a long way."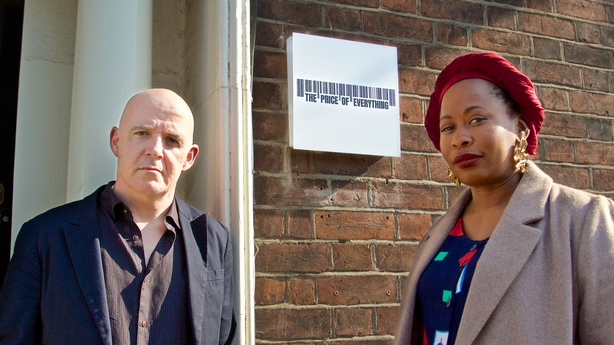 Speculating on consumer culture, Santis says that the instant gratification that we get from splashing out on an unplanned purchase is depressingly short-lived. These days, since climbing her way out of her own debt, the single mum says that money can't buy the contentment she feels on a spend-free day.
"You think that going out with friends or out for drinks is going to be the thing that makes you happy, but it's not if you don't have the money for it. It's not relaxing if you can't pay your mortgage or if you have to borrow money and go into debt."
"On the days I spend money, I plan for the days I don't," she adds. "If I get paid on a Friday, I fill up the car and do my food shop but then on Saturday and Sunday we're going to have a picnic; we're going to go hiking; we're going into town to the art gallery; we're going to visit family and make a cake; go cycling - anything."
"I don't want instant gratification from spending, I want joy from not spending," she concludes. "I had 230 no-spend days in a year and I paid off €15,000, and I didn't walk away feeling like I had missed out of anything. There's something to it."
Watch The Price of Everything Thursdays at 7.00pm on RTÉ One.