Dermot Bannon is back with a new series of Room to Improve and he tells Donal O'Donoghue about family life, not being cool, and how he enjoys the banter that comes with celebrity.
"I could talk for an hour and a half without taking a breath," says Dermot Bannon. He's not really joking. In the latest season of Room to Improve, the country's best-known architect is at full tilt: saying why this window or that door or even the house itself should be somewhere else.
A new style (two cameras, more filming days, long uninterrupted takes) keeps the action rolling alongside the cajoling. "I was waiting for someone to shout cut," he says. No one did. So we get a sort of cinema verité, where what you see is what you get. Much like Dermot himself.
Here is the man who nearly drove Daniel O'Donnell off the wall, made his own home's rebuild into a TV show and increasingly sees himself as much a communicator as an architect.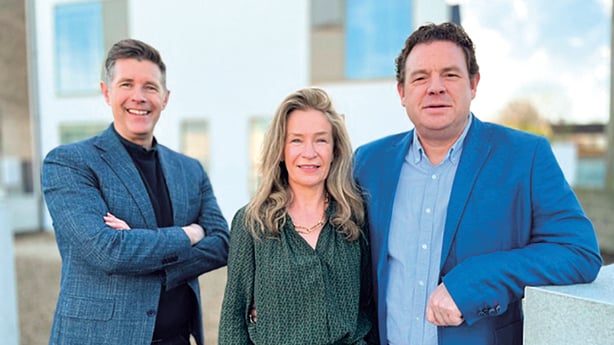 When we meet Dermot is wrapping a photo shoot. On the floor is a travel bag, overflowing with designer threads. "Model's own," says Bannon, with a grin. He sips his coffee and nibbles a protein ball. Late breakfast? "Ah no," says the father of three, who's been on the road since daybreak when brekkie was the usual two boiled eggs and a bowl of porridge ("I bring my porridge with me even when I travel abroad").
And he wears his TV fame lightly. I've seen a hotel owner borrow him for a 'quick chat' and witnessed a group of women, 'up from the country', ask if he could join them for a selfie. Today, on the street, a builder pokes his head out a window to shoot the breeze. "I love the banter," says Dermot. "It's like I'm a local everywhere."
Of course such celebrity can be double-edged. "My son, James, started secondary school last year and now he doesn't want me driving him to the school gates in case his classmates recognise me," he says with a laugh.
"The lockdowns were great for the kids because I had to wear a mask and was not so easily recognised. I'm an uncool dad. But I don't want to be a cool dad because if they think I'm cool there's something wrong isn't there? At 14 and 17 James and Sarah are not supposed to think that their dad is cool. They are finding their own way in life, forging their own personalities. Of course I know now that it goes full circle, that you end up being very like your parents and that can be comforting. But if my kids thought I was a cool I'd be horrified."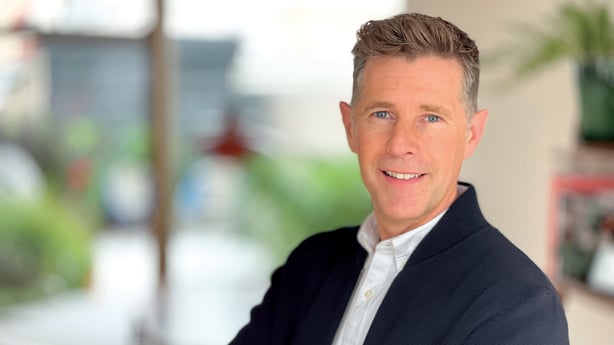 Bannon (49) lives in his A-rated home (as seen on TV) with his wife, Louise, and their three children, Sarah, James and Tom (nearly 10). Is he a tough father? He laughs. "I sometimes try to make a scary face, that is just like my dad's back when we were children." he says of his late father Tom.
"Of course the kids take no notice of me. I'm a bit of a softie. I think back to how my parents handled me at that age. At the time I was more focused on rebelling against my parents and not on what they wanted to do for me. Like I always wanted to drive the car and insurance was so expensive. My dad's response was no, and in truth I didn't need to drive anywhere. I'd find it more difficult to say no my kids but I'm learning from my parents. Back then my dad was just teaching me values and the cost of things."
Dermot Bannon is a people person and a decent skin. When I make a hames of recording this interview, he says no bother to another chat the next day. Room to Improve reflects his personality, a show about the people as much as the property. Bannon bigs up the show's QC, Claire Irwin.
"She speaks in a soft Donegal accent but is very much her own woman," he says. As is Bannon his own man. Like any good drama, Room To Improve is at its best when an irresistible force (Dermot) meets an immovable object (client). Did that happen this season? He laughs and cites a house in South Dublin where there was an impasse regarding a kitchen. "Sometimes people need to see what's best for them," he says, before wondering, and worrying, if that sounds wrong.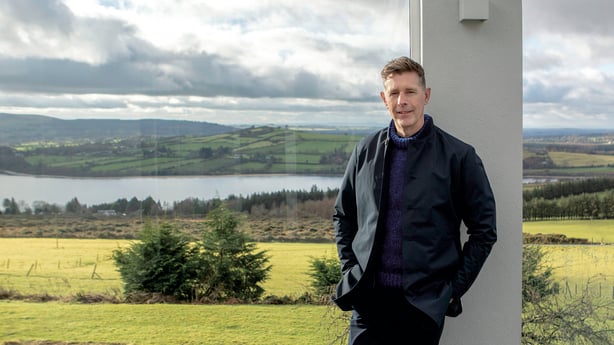 "Oh God I'm so boring," says Dermot when asked if he has any dark secrets. Well he did confess to The Irish Times that he cheated to win a Lego competition in his early years. And there was that time he appeared on Blind Date but just failed to make the cut with Jenni Falconer who would go on to carve out a career on TV and radio.
In that YouTube video from 1994 you can also see the fledging TV star in Dermot Bannon, with his cheeky smile and slick delivery of those scripted lines. Back then he was a student of architecture at Hull University. "Those years were fun," he says. "I liked to party." But he also worked his socks off. And there was that time, following a presentation, he fell asleep on the shoulder of his tutor, jerking awake and detaching himself via a drool of saliva.

"I've done a few scary things," he says to the question. "Waterslides scare me but I still do them. Having children was one of the scariest things I ever did. When Sarah was born all the doctors and nurses left the room and I thought 'whoah! This is when I really need you!' So that was scary. And leaving my full-time job to set up my own practice (Dermot Bannon Architects) in 2008 was a scary time. I had a TV show behind me (House Hunters) and was building a TV career. I didn't want to leave my old job but I knew it was something I had to do. For the first few months I was in a warehouse which I was renting on the North Circular Road, alone in a room with a two-bar heater. That was pretty scary too."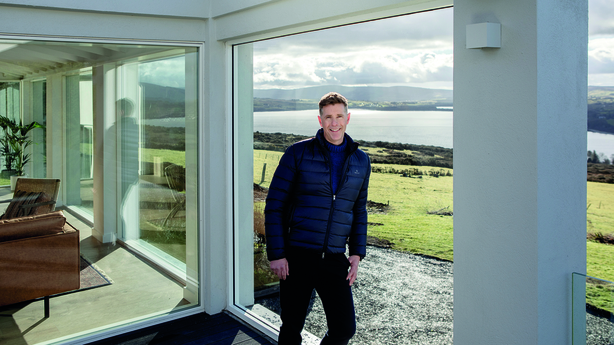 Now he loves TV but hates watching himself. "Once the show goes out on air I never watch it again," he says, citing the Room to Improve special, where he was building his own dream home, as an especially weird watch. He is not a fan of Twitter (Instagram, more visual, is his thing) but he still tracks Twitter comments in the wake of a show's broadcast.
"Even the ones that are cutting, because you have to take a step back and think, if it wasn't about me would I still think it was funny?" Similarly, satirists have parodied him as the man who'd build a house out of windows but that's just sticks and stones. "I do like a nice bit of window" he says. Is he happy? "I am contented but more in myself and that's the goal, not that I have the right collection of stuff. If you're thinking that way you'll never have the right collection of stuff."
Last year a publisher approached Dermot to write a children's book on architecture. It's still on the back burner. But his ambition to create household objects of beauty and function will be realised in the imminent Room To Improve.
"It's in the final episode, so you'll have to wait and see," he says. Otherwise it's business as usual, keeping the day job going and the TV shows rolling. When we part, there's just time for a quick sandwich and the purchase of a yoga mat (his first class in 17 years is later that evening) and then on to another meeting. Next up is a trip to Spain to film one of the two episodes of Incredible Homes that Covid interrupted. And after that, filming the 14th season of Room to Improve. "Hopefully," adds Dermot before pausing to take a breath.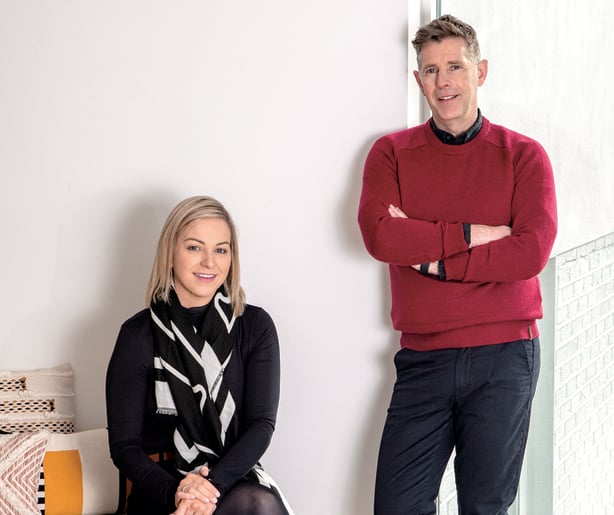 Dermot's Tips on Retrofit
1. Insulation
Insulation is the first principle. For any home the key thing is obviously to retain the heat that you are already generating. So firstly it's about insulating your walls which are the most important thing and not the windows and doors. After walls it's the attic and roof, after that your floor and then it's your windows.
2. Ventilation
Try to install a command-control ventilation system or a heat recovery system. Demand-control means that it measures the humidity in the air and it closes off vents if they are not needed. So it keeps the airflow through the house but only when it's needed, so you're not pumping warm air out through open vents. Ventilation is key.
3. Heat Source
Try and move to a heat source that is renewable, like a heat pump. The main impetus of this retrofit grant is to get people away from using fossil fuels like oil and gas. Of course the elephant in the room is how do we generate electricity, but that's up to the government. We can prepare by putting in charging points for eclectic cars or PV panels .