Architect and TV personality Hugh Wallace has faced many challenges including alcoholism, dyslexia and depression, to carve out a life less ordinary. Donal O'Donoghue meets him.
"Sometimes I look back and think I don't want to go there," says Hugh Wallace of a life littered with ghosts. "But I can't change it. I can only recognise it and try to accept it."
The past may be another country but it is also inescapably part of who we are. Hugh Wallace knows this better than most; his 64 years contain highs and lows, darkness and light. Best known as the outsized TV personality who has added panache and passion to such shows as My Bungalow Bliss, The Great House Revival and Home of the Year, he has also chronicled his dyslexia, being gay in country where it was a crime, coping with depression and living with alcoholism.
He was 55 when he first spoke publicly of that past. "It was like a new life," he says now, even as he knows that life will always be one day at a time.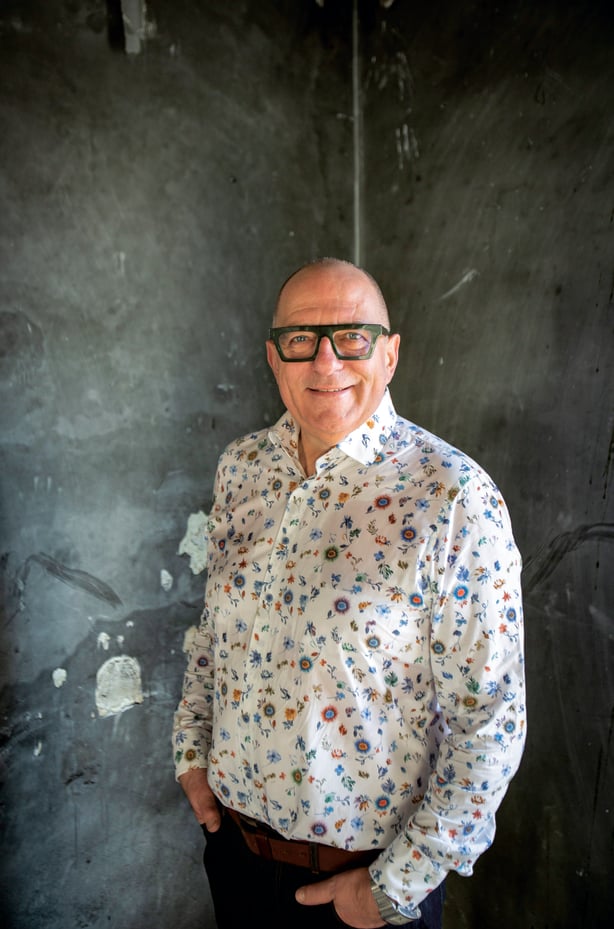 We meet in a café in Dublin's south city centre, not far from his business, Douglas Wallace Architects. Hugh is sporting big glasses with bold frames, looking smaller in real life and quieter too. He sits with his arms folded across his chest, hands slightly shaking as he sips from a paper cup.
He is, as you might gather from the gregarious screen presence, a great talker and good company. On the table in front of him is a sheaf of pages detailing the various houses showcased in this year's Home of the Year, now in its eighth season. We barely refer to them (the show has a new interior designer, Sara Cosgrove) as today, the subject is Hugh Wallace, the architect who has spent most of his life searching for his own design for living.
Currently renting, Wallace and his husband, Martin, will soon embark on renovating their fifth home. "Martin and I first met 35 years ago this Valentine's Day on the staircase of The George pub," he recalls. "We are very lucky because we still get on after all that time. Of course, we have to work at it, but it's very exciting. And the new house is terrific."
Well, not right now, but it oozes potential, as they say in the business: a two storey fire-damaged property requiring a complete overhaul.
"Martin is into crisp minimalism," says Hugh who, if you're familiar with his TV shows, most certainly isn't. "So there will be one or two issues as I like a bit of colour. But at the end of the day, Martin will win out because that means I get an easier life. Haha!"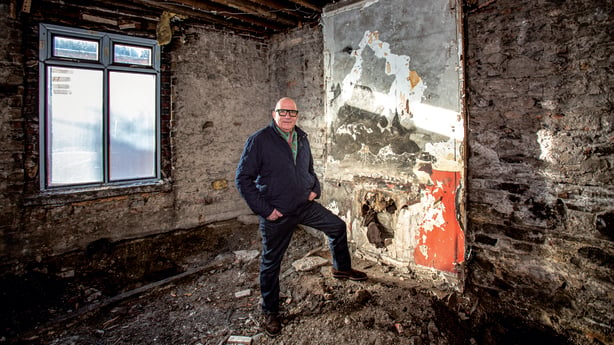 Last month was the ninth anniversary of their civil partnership. "We never broke up," he says of their years together. "One time, I had a strop and moved into another room but Martin didn't even remember that I had gone into the other room so it was a wasted exercise!"
"We work on our relationship and enjoy each other's company. We love going on holidays and we're lucky that we don't need to talk to each other all the time. You know how it's OK not to have to talk? Plus, I do all the cooking and he does all the ironing and washing so that works. We enjoy our lives together. Martin would have loved to have had a family but unfortunately, at the time we both had a relationship with drink."
Wallace's love for design is palpable in his TV shows, not least Home of The Year (HOTY) where he has been since the beginning. "I love that they haven't shown any self-control" he says of an especially colourful property in the opening episode and in another whimsical Wallace moment, he describes a hallway as 'yummy!'.
So what is it – as the show's tagline has it – that makes a house a home? "It's all about the personality of the homeowners coming through," he says, "and you can always tell whether it's the homeowner's personality and creativity or a design conceived by others.".
How? "By the oddness or the things!" Endlessly curious, Hugh has a nose for such things. "I love opening people's fridges," he says. "In there you can see what is really going on in the house." So what's in his fridge right now? "Dinner for tonight which is hamburgers in an onion gravy with mashed potatoes and marrowfat peas. Yummy!"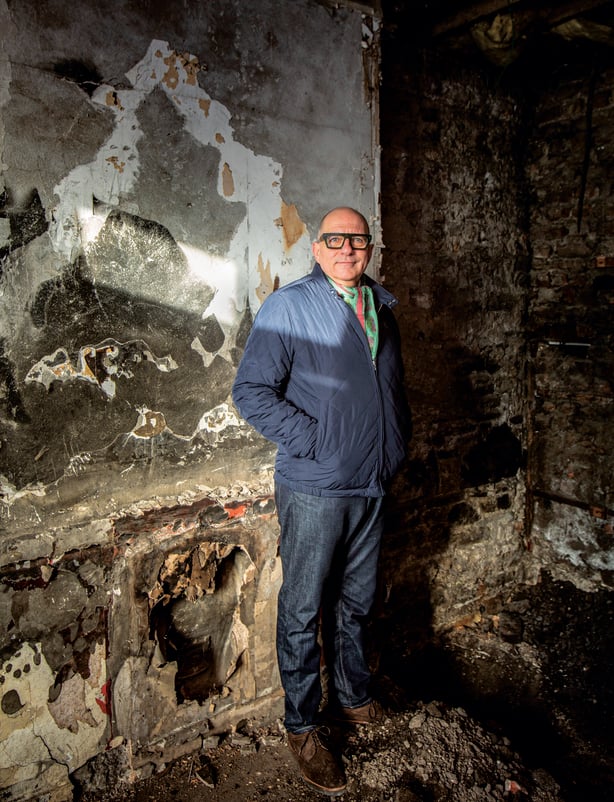 As with many of us, recent times have been tough for Wallace. "It was like going back to the dark days of 2008 when we lost the business," he says. "I suffered with anxiety and worry and I fell off the wagon in the past twelve months. That was difficult."
All OK now? "It takes time to sort yourself out because drink plays games with you. So I'm still in the process of sorting that. It is a journey, a daily journey. Martin is very supportive. He challenges me to deal with it but not in an overt way and that is very important."
But he knows he's just one of many and recalls a scene on a Dublin street where he saw a couple caught in a terrible drunken row in front of their child. 'I found that exceptionally distressing." I wonder in that moment if he was transported back to his own childhood
Hugh Wallace grew up in south Dublin, the only child of Sue and Ken, reared in "a bubble of Protestantism." His father was an alcoholic but the subject was never broached at home, even when daddy had to 'go away' for a while. "It was quite solitary and I worried about my mum," he says.
"I would have loved to have had a brother or sister. But I have great friends now. I have a cousin, Muriel, and she is my closest relative. Sometimes I'd phone her up and wonder what my parents would have thought of me and my life, whether I would have been a disappointment to them. Muriel would tell me not to be so ridiculous. I also still talk with my late mum. She was an amazing lady, underestimated for her talents and her abilities, like so many other talented exceptional women of that time."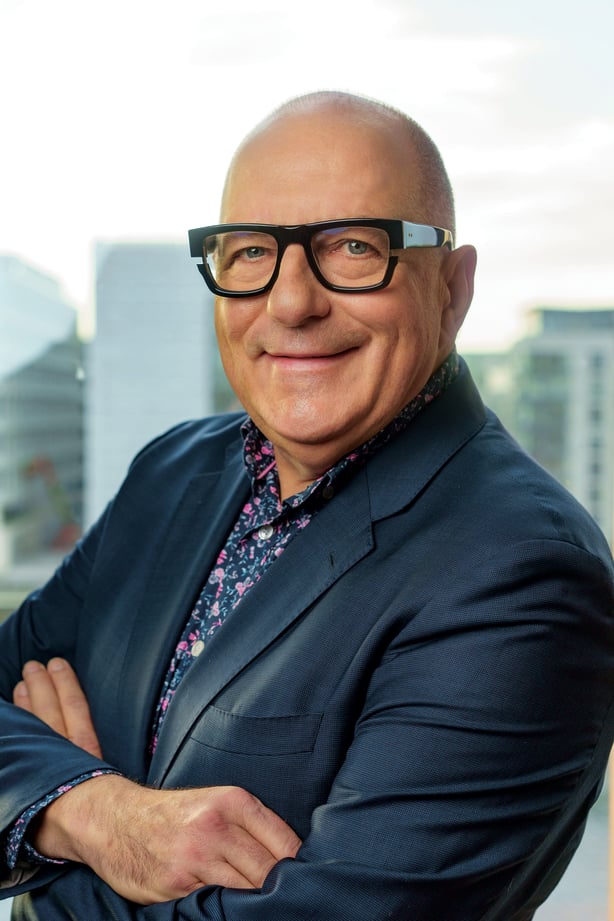 He still carries a phrase of his mother's ("There's no road without a turn") that he has leaned on when the going got tough. Did he worry that he would become his father? "Of course I did," he says. "He was a very placid man but drink consumed him. There's not a family in the country unaffected by alcohol. Very often, people don't say 'Your alcoholism is affecting us!'".
Did he say it to his father? "No. It wasn't talked about. My father went into John of God's for six months but when he came out it still wasn't talked about. I was in rehab for alcoholism in Stanhope Street and there were people there who couldn't tell their partners they were attending. Martin understood what was going on with me because he had been there himself."
He recalls how he was once introduced on radio as simply: Hugh Wallace, alcoholic. He winces. Of course there's much more to the man than that. Yet he has, in recent years, been very public on the devastation wreaked by alcoholism. And other matters too, speaking openly about his dyslexia and depression and how he lived a double life back when he struggled with his sexuality (at the age of 20, he was briefly engaged to a woman). Has such a public platform helped?
"Absolutely. It gives you confidence. I'm an alcoholic. It is a disease. I'm also dyslexic. So now, if I'm writing minutes, I'll ask somebody can they spell whatever. I don't have any shame. Why should I? If you are open and honest it peels off a layer and you don't have to pretend any more."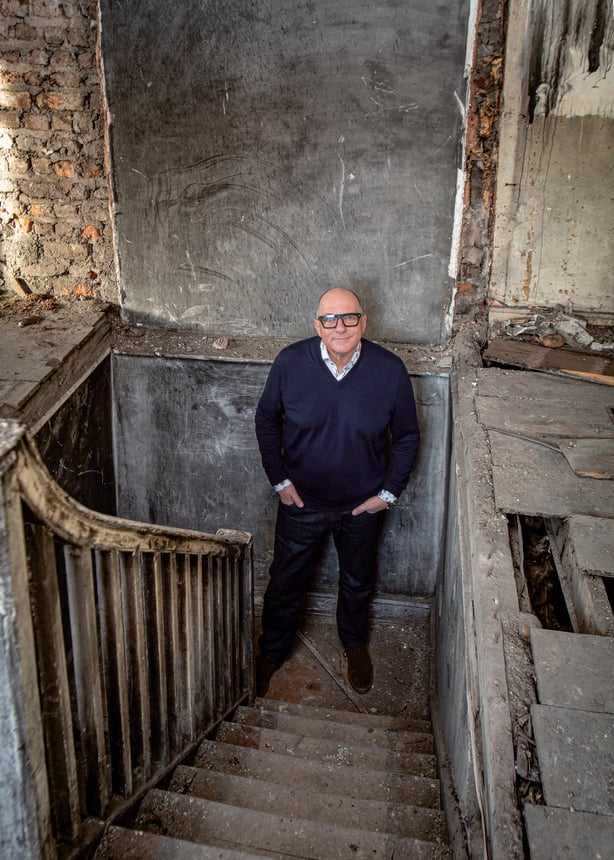 So what drove him to be successful in his career? "I was driven by being tagged the idiot in school because of my dyslexia," he says. "Once that was recognised (he credits his English teacher Gregg Collins), it allowed me to park my 'stupidity' and I was driven not to rely on anyone else again. I was the kid who was going to be a low achiever. Then I got five honours in my Leaving Certificate."
"So when I look back on my life, I was 'abnormal' by society's account by being dyslexic, by being gay and all the rest. Back then, most of the people on the gay scene were married and living double lives. I also lived a double life for a while. And it can still be complex being gay, being different. I believe that if you scratch the surface, you will still find an intolerance here."
Even before he moves into his fifth home, Hugh Wallace suspects that it won't be his last. "We don't know if we will ever have a forever home," he says. "And the next move for us after this will likely be down the country but with a rail link to Dublin."
For now, he's happy in the heart of the city. On the short walk back to his office, he points out properties in the throes of restoration. "That was sold for €250,000 but will need another €300,00," he says of one scaffolded space.
Later this spring, he will return with another season of The Great House Revival while HOTY looks set to run and run. Design in his DNA, a man still looking for that house that will finally be home. As he says, that may never happen, but right now he is where he wants to be. And that's more than enough.
Watch brand new Home of the Year on RTÉ One at 20:30 every Tuesday. Boxsets of the previous seven series of Home of the Year are available on RTÉ Player.